Autumn 2016 at Helsinki Contemporary
02.06.2016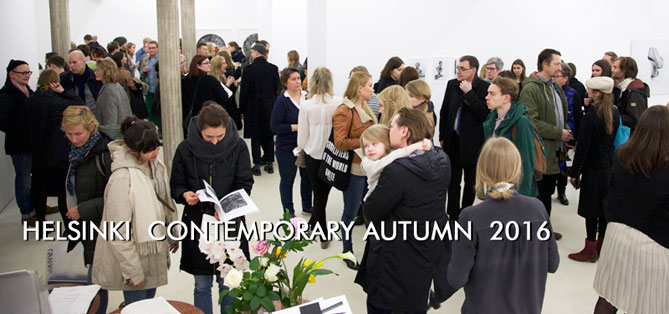 The Autumn at Helsinki Contemporary is an interesting blend of upcoming and established Finnish and international artists. A few years have passed since Jukka Korkeila's last exhibition in Helsinki – the upcoming show is widely awaited. The impressive works by the Swedish, internationally acclaimed artist Roland Persson will be showcased in October. Heidi Lampenius enchanted visitors in Helsinki Contemporary's Summer exhibition in 2015 – in December the whole gallery space is hers.

LUKAS GÖTHMAN & OLLI PIIPPO: Guilty Pleasure
5.8.–28.8.

Lukas Göthman's and Olli Piippo's exhibition Guilty Pleasure focuses on the act of painting and the pleasure in it. The artists have set their ambitions aside and focused on what the process of painting brings along and where it takes them. Letting the process carry away results in a playfulness of trying out different possibilities. The finished paintings convey pleasure and passion to the viewer.

JUKKA KORKEILA
2.9.–25.9.

The focus in Jukka Korkeila's new paintings is on the power of repetition. The upcoming exhibition consists of work pairs that depart from the same motive. The exhibition deals with transformation through cabaret or carnival – what happens when we dress up as someone else for a while?

ROLAND PERSSON & MARLON WOBST: Animal Farm
30.9.–23.10.

Roland Persson and Marlon Wobst ponder the configuration of power in their joint exhibition Animal Farm – who dominates who, and what happens if the tables are turned? What if the characters in their works are looking at us

VILLE LÖPPÖNEN
28.10.–20.11.

Ville Löppönen's upcoming exhibition consists of both paintings and drawings. The primary theme in the exhibition is the everyday grace – how the beautiful and graceful of the everyday holds us up.

HEIDI LAMPENIUS
25.11.–18.12.

Heidi Lampenius' first solo exhibition in Helsinki Contemporary presents new paintings that build upon painterly movement creating surprises and temporary secrets. The interaction between figurative and abstract images is in the core of Lampenius' paintings.