Ville Andersson's solo show at the Finnish Institute in Berlin
16.03.2018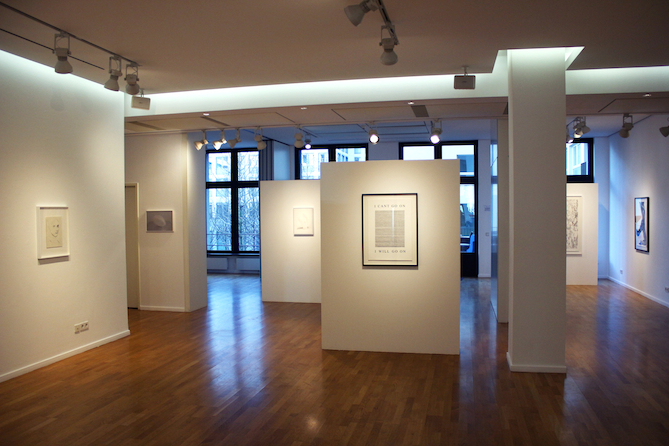 Photo: The Finnish Institute in Germany / Rebecca Suoranta


Ville Andersson's solo exhibition I can't go on. I will go on. has opened at the Finnish Institute in Berlin. The exhibition is a continuation of Andersson's namesake solo show at Helsinki Contemporary in January 2018, presenting his newest photographs, drawings, and paintings. The exhibition in Berlin is open until 20 June 2018.

The title I can't go on. I will go on. is adapted from the last words of Samuel Beckett's novel The Unnamable. To Andersson, the phrase reflects an environment that is simultaneously tragic and comic: tragic because it is disintegrating, comic because it still keeps on going. At the same time it reminds of a motivational mantra, and to Andersson, the way in which creative process often begins.

Inspiration for the exhibition sprung from Andersson's trip to the desert in New Mexico, the United States. He is fascinated by such non-places, which not only represent the absence of time and place, but also the presence of absence. Allusiveness, richness of nuance, precision, simplicity, and ephemerality are some of the characteristics of Andersson's works. They shift between abstract and figurative, organic and inorganic.

A catalogue of Ville Andersson's recent work has been published in collaboration with the Finnish Institute in Germany. After the exhibition in Berlin, Andersson's works will be exhibited at Loko Gallery in Tokyo.

Andersson is currently doing a month-long artist residency at The Watermill Center in New York. During his stay in New York, Andersson plans to explore new ideas and develop completely new ways of expression, such as combining computer-generated 3D sculpting with photography.

Read more about the exhibition.