Tuomas A. Laitinen creates a new work for the 21st Biennale of Sydney
22.12.2017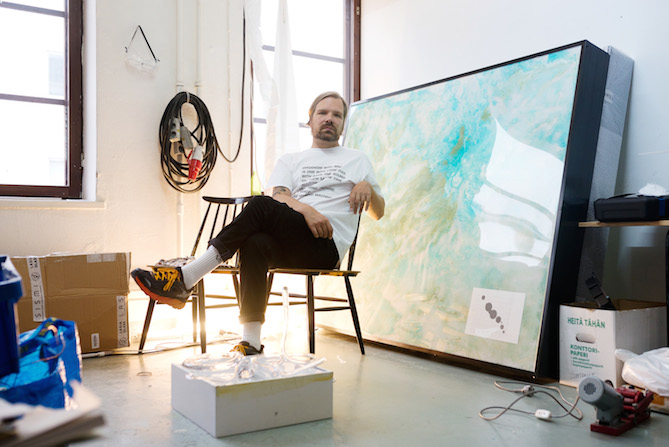 Tuomas Aleksander Laitinen / Image: Frame Contemporary Art Finland / Sirja Moberg
Tuomas Aleksander Laitinen
has been invited to participate with a new piece in the 21st Biennale of Sydney, opening in March 2018. Celebrating its 45th anniversary, the Biennale of Sydney is the leading contemporary art exhibition in the Asia-Pacific region and, alongside the Venice and São Paulo biennales and documenta in Kassel, it is one of the longest running exhibitions of its kind. The exhibition will include around 70 artists in total from Asia, Europe, Australia and The US, e.g.
Eija-Liisa Ahtila
,
Ai Weiwei
,
Ciara Phillips
,
Svay Sareth
,
Laurent Grasso
and
Jacob Kirkegaard
. Laitinen's piece is included in the Museum of Contemporary Art Australia.
The Biennale is curated by the Artistic Director, Chief Curator of the Mori Art Museum
Mami Kataoka
, who visited Helsinki under Frame Contemporary Art Finland's visitor programme in the autumn 2016. The theme of the Biennale,
SUPERPOSITION: Equilibrium & Engagement
, draws from the concept of superposition in quantum mechanics, according to which electrons occupy multiple states at once; they simultaneously take opposing paths and end up in different places.
Ms. Kataoka explains: "We are surrounded by conflicting ideas across all levels of humanity: different cultures; readings of nature and the universe; political ideologies and systems of government; interpretations of human history, including the history of art and definitions of contemporary art." The works of the participating artists "offer a panoramic view of how opposing understandings and interpretations can come together in a state of equilibrium."
Tuomas A. Laitinen: "I'm interested in how things and their relationships can be treated so that they flow freely into each other through various filters and thus build networks between different topics and substances."
During the past years, Tuomas A. Laitinen has in his artistic practice concentrated on the circulation of knowledge and raw materials, and the economical and material organisms that they bring forth. The new work commissioned for the Biennale of Sydney continues the thematic of his past solo exhibition,
A Porous Share
,
in Helsinki Contemporary in spring 2017. Working process has shifted towards the study of different biological and chemical reactions and other ecological entanglements, as well as the exploration of the non-human agency. His work escapes binary thinking, and aims at opening up models of diversity, where the idea of interconnectedness of beings is at the core.
Laitinen's newly commisioned work, Dossier of Osmosis, investigates the integration of ideas
Dossier of Osmosis
reveals the incoherence between natural processes and the regulatory structures imposed upon them, prohibiting 'osmosis', or the integration of ideas from occurring. The installation borrows from the language of an archaeological display, consisting of a series of tiered table-like structures displayed on the gallery floor. Containing objects and traces of chemical reactions/biological processes, the assembled fragments are described through nonsensical diagrams and graphs set within the layers. An accompanying narrative, partly generated by an algorithm, speculates on the potential of non-human agencies, complicating definitions of authorship. The installation is periodically activated by a performer operating two ultrasonic speakers emitting a sound work composed of guide texts, involuntary noises and utterances that become audible when silent signals hit a solid object.
This year, the works of Laitinen have been presented widely in museum and gallery exhibitions, most recently in Helsinki Contemporary's solo exhibition A
Porous Share
, and
Thermoscene
in Sinne Gallery. Helsinki. The video installation
Receptor
was included in the
ARS17
exhibition at the Museum of Contemporary Art Kiasma until 14 January 2018. The piece looks at the ways technology is a go-between in human-to-human interaction, both mental and physical. Receptor will be included in the exhibition
PENDORAN VINCI. Art and Artificial Intelligence Today
at
NRW-Forum
in Düsseldorf, Germany between June 9 – August 19, 2018. A new video piece,
Dossier of Tentacular
, that derives from
Receptor
, will be shown at
Turku Art Museum
between 26 January – 18 March 2018.
In November, Laitinen took part in the exhibition
Edge Effects
in Art Sonje Center in Seoul, Korea, as part of the exhibition series organised by the Frontiers in Retreat project initiated by HIAP – Helsinki International Artist Programme. Laitinen's solo exhibition will be seen in Amado Art Space in Seoul in May 2018.
The 21st Biennale of Sydney, SUPERPOSITION: Equilibrium & Engagement
, 16.3.– 11.6.2018, at multiple locations throughout Sydney.