The collaboration between Helsinki Contemporary and Artek Helsinki brings new paintings by Eeva-Riitta Eerola to Keskuskatu
27.02.2021
Helsinki Contemporary hangs a selection of new paintings by Eeva-Riitta Eerola to Artek Helsinki in March as part of the gallery's Taide tilassa (Art in Space) concept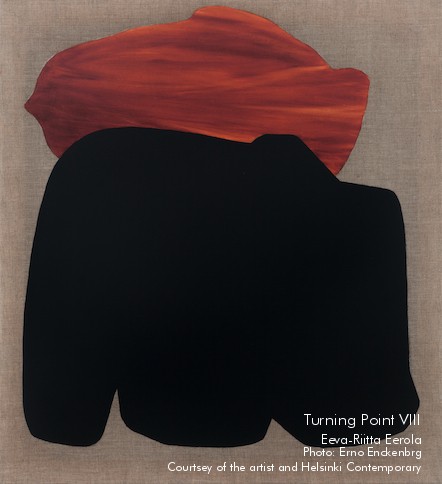 In her artistic work, Eeva-Riitta Eerola explores the concept of perception and how we understand and experience images. Eerola's expression has lately moved towards a more simplistic direction, the artist varies in her works a limited number of elements, such as shapes, colours and textures. Through her minimalistic expression Eerola conveys a large amount of information – the reduction of elements clarifies the message of the works, as well as the viewing experience.
The series of works spreading to the Artek Helsinki store in March continues the investigations of Eerola's previous solo exhibition at Helsinki Contemporary in 2019, this time the human figure has become even more referential. Dealing with the figure is both interesting and challenging for the artist: even the slightest hint of human presence loads the viewing experience with meanings and narration. In Eerola's paintings, however, the figure appears as a character-like element and refers to something other than narration.


Artek Helsinki
Keskuskatu 1 B, 00100 Helsinki
Mon-Sat :10.00–18.00

You can inquire about the works at Artek Helsinki and Helsinki Contemporary.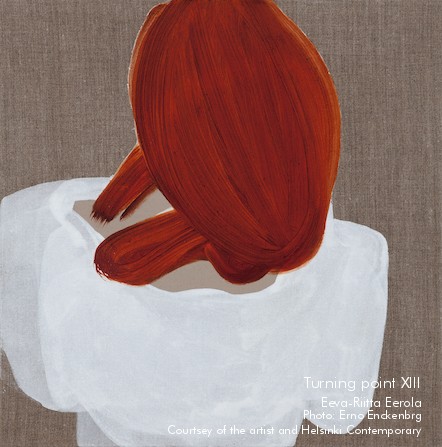 Artek – Art and Technology since 1935
Artek was founded in Helsinki in 1935 by four young idealists: Alvar and Aino Aalto, Maire Gullichsen, and Nils-Gustav Hahl. Their goal was "to sell furniture and to promote a modern culture of living by exhibitions and other educational means." In keeping with the radical spirit of its founders, Artek today remains an innovative player in the world of modern design, developing new products at the intersection of design, architecture, and art. The Artek collection consists of furniture, lighting, and accessories designed by Finnish masters and leading international designers. It stands for clarity, functionality, and poetic simplicity.

Taide Tilassa – Art in Space

Helsinki Contemporary's Taide tilassa (Art in Space) concept draws attention to the role and meaning of contemporary art in various spaces, and the interplay between art and space. Events, artworks and wholes presented outside the gallery enable encounters and establish new connections.


Conversation with Eeva-Riitta Eerola


You have been working on the Turning Point series for about a year. What was the initial impulse for the series, and how has it progressed?
I've been working on the series ever since last spring. In my previous solo exhibition at Helsinki Contemporary in August 2019, the human figure was in a leading role, for the first time in a long while. Since then, the figure has organically been a part of my work, I feel like there's still a lot to explore. Of course, I always aim to find new angles to my subjects, and there's always movement happening inside the process – whether it be moving towards the abstract, conscious delimitation, or including collages in the works that are inherent to my sketching process.
Both intuition and conscious decisions are simultaneously involved in the working process. In my most recent works, certain shapes and colours are repeated, as well as varying the use of the bare canvas. Through stricter delineation, I wanted to deepen the themes of the series, make visible what happens in a painting – how its parts are in constant movement, come forward or move back, rise to the surface or are pushed inside. The core of my work stays the same, but the aim of a new process is always to find new information and understanding.
What meaning does working in series have for the process? Do you concentrate on one series at a time, or shift between series?
I see the works born in the same process as one entity with smaller series, more strongly interlinked, being born within – I usually distinct these by naming. I am intrigued by the possibility that a serial way of working brings, to consciously build relationships between the works. It feels like a natural way to study abstract concepts, such as, how to depict the experience of a certain movement.
What has been the starting point for dealing with the human figure in the series? What kind of challenges does it bring, and what does it reveal about the viewing experience?
The human figure naturally evokes an expectation of at least some degree of narration in the viewer. What I've been interested in is trying to use the figure in another way, as a sign through which to construct and define the image and depict, for example, eventuality or the structures of a painting. This is the fundamental challenge of the series: how to work with the human figure but in such a way that doesn't immediately direct the viewing to the expectation of recognition or narration.
I treat my pictorial subjects as equals: it doesn't matter to me, whether a ball, a cube or a human figure is in question when constructing a painting, I can attach the same intention or feeling to different subjects. A painting is made up of actors that react and move in relation to each other. When you revert the elements of a work back to the act of painting, the pictorial surfaces interpreted as hair become merely parts in a whole, painted in a slightly different way. And moreover, when it comes to intersecting ways of reading, I'm interested in the way an abstract work starts to move towards the figurative alongside more figurative works.
A central motif in my work is to make visible the experience of perception and recognition, and to aim to bring these mechanisms of reading an image for the viewer to consider as well. However, viewing is always personal, and even though, as a maker, I can attach different intentions to my works, I also want them to be permissive to different approaches.
Your expression seems to have moved to an even more minimalistic direction. Is this just part of the natural process of studying the same subjects, or does it arise from some sort of new courage?
I've wanted to simplify my expression and try to clarify my own way of depicting things. In the past, I used a wide scale in my way of painting, moving from expressive to minimalistic. It felt interesting at the time and, for me, was equally related to the research of the means of my medium, painting. In some of the works, a part of the pictorial subject was to leave the traces of the process visible through the traces of painting, the ways in which I had tried to solve certain things. And, now and again, I used to paint masking tape or the wood of the frame visible, as concrete elements of the work. Making the working process visible comes naturally to me, the act of painting itself becomes one of the subjects in the works. The use of the bare canvas is related to this as well, it has been part of my process for a long time, but in this new series of works I wanted to give it a central role in constructing the image.
What is your working process like? How do research, sketching and constructing a painting relate to each other?
Collecting material is ever ongoing, but in the beginning of a new working period, I go through with more intention the questions and ways of working that interest me the most and feel most natural in the moment. These directions often change, of course, or at least become more precise as the work progresses, but the most important thing is to move towards something. When working on my latest exhibitions, I've returned to sketching by making paper collages. It's a method I used years ago. Back then, it was clearly related to my interest to move between the recognizable and undefined, and through it, the concrete de- and reconstruction of the image. I like collages because they are a quick and direct way to look for shapes and, as such, they come close to drawing. Once you move to painting, things obviously become something else and the actual solutions are born through that. For me, it's important to get a large amount of paintings under way, because as the process progresses, the works start to solve each other. With this I mean that as the paintings start to form references between each other, it also clarifies what it's all about and helps me take the process consciously to the direction of my choosing.
In connection with the former: you spent last autumn in Italy, at the Finnish Cultural Institute in Rome's residency, Villa Lante. What was left from there?
In my experience, a residency always brings something new to your work, because simply collecting material and planning the works in another environment simulates and clarifies your thought so efficiently. I applied for Villa Lante because I hoped to both spend time in Rome and travel around the country, and study artworks from different eras with concentration. Due to the exceptional circumstances, my time at the residency was cut short, and traveling to other cities was limited, but in any case, I got a lot of material to take home with me. I hope those thoughts will mature and find a shape in upcoming exhibitions. I may talk about them more concretely then.
Furthermore, you explore the basic elements of painting and their relations in your works. Does the history of art play a big role in your work? Are there any certain painters or artists, who especially have been an influence?
I do belong to the school that thinks that the knowledge of tradition is very important, and I find a lot of interesting things to study in older art in relation to what I do. Related also to the previous question, Italian art of the 14th and 15th centuries in particular has been in my mind a lot in recent years.
For a number of years, you have been working together with video artist Jenni Toikka on different projects, most recently at Maison Louis Carré, a house designed by Alvar Aalto in France. What does the collaboration between two artists working with different mediums bring to your own painting?
Through the collaboration, I can direct my attention to different points of interest, and I believe it has helped me to deal with things through painting in a more focused way. It also brings a concrete change to my work – For me, working alone and turning inwards into my own reality, which are associated with painting, is sometimes heavy, and so it's wonderful to be able to work in a direct interaction with someone else, at times even a working group. Of course, the collaboration also offers a good challenge, because through it, I have to verbalize my thoughts to others, and, on the other hand, relinquish the illusion of control that working alone with a familiar medium enables.
Jenni and I are both interested in similar questions and ways of constructing images, so in collaboration we have been able to address them in a different way. In both our works the motif of two or duplication, for example, is repeated, often in relation to rather abstract questions of simultaneity and similarity, the inside and outside, the viewer and the object. When working as an artist couple – in a shared space – this thematic is, of course, inherently present, and we have addressed it in various forms in all of our projects. We are currently planning our next video work related to two women important to us, sisters Virginia Woolf and Vanessa Bell.