The Shape of Things to Come
9.8.-1.9.2019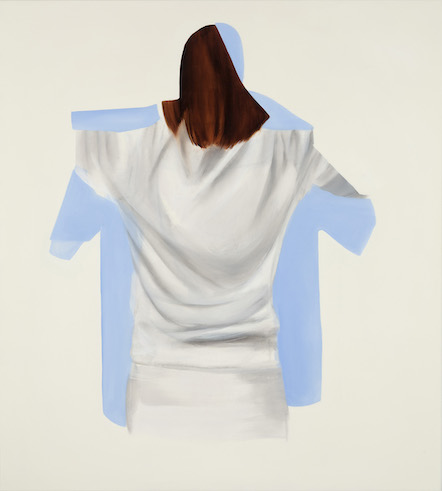 Helsinki Contemporary's autumn season starts off with Eeva-Riitta Eerola's The Shape of Things to Come. This exhibition of new paintings is her third solo appearance at the gallery. Eerola's works continue her investigation into the experiences of perception and recognition, and now the motifs in her paintings take a step back towards the figurative. The serial approach familiar from Eerola's previous work continues here, the themes being dealt with in increasingly diverse ways.
Eerola explores her subjects by making variations; elements from her small-scale, abstract works recur in the larger painterly gestures in The Shape of Things to Come, opening up and extending the experience of recognition. The forms refer more explicitly to something familiar, to a figure and a movement; the gaze is returned by the painting, the viewing experience becomes interactive and electric. These works painted with a delicate touch prompt us to contemplate the nature of presence and of sensing it – how we recognize other human beings from minor gestures. How few signs are requited for the eye to seek out for a human form and the presence of another in a painting?
Working in series allows a study of the relationships between the elements of a painting. Eerola's understated, collage-like approach contains reminders of the history of painting, of the tradition of research on space and perception. The precision of the forms and picture surfaces, along with the relationship between the works' interior spaces, in turn, undermines recognition of the figurative elements and gives greater depth to the spatial movement away from us – and towards us. The works stop to take a breath; their internal tension opens up access to other spaces, perhaps to other worlds.
Eeva-Riitta Eerola
(b. 1980) graduated from the Finnish Academy of Fine Arts in 2010 and also studied at the École nationale supérieure des Beaux-arts de Paris. She has exhibited in several group and solo exhibitions in Finland and abroad, e.g. at Turku Art Museum, Finland in 2017 together with the video artist
Jenni Toikka
, Galleri Bo Bjerggaard, Copenhagen, in 2015 and Gallery Jaus, Los Angeles, 2014. Latest solo show,
Senses of the Other
, was seen at Helsinki Contemporary in the spring of 2017. Eerola's work is represented in a number of Finnish art and museum collections, such as those of the Museum of Contemporary Art Kiasma, Saastamoinen Foundation, Sara Hildén Art Museum, and the Wihuri Foundation. Eerola worked in the internationally prestigious ISCP (International Studio & Curatorial Program) residence program in New York in 2016. In addition to the exhibition at Helsinki Contemporary, Eerola has continued her collaboration with Jenni Toikka: a site-specific exhibition will be seen in France, at
Maison Louis Carré
in September 2019.
Our thanks to Taike and Hélène och Walter Grönqvists stiftelse for supporting the exhibition and the artist's work.
Helsinki Contemporaryn syyskausi käynnistyy Eeva-Riitta Eerolan näyttelyllä The Shape of Things to Come. Uusista maalauksista koostuva kokonaisuus on taiteilijan kolmas yksityisnäyttely galleriassa. Eerola jatkaa teostensa kautta havainnon ja tunnistamisen kokemusten tutkimista, nyt maalausten kuva-aiheet palaavat esittävään päin. Eerolan työskentelylle tuttu sarjallisuus jatkuu näyttelyssä, jossa teemoja käsitellään yhä monimuotoisemmin.
Eerola tutkii aiheitaan varioiden; abstraktien, pienikokoisten teosten elementit toistuvat The Shape of Things to Come -näyttelyn suuremmissa maalauksellisissa eleissä, laajentaen ja avaten tunnistamisen kokemusta. Muodot viittaavat selkeämmin johonkin tuttuun, hahmoon ja liikkeeseen; katse palaakin takaisin maalauksesta, katsomisen kokemuksesta tulee vuorovaikutteinen ja sähköinen. Herkällä otteella maalatut teokset saavat pohtimaan läsnäolon luonnetta ja sen aistimista – sekä sitä, kuinka pienistä eleistä tunnistamme toisen ihmisen. Kuinka pieni määrä merkkejä riittää, että silmä hakee maalauksesta ihmishahmon ja toisen läsnäolon?
Sarjallinen työskentely mahdollistaa maalauksellisten elementtien suhteiden tutkimisen. Eerolan vähäeleinen ja kollaasimainen maalaus sisältää muistumia maalaustaiteen historiasta, tilallisuuden ja havainnon tutkimisen perinteestä. Muotojen ja kuvapintojen täsmällisyys sekä teosten sisäisten tilojen suhde osaltaan häivyttävät esittävien elementtien tunnistamista ja syventävät avaruudellista liikettä poispäin – ja samalla kohti. Teokset jäävät hengittämään; niiden sisäinen jännite aukaisee pääsyn muihin tiloihin, ehkä toisiin maailmoihin.



Eeva-Riitta Eerola (s. 1980) valmistui Kuvataidekatemiasta vuonna 2010, ja on opiskellut myös École nationale supérieure des Beaux-arts'issa Pariisissa. Eerolan teoksia on nähty yksityis- ja ryhmänäyttelyissä Suomessa ja kansainvälisesti, muun muassa Galleri Bo Bjerggaardissa Kööpenhaminassa vuonna 2015 ja Gallery Jausissa Los Angelesissa vuonna 2014. Edellinen yksityisnäyttely Helsinki Contemporaryssa, Senses of the Other, nähtiin keväällä 2017. Eerolan teoksia sisältyy useisiin suomalaisiin julkisisiin kokoelmiin, kuten Kiasman, Saastamoisen säätiön, Sara Hildénin taidemuseon ja Wihurin rahaston kokoelmiin. Eerola työskenteli kansainvälisesti arvostetun ISCP:n (International Studio & Curatorial Program) residenssissä New Yorkissa vuonna 2016. Yksityisnäyttelynsä lisäksi Eerola jatkaa yhteistyötä videotaiteilija Jenni Toikan kanssa Ranskassa Maison Louis Carréssa syyskuussa 2019 avautuvalla paikkasidonnaisella näyttelyllä.
Kiitos Taikelle ja Hélène och Walter Grönqvists stiftelselle näyttelyn ja taiteilijan työskentelyn tukemisesta.
Helsinki Contemporarys höstsäsong öppnar med Eeva-Riitta Eerolas utställning The Shape of Things to Come. Utställningen, Eerolas tredje på Helsinki Contemporary, visar nya målningar. Eerola fortsätter att via sina verk utforska iakttagelsen och igenkännandet, nu åter i mer föreställande bildmotiv. Den serialitet som varit typisk för hennes arbete fortsätter i utställningsverken som behandlar dessa teman allt mångsidigare.
Eerola studerar sina motiv genom att variera: olika element i de små abstrakta verken går igen i utställningens större måleriska gester, varvid upplevelsen av igenkännande får större bredd och öppenhet. Formerna refererar klarare till någonting bekant, en gestalt eller en rörelse; blicken återvänder från målningen, betraktandet blir en interaktiv och elektrifierad upplevelse. Verken är målade med känsligt grepp och får oss att reflektera över närvarons natur och hur närvaro upplevs – och över hur små gester som krävs för att vi ska känna igen en annan människa. Hur få tecken och symboler räcker till för att ögat ska söka en människogestalt och en annans närvaro i en målning?
Seriellt måleri gör det möjligt att studera relationerna mellan de måleriska elementen. I Eerolas okonstlade och collageaktiga måleri ingår reminiscenser av måleriets historia, av traditionen att utforska rumsligheten och iakttagelsen. Formernas och bildytornas precision och förhållandet mellan verkens inre ytor bidrar till att tona ner de föreställande elementens igenkännbarhet och fördjupar den spatiala rörelsen bortåt – och samtidigt mot betraktaren. Verken andas; deras inre spänning öppnar dörrar mot nya rum, kanske andra världar.
Eeva-Riitta Eerola (f. 1980) utexaminerades från Bildkonstakademin 2010 och har också studerat på École nationale supérieure des Beaux-arts i Paris. Hennes verk har visats på separat- och grupputställningar både i Finland och internationellt, bl.a. på Galleri Bo Bjerggaard i Köpenhamn 2015 och Jaus Gallery i Los Angeles 2014. Hennes förra separatutställning på Helsinki Contemporary, Senses of the Other, visades våren 2017. Eerolas verk ingår också många inhemska samlingar, såsom Kiasmas, Saastamoinenstiftelsens, Sara Hildéns konstmuseums och Wihuris fonds samlingar. År 2016 arbetade hon på det internationellt renommerade ISCP:s (International Studio & Curatorial Program) residens i New York. Förutom sin separatutställning fortsätter Eerola sitt samarbete med videokonstnären Jenni Toikka i form av en platsrelaterad utställning på Maison Louis Carré i Frankrike. Vernissage i september.
Tack till Taike och Hélène och Walter Grönqvists stiftelse för stöd till utställningen och konstnärens arbete.