Senses of the Other
10.3.-2.4.2017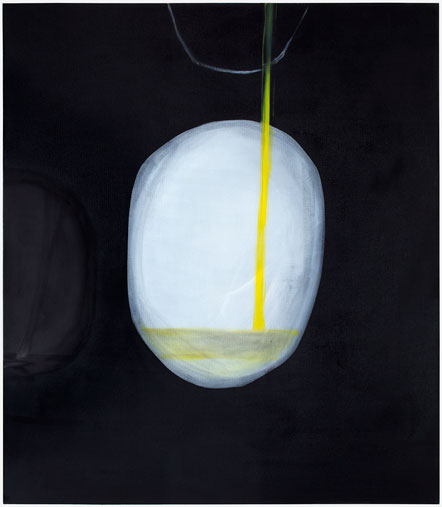 Eeva-Riitta Eerola works with perception. In her abstract paintings the artist first shatters the image and then reconstructs it. The viewer might find traces of recognisable elements that invite to look for something more – like the viewer would be taken behind the image. In the new paintings, different layers give shape to openings in the middle of the canvases. They are like windows or peepholes that welcome viewers inside another world. Different elements, such as wood and sea are distantly present in the works.
Eeva-Riitta Eerola
(b. 1980) is currently working in the internationally prestigious ISCP (International Studio & Curatorial Program) residence program in New York through the Alfred Kordelin Foundation. In February 2017, her joint exhibition with video artist Jenni Toikka opens in the Turku Art Museum Studio. Eerola received a 3-year working grant from the Arts Promotion Centre Finland from 2017 on. Along with the exhibition at Helsinki Contemporary a catalogue will be published.
Eeva-Riitta Eerola työskentelee havainnon parissa, abstrakteissa teoksissa taiteilja hajottaa kuvan ja koostaa sen uudelleen. Katsoja voi tunnistaa häivähdyksiä tutuista elementeistä, jotka saavat hakemaan kuvasta jotain enemmän – ikään kuin vieden katseen kuvan taakse. Uusissa maalauksissa eri kerrokset muodostavat aukon teoksen keskelle, kuin ikkunan tai kurkistusreiän, joka mahdollistaa pääsyn teoksen sisään. Erilaiset elementit, kuten puu ja meri ovat teoksissa etäisesti läsnä.

Eeva-Riitta Eerola (s. 1980) työskentelee parhaillaan Kordelinin säätiön tukemana kansainvälisesti arvostetussa ISCP (International Studio & Curatorial Program) -residenssiohjelmassa New Yorkissa. Helmikuussa hänellä avautuu näyttely yhdessä videotaiteilija Jenni Toikan kanssa Turun taidemuseon Studiossa. Helsinki Contemporaryn näyttelyn yhteydessä Eerolalta julkaistaan katalogi. Hänelle myönnettiin juuri TAIKE:n 3-vuotinen taiteilija-apuraha.