Göthman, Johansson
Repetitions
9.4.-3.5.2020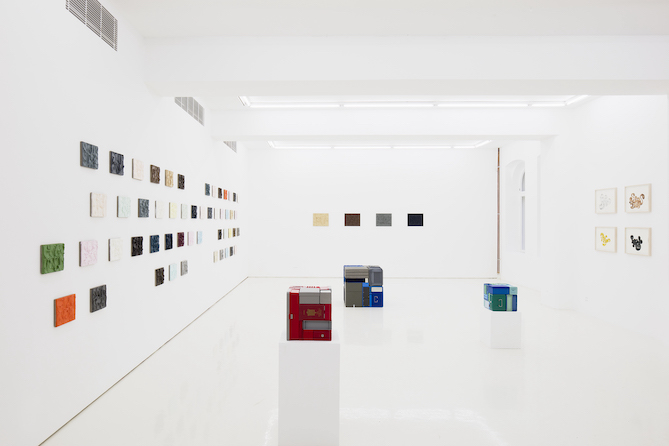 Repetitions
, a joint exhibition of the Swedish artists
Lukas Göthman
and
Michael Johansson
, is a dialogue between two strong and distinct auteurs. Both artists study and open up their subjects through the act of repetition, the works that spread out in the same exhibition space challenge each other and and between them new horizons are born.
Lukas Göthman
's artistic work is based on a series of real and fictitious journeys. His works study the visual impacts of words and letters, the sentences and words repeated in the paintings form abstract compositions.
Michael Johansson
is best known for his playful, puzzle-like installations, consisting of different objects, that study the possibilities and limits of space. A book on Johansson's work will be published in conjunction with the exhibition.
Lukas Göthmanin
ja
Michael Johanssonin
yhteisnäyttely Repetitions on dialogi kahden vahvan ja omaäänisen tekijän välillä. Molemmat taiteilijat tutkivat ja avaavat aiheitaan toiston kautta, samaan näyttelytilaan levittäytyvät teokset haastavat toinen toisensa ja niiden välisessä keskustelussa syntyy uusia horisontteja.
Lukas Göthmanin
(s. 1970) taiteellinen työskentely pohjaa sarjalle todellisia ja fiktiivisiä matkoja. Hänen teoksensa tutkivat sanojen ja kirjainten visuaalista efektejä, maalauksissa toistuvat sanat ja lauseet muodostavat abstrakteja kompositioita. Göthman on itseoppinut taiteilija, joka on esiintynyt laajalti kotimaassaan Ruotsissa varhaiselta 2000-luvulta saakka. Göthmanin teoksia on nähty ryhmä- ja yksityisnäyttelyissä myös muualla Euroopassa, mm. Amsterdamissa, Pariisissa ja Helsingissä.
Michael Johansson
(s. 1975) on tullut tunnetuksi ennen kaikkea leikkisistä, eri esineistä koostuvista, palapelimaisista installaatioistaan, jotka tutkivat tilan mahdollisuuksia ja rajoja. Johansson valmistui Malmön taideakatemiasta vuonna 2005. Hän on esiintynyt kansainvälisesti useissa museo- ja gallerianäyttelyissä ja toteuttanut lukuisia julkisia teoksia. Taiteilijalta julkaistaan näyttelyn yhteydessä myös kirja.
De svenska konstnärerna Lukas Göthmans och Michael Johanssons gemensamma utställning Repetitions är en dialog mellan två starka och originella konstnärer. Båda utforskar sina motiv via upprepning, så att verken i samma rum utmanar varandra samtidigt som dialogen mellan dem skapar nya horisonter.
Lukas Göthmans konstnärliga arbete bottnar i en serie reella och fiktiva resor. Hans verk utforskar ordens och bokstävernas visuella effekter, repeterade ord och meningar i målningarna bildar abstrakta kompositioner. Michael Johansson är känd framför allt för sina lekfulla, av föremål sammansatta pussellika installationer som utforskar rummets möjligheter och gränser. I samband med utställningen publiceras också en bok av Johansson.