Maps of Essence
5.10.-28.10.2018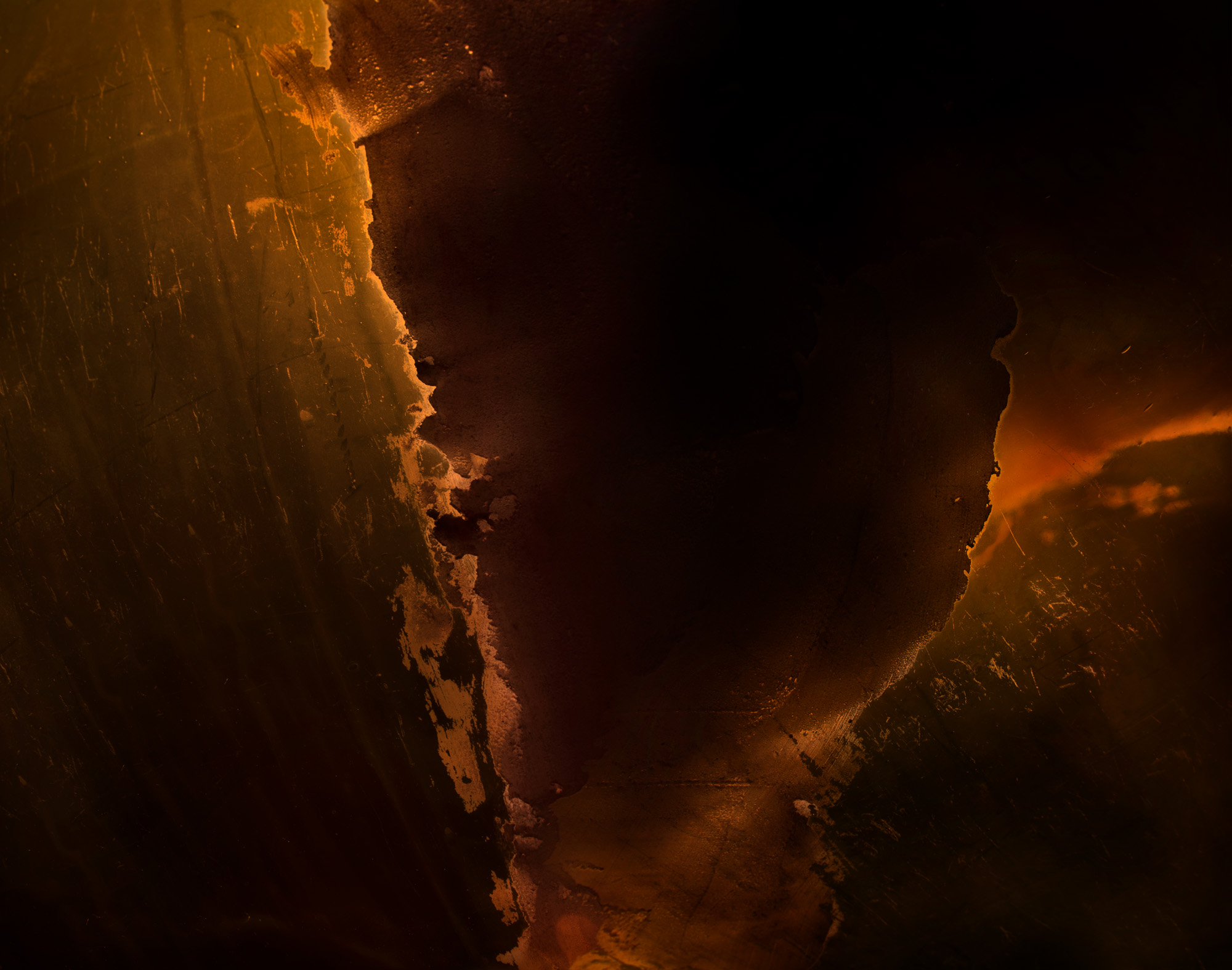 Perttu Saksa's third solo exhibition at Helsinki Contemporary shows a series of photographs and bronze sculptures.
His works contemplate our relationship with energy and its significance for humanity. They are the outcome of a working process spanning several years, during which Saksa made repeated, extended photographing trips to the Benin and Togo region. There he became interested in the numerous petrol stalls selling low-quality petrol (essence in French) distilled from oil stolen from multinational corporations – a pirated product.
Saksa was interested in the concrete nature of the topic. Not so much in West Africa's petrol trade, as in oil and energy as a structural component of society and its localization as a physical element on the human level. Saksa through-lit the petrol canisters, so that the light permeated the layer of mud covering the containers and the cloudy petrol, creating an intense effect that has generated a series of abstract works. Despite this reductive approach, the images' abstract subject matter, petrol, began to seem individual and tangible.
The artist has called the images maps – Maps of Essence. They are like nameless places, untouched by humankind, "no man's lands" that glow in shades of red, urging us to check our relationship with energy and what it means to people. A central plotline is the observation that oil, seen as a positive material that transmits power, produces more waste and destruction than energy, inherently working against humanity.
Among the photographic works is a series of still lifes: pictures of petrol canisters and recycled liquor bottles reminiscent of Dutch Vanitas paintings of the baroque. The recurrent symbols in these still lifes, such as power, the cycle of life, and death, are echoed in the mental images linked with oil. The frontal compositions and dim lighting of the pictures are consciously constructed to accentuate that connection.
The light and the still-life-likeness are also references to Christian imagery. A single symbolically charged image is the only one of these works in which a human being is present. It shows people washing their hands with petrol. This sacral image is simultaneously brutal and sensitive. The oil and the petrol only become concrete through their tangibility, it is their physicality that situates the subject on the human scale.
The bronze sculptures in the exhibition are based on pythons that Saksa also photographed in West Africa. These Vodun-religion fetishes are charged with energy and power, with a fuel capable of changing the course of life. Saksa juxtaposes these energies and views fossil energy as a religious force that regulates our way of being in the world.
Perttu Saksa (b. 1977) is a photographic and video artist who won the 2014 Fotofinlandia Prize. Having studied at the Academy of Fine Arts, Helsinki, he is now pursuing artistic doctoral studies at Aalto University. His works have been shown in galleries and museums around Europe, including Stadt Galleri Kiel, Felleshus Berlin, Finnish Museum of Photography, Helsinki Art Museum, HAM, and most recently the Ars Fennica candidates' exhibition at Museum of Contemporary Art Kiasma. Saksa's works are in public collections including EMMA – Espoo Museum of Modern Art, Museum of Contemporary Art Kiasma and the Henna and Pertti Niemistö Contemporary Art Collection. In 2018, his proposal won the design competition for a memorial to President Mauno Koivisto, which will be unveiled on 25.11.2018.
Perttu Saksan
kolmas yksityisnäyttely Helsinki Contemporaryssa esittelee sarjan valokuvia ja pronssiveistoksia.
Saksan teokset pohtivat suhdettamme energiaan ja sen merkitystä ihmisille. Teokset ovat tulosta useamman vuoden työskentelystä, jonka aikana Saksa teki pitkiä kuvausmatkoja Beninin ja Togon alueella. Taiteilija kiinnostui lukuisista bensakojuista, joissa myytiin monikansallisilta yhtiöiltä varastetusta öljystä tislattua huonolaatuista bensaa, eräänlaista piraattituotetta.
Aiheen konkreettisuus kiinnosti Saksaa. Ei niinkään Länsi-Afrikassa tapahtuva bensakauppa, vaan öljy ja energia yhteiskunnan rakenteellisena osana ja sen paikallisuminen fyysisenä elementtinä, ihmisen tasolla. Saksa läpivalaisi bensakanistereita ja antoi valon siivilöityä astioita peittävän mutakuoren ja sakkaisen bensiinin läpi, luoden intensiivisen vaikutelman, josta on syntynyt sarja abstrakteja teoksia. Pelkistämisestä huolimatta kuvien abstrakti aihe, bensa, alkoi näyttäytyä yksilöllisenä ja käsinkosketeltavana.
Taiteilija on nimennyt kuvat kartoiksi - Maps of Essence. Kartat ovat kuin nimeämättömiä paikkoja, vailla ihmisen kosketusta, "ei kenenkään maita". Punaisen sävyjä hehkuvat kartat kehoittavat tarkastelemaan suhtautumistamme energiaan ja sen merkitystä ihmiselle. Keskeinen juonne on havainto siitä, että öljy, joka on koettu positiivisena energiaa välittävänä materiaalina, tuottaakin enemmän tuhoa ja jätettä kuin energiaa, toimien jo lähtökohtaisesti ihmistä vastaan.
Valokuvateoksiin lukeutuu myös sarja asetelmia; kuvat bensakanistereista ja kierrätetyistä viinapulloista tuovat mieleen barokinaikaisen hollantilaisen maalaustaiteen vanitas-aiheet. Asetelmissa toistuvat symbolit, kuten valta, elämän kiertokulku ja kuolema, monistuvat öljyyn liitetyissä mielikuvissa. Kuvien frontaalit sommitelmat ja hämärä valaistus on tietoisesti rakennettu korostamaan tätä yhteyttä.
Valoon ja asetelmallisuuteen sisältyy myös viittaus kristilliseen kuvastoon. Teoksissa symbolisesti latautunein kuva on se ainoa, jossa ihminen on läsnä. Kuvassa ihmiset pesevät käsiään bensiinillä. Sakraali kuva on samanaikaisesti brutaali ja herkkä. Öljy ja bensa muodostuvat konkreettisiksi vasta käsinkosketeltavuuden kautta, kehollisuus kuvassa asettaa aiheen inhimilliseen mittakaavaan.
Näyttelyssä nähtävät pronssiveistokset pohjautuvat Saksan niin ikään Länsi-Afrikassa valokuvaamiin python-käärmeisiin. Vodun-uskonnon fetisseihin ladataan energiaa ja voimaa, polttoainetta, jolla on kyky ohjata elämän kulkua. Saksa rinnastaa energiat toisiinsa ja katsoo fossiilista energiaa uskonnollisena voimana, joka säätelee tapaamme olla maailmassa.
Perttu Saksa (s. 1977) on Fotofinlandialla vuonna 2014 palkittu valokuva- ja videotaiteilija. Kuvataideakatemiassa opiskellut Saksa suorittaa taiteellista tohtorintutkintoa Aalto yliopistossa. Hänen teoksiaan on ollut esillä lukuisissa gallerioissa ja museoissa ympäri Eurooppaa, mm. Stadt Galleri Kiel, Felleshus Berlin, Suomen valokuvataiteen museo, HAM ja viimeiseksi Nykytaiteen museo Kiasmassa Ars Fennica palkintoehdokkaiden näyttelyn yhteydessä. Saksan teoksia on useassa julkisessa kokoelmassa kuten EMMA – Espoon modernin taiteen museo, Nykytaiteen museo Kiasma ja Henna ja Pertti Niemistön kokoelma. Vuonna 2018 Saksan ehdotus voitti presidentti Mauno Koiviston muistomerkin suunnittelukilpailun. Muistomerkki paljastetaan 25.11.2018