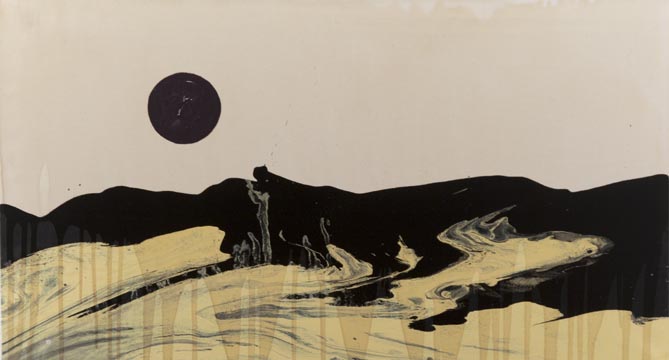 Stockholm artist Lukas Göthman's Journey exhibition continues his project of many years, which demonstrates the importance of place and memory; who are we, where do we come from, and where are we going?

This stage of the journey is definitely a new departure. Göthman's paintings leave behind land and sea, at least, in the way that we have traditionally been accustomed to see and encounter them, both in the landscape and in paintings depicting the landscape. Now, the colors come at us, and they come at us fast. Oppressive reds, lurid yellows and stinging greens.

On this occasion, we journey into a world, into its physical and mental imagery, where the coordinates tell us something special and strange. We venture into the distance, somewhere between the Earth and Mars. Where the things we meet are both barren and beautiful, familiar and unknown.

Göthman's journey is an unequivocally personal one. He paints and writes himself into the story and out of it, returning again and again. He seeks ways and means of achieving desires and needs that we all recognize: the compulsion and the desire to be and to get away, to come closer and to move far off. Together and separate. Away from both ourselves and our environment, from both the storm warnings in our heads and the patterns put there by the structures of society.

In this exhibition Göthman carries on his series of essays written in the first person, in which the journey passes through fells and the Stockholm archipelago, not forgetting the hotel room in Berlin and the old, ruined house in Latvia. The exhibition coincides with the release of Göthman's latest catalogue. Lukas Göthman's (b. 1970) previous solo exhibition in Finland, Views from a Journey, was shown at Gallery Kalhama & Piippo Contemporary in winter 2010.

'I like routines. When day and night flow together, and the writing and the painting are getting intense, I think it is nice that some things stay put, so you can go back and see what has happened and what has changed. And then do it all over again. These physical stations of the journey stay put. And I really like them.'

Lukas Göthman
Tukholmalaistaiteilija Lukas Göthmanin näyttely Journey (Matkalla) jatkaa hänen monivuotista projektiaan, jossa hahmotetaan paikan ja muistin merkitystä; keitä me olemme, mistä me tulemme ja minne olemme menossa.

Matkan tämänkertainen etappi on selkeä irtiotto. Göthmanin maalaukset jättävät maat ja meret; ainakin siten kuin me olemme perinteisesti tottuneet ne näkemään ja kohtaamaan, sekä maisemassa, että maalauksissa, joissa maisema on kuvattuna. Nyt värit tulevat päälle, ja ne tulevat päälle vauhdilla. Pakahduttavan punaisina, kelmeän keltaisina ja vihlovan vihreinä.

Tällä kertaa me matkaamme maailmaan, sen niin fyysisiin kuin mentaalisiin mielikuviin, joissa koordinaatit kertovat jotakin erikoista ja outoa. Seikkailemme kaukana, jossakin maan ja Marsin välissä. Siellä, missä kohtaamamme asiat ovat yhtäaikaisesti karuja ja kauniita, tuttuja ja tuntemattomia.

Göthmanin matka on luonteeltaan korostuneen henkilökohtainen. Göthman maalaa ja kirjoittaa itseään sisään tarinaan ja siitä pois, palaten sinne yhä uudelleen. Hän etsii tapoja ja keinoja toteuttaa haluja ja tarpeita, jotka me kaikki tunnistamme: pakko ja halu olla ja päästä pois, tulle lähemmäs ja siirtyä kauas. Yhdessä ja erikseen. Niin omasta itsestämme kuin ympäristöstämme, niin pään sisäisistä myrskyvaroituksista kuin yhteiskunnan rakenteiden asettamista virityksistä.

Göthman jatkaa näyttelyssään minä-muodossa kirjoitetun esseen sarjaa, jossa matka käy läpi tuntureiden ja tukholmalaisen saariston, unohtamatta hotellihuonetta Berliinissä ja raunioitunutta vanhaa taloa Liettuassa. Näyttelyn ohessa ilmestyy Göthman uusin katalogi.Lukas Göthmanin (s. 1970) edellinen yksityisnäyttely Suomessa, Views from a Journey, nähtiin Gallery Kalhama&Piippo Contemporaryssa talvella 2010.
Stockholmskonstnären Lukas Göthmans utställning Journey (På resa) är en fortsättning på hans mångåriga projekt där platsens och minnets betydelse gestaltas; vilka är vi, varifrån kommer vi och vart är vi på väg.

Den här gångens etapp för resan handlar tydligt om ett lösgörande. Göthmans målningar lämnar bakom sig landen och haven; i alla fall så som vi traditionellt har varit vana vid att se och möta dem, både i landskapet och i målningarna där landskapet är avbildat. Nu kommer färgerna över en, och det med kraft. Rött som får en att tappa andan, blekt gult och illande grönt.

Den här gången reser vi till en värld, till både de fysiska och mentala fantasibilderna av den, där koordinaterna berättar om någonting speciellt och underligt. Vi är på äventyr långt borta, någonstans mellan jorden och Mars. Där de saker vi möter är på en gång karga och vackra, bekanta och obekanta.

Göthmans resa är till sin natur uttalat personlig. Göthman målar och skriver in sig själv i berättelsen och ut ur den, och återvänder gång på gång dit. Han söker sätt och metoder att förverkliga önskningar och behov som vi alla känner igen: tvånget och viljan att vara borta och att komma bort, att närma sig och fjärma sig. Tillsammans och var för sig. Såväl från oss själva som från vår omgivning, såväl från de inre stormvarningarna i huvudet som från de spänningar som härrör ur samhällets strukturer.

Göthman fortsätter i sin utställning på en essäistisk serie som är skriven i jagform, där resan korsar tundror och den stockholmska skärgården, ett hotellrum i Berlin och en gammal husruin i Litauen inte att förglömma. Vid sidan om utställningen publiceras den nyaste katalogen om Göthman. Lukas Göthmans (född 1970) senaste separatutställning i Finland, Views from a Journey, sågs på Gallery Kalhama&Piippo Contemporary på vintern 2010.