Indoor Fireworks
11.1.-3.2.2019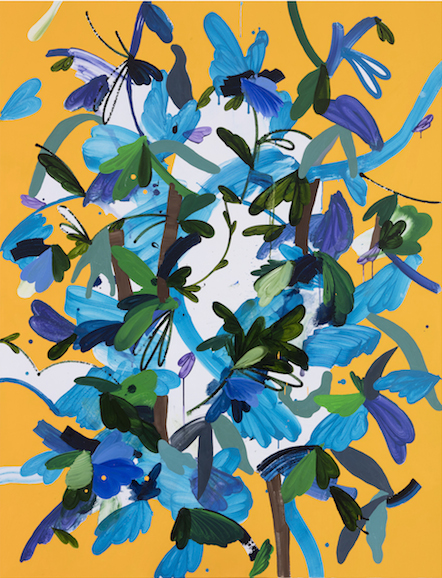 Helsinki Contemporary's year starts with two exhibitions, as Ilari Hautamäki and Camilla Vuorenmaa share the gallery space.
Ilari Hautamäki's Indoor Fireworks exhibition shows a series of new, vividly coloured paintings.
By varying their diverse elements the paintings occupy the middle ground between the functional and the organic, the built and the natural. To Hautamäki the works are abstract, but some recognizable elements have also been consciously chosen for them. It is up to viewers whether they see in these works the green leaves of a plant, a butterfly's wings, insects, all of the above, or something else entirely.
Hautamäki describes himself as aiming for freedom in his painting, while still retaining his own characteristic rigour. He is interested in nature's 'perfect chaos', in how the uncontrolled can simultaneously be in exactly the right order. The working process begins spontaneously and intuitively, after which the work advances more slowly. In the paintings we move between different levels – what appears to be in the background is actually in the foreground, and vice versa. The elements of the works also move forwards and outwards, projecting out from inside the frame, blazing like fireworks.
"What I am after is a polarization, and also a competition, between the organic and the industrial level, and the tension formed out of them, through which a balanced image arises. This equation interests me, because it creates a challenge and an inquisitiveness about my compositions, and about my processes."
The rhythms and movement in Hautamäki's paintings recur from one work to the next, but varying as they do so. Alongside the movement and brushstrokes the paintings also contain flat colour fields and blank spots and gaps, thus giving rise to the rhythm that is the hallmark of Hautamäki's works.
Ilari Hautamäki (b. 1983) is a Helsinki visual artist. He graduated from the Academy of Fine Arts, Helsinki, in 2011 and has since shown actively in solo and group exhibitions. His most recent sizeable solo exhibition was at the HAM Gallery, Helsinki, in 2017. His group exhibitions include those at Mänttä Art Festival, Hämeenlinna Art Museum, Jyväskylä Art Museum, and the Young Artists exhibition at Kunsthalle Helsinki. In 2018-2019, Hautamäki took part in The Touch exhibition series at Tornio Art Museum, Seinäjoki Art Hall and Pro Artibus' Sinne gallery in Helsinki. His works are represented in Helsinki Art Museum, HAM's collection, the Wihuri art collection, and elsewhere.
Read about Camilla Vuorenmaa's exhibition Roses, Black Birds and Witches here, on view at the same time!
Helsinki Contemporaryn vuoden avaa kaksi näyttelyä, kun Ilari Hautamäki ja Camilla Vuorenmaa jakavat galleriatilan.

Ilari Hautamäen Indoor Fireworks -näyttely esittelee sarjan uusia, värikylläisiä maalauksia.
Erilaisia elementtejä varioiden maalaukset liikkuvat funktionaalisen ja orgaanisen, rakennetun ja luonnonmukaisen välimaastossa. Taiteilijalle teokset ovat abstrakteja, mutta niihin on tietoisesti valikoitunut myös tunnistettavia elementtejä. On katsojasta kiinni, näkeekö hän teoksissa kasvin vihreitä lehtiä, perhosen siipiä, hyönteisiä, näitä kaikkia tai jotain ihan muuta.
Hautamäki kuvailee tavoittelevansa maalauksessaan vapautta, säilyttäen silti itselleen omaleimaisen tiukkuuden. Häntä kiinnostaa luonnon ns. täydellinen kaaos, miten kontrolloimaton voi samanaikaisesti olla juuri oikeassa järjestyksessä. Työprosessi alkaa spontaanisti ja intuitiivisesti, minkä jälkeen työstöstä tulee hitaampaa. Maalauksessa liikutaan eri tasojen välillä – se mikä näyttää olevan taka-alalla onkin etualaa ja päinvastoin. Teosten elementit liikkuvat myös eteen ja ulos, pois raamien sisältä, räiskyen kuin ilotulitteet.
"Se, mitä haen, on orgaanisen ja teollisen tason välinen vastakkaisuus ja myös kilpailu, sekä niistä muodostuva jännite, jonka kautta syntyy tasapainoinen kuva. Tämä yhtälö kiinnostaa, koska se luo haastetta ja mielenkiintoa sommitelmiin ja myös prosessiini."
Hautamäen maalausten rytmi ja liike toistuvat teoksesta toiseen, mutta varioiden. Liikkeen ja vetojen rinnalla maalauksissa on tasaisia väripintoja sekä tyhjiä kohtia ja aukkoja, näin syntyy taiteilijan teoksille tunnusomainen rytmi.
Ilari Hautamäki (s. 1983) on helsinkiläinen kuvataiteilija. Hän valmistui Kuvataideakatemiasta 2011 ja on sen jälkeen esiintynyt aktiivisesti yksityis- ja ryhmänäyttelyissä. Viimeinen laaja yksityisnäyttely oli HAM-galleriassa vuonna 2017. Ryhmänäyttelyitä on ollut mm. Mäntän kuvataideviikoilla Mäntässä, Hämeenlinnan taidemuseossa, Jyväskylän taidemuseossa ja Nuorten näyttely Taidehallissa. Vuonna 2018-2019 Hautamäki on mukana Kosketus-näyttelysarjassa Tornion taidemuseossa, Seinäjoen taidehallissa ja Pro Artibuksen Sinnessä Helsingissä. Hänen teoksiaan on edustettuna mm. HAMin kokoelmassa ja Wihurin taidekokoelmassa.
Lue Camilla Vuorenmaan samaan aikaan esillä olevasta näyttelystä Roses, Black Birds and Witches täältä.
Ilari Hautamäkis utställning Indoor Fireworks presenterar en serie nya, färgmättade målningar.
Målningarna med variationer i enskilda element rör sig i gränszonen mellan det funktionella och det organiska, det byggda och det naturliga. För konstnären själv är verken abstrakta, men han har medvetet lagt in också identifierbara element i verken. Betraktaren avgör själv vad det är han eller hon ser: gröna växtblad, fjärilsvingar, insekter, allihopa eller något helt annat.
Hautamäki berättar att han i sitt måleri eftersträvar frihet samtidigt som han håller fast vid sin karakteristiska stramhet. Han fascineras av naturens så kallade fullständiga kaos, hur det okontrollerade ändå samtidigt kan befinna sig i exakt rätt ordning. Han inleder sin arbetsprocess spontant och intuitivt, varefter följer ett långsammare skede av bearbetning. Målningarna rör sig mellan olika nivåer – det som förefaller vara i bakgrunden är de facto i förgrunden och vice versa. Elementen i verken rör sig också framåt och utåt, utanför ramen, sprakande som fyrverkeripjäser.
"Vad jag är på jakt efter är polariteten och även konkurrensen mellan det organiska och det industriella och den spänning som då uppstår och som slutligen framkallar en harmonisk bild. Den ekvationen är fascinerande, för den gör både kompositionerna och själva arbetsprocessen mer krävande och intressant."
Rytmen och rörelsen i Hautamäkis målningar upprepas från verk till verk, men alltid med variationer. Förutom rörelse och penseldrag finns det också jämna färgytor och tomma punkter och öppningar i målningarna; det är så den för Hautamäkis verk karakteristiska rytmen uppstår.
Ilari Hautamäki (f. 1983) är en bildkonstnär från Helsingfors. Han utexaminerades från Bildkonstakademin 2011 och har sedan dess ställt ut aktivt med både separat- och grupputställningar. Sin senaste stora separatutställning hade han på galleri HAM 2017. Grupputställningar har han deltagit i bl.a. på bildkonstveckorna i Mänttä, Tavastehus konstmuseum, Jyväskylä konstmuseum och De unga på Konsthallen. Åren 2018–2019 medverkar Hautamäki i utställningsserien Beröring på Torneå konstmuseum, Seinäjoki konsthall och Pro Artibus Sinne i Helsingfors Hautamäkis verk ingår i bl.a. HAM:s samlingar och Wihuris konstsamling.
Läs mera om Camilla Vuorenmaas utställning Roses, Black Birds and Witches.