Group exhibition
Future Delay: Guest Curator: AMANDA SCHMITT, FCINY
7.6.-7.7.2019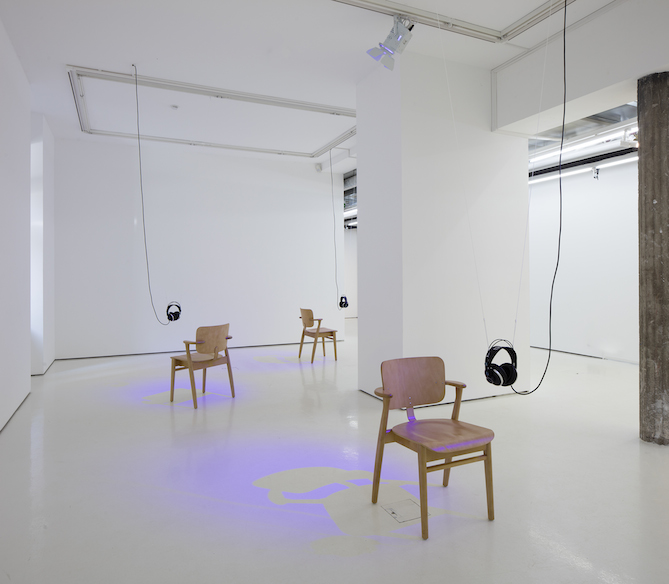 Curator: Amanda Schmitt
Artists: Madeline Hollander, Pearla Pigao, Hans Rosenström
Made possible by: The Finnish Cultural Institute in New York through their MOBIUS Fellowship program & Helsinki Contemporary through the HC Guest Curator program
In collaboration with HIAP – Helsinki International Artist Programme & Zodiak – Center for New Dance
Supported by Kone Foundation & Office for Contemporary Art Norway


Future Delay, a performance choreographed by Madeline Hollander:
Thur, June 6, 6-7 (during opening reception)
Sat, June 8, 2-4pm
Sun, June 9, 2-4pm
Thur, June 13, 4-6pm
Sat, June 15, 2-4pm
Sun, June 16, 2-4pm
Performance will be looping continuously during scheduled hours.
Performed by Karin Bergman, Nadja Pärssinen, and Kärdo Shiwan, with an original score by Jonathan Mandabach.
Helsinki Contemporary is glad to end its Spring season with
Future Delay
, an exhibition curated by the New York based curator
Amanda Schmitt
. The exhibition, realized in collaboration with the Finnish Cultural Institute in New York, will center around newly commissioned works by
Madeline Hollander
,
Pearla Pigao
, and
Hans Rosenström
.
Future Delay
departs from the work of media pioneers and theoreticians
Paul Ryan
and
Erkki Kurenniemi
who dedicated their careers to exploring cybernetics and positing the future potential of technological immortality, mobilizing their experiments through the work of three contemporary artists.
Madeline Hollander will work in tandem with local dancers to present a choreographic performance that will take place in the gallery throughout the month. Pearla Pigao will present a sonic sculpture that reacts to the movements of the visitors to the gallery, inviting the viewers to participate. Hans Rosenström presents a site-specific multi-channel, binaural sonic installation.
Technology today promises a stare into the abyss of death but with a happy ending. The exhibition asks us whether technological immortality can replace biological mortality. What would future delay appear as, and how would interference and synchrony between transmission and reception in both organic and technological beings manifest? Are humans choreographing a future integrated with machine, or are the machines choreographing us?
Future Delay
is made possible by the
Finnish Cultural Institute in New York
through its
MOBIUS Fellowship Program
and Helsinki Contemporary through its
Guest Curator Program
. Additional support is provided by HIAP – Helsinki International Artist Program by hosting Madeline Hollander's residency in June 2019 and by Zodiak – Center for New Dance by announcing an Open Call for performers for Hollander's new choreographic work. Office for Contemporary Art Norway has provided support for Pearla Pigao's work.
Read Amanda Schmitt's curatorial statement >>>
Kuraattori: Amanda Schmitt
Taiteilijat: Madeline Hollander, Pearla Pigao, Hans Rosenström
Toteutus: Suomen New Yorkin kulttuuri-instituutin MOBIUS Fellowship -ohjelma ja Helsinki Contemporaryn HC Guest Curator -ohjelma
Yhteistyössä HIAP – Helsinki International Artist Programme ja Zodiak – Uuden tanssin keskus
Tukemassa Koneen Säätiö ja Office for Contemporary Art Norway


Madeline Hollanderin performanssin esitysajat:
To 6.6. klo 18-19 avajaisten aikaan
La 8.6. klo 14-16
Su 9.6. klo 14-16
To 13.6. klo 16-18
La 15.6. klo 14–16
Su 16.6. klo 14–16
Performanssi esitetään jatkuvana.
Teoksen esittävät Karin Bergman, Nadja Pärssinen ja Kärdo Shiwan, musiikin teokseen on säveltänyt Jonathan Mandabach.


New Yorkissa työskentelevän Amanda Schmittin kuratoima monimediainen Future Delay -näyttely päättää Helsinki Contemporaryn kevätkauden. Yhteistyössä Suomen New Yorkin kulttuuri-instituutin kanssa toteutettu näyttely koostuu Madeline Hollanderin, Pearla Pigaon ja Hans Rosenströmin uusista, näyttelyyn tuotetuista teoksista.
Future Delayn lähtökohtana on kuraattori Amanda Schmittin tutkimus liittyen videotaiteen pioneerien Paul Ryanin ja Erkki Kurenniemen vuosikymmenten takaisiin, samanaikaisesti Atlantin molemmin puolin kehittämiin teorioihin. Ryan ja Kurenniemi omistivat uransa kybernetiikan tutkimiselle ja kuolemattomuuden potentiaalin etsimiselle. Future Delayn taiteilijat asettuvat osaksi tätä ihmisen ja teknologian välisen suhteen jatkumoa, hyödyntäen teoksissaan monipuolisesti liikkuvaa kuvaa, ääntä, performanssia ja installaatiota. Näyttely kysyy, vaikuttaako katsoja teokseen vai reagoiko teos katsojaan – luoko ihminen koneellista tulevaisuutta, vai muovaavatko koneet lopulta meidän maailmaamme.
Schmitt on kutsunut näyttelyyn mukaan kolme taiteilijaa. Helsinki Contemporaryn edustama, Tukholmassa työskentelevä Hans Rosenström tekee Future Delay -näyttelyyn uuden paikkasidonnaisen ääni-installaation. Yhdysvaltalaiskoreografi Madeline Hollander työskentelee performanssin ja liikkuvan kuvan parissa – hänet on valittu mukaan myös keväällä New Yorkissa avautuvaan, amerikkalaisen nykytaiteen merkittävimpään katselmukseen, Whitney Biennaaliin. Norjalaistaiteilija Pearla Pigao on kiinnostunut äänen ja materian suhteesta: näyttelyssä nähdään soivia tekstiiliteoksia, jotka kutsuvat yleisöä osallistumaan. Hollanderin ja Pigaon teoksia nähdään Suomessa ensimmäistä kertaa.
Future Delay -näyttelyn mahdollistavat yhteistyössä Helsinki Contemporaryn HC Guest Curator -ohjelma ja Suomen New Yorkin kulttuuri-instituutin MOBIUS Fellowship -ohjelma. HIAP – Helsinki International Artist Program tukee näyttelyä mahdollistamalla Madeline Hollanderin taiteilijaresidenssin kesäkuussa 2019, Zodiak – Uuden tanssin keskus järjesti esiintyjähaun Hollanderin teokseen. Office for Contemporary Art Norway on tukenut Pearla Pigaon työskentelyä.

Lue Amanda Schmittin curatorial statement >>>

Kurator: Amanda Schmitt
Konstnärer: Madeline Hollander, Pearla Pigao, Hans Rosenström
Genomförande: Finlands kulturinstitut i New York / programmet MOBIUS Fellowship& Helsinki Contemporarys program HC Guest Curator
I samarbete med HIAP – Helsinki International Artist Programme &
Zodiak – Center for New Dance
Med stöd från Kones Stiftelse & Office for Contemporary Art Norway
Madeline Hollanders performance, tidtabell:

To 6.6. kl 18-19 öppningen
Lö 8.6. kl 14-16
Sö 9.6. kl 14-16
To 13.6. kl 16-18
Lö 15.6. kl 14–16
Sö 16.6. kl 14–16
Helsinki Contemporarys vårsäsong avslutas med den multimediala utställningen Future Delay, kuraterad av Amanda Schmitt som är verksam i New York. Utställningen genomförs i samarbete med Finlands kulturinstitut i New York och består av nya verk av Madeline Hollander, Pearla Pigao och Hans Rosenström. Verken är gjorda till utställningen.

Utgångspunkten för Future Delay är kuratorn Amanda Schmitts forskning kring de teorier som videokonstens pionjärer Paul Ryan och Erkki Kurenniemi för några decennier sedan utvecklade på var sida om Atlanten. Båda ägnade sin karriär åt att studera kybernetik och söka odödlighetens potential. Konstnärerna på Future Delayinordnar sig i detta kontinuum av mänsklig och teknologisk växelverkan och använder sig på varierande sätt av rörlig bild, ljud, performance och installation. Utställningen frågar sig om betraktaren påverkar verket eller om verket reagerar på betraktaren – skapar människan maskinell framtid eller är det maskinerna som till slut formar vår värld?

Schmitt har bjudit in tre konstnärer till utställningen. Hans Rosenström, som representeras av Helsinki Contemporary och arbetar i Stockholm, gör en ny ljudinstallation till Future Delay. Den amerikanska koreografen Madeline Hollander arbetar med performance och rörlig bild – hon har också bjudits in till vårens Whitney Biennial i New York, den viktigaste mönstringen av amerikansk samtidskonst. Den norska konstnären Pearla Pigao är intresserad av förhållandet mellan ljud och materie: på utställningen visas ljudande textilverk som inbjuder publiken att delta. Hollanders och Pigaos verk visas nu för första gången i Finland.

Utställningen Future Delay möjliggörs av två stödprogram: Helsinki Contemporarys program HC Guest Curator och Finlands kulturinstituts (New York) program MOBIUS Fellowship. Samarbetet inleddes i mars 2018 då Schmitt för första gången besökte Helsingfors där hon bekantade sig med lokala konstaktörer och höll en föreläsning och en screening på teater Orion. HIAP – Helsinki International Artist Program stöder utställningen och möjliggör Madeline Hollanders vistelse på ett konstnärsresidens i juni 2019.


Läs Amanda Schmitts curatorial statement >>>