In Discussion: Jonna Kina & Amanda Schmitt
18.04.2021 18:00 - 18.04.2021 19:00
Welcome to join Artist Jonna Kina and Curator Amanda Schmitt for a conversation around the themes of Kina's exhibition After Life, currently on view at Helsinki Contemporary, and the artist's working processes.
The duration of the event is 1 hour, of which 45 minutes are scheduled for the discussion between Schmitt and Kina, and 15 minutes for questions and comments.
Jonna Kina graduated from the Academy of Fine Arts, Helsinki, and the School of Arts, Design and Architecture, Aalto University. Kina's works have been shown widely in international exhibitions and festivals, e.g. Tokyo Photographic Art Museum, Berlinale Forum Expanded Cinema Programme in Berlin, Kumu Art Museum in Tallinn, Kunsthal Charlottenborg in Copenhagen, EMMA – Espoo Museum of Modern Art, Galleria delle Carrozze di Palazzo Medici Riccardi in Florence, Musée de l'Élysée in Lausanne, and International Film Festival Rotterdam. Nordisk Panorama gave Kina's Arr. for a Scene the Best Nordic Short Film Award in 2017 and, in that same year, she was shortlisted for the VISIO Young Talent Acquisition Prize in Florence.
Amanda Schmitt is a New York-based curator focusing on video, sound, performance and time-based media, with a core interest in memory technologies, and has curated over 60 exhibitions, video screenings and performances. Schmitt is currently the director of kaufmann repetto, a contemporary art gallery with locations in Milan and New York. She is the creator and host of the UNTITLED, ART Podcast and UNTITLED Radio. In 2019, Schmitt curated the group exhibition Future Delay at Helsinki Contemporary in the framework of the gallery's Guest Curator program and The Finnish Cultural Institute in New York's MOBIUS Fellowship program. Her writing is regularly published in Texte zur Kunst, and she is currently curating a group exhibition entitled "An ego of her own" about the 'female dandy' which will open in Fall of 2021.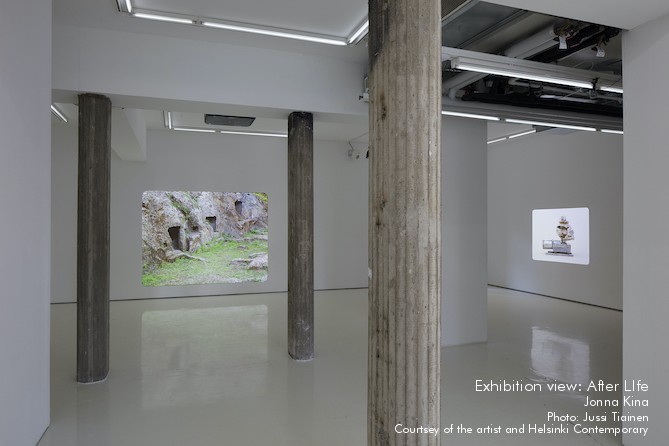 After Life is Jonna Kina's debut appearance at Helsinki Contemporary. The new works in the exhibition combine layers of art history with an investigation of the border zone between life and death using the means of film, vocal music and archaeology. This multi-sensory experience consists of a sound work and a two-part video work. Stories told by ancient objects and confessional fragments lead us into perennial questions about humanity, via listening and being heard.
After Life followed by Red Impasto Jar, a single-channel version of the video work, will get its world premiere in the experimental Forum Expanded programme at the 71st Berlinale film festival in June 2021. It has been made in collaboration with the MAVNA Museum. The exhibition and production of the works have been supported by AVEK, the Finnish Cultural Foundation, the Greta and William Lehtinen Foundation, Oskar Öflund Stiftelse, and Taike.