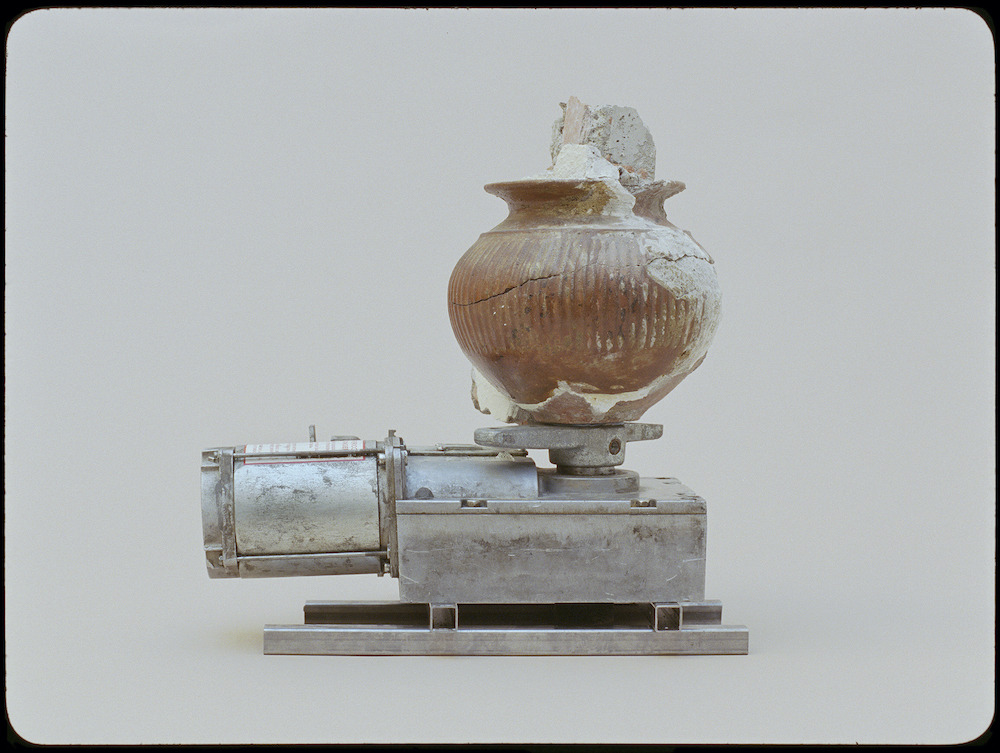 After Life is Jonna Kina's debut appearance at Helsinki Contemporary. The new works in the exhibition combine layers of art history with an investigation of the border zone between life and death using the means of film, vocal music and archaeology. This multi-sensory experience consists of a sound work and a two-part video work. Stories told by ancient objects and confessional fragments lead us into perennial questions about humanity, via listening and being heard.
A common element in all the exhibition works is an artifact (500 BCE) from the ancient Faliscan culture, which was stolen from a tomb and is now in the collections of the archaeological museum in Mazzano Romano, Italy. The object and its story inspired Kina, who visited the Museum in 2017. The ceramic jar had been cemented in place, presumably as an ornament element in a private home, before ending up in the possession of the Museo Archeologico Virtuale di Narce – MAVNA. Red Impasto Jar documents the burial object and its altered exterior in a detailed choreography. "The object seemed to tell a multi-dimensional story that involved the afterlife, the aura of an art object, scientific archiving," Kina says. The other part of the work, After Life, is made up of short, meditative scenes depicting the ruins of the Faliscan Cavone di Monte Li Santi necropolis and the surrounding nature. The burial chambers had been looted before archaeologists found them in 2015.
In the sound work Confession Piece for Voice the themes of mortality, shame, lust, pleasure and remorse are interpreted by an a cappella, soprano rendition of a song. This was co-composed for the work together with Lauri Supponen, and performed by Aida Wessman. The libretto consists of excerpts and fragments from the autobiographical work Confessions (397–398) by St. Augustine (bishop, theologian and philosopher 354–430). Taken together, the themes of humanity addressed by Augustine expand to become timeless. Kina says: "The book's essential questions about how we have lived, how we live, and how we should live are also relevant to our current situation, for example, in relation to the use of natural resources and the loss of biodiversity. Thinking in this way, the work provides a reflectivity on this human-centered era." The sound work can be heard in the exhibition space on request.


After Life followed by Red Impasto Jar, a single-channel version of the video work, will get its world premiere in the experimental Forum Expanded programme at the 71st Berlinale film festival in June 2021. It has been made in collaboration with the MAVNA Museum. The exhibition and production of the works have been supported by AVEK, the Finnish Cultural Foundation, the Greta and William Lehtinen Foundation, Oskar Öflund Stiftelse, and Taike.

Jonna Kina (b. 1984) graduated from the Academy of Fine Arts, Helsinki, and the School of Arts, Design and Architecture, Aalto University. Kina's works have been shown widely in international exhibitions and festivals, e.g. Tokyo Photographic Art Museum, Berlinale Forum Expanded Cinema Programme in Berlin, Kumu Art Museum in Tallinn, Kunsthal Charlottenborg in Copenhagen, EMMA – Espoo Museum of Modern Art, Galleria delle Carrozze di Palazzo Medici Riccardi in Florence, Musée de l'Élysée in Lausanne, and International Film Festival Rotterdam. Nordisk Panorama gave Kina's Arr. for a Scene the Best Nordic Short Film Award in 2017 and, in that same year, she was shortlisted for the VISIO Young Talent Acquisition Prize in Florence.


Welcome to meet the artist in the midst of her exhibition at Helsinki Contemporary on Wednesday, April 28 at 2–5.30 pm!


After Life on Jonna Kinan ensiesiintyminen Helsinki Contemporaryssa. Näyttelyn uusissa teoksissa yhdistyvät taidehistorialliset kerrostumat sekä elämän ja kuoleman raja-alueen tutkiminen elokuvan, säveltaiteen ja arkeologian keinoin. Moniaistinen kokonaisuus koostuu ääniteoksesta ja kaksiosaisesta videoteoksesta. Muinaisten esineiden tarinat ja tunnustukselliset elementit johdattavat ikiaikaisten ihmisyyden kysymysten äärelle kuuntelemisen ja kuulluksi tulemisen kautta.
Näyttelyn teoksia yhdistää Mazzano Romanon arkeologisen museon kokoelmissa oleva, muinaiselle faliskikulttuurille kuulunut haudasta ryöstetty esine (500 eaa). Esine ja sen tarina inspiroi vuonna 2017 museossa vieraillutta taiteilijaa, keraaminen ruukku on ollut sementoituna, oletettavasti koriste-elementtinä yksityisessä käytössä, ennen kuin se on päätynyt MAVNA-museon omistukseen. Videoteos Red Impasto Jar dokumentoi ulkomuodoltaan muuttunutta hautaesinettä yksityiskohtaisen koreografian avulla. "Esine tuntui kertovan moniulotteista tarinaa tuonpuoleisesta, taide-esineen aurasta ja tieteellisestä arkistoimisesta", kertoo Kina. Teoksen toinen osa After Life rakentuu lyhyistä meditatiivisista kohtauksista, jotka kuvaavat faliskien Cavone di Monte Li Santi -nekropolin raunioita ja niitä ympäröivää luontoa. Nekropolin hautakammioilla oli tehty laittomia kaivauksia ennen kuin arkeologit löysivät ne vuonna 2015.
Ääniteoksessa Confession Piece for Voice kuolevaisuuden, häpeän, nautinnon sekä katumuksen tematiikkaa tulkitaan a cappella -laulun muodossa sopraanoäänellä. Jonna Kina on luonut teosta varten sävellyksen yhdessä Lauri Supposen kanssa, vokalistina toimii Aida Wessman. Libretto koostuu fragmenteista, jotka pohjautuvat Augustinuksen (kirkkoisä, teologi ja filosofi 354–430) teokseen Tunnustuksia (397–398). Augustinuksen käsittelemät ihmisyyden teemat laajenevat ajattomiksi. "Tunnustuksia -teoksen olennaiset kysymykset siitä, miten olemme eläneet, miten elämme ja miten meidän tulisi elää, ovat kuitenkin keskeisiä myös nykyisessä tilanteessamme, esimerkiksi suhteessa luonnonvarojen käyttöön, monimuotoisen luonnon elintilan kaventuessa. Tällä tavalla ajateltuna teos antaa reflektiivistä kaikua ihmiskeskeiselle aikakaudelle", Kina kuvailee. Teos on kuunneltavissa näyttelytilassa pyydettäessä.

Videoteoksesta tehty yksikanavainen versio After Life followed by Red Impasto Jar saa maailman ensi-iltansa Berliinin elokuvajuhlilla kokeellisessa Forum Expanded ohjelmistossa kesäkuussa. Teos on toteutettu yhteistyössä Museo Archeologico Virtuale di Narce – MAVNA museon kanssa. Näyttelyä ja teosten tuotantoa ovat tukeneet AVEK, Taike, Greta ja William Lehtisen säätiö, SKR ja Oskar Öflund Stiftelse.
Jonna Kina (s.1984) on valmistunut Kuvataideakatemiasta sekä Aalto-yliopiston taiteiden ja suunnittelun korkeakoulusta. Kinan teoksia on nähty laajasti kansainvälisissä näyttelyissä ja festivaaleilla, mm. Tokyo Photographic Art Museumissa, Berlinale Forum Expanded Cinema Programissa Berliinissä, Taidemuseo Kumussa Tallinnassa, Kunsthal Charlottenborgissa Kööpenhaminassa, EMMA – Espoon modernin taiteen museossa, Galleria delle Carrozze di Palazzo Medici Riccardissa Firenezessä, Musée de l'Elyséessä Lausannessa sekä Rotterdamin kansainvälisellä elokuvafestivaalilla (IFFR). Nordisk Panorama valitsi Kinan teoksen Arr. for a Scene parhaaksi pohjoismaiseksi lyhytelokuvaksi 2017 ja samana vuonna hänet nimitettiin ehdolle VISIO Young Talent Acquisition Prize -palkintoon Firenzessä.
After Life är Jonna Kinas premiärutställning på Helsinki Contemporary. I de nya verken förenas konsthistoriska avlagringar med utforskning av gränslandet mellan liv och död med filmens, musikens och arkeologins medel. Den multisensoriska helheten består av ett ljudverk och ett videoverk i två delar. De forntida föremålens berättelser och konfessionella element leder oss till människans eviga frågor, att höra och att bli hörd.
Den förenande länken mellan verken är ett föremål från år 500 f.v.t. Föremålet som ingår i Mazzano Romanos arkeologiska museums samlingar härstammar från faliscikulturen och har plundrats från en grav. Dess historia inspirerade Kina som besökte museet 2017. Den keramiska krukan har varit cementerad och förmodligen använts som ett privat prydnadsföremål innan det kom i museet MAVNAs ägo. Videoverket Red Impasto Jar dokumenterar med hjälp av en detaljerad koreografi gravföremålet som förändrats till sitt yttre. "Föremålet tycktes berätta en komplex historia om livet efter detta, om sin egen aura och om vetenskaplig arkivering", berättar Kina. Verkets andra del After Life består av korta meditativa scener som visar nekropolen Cavone di Monte Li Santis ruiner med omgivande natur. I nekropolens gravkammare hade olagliga utgrävningar gjorts innan arkeologerna upptäckte dem år 2015.
Ljudverket Confession Piece for Voice utforskar dödlighetens, skammens, njutningens och ångerns tematik i form av en a cappella-sång för sopranröst. Jonna Kina har tillsammans med Lauri Supponen komponerat sången som framförs av Aida Wessman. Librettot består av fragment som bygger på Augustinus (kyrkofader, teolog och filosof 354–430) verk Bekännelser (397–398). Augustinus tankar om det mänskliga är tidlösa. "De väsentliga frågorna i Bekännelser om hur vi hittills har levt, hur vi nu lever och hur vi bör leva är aktuella även idag, exempelvis i hur vi exploaterar naturresurser samtidigt som den fria naturens livsrum kringskärs. Så tänkt ger verket ett reflektivt eko åt en människocentrerad epok", beskriver Kina. Verket spelas upp i galleriet på begäran.
En enkanalig version av videoverket After Life followed by Red Impasto Jar premiärvisas i juni inom programmet Forum Expanded på Berlins filmfestival. Verket har gjorts i samarbete med Museo Archeologico Virtuale di Narce – MAVNA museo. Utställningen och produktionen av verken har fått stöd från AVEK, Taike, Greta och William Lehtinens stiftelse, SKR och Oskar Öflund Stiftelse.
Jonna Kina (f. 1984) är utexaminerad från Bildkonstakademin och Aalto-universitetets högskola för konst, design och arkitektur. Hennes verk har visat på talrika internationella utställningar och festivaler, däribland Tokyo Photographic Art Museum, Berlinale Forum Expanded Cinema Program i Berlin, konstmuseet Kumu i Tallinn, Kunsthal Charlottenborg i Köpenhamn, EMMA – Esbo moderna konstmuseum, Galleria delle Carrozze di Palazzo Medici Riccardi i Florens, Musée de l'Elysée i Lausanne samt Rotterdams internationella filmfestival (IFFR). Nordisk Panorama utsåg Kinas verk Arr. for a Scene till bästa nordiska kortfilm 2017, och samma år kandiderade hon för VISIO Young Talent Acquisition Prize i Florens.