The first cover in WSOY's 12 classics series is published
04.01.2017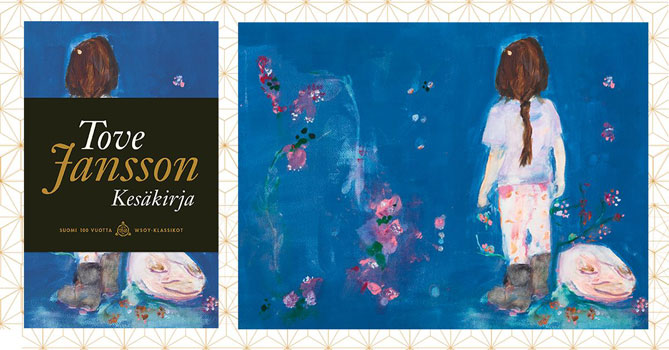 The first cover in WSOY's limited edition series of 12 Finnish literary classics with covers recreated by Finnish contemporary artists is published. The cover for Tove Jansson's Kesäkirja (The Summer Book) is by Rauha Mäkilä.

"Tove Jansson has always been an important writer to me. I read her books with pleasure anew. Her narrative is beautiful, tolerant and multi-layered. I glanced through The Summer Book before I started to paint, and ended up reading it once again" says Mäkilä.

Every month one Finnish literary classic will be published with new covers. At the end of the year, all the originals of the new covers will be displayed in an exhibition at Helsinki Contemporary. The original artworks will be sold at auction, and the funds will be donated to charity.

The artist list includes along with Rauha Mäkilä, Miikka Vaskola, Henry Wuorila-Stenberg, Susanne Gottberg, Stiina Saaristo, Anu Tuominen, Saara Ekström, Jani Leinonen, Anna Tuori, Heikki Marila, Karolin Hellberg and Kuutti Lavonen.

Read more about the project and find all 12 literay classics at 12klassikkoa.fi (only in Finnish). There is also a short interview with Mäkilä on the page.