Spring 2021 at Helsinki Contemporary
17.12.2020
HELSINKI CONTEMPORARY SPRING EXHIBITION PROGRAMME 2021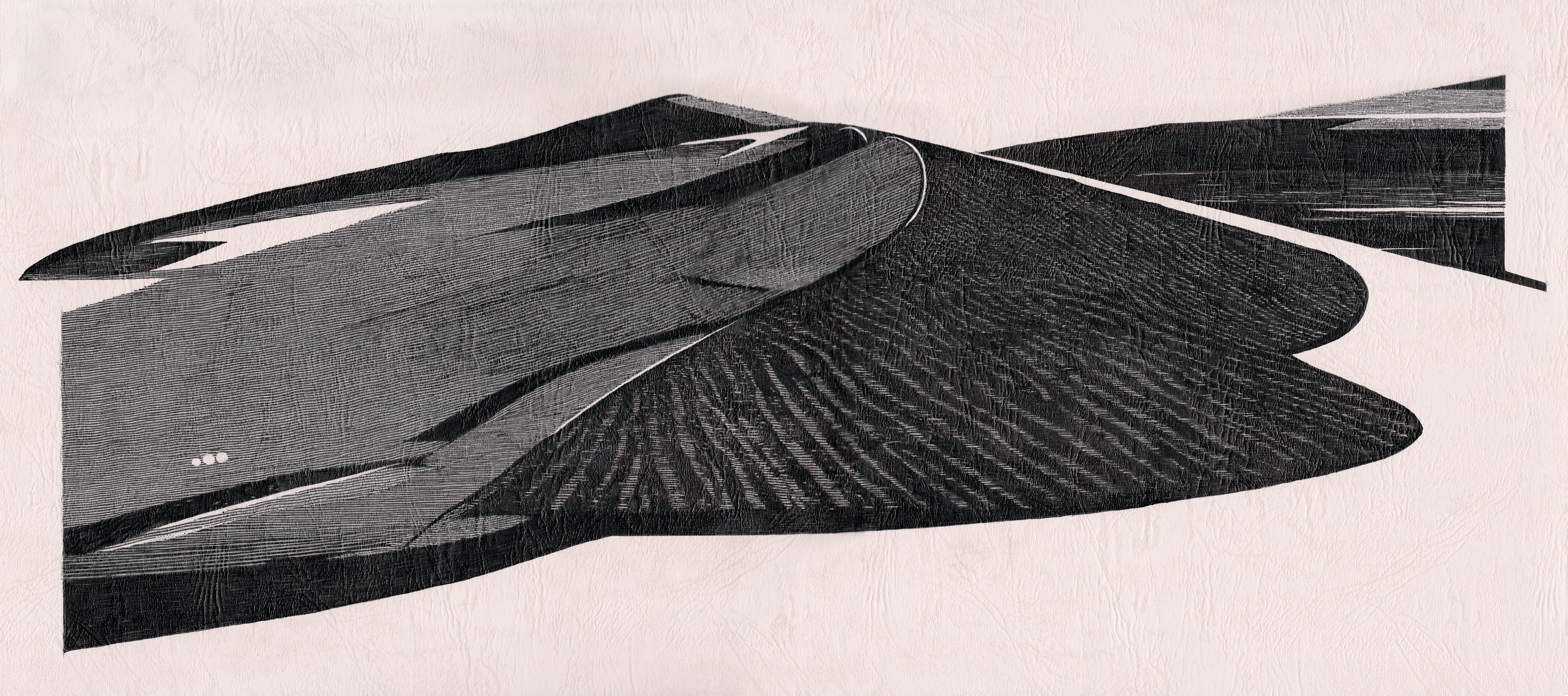 Helsinki Contemporary's spring season 2021 delves into the relationship of human and nature and the questions of humanity through painting, photography, sculpture, moving image and sound. The spring exhibition calendar consists of anticipated solo exhibitions from the gallery's representative artists
Ville Andersson
,
Kati Immonen
,
Ilari Hautamäki
and
Roland Persson
, and
Jonna Kina
, whose debut appearance at the gallery will be seen in April.
5.–28.2. Ville Andersson:
Desert Music
5.3.–4.4. Kati Immonen:
Overgrown
9.4.–2.5. Jonna Kina:
After Life
7.–30.5. Ilari Hautamäki:
Spirit
4.6.–4.7. Roland Persson
7.7.–1.8. Group exhibition
Selected Works
Ville Andersson's solo exhibition consists of photographs, drawings, digitally produced images and works created with vinyl sticker, born in the vastness of a desert. The artist's working process has been intuitive, the sizes, densities and textures varying from one work to the other, create a controlled rhythm and intensity to the exhibition. The starting points for Andersson's works, often abstracted, are in majestic nature – in rays of sun, dunes and rock formations. The absence of a human figure in the series of works causes a pronounced feeling of presence; traces of human, sensed in the timeless and placeless desert, resonate as silent echoes in our ears.

Ville Andersson (b. 1986) graduated from the Finnish Academy of Fine Arts in the spring of 2012. The following autumn, he held his debut solo exhibition at Helsinki Contemporary. Since then, he has shown in Finland, with touring solo exhibitions in Tammisaari, Loviisa and Vaasa and the Young Artist of the Year award exhibitions in Tampere Art Museum and in Turku at Aboa Vetus & Ars Nova. Andersson has also exhibited actively outside of Finland, e.g. in Tokyo at LOKO Gallery and Diesel Art Gallery and Germany at Salon Dahlmann, Samuelis Baumgarte Galerie and Museum Weserburg. He has shown at art fairs such as ARCOMadrid, Marker Art Fair and CHART Art Fair. In 2018 he was artist in residence at the Watermill Centre in New York. His works are represented in the central public collections in Finland such as the Saastamoinen Foundation, Museum of Contemporary Art Kiasma, Wihuri Foundation and Amos Rex. His upcoming and recent projects include designs for the new tram stations in Tampere, works created for family rooms at Kerava health station and a new graphic look for the Academic Bookstore. In 2020, Andersson was awarded the Watermill Center's Inga Maren Otto Fellowship.
Kati Immonen is reinventing watercolour painting as a technique in her work. Her new exhibition Overgrown delves into the relationship of human and nature, of the built environment and the power of eternal renewal. Man-made symbols, statues of great men and swimming pools – building blocks for a good life – are taken over by vegetation and become monuments for nature. Through her works, Immonen reflects on the fragility of history and the comforting vitality of nature, its inevitable cycle. The exhibition consists of works on paper and an animated drawing.
Kati Immonen (b. 1971, Jyväskylä) graduated from the Department of Painting at Turku School of Fine Arts in 1997. She has exhibited widely in Finland and abroad, most recently in Almost Perfect, Tokyo; Aura Gallery, Turku; Nordic Watercolour Museum, Skärhamn, Sweden; Rovaniemi Art Museum and Wäinö Aaltonen Museum of Art, Turku. Her works are represented in prominent Finnish public collections, and in the Nordic Watercolour Museum in Sweden. She has also worked on several public artworks around Finland, and created illustrations and cover images for numerous publications.
Jonna Kina works in the cross sections between image, sound and language. Her solo exhibition After Life fills Helsinki Contemporary in April. Layers of art history and the study of the frontiers between life and death though poetry, music and archeology are combined in Kina's new works. The stories of ancient artefacts and confessional fragments lead us to the age-old questions of humanity. How do we live, what will be left of us, and who is listening? After Life is the internationally renowned artist's debut appearance at Helsinki Contemporary.
Jonna Kina's (b. 1984) graduated from the Finnish Academy of Arts and from Aalto University, School of Arts, department of photography. She has also studied in the School of Visual Arts, New York and in Bezalel Academy of Art and Design, Jerusalem. Kina's works has been widely presented in numerous international exhibitions and festivals, such as Tokyo Photographic Art Museum; Berlinale Forum Expanded Cinema Program, Berlin; Kumu Art Museum, Tallinn; Kunsthal Charlottenborg, Copenhagen; Espoo Museum of Modern Art EMMA; Galleria delle Carrozze di Palazzo Medici Riccardi, Florence; Dunkers Kulturhus, Helsingborg; Musée de l'Elysée, Lausanne; International Film Festival Rotterdam; Hasselblad Foundation, Gothenburg; Moscow Biennale for Young Art.
Nordisk Panorama selected Kina's film "Arr. for a Scene" as the "Best Nordic Short Film". She has been also shortlisted for the VISIO Young Talent Acquisition Prize in Florence. Kina's works are represented in collections of such as Musée de l'Elysée, Fundación RAC – Foundation of Contemporary Art, The Museum of Contemporary Art Kiasma, Helsinki City Art Museum, Saastamoinen Foundation, City of Levallois, Sara Hildén Art Museum, France, Finnish Museum of Photography among others.
Ilari Hautamäki brings a joyful, colourful exhibition to the middle of the spring. Organic and geometrical elements, the abstract and the figurative, are in discussion in the paintings in a recognisable manner. The inner tension of the works is born in the dialogue. Images disintegrate only to become whole again in the act of painting. The exhibition consists of works on both paper and canvas, with depths of warm and cold tones alternating in them.
Ilari Hautamäki (b. 1983) is a Helsinki based visual artist. He graduated from the Academy of Fine Arts, Helsinki, in 2011 and has since shown actively in solo and group exhibitions. His solo exhibition Indoor Fireworks was seen at Helsinki Contemporary in 2019. A sizeable solo exhibition at the HAM Gallery, Helsinki, took place in 2017. His group exhibitions include those at Mänttä Art Festival, Hämeenlinna Art Museum, Jyväskylä Art Museum, and the Young Artists exhibition at Kunsthalle Helsinki. In 2018-2019, Hautamäki took part in The Touch exhibition series at Tornio Art Museum, Seinäjoki Art Hall and Pro Artibus' Sinne gallery in Helsinki. His works are represented in Helsinki Art Museum HAM's collection, Jenny and Antti Wihuri art collection, Hämeenlinna Art Museum's collection and elsewhere.
Roland Persson's exhibition fills Helsinki Contemporary with sculptures challenging our perceptions. Persson is known most of all for his silicone sculptures, which he continues to work with in his new exhibition. Through the artist's working process, often mundane objects from the world surrounding us are remoulded to play upon our preconceptions of the reality we live in.

Roland Persson (b. 1963) is a Swedish artist who lives and works in Stockholm. Persson's works have been seen widely in solo and group exhibitions in the Nordic countries and Europe, but also in Russia and Asia. In Finland his works have been shown e.g. at Amos Anderson Art Museum, Finlayson Atr Area, Kiasma and EMMA Espoo Museum of Modern Art. Persson graduated from Umeå Academy of Fine Arts in 1993. He has made numerous public artworks in Sweden, for instance, Untitled in Umedalen Sculpture Park and Rinnande mönster at the city center of Örebro.
An exhibition will be seen at Helsinki Contemporary in the coming July as well, as the second Selected Works group show will bring to the gallery a selection of works from current contemporary artists, among others a new work by Tuomas A. Laitinen. Laitinen has been invited to participate in Helsinki Biennial, organised for the first time ever in the summer of 2021. More information about the upcoming summer programme will follow throughout the spring.