Spring 2019 at Helsinki Contemporary
29.11.2018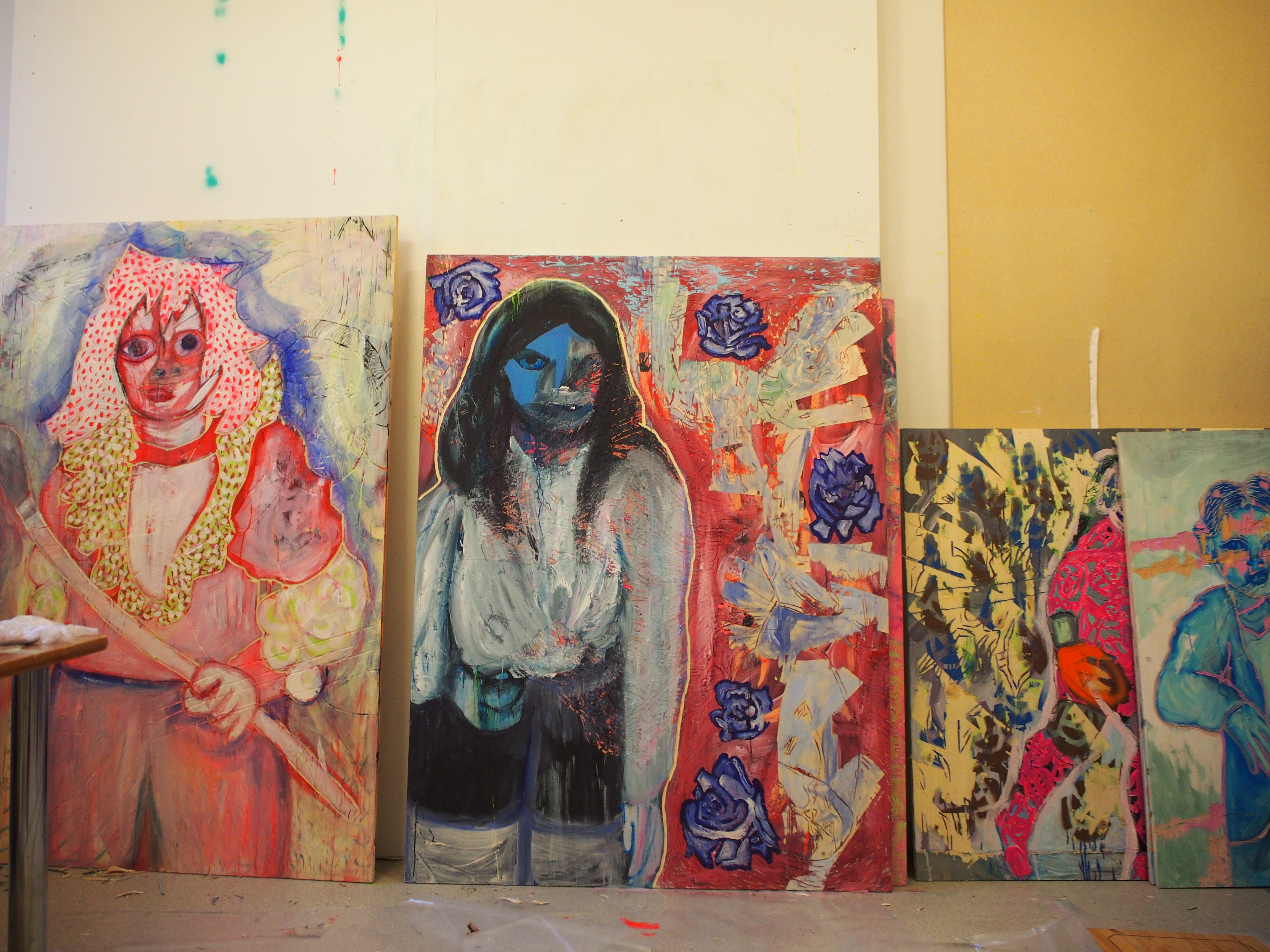 Camilla Vuorenmaa:
Shephard
(2018) &
Roses
(2018), view from study.
Picture: Camilla Vuorenmaa
Helsinki Contemporary is glad to announce a versatile spring exhibition programme, which leads to explorations of humanity, nature and the practice of art, as well as the roles of an artist with the artists
Ilari Hautamäki
,
Camilla Vuorenmaa
,
Henry Wuorila-Stenberg
,
Heidi Lampenius
,
Sanna Kannisto
and
Ville Löppönen
. The spring season ends with the third curator visit of the HC Guest Curator programme.
Ilari Hautamäki 11.1.–3.2.
Camilla Vuorenmaa 11.1.–3.2.
Henry Wuorila-Stenberg 8.2.–3.3.
Heidi Lampenius 8.3.–31.3.
Sanna Kannisto 5.4.–5.5.
Ville Löppönen 10.5.–2.6.
Group Exhibition, HC Guest Curator: Amanda Schmitt 7.6–7.7.
With the artists Madeline Hollander, Pearla Piago and Hans Rosenström
ILARI HAUTAMÄKI / CAMILLA VUORENMAA
11.1.–3.2.
The year starts with two exhibitions, as Ilari Hautamäki and Camilla Vuorenmaa share the gallery space in January. Vuorenmaa is interested in the stories and fears related to witchcraft. In her works, combinig painting and carving, Vuorenmaa contemplates the human need to find a common enemy, and the way we react to those who differ from our society's norms.
Colours, shapes and rhythm are central to Hautamäki's paintings. The artist seeks a tension between the organic and the industrial in his paintings, which move delicately on the boundaries between the lush abstract and the figurative.
HENRY WUORILA-STENBERG
8.2.-3.3.
Helsinki Contemporary has the honour to present the 70th anniversary exhibition of Henry Wuorila-Stenberg, who has strongly influenced Finnish contemporary painting in his career. Wuorila-Stenberg is known for his expressive works which ponder upon the central questions of life, hope and humanity. His new paintings are rich in colour, and bring to mind the vivid colours of the artist's oeuvre from the 90's. The exhibition consists of thematic series, which entail hints from along the artist's entire career as well as his life.
HEIDI LAMPENIUS
8.3.-31.3
Heidi Lampenius' second solo exhibition at Helsinki Contemporary consists of large paintings, which exude physicality and presence. In Lampenius' new, vivid and lively paintings is highlighted the porousness between the works and the viewing experience. The works in the exhibition, entitled Wavelengths, play upon the perceptions of abstract and figurative.
SANNA KANNISTO
5.4.-5.5.
Sanna Kannisto's exhibition will consist of a series of new, collage-like photographic works, composed of several images, different picture types, texts and diagrams. The motifs of the works are connected to the field of nature research, to research stations, landscapes, to protecting the environment as well as to the threats facing it. Kannisto also continues to work with birds and has worked in Hanko as well as on research stations in Russia's Baikal, in italy and Germany. The works, contemplating our rellationship with nature, are positioned in the continuum of staged photography, scientific illustrations and the tradition of still lifes. A new video work depicting birds will complement the photographic works.
VILLE LÖPPÖNEN
10.5.-2.6.
In May, Ville Löppönen brings to the gallery works depicting everyday experiences – intimacy and children's play. Löppönen is known for his works which draw from the tradition of icon painting, his new paintings move to a more expressive, more abstract interpretation and bring forth the sanctity found in the everyday. For Löppönen, painting is an act of prayer.
GROUP EXHIBITION: HC GUEST CURATOR, AMANDA SCHMITT
7.6 – 7.7.
The HC Guest Curator programme continues with Future Delay, a cross-disciplinary exhibition of three artists featuring performance, sound, video, and sight-specific work by Madeline Hollander (US), Pearla Piago (NO), and Hans Rosenström (FI), commissioned by curator Amanda Schmitt.
Schmitt's curator visit is part of the Finnish Institute in New York's MOBIUS programme