Pilvi Takala in Tartu Art Museum and Les Ateliers de Rennes
25.09.2014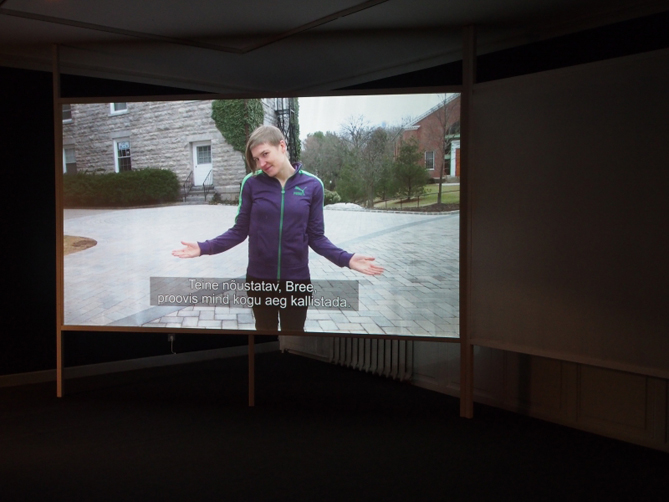 Installation view from
Attires and Attitudes
, Tartu Art Museum 2014. Still image from
Drive With Care
, 2014.
Pilvi Takala's first solo show in Estonia titled
Attires and Attitudes
has opened at Tartu Art Museum on September 5
th
.
Attires and Attitudes
(
Rõivad ja rühid
) is part of Tartu Art Museum's series of exhibitions by artists from Estonia's neighbouring countries.
Pilvi Takala is described by the curator Rael Artel as "one of the most distinctive and productive artists amongst the younger generation and active in the international art scene today". Her primary creative method is performative interventions into everyday rituals among different communities, presented in art spaces through edited and post-produced documentation. The exhibition is Takala's first comprehensive solo exhibition in an art museum.
Attires and Attitudes
is accompanied by a 32-page publication in Estonian and English. The exhibition is supported by the Estonian Cultural Endowment and Frame Visual Art Finland.
Pilvi Takala also takes part in the contemporary art biennial Les Ateliers de Rennes in France, opening September 27
th
. Takala's three works
Real Snow White
(2009),
The Trainee
(2008) and
Five Star Bouncy House
(2013–2014) will be on show on two locations at La Halle de la Courrouze and at Musée des beaux-arts de Rennes. The biennial consists of group exhibitions held in three locations in Rennes. Overall, the biennial exhibitions showcase works from 27 contemporary artists. This year's 4
th
edition of Les Ateliers de Rennes is titled
PLAY TIME
and explores notions of work, play, idleness and the time we devote to each.
The
Attires and Attitudes
exhibition is open 4.9.–2.11.2014.
The biennial exhibitions are open 27.9.–30.11.2014.
Read more on
Attires and Attitudes
.
Read more on Pilvi Takala at
Les Ateliers de Rennes
.