Perttu Saksa wins design competition for ex-president Mauno Koivisto's graveside monument
09.04.2018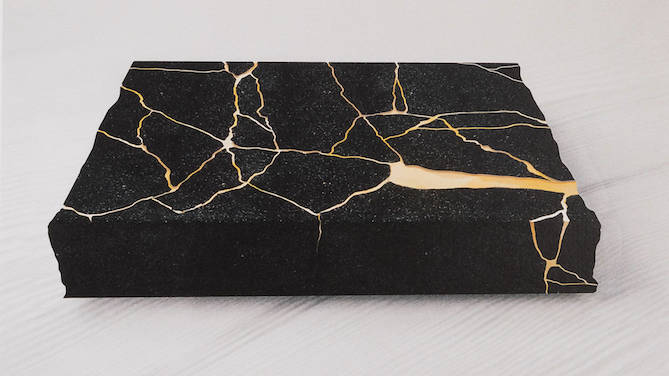 Perttu Saksa: Kartta / Photo: Prime Minister's Office Finland


Artist, photographer Perttu Saksa's piece Kartta (Map) has been selected as the graveside monument for deceased former Finnish president Mauno Koivisto. The memorial will be erected in Hietaniemi cemetery in Helsinki in November 2018.

There were a total of 138 proposals in the design competition. The first prize sum is 10,000 euros, the second 5,000 euros and the third place cash prize is set at 3,000 euros.

The massive monument will be some 2.4 metres wide and just under one metre high and will rest on a pedestal. It will be sculpted from a single continuous slab of black diabase rock.
According to Saksa, Kartta resembles a broken mirror. The broken pieces are combined with gold.

"It is based on an old Japanese ceramic repair method where the pieces of a broken vessel are joined together with gold lacquer. Then, an important but broken object becomes more valuable than it was before it got broken", Saksa explains.

The adjudication committee that selected the winning monument included experts from the fields of science and the arts as well as religious leaders and Koivisto's daughter, Assi Koivisto-Allonen, who represented the family. The committee describes Saksa's proposal as follows:

"It is a magnificent ensemble. While the proposal can be seen to meld with ceramics that emphasises humility and dignity or fragmented world politics, the design is first and foremost an independent, multivocal tribute to unity. Erosion has ground down the stone into separate pieces, while the reconstructed arrangement is not only more humane but also much more than the original perfection."

In his artistic practice, Perttu Saksa (b. 1977) constructs images that highlight the tension between the subject and its representation. He often deals with people's relationship with their environment and animals. Saksa won the esteemed Fotofinlandia prize in 2014, and in 2017 he was one of the candidates for the Ars Fennica art award.


Read more:

Helsingin Sanomat
Yle News