New work by Tuomas A. Laitinen chosen for ARS17 exhibition in AVEK and Kiasma's co-production
07.06.2016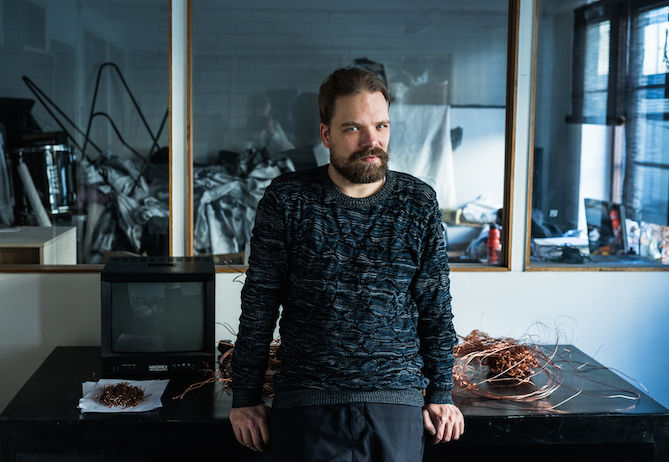 Tuomas A. Laitinen. Photo: Veikko Kähkönen
Tuomas A. Laitinen
(p. 1976) is the artist selected for the co-production project of AVEK (The Promotion Centre for Audiovisual Culture) and the Museum of Contemporary Art Kiasma. The project sought for a new media artwork that considers the effects of the digital revolution in contemporary art for ARS17 exhibition, which opens at Kiasma in March 2017.
The new piece by Tuomas A. Laitinen is the first part of a series called
Cyborg Agency
. Laitinen approaches digital transition in diverse video installations through the sense of touch. The work examines, among other things, a variety of rare minerals, such as those used in the manufacture of touch screens. In addition, the work goes on to considers the meaning of the transition of these materials in an even greater extent into peoples' daily lives in the future, when man and machines are bound closer together.
AVEK and Kiasma acknowledged the work with a production aid of 30 000 euros. The work will be presented at Kiasma's ARS17 exhibition, which opens at the end of March 2017.
In their statement, AVEK and Kiasma say that the project that was launched in January 2016 attracted widespread interest. There were a total of 60 work proposals submitted. Selection was made by a working group which included AVEK's commissioner for media art
Elena Näsänen
and the Museum Director of Kiasma
Leevi Haapala
, Chief Curators
Marja Sakari
and
Arja Miller
, and Curator
Kati Kivinen
.
ARS17 is the ninth in a series of ARS exhibitions, and it delves into the global digital revolution's impacts on culture, economy and peoples' identity and behaviour.
Read more about
ARS17 exhibition
.