Hans Rosenström's new public sound installation at Värtahamnen Stockholm
20.10.2016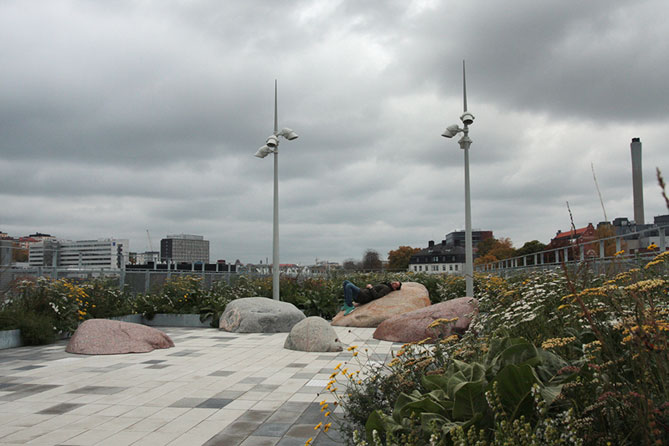 Hans Rosenström:
2066
(2016), photo: Hans Rosenström
2066, the most recent work by Hans Rosenström, contemplates on how the world will be like in 50 years. The public sound installation is located on the roof top terrace of the new ferry terminal Värtahamnen in Stockholm.
For the sound piece, professionals from different fields were asked to ponder and tell their vision about how the world will be like in 2066. The work with transducer speakers built inside granite boulders can be listened through bone conduction while lying on the stone, what fells a bit like listening to ones own thoughts. Public work becomes intimate.
"The reason why I concentrated on exploring the future was simple: we are living in a time where the future seems intimidating, it might be that the future is not something where all the problems can be solved but we'll face a crisis after another… However simultaneously technological and medical revolutions are many and continuous. I wanted to map how people from different professional perspectives perceive the future. What do they believe in."
Journalist Aino Frilander interviewed Hans Rosenström about
2066
for Helsingin Sanomat:
http://www.hs.fi/kulttuuri/a1477101022134