Daata x Helsinki Contemporary: Dream Time
30.08.2021
Dream Time
DAATA X HELSINKI CONTEMPORARY STAGE A SCREENING NIGHT OF FIFTEEN ARTIST VIDEOS DURING THE INAUGURAL HELSINKI BIENNIAL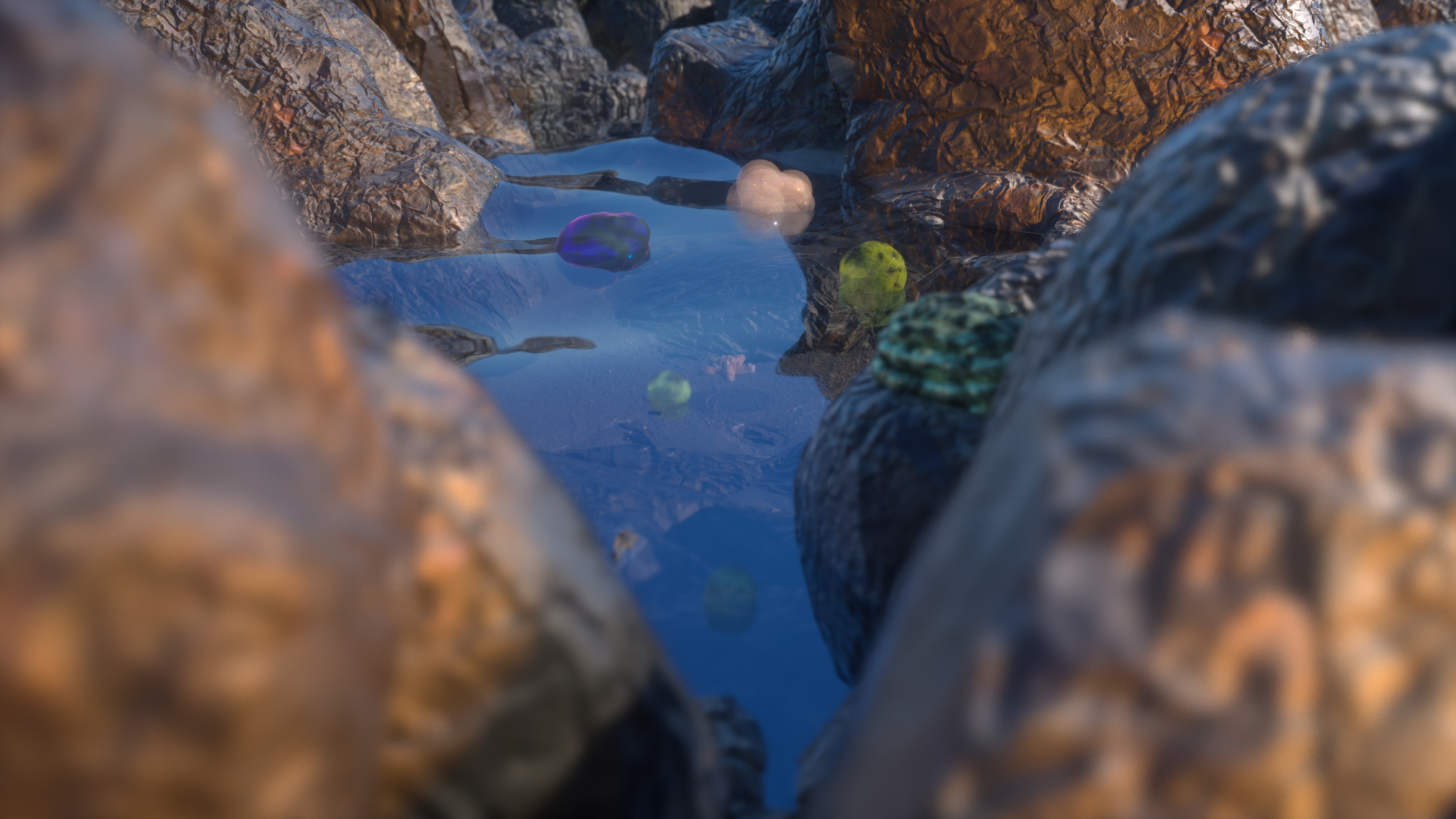 Tuomas A. Laitinen, Protean Sap, 2020 (Video Still), 11:08 mins


On the occasion of the inaugural Helsinki Biennial, Daata and Helsinki Contemporary are delighted to present Dream Time, a live screening of video works by fifteen contemporary artists and collaborators as part of the Biennial's VIP programme.


Advanced booking is required, and tickets are available via
mikaela.lostedt@helsinkicontemporary.com
Staged in the outdoor courtyard of the cinema Kino Engel, situated in Helsinki's Torikorttelit area, the project presents a curated video presentation of artworks by international and Finnish artists, who each in their own way deal with ecology and history, exploring our relationship with nature and technology.
Screened from 22.00 to 00.00 on Friday, 3rd September, the playlist includes:
Jeremy Couillard

:

Voluntary Association

s, 2021, 3:50 mins

Petra Cortright

,

motels a sept-iles 1x2 silver

, 2021, 4:10 mins

DIS

:

Venus Monologues

, 2019, 7:03 mins

Noora Geagea

:

Waiting for Godot

, 2018,

03:26 mins

Trulee Hall

:

Two Heads, Two Ways

, 2020, 08:14 mins

Jibade-Khalil Huffman

,

We Don't Need Another Mural

, 2019, 22:21 mins

Keiken

,

Battle of Reality

, 2021, 9:15 mins

Keiken

:

Dream Time Life Simulation

, 2021, 4:19

Tuomas A. Laitinen

,

Protean Sap

, 2020 11:08 mins

Reija Meriläinen

:

Crush

, 2017, 4:44 min

Guy Oliver

,

The Year Everyone Died

, 2021, 19:03 mins

Eva Papamargariti

,

The Hollow Sound of Longing

, 2020, 10:50 mins

Rachel Rossin

:

Recursive Truth

, 2019, 2:55 mins

Jakob Kudsk Steensen

:

RE-WILDLING 1-6

, 2018, 11:16 mins

Timo Vaittinen

:

Altered Flakes

, 2018, 7:34 min

Toby Ziegler

:

The Genesis Speech

, 1:58 mins
The artworks will be screened simultaneously through Daata's website and the new app which will be available to download on the night, adding a new dimension to the project.
David Gryn, Founder of Daata says: "We are passionate about empowering all our peers in the artworld to show and support artists' video and digital mediums and about finding new audiences, connections and collectors, and excited to be partnering with Helsinki Contemporary, whose commitment to long-term collaborations with its artists and strong curatorial emphasis is fully aligned with our own."
Mikaela Lostedt, Director of Helsinki Contemporary says: "We are thrilled to be partnering with Daata for this screening. Helsinki Contemporary has the privilege to be a part of Daata's Galleries section since its start in the spring of 2020 and we have collaborated on Helsinki Biennial artist Tuomas A. Laitinen's commissioned work Protean Sap. This live event gives us an extraordinary chance to share the experience of digital art together as an audience at Kino Engel and a unique playlist which is a mix of Daata commissioned artists and invited Finnish media artists."
The Daata App is available to download via https://apps.apple.com/my/app/daata/id1566570381
Artist Biographies
Keiken
Keiken is a collaborative practice, co-founded by artists Tanya Cruz, Hana Omori and Isabel Ramos in 2015, who frequently work with multiple collaborators. Based between London and Berlin, they come from mixed diasporic backgrounds). Keiken, named after the Japanese word for "experience", creates speculative worlds using moving image, CGI, gaming software, installation, extended reality, programming and performance to merge the physical and digital. Their work simulates new structures and ways of existing, exploring how societal introjection governs the way we feel, think and perceive.
Eva Papamargariti (b. 1987, Greece) graduated from the Department of Architecture, University of Thessaly with a Diploma in Architecture (2012) and holds a Master Degree in Visual Communication Design from Royal College of Art, London (2016). Her practice focuses on time-based media but also printed material and sculptural installations that explore the relationship between digital space and material reality. Her work delves into issues and themes related to simultaneity, the merging and dissolving of our surroundings with the virtual, the constant diffusion of fabricated synthetic images that define and fragment our identity and everyday experience, the symbiotic procedures and entanglement that take place between humans, nature and technology.
Guy Oliver (b. 1982, London) graduated from the Royal College of Art (MA Painting) in 2015, and his interdisciplinary practice employs video as well as text, digital print, painting, collage and performance. His work explores notions of masculinity, identity, comedy and tragedy whilst embracing a highly personal but irreverent working methodology. He sees his practice as "an act of assimilation and subsequent dissection of specific, often peripheral, areas of popular culture, akin to an incompetent and slightly deranged cultural historian."
Tuomas A. Laitinen (b. 1976) graduated from the Finnish Academy of Fine Arts in 2008. Laitinen works across and fuses together moving image, 3D-animation, light, sound, and installations. He often collaborates with different actors from glass artists to neural network researchers. In recent years, Laitinen has been working around questions of ecology, the notion of the extended mind, and processes of knowledge production. The works are often made with transparent and translucent materials in order to find ways to layer different epistemological systems and narratives. Laitinen's work escapes dualistic thinking and aims at opening up models of diversity, where the idea of interconnectedness of beings is at the core. This means rethinking the epistemological assumptions underpinning Western capitalism, which sees these distinctions as the basic organising principle of the world
Jibade-Khalil Huffman (b. 1981, Detroit, MI) is an artist and writer who uses found, archival material, and contemporary ephemera to address slippage in memory and language, particular to race and visibility. Often working site-specifically, his work takes the form of installation, video, projections, photographic light boxes, and photo collages printed on layered transparencies and paper. Foregrounding the materiality of digital media and its degradation over time, Huffman's approach dissolves explicit meaning in order to reconstitute it as objects in perpetual flux. Through projection and repetition, his work evokes the untranslatable, ruminating on the liminal qualities of singular experiences through the flattening of symbolic and semiotic hierarchies. He derives much of his practice from the intersection of writing, poetry, found media and common speech, often cutting, sampling and shifting bits of video and excerpts of text into new formats.
Reija Meriläinen (b.1987) is a Helsinki based artist working with moving image, sculpture, and installations that combine the digital and physical. In their work, social tensions and power are linked to physical and material sensations. While visually alluring, their work often includes elements of violence and has a visceral sense of the body that is communicated through haptic materials. Meriläinen's work has previously been shown in several group exhibitions in Finland and abroad such as ARS17 at Museum of Contemporary Art Kiasma in Helsinki and States of Play: Roleplay Reality at FACT Liverpool, and in solo exhibitions such as EN GARDE in Helsinki's HAM gallery and Fight or Flight in gallery Unknown Cargo in Stockholm.
Jakob Kudsk Steensen (b. 1987) is a Danish artist based in New York. He is concerned with how imagination, technology and ecology intertwine. To make his work, Steensen ventures on intense photographic excursions and then converts the collected material into digital worlds by the use of 3D scanners, photogrammetry, satellite data and computer game software. Inspired by ecology-oriented science fiction and conversations with biologists and ethnographers, his projects are ultimately virtual simulations populated by mythical beings existing in radical ecological scenarios.
Timo Vaittinen (b.1976 in Porvoo, Finland) lives and works in Helsinki. He studied at the Academy of Fine Arts in Helsinki and gained an MFA in 2007. He is known for collage paintings, animation videos and installations. His works have been compared to psychedelic Op Art of the 1960s. Vaittinen's works have been seen in e.g. Gallery SIC in Helsinki, Pori Art Museum, Kuopio Art Museum, Gallery Steinsland Berliner in Stockholm and the Museum of Contemporary Art Kiasma in Helsinki.
Rachel Rossin (b. 1987, West Palm Beach, FL, USA) lives and works in New York, NY. Rossin uses both virtual reality and painting to investigate the slippage between the real and the digital. She combines Internet sources like video games and stock computer illustrations with objects from her real life such as a vase of flowers or a childhood drawing. The images in her paintings are further abstracted by computer programmes that twist the inherent meaning of these seductive Internet renderings; which are mostly geared toward garnering clicks and game plays.
Jeremy Couillard (b. 1980, Michigan, USA) was educated as a painter and is a self-taught new media artist whose works often deploy humorous narratives about future dystopias to explore what motivates us as humans to work, live, and create. Couillard has exhibited at Zabludowicz Collection (London, U.K.), Phillips Auction House (co-commissioned by Daata) (New York, NY), yours, mine & ours gallery (New York, NY), Lincoln Center (New York, NY), Louis B. James (New York, NY), Zhulong Gallery (Dallas, TX), Flux Factory (Queens, NY), and has screened his work at the New Museum and Rhizome (New York, NY), Salon 94 (New York, NY), the Brooklyn Academy of Music (Brooklyn, NY), and the Warhol Museum (Pittsburgh, PA).
Petra Cortright (b. 1986, Santa Barbara, CA) is a contemporary artist whose multifaceted artistic practice stems from creating and manipulating digital files. Cortright's digitally-conceived artworks physically exist in many forms - printed onto archival surfaces, projected onto existing architecture, or mechanically carved from stone. A notable member of what became known as the 'Post Internet' art movement of the mid-to-late-2000s with her YouTube videos and online exhibitions, Cortright later began to laboriously craft digital paintings by creating layer upon layer of manipulated images in Photoshop which she then rendered onto materials such as aluminum, linen, paper, and acrylic sheets.
Toby Ziegler (b.1972) is a London-born artist known for playing with perception. His paintings and sculptures orchestrate a continual oscillation between abstraction and figuration, and between classical composition and its digital manipulation and obfuscation. His process often begins with the appropriation of an image which, through endless reproduction, has passed into the visual subconscious. The image is then rendered by computer into modular planes, worked on, developed, and modified. If the final result is a sculpture, it is fabricated in three dimensions, often in cardboard or wood, or, as in the most recent works, in oxidised aluminium skins
DIS is a New York-based collective made up of Lauren Boyle, Solomon Chase, Marco Roso, and David Toro, work across a wide range of media. In 2018 the collective transitioned platforms from an online magazine, dismagazine.com, to a video streaming edutainment platform, dis.art, narrowing in on the future of education as entertainment. DIS enlists leading artists and thinkers to expand the reach of key conversations bubbling up through contemporary art, culture, activism, philosophy, and technology, with the aim to inform and mobilize a generation around the vital issues facing us today and tomorrow.
Trulee Hall (b.1976, Atlanta, GA) received her BFA from Atlanta College of Art in 1999 and her MFA from CalArts in 2006. Based in Los Angeles, she creates multimedia installations that propose an uncanny hyper-reality, rife with tongue-in-cheek comedy and often teetering between flirty funhouse and Technicolor nightmare. She draws on a childhood immersed in the aesthetic and decorative formalities of American Southern conservative and religious culture, and contrasts these with the aesthetics of familiar subcultures.
Noora Geagea (b. 1981, Helsinki) is Finnish-Lebanese visual artist who mainly works with video, photography and installation. Her background is versatile, ranging from dance practice to camera assisting in feature films. She received her MA Photography degree from LCF, University of the Arts London in 2009 and has since exhibited her video, film and photography work extensively. Her works have been recently shown at the Weserburg Museum of Modern Art in Bremen, ARTag gallery in Helsinki, Salon Dahlman gallery space in Berlin, Xidan- culture square in Beijing, Aesthetica Art Prize exhibition by the York Museums Trust, the National Gallery of the Arts in Tirana, Albania and Moving Image London as well as several galleries across Finland and abroad over the years.
About Daata: Established in 2015, Daata is the leading online gallery for discovering, streaming and collecting digital artworks. Daata commissions exclusive original artworks directly from emerging and established international artists and hosts artworks from world-renowned Gallery Partners. Daata's new augmented reality app will be soft-launched to mark the occasion of the screening with Helsinki Contemporary in September 2021. The app allows access to Daata's ever-expanding library of artworks consisting of original Augmented Reality, Video, and Audio pieces, offering a new way to experience and collect digital art.
About Helsinki Contemporary: Helsinki Contemporary was founded in 2007 and quickly gained a position as one of the leading galleries in the Nordics. The gallery has a strong curatorial emphasis and it focuses on long-term collaboration with its artists. Helsinki Contemporary shows established and younger generation Finnish and international artists. Various media are shown - including new media and site-specific projects - but the program has a focus on painting. At the core of the program are artists who take an ambitious, in-depth approach to their work. In addition, and related to the exhibition program, the gallery has a long running social commitment that manifests through artists' talks and debates, and collaborations with different actors in the field.