Autumn 2018 at Helsinki Contemporary
15.06.2018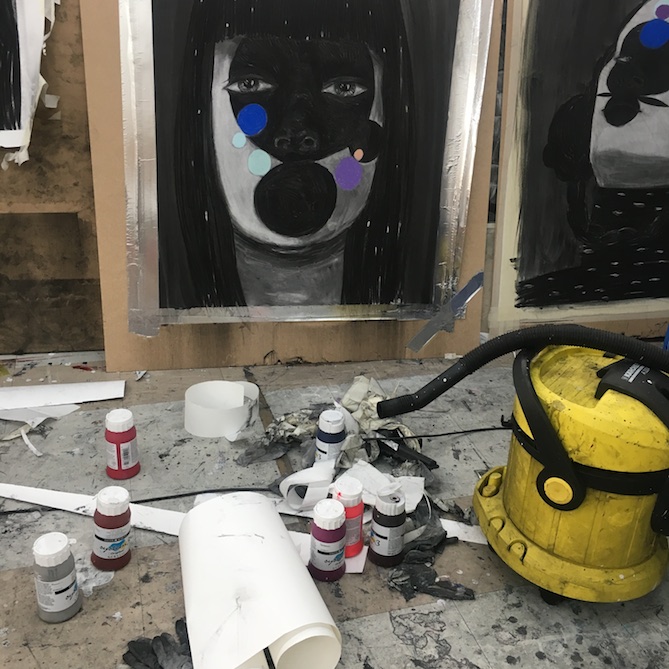 View from Hannaleena Heiska's study
Photo: Hannaleena Heiska

AUTUMN 2018 AT HELSINKI CONTEMPORARY
Helsinki Contemporary's autumn exhibitions delve into other worlds, everyday moments and into the relationship between human and nature. In addition to four anticipated solo exhibitions – Heiska, Räisänen, Saksa, Ainala – the HC Guest Curator programme continues with reinforcements from London.


Autumn exhibitions at Helsinki Contemporary:
Hannaleena Heiska: 3.8.–2.9.
Janne Räisänen: 7.–30.9.
Perttu Saksa 5.–28.10.
Emma Ainala 2.–25.11.
HC Guest Curator: David Crawforth & Naomi Siderfin, Beaconsfield Gallery Vauxhall, London, Group exhibition 30.11.–21.12.
Read about the artists' Autumn higlights outside the Gallery in the end of this release.
HANNALEENA HEISKA: CAMOUFLAGE
3.8.–2.9.
The autumn season opens with Hannaleena Heiska's exhibition, consisting of paper works and three-dimensional drawings. The main theme of the exhibition is camouflage; make-up and hairdos created to hinder facial recognition programs and the shapes and pictorial motifs inspired by them have acted as a starting point for the exhibition. In addition to the exhibition, two performances of Jälki, a performance piece by Heiska and dance artist Minna Tervamäki combining contemporary dance, ballet, visual art and performance art, will be seen at Cable Factory, Helsinki. Heiska will curate a group exhibition to Susanne Pettersson Gallery (SPG) in Stockholm at the end of the year. Heiska's solo exhibition opens in Turku Art Museum in February 2019.
Hannaleena Heiska's (b. 1973) works create illusions of captured moments, different worlds and subcultures. Heiska has exhibited both locally and internationally, for example, at the 4th Ural Industrial Biennial, Yekaterinburg, 2017; Gothenburg Art Museum, 2015; and Espace Louis Vuitton Gallery, Tokyo 2012. Heiska was nominated for the Ars Fennica prize in 2011, and her works are represented in many significant public collections, such as Gothenburg Museum of Art, Museum of Contemporary Art Kiasma, and EMMA – Espoo Museum of Modern Art. Her videoworks have been shown at numerous film and media-art festivals in Europe.
JANNE RÄISÄNEN: XANADU
7.-30.9.
The high-spirited, warm-hearted exhibition of Janne Räisänen consists of paintings, whose characters, seen amidst their everyday activities, tell an important and relatable story about being human.
Janne Räisänen (b. 1971) lives and works in Berlin. His paintings and drawings are reflections of everyday life – sometimes weird and humorous. Räisänen was awarded the Finnish Art Society's Ducat Prize in 1998 and was named Young Artist of the Year 1999, together with Janne Kaitala and Jukka Korkeila. He has been nominated for the Carnegie Art Award twice. Räisänen's works are found in most Finnish public collections e.g. HAM – Helsinki Art Museum, Kiasma, Sara Hildén Art Museum and Wihuri Collection and in several collections abroad. His latest solo exhibition was seen in 2017 in Schwarz Contemporary gallery, Berlin.
PERTTU SAKSA: MAPS OF ESSENCE
5.–28.10.
In his new exhibition, Perttu Saksa examines the relationship between human and the environment through grey economy and energy. As the mesuring units grow smaller, in order to be perceived through bodily proportions, the essence of energy becomes individual, concete, visible. Saksa observes the pirate trade of fuels and oil in Western Africa with his photography.
Known for his photography, Saksa's (b. 1977) art consistently focuses on the relationship between humanity and animals, nature, the environment and organic materials. Saksa's works have been shown in numerous galleries and museums around Europe, most recently at the Museum of Contemporary Art Kiasma as part of the Ars Fennica candidates' exhibition. His works can also be found in various public collections, e.g. EMMA – Espoo Museum of Modern Art and Museum of Contemporary Art Kiasma. Saksa is a recipient of the Fotofinlandia Prize (2014). In 2018 Saksa's proposal won the design competition for former Finnish president Mauno Koivisto's grave memorial.
EMMA AINALA: SOFT HARDCORE
2.-25.11.
Emma Ainala's exhibition consists of new paintings and object installations related to them. Social media, escapism and alternate realities are the objects of construing in the works, whose visual appearance mix fantasy, imagery of the digital age, and nostalgia. The conflict of being a woman, the inaptitude to fit into a mould, and on the other hand, woman as an active subject, are in the focal point of the artist's speculation.
Emma Ainala (b. 1989) is one of the most interesting emerging contemporary artists in Fnland. Ainala paints with intuition and a recognizable touch. Her works have a strong inner world that often hides within itself a certain tension. Ainala's solo exhibitions have been seen for example at Galleria Huuto on Jätkäsaari in 2014 and at Mikkeli Art Museum in 2017. Her most recent solo exhibition was seen at Helsinki Contemporary in 2016. In the spring of 2018 she took part in Charlottenborg Spring Exhibition in Copenhagen. Ainala's works are represented in such collections as Mikkeli Art Museum, Henna and Pertti Niemistö art collection and Saastamoinen Foundation's art collection.
GROUP EXHIBITION: LANDSCAPE(S) OF THE FUTURE
HC GUEST CURATOR: David Crawforth and Naomi Siderfin,
Beaconsfield Gallery Vauxhall
30.11.–21.12.
Helsinki Contemporary's Guest Curator -programme continues in December, with an exhibition combining Finnish an English artists, who have exhibited at Beaconsfield Gallery Vauxhall. The curators are David Crawforth ja Naomi Siderfin. The exhibition is carried out in cooperation with the Finnish Institute London.