Tapetenwechsel
7.4.-30.4.2017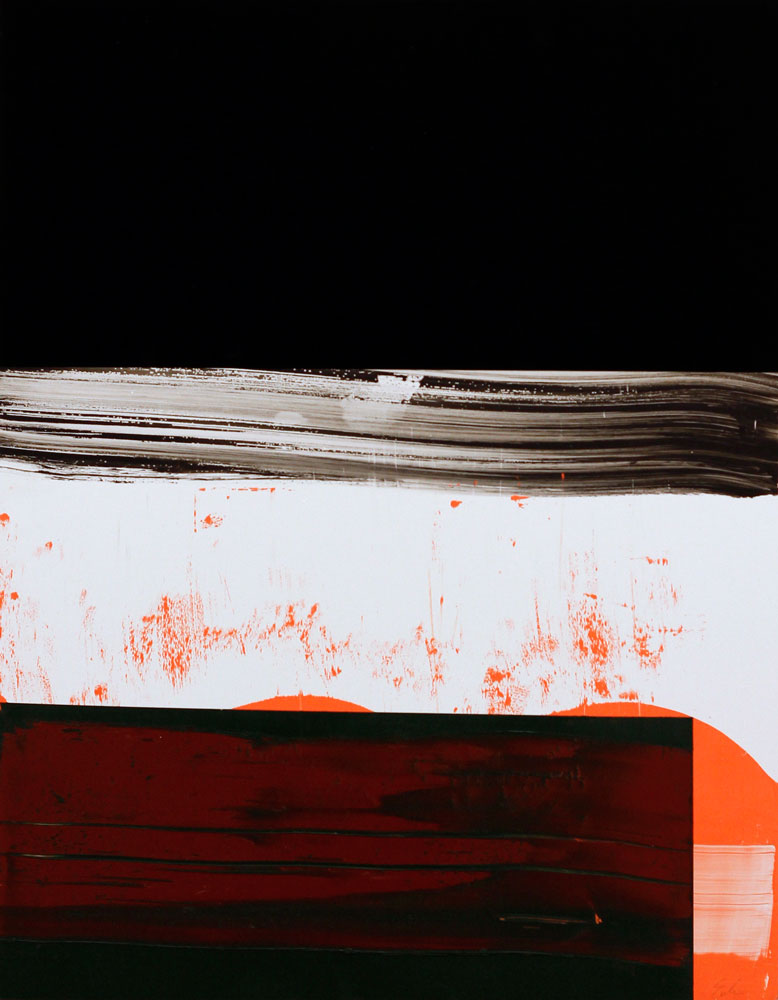 The Swedish artist Marcus Eek will have a solo exhibition at Helsinki Contemporary on April 7–30. In the new paintings Eek's hallmark archetypes familiar from nature have had to give way, since he has now based his expression on abstract motifs. In the works we still see strongly applied layers of paint, even if the effect is now more reductive.

The exhibition's German title, Tapetenwechsel, literally means a change of wallpaper and refers to a new beginning, a change of scenery – and in Eek's case to finding new ways of working. There has been a clear desire and need for change. The artist has had to put time and effort into leaving behind him other people's expectations and his own need to be understood.

The exhibition is showing new paintings from the Tells series. The title here refers to the unintentional gestures, or tells, made by poker players, which reveal their tactics. In the works what is revealed derives from the choices made by the artist during the painting process, which the viewer can try to trace. Just as in poker, this is not just about revealing the opposing player's cards, but also about understanding their train of thought.

"A figurative painting tells a story and an abstract painting is the story. It is like a staring competition, trying to find common ground on a wordless level. […] It is about gaining and maintaining a connection," Eek says.

When he is working, Eek tries not to think too much and to throw himself into painting. In the new works the bright colour contrasts and the materiality of the paint pigment meet in glossy and matt layers of colour, occasionally abundantly applied, and sometimes radiantly transparent. Despite all the planning the painting ultimately comes about during the process itself, and influences are picked up from everything that surrounds the artist. The works are not, however, tied to this world, but are already playing their own game.

Marcus Eek (b. 1968 in Stockholm) lives and works in Berlin, and graduated from the Royal Institute of Art in Stockholm in 1997. Eek currently has a solo exhibition at Galleri Charlotte Lund in Stockholm, until April 22. He has taken part in numerous solo and group exhibitions in the Nordic countries and Europe, including at Galleri Örsta in Kumla, Sweden (2016), Kunstkraftwerk, Leipzig, Germany (2016), Gallen-Kallela Museum, Espoo (2014), Landskrona konsthall, Sweden (2012), Björkholmen Gallery, Stockholm (2012, 2010) and Galerie Mikael Andersen, Berlin (2012). Eek is also known as one of the curator of Berlin-based collective Black Market, which organizes exhibition happenings and events. His works are in the collections of e.g. the Swedish State and Saastamoinen Foundation in Finland.
Ruotsalaistaiteilija Marcus Eekin yksityisnäyttely nähdään Helsinki Contemporaryssa huhtikuun 7.–30. Uusissa maalauksissa Eekille tunnusomaiset, luonnosta tutut arkkityypit ovat saaneet väistyä, kun hän on rakentanut ilmaisunsa abstraktien motiivien varaan. Teoksissa nähdään edelleen voimakkaita värikerroksia, vaikka jälki on nyt pelkistetympää.

Näyttelyn saksankielinen nimi, Tapetenwechsel, tarkoittaa kirjaimellisesti tapetin vaihtoa ja viittaa uuteen alkuun, maisemanvaihdokseen – ja Eekin tapauksessa uusien työskentelytapojen löytämiseen. Muutokselle on ollut selkeä halu ja tarve. Se on vaatinut taiteilijalta aikaa ja ponnistuksia jättää taakseen toisten odotukset sekä oma tarve tulla ymmärretyksi.

Näyttelyssä nähdään uusia maalauksia sarjasta Tells. Nimi viittaa pokerin pelaajien tahattomiin eleisiin eli telleihin, jotka paljastavat pelitaktiikan. Teoksissa paljastuminen juontaa taiteilijan maalausprosessissa tekemistä valinnoista, joita katselija voi yrittää seurata. Aivan kuin pokerissa, kyse ei ole vain vastapelaajan korttien paljastumisesta vaan tämän ajatuksenjuoksun ymmärtämisestä.

"Abstrakti maalaus ei vain kerro tarinaa – se on itse tarina. Se on kuin tuijotuskilpailua, jossa yhteinen sävel yritetään löytää sanattomalla tasolla. Kyse on siis yhteyden saavuttamisesta ja sen ylläpitämisestä", Eek kertoo.

Työskentelyssään Eek pyrkii olemaan ajattelematta liikaa ja heittäytymään maalaamiseen. Uusissa teoksissa risteävät kirkkaat värikontrastit ja maaliaineksen materiaalisuus kiiltävinä ja mattaisina, toisinaan runsaina ja joskus heleän kuulaina värikerroksina. Kaikesta suunnittelusta huolimatta maalaus syntyy lopulta prosessin itsensä aikana, ja vaikutteita tarttuu kaikkialta ympäristöstä. Teokset eivät kuitenkaan ole kiinni tässä maailmassa, vaan pelaavat jo omaa peliään.

Berliinissä asuva ja työskentelevä Marcus Eek (s. 1968 Tukholmassa) valmistui Tukholman Kuninkaallisesta taidekorkeakoulusta 1997. Eekin yksityisnäyttely on paraikaa esillä Galleri Charlotte Lundissa Tukholmassa 22.4. saakka. Hän on osallistunut lukuisiin yksityis- ja ryhmänäyttelyihin Pohjoismaissa ja Euroopassa, mukaan lukien Galleri Örsta Ruotsin Kumlassa (2016), Kunstkraftwerk Leipzig Saksassa (2016), Gallen-Kallelan museo Espoossa (2014), Landskronan taidehalli Ruotsissa (2012), Björkholmen Gallery Tukholmassa (2012, 2010) ja Galleri Mikael Andersen Berliinissä (2012). Eek tunnetaan myös Berliinissä toimivan, näyttelytapahtumia järjestävän Black Market -sarjan kuraattorina. Hänen teoksiaan on mm. Ruotsin valtion ja Saastamoisen säätiön kokoelmissa.