Group exhibition
Street Life
7.6.-7.7.2013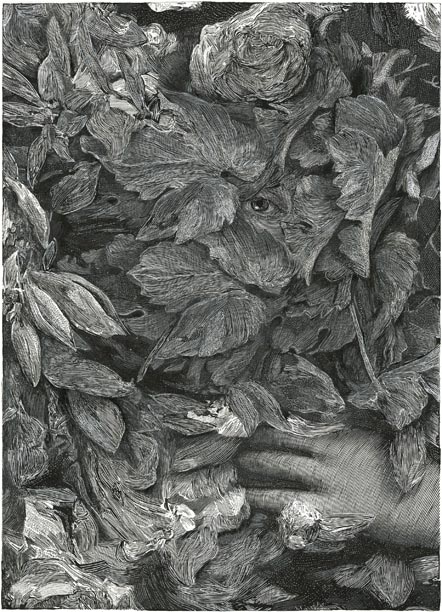 The hot summer street is scorching.

The silence of winter has gone, and the Finnish cities have woken up.

In the streets, in the parks, in the squares, people meet each other as though they are re-born.

Curious and tireless.

It doesn't matter what you wear, just as long as you are there
So come on, every guy, grab a girl, everywhere, around the world
They'll be dancing, dancing in the street

Helsinki Contemporary invites the thirsty and yearning passers-by to summer's Tchillest exhibition.

Ville Andersson's (b. 1986) previous solo exhibition at Helsinki Contemporary was seen in October 2012. Andersson works with photography as well as with painting and drawing. In the exhibition Street Life, apart from the work Melancholia, which was finished in 2012, a completely new drawing Hidden is shown.

Saara Ekström (b. 1965) is one of the leading Finnish photography and video artists. In her set of works Excess and Ascesis, she combines organic and nonorganic materials in still lifes that bring to our mind the nature morte thematics of Flemish 17th century painting. Ekström's solo exhibition Hortus Conclusus (closed garden) is shown at the Turku Castle during summer 2013.

Liisa Lounila (b. 1976) represented Finland at the Venice biennale in 2003. Lounila works widely in different media. In the exhibition Street Life, you can see palladized and silver plated objects that are picked from both everyday life and feast, everyday objects that are transformed into a kind of relics.

In Jukka Rusanen's (b. 1980) abstract paintings, there is often a figurative art historical point of departure, which in the artist's hands forms into a fresh, independent work that is anchored in our time. Rusanen's previous solo exhibition Eject was seen at Helsinki Contemporary in fall 2011. In Street Life new works by the artist are presented.

Maiju Salmenkivi (b. 1972) often paints urban landscapes. In the works selected for the exhibition, we roam around in the atmospheres of hot urban industrial environments and of summer football. Salmenkivi's works are also shown in Pyhäniemi Manor's summer exhibition.

Anssi Kasitonni's (s. 1978) production contains both sculptures and video installations. Kasitonni's works combine an innovative use of the picture materials of popular culture with a sense of humour. Kasitonni was awarded with the Ars Fennica price in 2011.
Polttaa kesäkatu kuuma.

Talven hiljaisuus on tiessään ja suomalaiset kaupungit heränneet eloon.

Kaduilla, puistoissa, toreilla ihmiset kohtaavat toisensa uudestisyntyneinä.

Uteliaina ja väsymättöminä.

It doesn't matter what you wear, just as long as you are there
So come on, every guy, grab a girl, everywhere, around the world
They'll be dancing, dancing in the street
Helsinki Contemporary kutsuu katujen janoisat kävijät kesän viileimpään näyttelyyn.

Ville Anderssonin (s. 1986) edellinen yksityisnäyttely nähtiin galleriassa lokakuussa 2012. Andersson työskentelee sekä valokuvan että maalauksen ja piirustuksen parissa. Street Life -näyttelyssä on esillä 2012 valmistuneen Melancholia-teoksen lisäksi täysin uusi piirros Hidden.

Saara Ekström (s. 1965) on Suomen eturivin valokuva- ja videotaiteilija. Hänen teossarjassaan Excess and Ascesis yhdistyvät orgaaniset ja epäorgaaniset materiaalit asetelmissa, jotka tuovat mieleen flaamilaisen 1600-luvun maalaustaiteen nature morte -tematiikan. Ekströmin yksityisnäyttely Hortus Conclusus (suljettu puutarha) on esillä Turun linnassa kesän 2013.

Liisa Lounila (s. 1976) edusti Suomea Venetsian biennaalissa vuonna 2003. Lounila työskentelee laajasti eri medioiden parissa. Street Life näyttelyssä esillä on arjesta ja juhlasta poimittuja palladioituja ja hopeoituja esineitä, jotka muuntuvat jokapäiväisistä esineistä reliikin omaisiksi objekteiksi.

Jukka Rusasen (s. 1980) abstrakteissa maalauksissa on usein figuratiivinen taidehistoriallinen lähtökohta, joka taiteilijan käsittelyssä muuntautuu tuoreeksi, tähän aikaan ankkuroiduksi itsenäiseksi teokseksi. Rusasen edellinen yksityisnäyttely Eject nähtiin Helsinki Contemporaryssa syksyllä 2011. Street Life näyttelyssä on esillä taiteilijan uusia teoksia.

Maiju Salmenkivi (s. 1972) maalaa usein kaupunkimaisemia. Näyttelyyn valikoiduissa teoksissa liikutaan helteisen urbaanin teollisuusympäristön ja kesäisen jalkapalloilun tunnelmissa. Salmenkiven teoksia on esillä kesällä myös Pyhäniemen kartanon kesänäyttelyssä.

Anssi Kasitonnin (s. 1978) tuotanto sisältää sekä veistoksia että videoteoksia. Kasitonnin teoksissa yhdistyy innovatiivinen populaarikulttuurin kuvaston hyödyntäminen ja huumori. Kasitonni palkittiin Ars Fennica -palkinnolla vuonna 2011.
Den heta sommargatan bränner.

Vinterns tystnad är borta och de finländska städerna har vaknat till liv.

På gatorna, i parkerna, på torgen möter människorna varandra som pånyttfödda.

Nyfikna och outtrötteliga.

It doesn't matter what you wear, just as long as you are there
So come on, every guy, grab a girl, everywhere, around the world
they'll be dancing, dancing in the street

Helsinki Contemporary bjuder in gatornas törstiga och längtande förbipasserande till sommarens "coolaste" utställning.

Ville Andersson (f. 1986) senaste separatutställning visades på Helsinki Contemporary hösten 2012. Andersson jobbar både med målning och fotografi samt teckning. I utställningen Street Life visas förutom verket Melancholia, som blev färdigt 2012, en alldeles ny teckning Hidden.

Saara Ekström (f. 1965) hör till Finlands främsta foto- och videokonstnärer. I hennes verkserie Excess and Ascesis kombineras organiska och oorganiska material i stilleben som för tankarna till flamländska 1600-tals måleriets nature morte-tematik. Ekströms verk kan också ses på Åbo Slott där hennes separatutställning Hortus Conclusus (Den slutna trädgården) visas fram till 27.10.2013.

Liisa Lounila (f. 1976) representerade Finland på Venedig biennalen år 2003. Lounila arbetar på bred front med olika medier. På utställningen Street Life visas palladiserade och försilvrade föremål som har plockats ur fest och vardag, och som förvandlas från att vara vardagliga föremål till att bli objekt med karaktären av reliker.

I Jukka Rusanens (f. 1980) abstrakta målningar finns ofta en figurativ konsthistorisk utgångspunkt, som genom konstnärens behandling förvandlas till ett färskt, självständigt verk som är förankrat i den här tiden. Rusanens senaste separatutställning Eject visades på galleriet på hösten 2011. I utställningen Street Life visas nya verk av konstnären

Maiju Salmenkivi (f. 1972) målar ofta urbana landskap. I de verk som är valda till utställningen rör vi oss i stämningar av het urban industrimiljö och av sommarfotboll. Salmenkivis verk visas i sommar även på Pyhäniemi herrgårds grupputställning.

Anssi Kasitonnis (f. 1978) produktion innefattar både skulpturer och videoverk. I Kasitonnis verk förenas hans innovativa sätt att förena populärkulturens bildmaterial och humor. Kasitonni vann år 2011 det prestigefyllda Ars Fennica priset.