Spaces and Places
31.3.-14.5.2023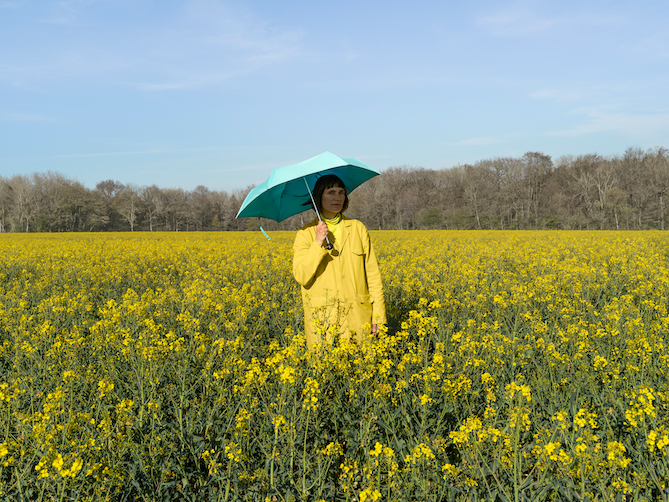 Elina Brotherus' (b. 1972) Spaces and Places is the artist's first gallery exhibition in Finland in a long time, and her first-ever show at Helsinki Contemporary. In April/May the gallery space will be filled with a previously unseen set of works from four different series of photographs. The exhibition is made up of dialogues with works by the famous artists Amaldus Nielsen, René Magritte and John Baldessari, and of a selection of pictures made at the Didrichsen Art Museum. The dialogue between artists adds a temporal dimension to the exhibition, a journey from romanticism, via surrealism, to the core of postmodern contemporary art.
Spaces and Places is a combination of outdoor and indoor spaces, of gazes at and away from. In the pictures in the exhibition Brotherus takes up a position in space that is always relative to the surroundings and the landscape, but also to art history. The dialogue with these paintings or with the texts made by deceased artists becomes visible. The pictures are events, but at the same time they are spaces in which a friendship is enacted. Through them the connection to someone else who is personally important is made real. "Artists need other artists. We have teachers from our student days, and later on self-chosen ones, to offer us a helping hand. Connections, chains, affinities and friendships are important. They are places where art is thought about and enthused about."
The genesis of the works is bound up with stories, adventures and visits around Europe. Following in the footsteps of the 19th-century Norwegian Romantic painter Amaldus Nielsen (1838–1932), Brotherus got to photograph in Ny-Hellesund, an archipelago off South Norway, in the same landscape that Nielsen painted more than a hundred years ago. In her pictures Brotherus has captured sunrises and sunsets, as Nielsen did in his time. "I thought it was interesting that he had painted a lot of works of the same place, it involved a serial thinking that is attractive to a photographer: that one picture is not enough and cannot tell us everything, that the content, which transcends the individual pictures, arises out of variants, out of observing and showing the variation."
Brotherus' attraction to the art of the Belgian René Magritte (1898–1967) has lasted the longest. She already delved deep into the surrealist artist's production when she was young and living in Brussels, on visits to museums there. At that time, she was particularly interested in the history of old art, but also in the various possibilities of the photograph. "Surrealism reminds us of the complexity of things. It is a poetic way of saying we don't understand everything." Brotherus was particularly inspired by Magritte's ideas. In the exhibition familiar symbols from Magritte's paintings come to life, interpreted by Brotherus. A mirror in the middle of a field punches a hole through the landscape, and a hotel-room window as if opens onto another reality. Ordinary issues and objects find a place in surprising settings. "Magritte has his own vocabulary. If I take a picture with a cloud, or an umbrella, I inevitably cast my mind back to Magritte."
On a more personal level the pictures are publicly avowed tributes, contact makings, and rememberings. In her works Brotherus has for years used the list of ideas that the US conceptual artist John Baldessari (1931–2020) gave to his pupils in the 1970s. In the Helsinki Contemporary exhibition the dialogue with Baldessari has links with the coloured dots that have become his trademark. In the new works in the Baldessari in the Park series place and space emerge as landscape-like shots, in private moments that can be light-hearted or profound. In the pictures Brotherus makes adventurous experiments in the grounds of Château du Bois-Héroult in Normandy using coloured berets. With this gesture she transposes Baldessari's circular symbols from paper to space. The dots give structure to the picture surface and direct the eye. They are also accents that point out something worth noticing in the surrounding landscape.
Four works from the Visitor (Villa Didrichsen) series that Brotherus shot at the Didrichsen Art Museum in 2021–2022 are being shown as part of the Helsinki Contemporary exhibition. The starting point for these images was the freedom to work with an entire art collection, while making use of the building's architecture and interiors. The figures in the pictures – the visitors – bring the space to life with their presence, suggesting alternative realities alongside the actual history of this building designed by Viljo Revell (1958, 1964). At Didrichsen, Brotherus, who is known as a colourist, got to be curator of her own pictures. She was able to pick out paintings from the Museum's collections, for instance, to match the colours of her compositions.
Elina Brotherus' work has been supported by the Arts Promotion Centre Finland, Didrichsen Art Museum, Helsinki, FRAC Normandie, Rouen, Château de Bois-Héroult, AKO Kunststiftelse, Kunstsilo, Kristiansand and Centre méditerranéen de la photographie, Bastia, Corsica.
Elina Brotherus works since more than twenty years in photography and moving image. Her work has been alternating between autobiographical and art-historical approaches. Her early works on subjective experiences gave way to photographs dealing with the human figure and the landscape, the relation of the artist and the model. In her current work she is revisiting Fluxus event scores and other written instructions for performance-oriented art of the 1950s-70s. Another big theme in her current practice is architecture. Brotherus photographs in private houses designed by important architects, taking roles of various imagined characters and bringing a tranquil human presence to these iconic spaces of architectural heritage. Elina Brotherus lives and works in Helsinki, Finland and Avallon, France. She has an MA degree in Photography from the University of Art and Design Helsinki (now Aalto University) and an MSc in Chemistry from the University of Helsinki. Brotherus started exhibiting internationally in 1997. Her works are in nearly 80 public collections including the Pompidou Centre, Paris, Louisiana Museum of Modern Art, Denmark, Kiasma Museum of Contemporary Art, Helsinki, and Moderna Museet, Stockholm, to name a few, and she has published 13 monographs. Brotherus has been awarded, among others, Carte blanche PMU, France, in 2017, the Finnish State Prize for Photography in 2008, and the Prix Niépce in 2005.
Elina Brotheruksen (s.1972) Spaces and Places on taiteilijan ensimmäinen gallerianäyttely Suomessa pitkään aikaan ja ensimmäistä kertaa Helsinki Contemporaryssa. Huhti-toukokuussa galleriatilan täyttää ennennäkemätön teoskokonaisuus neljästä eri valokuvasarjasta. Näyttely rakentuu vuoropuheluista tunnettujen taiteilijoiden, Amaldus Nielsenin, René Magritten ja John Baldessarin teosten kanssa sekä valikoimasta Didrichsenin taidemuseossa toteutettuja kuvia. Taiteilijadialogi tuo näyttelyyn ajallisen ulottuvuuden, matkan romantiikasta, surrealismin kautta postmodernin nykytaiteen ytimeen.
Spaces and Places on yhdistelmä ulko- ja sisätiloja, katseita kohti ja pois. Näyttelyssä esillä olevissa kuvissa Brotherus ottaa paikan tilassa aina suhteessa ympäristöön ja maisemaan, mutta myös taidehistoriaan. Vuoropuhelu edesmenneiden taiteilijoiden maalauksien tai tekstien kanssa tulee näkyväksi. Kuvat ovat tapahtumia, mutta samalla tiloja, joissa ystävyyttä toteutetaan. Niiden kautta yhteys itselle tärkeään toiseen todentuu. "Taiteilijat tarvitsevat toisia taiteilijoita. Meillä on opettajia kouluajoilta, sekä myöhemmin itse valittuja, jotka tarjoavat auttavan kätensä. Yhteydet, ketjut, affiniteetit ja ystävyydet ovat tärkeitä. Ne ovat paikkoja, joissa taidetta ajatellaan ja siitä innostutaan."
Teoksien syntyyn liittyy tarinoita, seikkailuja ja vierailuja ympäri Eurooppaa. 1800-luvun norjalaisen romantikkomaalari Amaldus Nielsenin (1838–1932) jalanjälkiä seuraten Brotherus pääsi kuvaamaan Ny-Hellesundiin, Etelä-Norjan ulkosaaristoon, samaan maisemaan, jota Nielsen oli maalannut yli sata vuotta sitten. Brotherus tallensi kuviinsa auringon nousut ja laskut, kuten Nielsen aikoinaan. "Minusta oli kiinnostavaa, että hän oli maalannut monta työtä samasta paikasta, siinä on valokuvaajaa viehättävää sarjallista ajattelua, että yksi kuva ei riitä eikä voi kertoa kaikkea, yksittäiset kuvat ylittävä sisältö syntyy muunnelmista, vaihtelun tarkkailusta ja näyttämisestä."
Brotheruksen viehätys belgialaisen René Magritten (1898–1967) taiteeseen on pitkäaikaisinta. Hän syventyi surrealistitaiteilijan tuotantoon jo nuorena asuessaan Brysselissä ja vieraillessaan siellä museoissa. Brotherus oli tuolloin erityisen kiinnostunut vanhemman taiteen historiasta, mutta myös valokuvan eri mahdollisuuksista. "Surrealismi muistuttaa asioiden monimutkaisuudesta. Se on runollinen tapa sanoa, että emme ymmärrä kaikkea." Brotherusta inspiroivat erityisesti Magritten ideat. Näyttelyssä Magritten maalauksista tutut symbolit heräävät henkiin Brotheruksen tulkitsemina. Peili keskellä peltoa puhkoo aukon läpi maiseman ja hotellihuoneen ikkuna avautuu kuin toiseen todellisuuteen. Tavanomaiset asiat ja esineet löytävät paikkansa yllättävissä ympäristöissä. "Magrittella on oma sanavarastonsa. Jos teen kuvan, jossa on pilvi, tai sateenvarjo, lähetän väistämättä ajatuksen Magrittelle."
Henkilökohtaisemmalla tasolla kuvat ovat julkilausuttuja kunnianosoituksia, yhteydenottoja ja muistamisia. Brotherus on jo vuosia käyttänyt työssään amerikkalaisen käsitetaiteilijan John Baldessarin (1931–2020) oppilailleen antamaa tehtävälistaa 1970-luvulta. Helsinki Contemporaryn näyttelyssä vuoropuhelu Baldessarin kanssa liittyy tälle tavaramerkiksi muodostuneisiin pilkkuihin. Uusissa Baldessari in the Park -sarjan teoksissa paikka ja tila näyttäytyvät maisemallisina otoksina, kepeinä sekä syvällisinä yksityisinä hetkinä. Brotherus seikkailee kuvissa normandialaisen Château de Bois-Heroult'n puistossa käyttäen värillisiä baskereita. Eleen myötä Brotherus siirtää Baldessarin pyöreät merkit paperilta tilaan. Väripilkut jäsentävät kuvapinnan ja ohjaavat katsomista. Ne ovat myös aksentteja, jotka osoittavat ympäröivästä maisemasta jotain huomion arvoista.
Brotheruksen Didrichsenin taidemuseossa vuosina 2021–2022 kuvaamasta valokuvasarjasta Visitor (Villa Didrichsen) nähdään neljä teosta osana Helsinki Contemporaryn näyttelyä. Lähtökohtana näissä kuvissa on ollut vapaus työskennellä kokonaisen taidekokoelman parissa, hyödyntäen rakennuksen arkkitehtuuria ja interiööriä. Kuvien hahmot, vierailijat, herättävät läsnäolollaan tilan henkiin ja ehdottavat vaihtoehtoisia todellisuuksia Viljo Revellin suunnitteleman rakennuksen (1958, 1964) varsinaisen historian rinnalle. Koloristina tunnettu Brotherus sai Didrichsenillä toimia kuviensa kuraattorina ja poimia maalauksia museon kokoelmista sommitelmiinsa esimerkiksi värien mukaisesti.

Kiitokset taiteilijan työn tukemisesta: Taiteen edistämiskeskus, Didrichsenin taidemuseo, Helsinki, FRAC Normandie, Rouen, Château de Bois-Héroult, AKO Kunststiftelse, Kunstsilo, Kristiansand ja Centre méditerranéen de la photographie, Bastia, Korsika.


Elina Brotherus on työskennellyt yli kaksikymmentä vuotta valokuvan ja liikkuvan kuvan parissa. Suomessa ja Ranskassa asuvan taiteilijan aiheet ovat olleet vuoroin omaelämäkerrallisia, vuoroin taidehistoriaan liittyviä. Hän käyttää usein itseään mallina. Varhaisten omakuvien jälkeen Brotherus keskittyi ihmisfiguurin ja maiseman sekä taiteilijan ja mallin suhteeseen. Uusimmissa performatiivisissa teoksissaan hän on hakenut vaikutteita 1960–70-lukujen taiteesta, mm. Fluxus-ryhmältä ja käsitetaiteesta. Toinen suuri aihe hänen uudemmassa tuotannossaan on arkkitehtuuri. Brotherus kuvaa merkittävien arkkitehtien piirtämissä yksityistaloissa, esittää kuvitteellisia henkilöitä talojen historiasta ja herättää nämä ikoniset tilat henkiin rauhallisella läsnäolollaan. Elina Brotheruksen näyttelyura alkoi 1990-luvun lopulla, minkä jälkeen hänen tuotantoaan on ollut esillä laajalti sekä kotimaisissa että kansainvälisissä näyttelyissä. Brotheruksen teoksia on lähes 80 julkisessa kokoelmassa ja hän on julkaissut 11 monografiaa. Hänen saamistaan palkinnoista merkittävin on vuonna 2017 myönnetty Carte blanche PMU Ranskassa, johon liittyen hän piti ensimmäisenä suomalaistaiteilijana näyttelyn Pariisin Pompidou-keskuksessa.
Spaces and Places är Elina Brotherus (f.1972) första galleriutställning i Finland på länge och den första gången hon ställer ut på Helsinki Contemporary. I april-maj fylls galleriet av en aldrig tidigare visad verkshelhet på fyra olika fotografiserier. Utställningen bygger på dialoger mellan verk av de kända konstnärerna Amaldus Nielsen, René Magritte och John Baldessari och ett urval bilder fotade på Didrichsens konstmuseum. Genom konstnärsdialogen får utställningen en tidsutsträckning, en resa genom romantiken via surrealismen till den postmoderna samtidskonsten.
Spaces and Places är en kombination av yttre och inre rum, blickar in mot och bort från något. På utställningens foton tar Brotherus plats i rummet, allt ifrån förhållandet till miljön och landskapet men också till konsthistorien. Dialogen med konstnärsförebildernas målningar eller texter visualiseras för oss. Fotografierna är händelser, men samtidigt de rum där frändskaperna byggs. Genom dem bekräftas förbindelsen till den för en själv viktiga andre."Konstnärer behöver andra konstnärer. Vi har lärare från skoltiden, och senare de som vi valt själva, som sträcker ut en hjälpande hand. Förbindelser, kedjor, affiniteter och vänskaper är viktiga. Det är platser där man tänker på konst och blir inspirerad."
Skapandet av verken är kopplat till berättelser, äventyr och besök runt om i Europa. På sin resa i fotspåren av den norske 1800-tals romantikern Amaldus Nielsen (1838–1932) fick Brotherus tillfälle att i Ny-Hellesund fotografera de landskap som Nielsen hade målat för över hundra år sedan. Brotherus tog sina bilder vid soluppgången och solnedgången, precis som Nielsen på sin tid."Jag tyckte att det var intressant att han hade målat flera verk på samma ställe, det är ett seriellt sätt att tänka som tilltalar en fotograf, att det inte räcker med en enda bild och att den inte kan berätta allt, innehållet i bilderna skapas genom variation och att observera växlingarna och visa upp dem."
Brotherus dragning till belgaren René Magrittes (1898–1967) konst är av äldst datum. Hon fördjupade sig i den surrealistiske konstnärens produktion på stadens museer när hon som ung bodde i Bryssel. På den tiden var Brotherus särskilt intresserad av den äldre konstens historia, men också av fotografiets olika möjligheter."Surrealismen påminner oss om tingens komplexitet. Det är ett poetiskt sätt att säga att vi inte förstår allt." Brotherus var särskilt inspirerad av Magrittes idéer. I utställningen får välbekanta symboler från Magrittes målningar liv genom Brotherus tolkning. Spegeln mitt på fältet gör ett hål i landskapet och hotellrummets fönster öppnar sig som mot en annan verklighet. Vanliga saker och föremål finner sin plats i överraskande miljöer."Magritte har sin egen vokabulär. Ifall jag gör en bild med ett moln eller ett paraply skickar jag ofrånkomligen iväg en tanke till Magritte."
På ett mer personligt plan är bilderna offentliggjorda hedersbetygelser, ett sätt att ta kontakt och att minnas. Brotherus har i flera år använt listan med uppgifter från 1970-talet som den amerikanske konceptkonstnären John Baldessari (1931–2020) gav sina elever. I utställningen på Helsinki Contemporary är dialogen med Baldessari kopplad till de prickar som blivit hans varumärke. I de nya verken i serien Baldessari in the Park framträder plats och rum som ögonblicksbilder av landskap, som både lättsamma och djupgående privata stunder. På bilderna är Brotherus på äventyr i parken Château de Bois-Heroult i Normandie med iklädd olikfärgade baskrar. Med gesten överför Brotherus Baldessaris runda punkter från papperet till rummet. Färgpunkterna strukturerar bildytan och styr blicken. De är också accenter, som visar på något som är värt att uppmärksamma i det omgivande landskapet.
Ur den serie fotografier som Brotherus tog på Didrichsens konstmuseum åren 2021-2022, Visitor (Villa Didrichsen), visas fyra verk som en del av utställningen på Helsinki Contemporary. Utgångspunkten i dessa bilder är friheten att arbeta med en hel konstsamling genom att dra nytta av byggnadens arkitektur och interiör. Gestalterna på fotona, besökarna, ger rummet liv med sin närvaro och föreslår alternativa verkligheter bredvid den av Viljo Revell ritade (1958, 1964) byggnadens egentliga historia. Brotherus, känd som kolorist, fick vara kurator för sina foton på Didrichsen och plocka ut målningar ur museets samlingar för sina arrangemang, utifrån deras färger, till exempel.
Tack för stödet till konstnärens arbete: Centret för konstfrämjande, Didrichsens konstmuseum, Helsingfors, FRAC Normandie, Rouen, Château de Bois-Héroult, AKO Kunststiftelse, Kunstsilo, Kristiansand och Centre Méditerranéen de la Photographie, Bastia, Korsika
Elina Brotherus har arbetat med fotografi och rörlig bild i över tjugo år. I sitt arbete har hon växlat mellan ett självbiografiska och konsthistoriska tillvägagångssätt. Hennes tidiga verk på temat subjektiva upplevelser har gett vika för fotografier som handlar om den mänskliga figuren och landskapet, relationen mellan konstnären och modellen. I sitt aktuella arbete återvänder hon till Fluxus event scores och andra skriftliga instruktioner för performance-orienterad konst från 1960- och 1970-talen. Ett annat stort tema i hennes aktuella praktik är arkitektur. Brotherus fotograferar i privathus ritade av betydande arkitekter. Hon iklär sig rollen av olika tänkta figurer och skänker en lugn mänsklig närvaro till dessa klassiska rum som ingår i det arkitektoniska arvet. Elina Brotherus bor och arbetar i Helsingfors, Finland, och Avallon, Frankrike. Hon har en magisterexamen i fotografi från Konstindustriella högskolan (nu Aalto-universitet) och en magisterexamen i kemi från Helsingfors universitet. Brotherus började ställa ut internationellt 1997. Hennes verk finns representerade i nästan 80 offentliga samlingar, däribland på Centre Pompidou i Paris, Louisiana Museum of Modern Art i Danmark, Museet för samtidskonst Kiasma i Helsingfors och Moderna Museet i Stockholm, för att nämna några. Hon har publicerat 13 monografier. Brotherus har bl.a. tilldelats Carte blanche PMU 2017, Frankrike, Statens pris för fotokonst 2008, Finland, och Prix Niépce 2005, Frankrike.