Space Train
1.6.-8.7.2018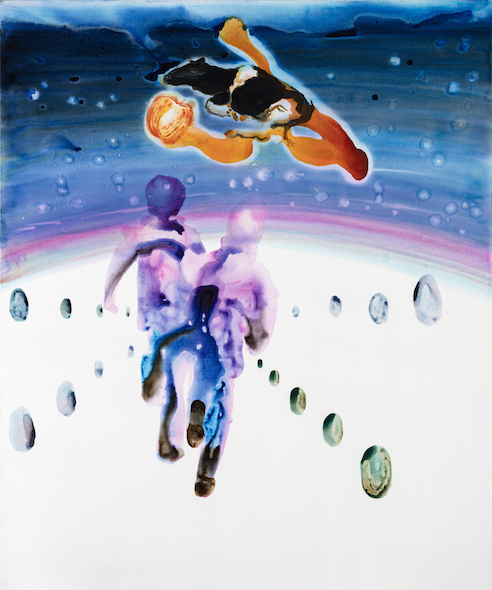 Helsinki Contemporary has the pleasure of ending its Spring season with an exhibition of new paintings by the Danish artist John Kørner 1 June–8 July. Simultaneously to the gallery show Space Train, Kørner's installation can be seen at EMMA – Espoo Museum of Modern Art until 29 July 2018.

John Kørner is one of the leading figures on the Danish contemporary art scene. Current political and social questions and especially the notion of the 'problem' are central for his work. 'Problems' represent the inconvenient and the difficult and they are not just something that happens to us, but something that we have a hand in. Kørner has materialised 'problems' as a series of egg-shaped sculptures, and they are also reoccurring in his paintings. Parallel to his paintings the artist works with extensive installations and sculpture. Often the paintings are incorporated in the spatial elements where theatre and performance add to the experience in which the viewer takes centre stage.

In his show at Helsinki Contemporary Kørner will focus on a series of new paintings in which he has explored a world beyond ours. We are presented with vistas of outer space and planets. In some cases a glimpse of the earth reveals the viewpoint, but in others the artists leaves the position unclear. The motif might just be from a different reality; a space that we do not know exists.

The figures in the paintings are in motion. They are moving towards – or running away from – some undefined place or space, or taking a step from one state to another. Figures on the move are key for Kørner's paintings. Moving is part of the essence of being human, it is in the end how we grasp our surroundings and our own reality.

What is examined in the new paintings is the perspective of the outsider. Kørner approaches a universal dilemma: who is watching and what? How do we meet the unknown and how do we cope with things that are unfamiliar? The artists doesn't give us answers, instead leaves us to contemplate.

Kørner's signature light and painterly brush is present in the new work. He often creates his motifs in just a few strokes, balancing on the borderline between the figurative and the abstract. In some of the new works this recognisable airy style is combined with a more intense use of paint in abstract compositions that bring to mind a starry sky.

John Kørner (b. 1967 Aarhus, Denmark) lives and works in Copenhagen. He has exhibited widely in Denmark and Europe with solo shows at Museum Dhont-Dhaenens, Belgium; Kunsthal Charlottenborg, Copenhagen; Galleri Bo Bjerggaard, Copenhagen; Victoria Miro Gallery, London; ARoS Aarhus Kunstmuseum, Aarhus. His works have been part of group exhibitions at e.g. Palais de Tokyo, Paris; Tate Modern, London; Arken Museum of Modern Art, Ishøj. He is represented in collections such as ARoS Aarhus Kunstmuseum, Arken Museum of Modern Art, National Gallery of Denmark, Tate Gallery and The Saatchi Collection. His exhibition Tripoli-Lampedusa is open at EMMA – Espoo Museum of Modern Art until 29 July 2018.
Helsinki Contemporarylla on ilo päättää kevät tanskalaistaiteilija John Kørnerin uusista maalauksista koostuvaan näyttelyyn 1. kesäkuuta–8. heinäkuuta. Galleriassa nähtävän Space Train -näyttelyn ohella Kørnerin installaatioteos on esillä EMMA – Espoon modernin taiteen museossa 29. heinäkuuta saakka.

John Kørner on yksi tanskalaisen nykytaiteen johtohahmoja. Ajankohtaiset poliittiset ja yhteiskunnalliset kysymykset, ja erityisesti "ongelman" käsite ovat keskeisiä teemoja Kørnerin työskentelyssä. "Ongelmat" edustavat jotakin epäkäytännöllistä ja vaikeaa, eivätkä ne ole vain kohdallemme osuvia tapahtumia, vaan jotain mihin olemme myös itse osallisina. Kørner on materialisoinut "ongelmia" sarjaksi munan muotoisia veistoksia, ja ne myös toistuvat hänen maalauksissaan. Taiteilija tekee laajamittaisia installaatioita ja veistoksia rinnakkain maalausten kanssa. Maalaukset kuuluvat usein osaksi tilallisia elementtejä, joissa teatraalisuus ja performatiivisuus korostavat katselijan kokemusta tapahtumien keskiössä.

Space Train -näyttelyssä Kørneriltä nähtävä sarja uusia maalauksia tutkii maailmaa omamme tuolla puolen. Näyttelyssä kohtaamme näköaloja ulkoavaruuteen ja sen planeettoihin. Toisinaan pilkahdus maata paljastaa katselukulman, toisissa teoksissa näkökulma jää epäselväksi. Teosten motiivi on kuin toisesta todellisuudesta: jotain jonka olemassaolosta emme tienneet.

Maalausten hahmot ovat liikkeessä. Ne liikkuvat kohti – tai pakenevat – jotakin määrittelemätöntä paikkaa tai tilaa, tai ovat juuri astumassa olomuodosta toiseen. Liikkuvat hahmot ovat Kørnerin maalauksissa avainasemassa. Liikkuminen kuuluu oleellisesti ihmisenä olemiseen, se on keino oman ympäristömme ja olemassaolomme käsittämiselle.

Uusissa maalauksissa tutkitaan ulkopuolisen näkökulmaa. Kørner lähestyy universaalia dilemmaa: Kuka katsoo ja mitä? Kuinka kohtaamme tuntemattoman ja miten suhtaudumme asioihin, jotka ovat meille vieraita? Taiteilija ei tarjoa vastauksia, vaan jättää meidät ajattelemaan.

Kørnerille tunnusomainen kevyt ja maalauksellinen jälki näkyy myös uusissa teoksissa. Kuva-aiheet syntyvät usein vain muutamalla siveltimenvedolla, ja ne tasapainottelevat esittävän ja ei-esittävän välillä. Joissakin teoksissa tähän tunnistettavaan, ilmavaan tyyliin yhdistyy intensiivisempi maaliaineen käsittely ja abstrakti kompositio, joka tuo mieleen tähtitaivaan.

John Kørner (s. 1967 Aarhus, Tanska) asuu ja työskentelee Kööpenhaminassa. Hän on osallistunut näyttelyihin laajalti kotimaassaan Tanskassa sekä ympäri Eurooppaa. Yksityisnäyttelyihin lukeutuu Museum Dhont-Dhaenens, Belgia; Kunsthal Charlottenborg, Kööpenhamina; Galleri Bo Bjerggaard, Kööpenhamina; Victoria Miro Gallery, Lontoo; ja ARoS Aarhus Kunstmuseum, Tanska. Hänen teoksiaan on ollut mukana ryhmänäyttelyissä mm. Palais de Tokyossa, Pariisissa; Tate Modernissa, Lontoossa; ja Arken Museum of Modern Artissa, Ishøj'ssa, Tanskassa. Kørnerin teoksia on mm. ARoSin, Arken Museumin, Tanskan kansallisgallerian, Tate Galleryn ja Saatchin kokoelmista. Kørnerin yksityisnäyttely Tripoli-Lampedusa on esillä EMMA – Espoon modernin taiteen museossa 29.7.2018 saakka.
Helsinki Contemporary har glädjen att avsluta vårsäsongen med utställningen
Space Train
som presenterar nya målningar av den danske konstnären
John Kørner
. Utställningen är öppen från 1 juni till 8 juli. Förutom utställningen på Helsinki Contemporary visas ett installationsverk av Kørner också på EMMA – Esbo moderna konstmuseum ända till den 29 juli.
John Kørner hör till de ledande gestalterna inom dansk samtidskonst. Aktuella politiska och samhälleliga frågor, i synnerhet begreppet "problem", är centrala teman i hans arbete. "Problem" representerar någonting opraktiskt och svårt. De är inte händelser vi råkar ut för, utan någonting som vi också själva är delaktiga i. Kørner har materialiserat "problem" till en serie äggformade skulpturer som också går igen i hans målningar. Han gör installationer och skulpturer i stort format parallellt med målningar. Målningarna är ofta beståndsdelar i rumsliga element där det teatrala och det performativa framhäver betraktarens upplevelse i händelsernas centrum.
Den nya serie målningar av Kørner som visas på
Space Train
utforskar en värld bortom vår. Vi får blicka ut mot den yttre rymden och dess planeter. I vissa verk ser vi en skymt av Jorden som avslöjar konstnärens perspektiv, i andra förblir det oklart. Verkens motiv är som ur en annan verklighet: någonting vars existens vi inte vetat om.
Figurerna på målningarna är i rörelse. De rör sig mot – eller flyr från – en plats eller ett rum som inte låter sig definieras, eller också håller de precis på att byta skepnad. De rörliga figurerna intar en nyckelposition i Kørners målningar. Att röra sig är en väsentlig del av att vara människa, det är ett sätt att hantera vår egen omgivning och vår verklighet.
I de nya målningarna studerar outsiderns perspektiv. Han närmar sig ett universellt dilemma: Vem betraktar och vad? Hur möter vi den obekante, hur förhåller vi oss till det främmande? Konstnären ger inga svar utan tvingar i stället oss att begrunda frågan.
Den för Kørner typiska lätta och måleriska penselföringen syns också i de nya verken. Bildmotiven uppstår ofta med bara några enstaka penseldrag och de balanserar mellan det figurativa och det abstrakta. I vissa verk förenas denna karakteristiska, luftiga stil med intensivare färgbehandling och abstrakt komposition som väcker associationer till en stjärnhimmel.
John Kørner (f. 1967 i Aarhus) bor och arbetar i Köpenhamn. Han har deltagit i talrika utställningar både i sitt hemland Danmark och runtom i Europa. Separatutställningar har han haft på Museum Dhont-Dhaenens, Belgien; Kunsthal Charlottenborg, Köpenhamn; Galleri Bo Bjerggaard, Köpenhamn; Victoria Miro Gallery, London samt ARoS Aarhus Kunstmuseum i Danmark. Hans verk har visats på grupputställningar på bl.a. Palais de Tokyo, Paris; Tate Modern, London och Arken Museum of Modern Art, Ishøj, Danmark. Kørners verk ingår i bl.a. ARoS:s, Arken Museums, Danmarks nationalgalleris, Tate Gallerys och Saatchis samlingar. Kørners separatutställning
Tripoli-Lampedusa
visas på EMMA – Esbo moderna konstmuseum ända till den 29 juli.