Showroom | Too Big for the Hidey-hole
15.9.-22.10.2023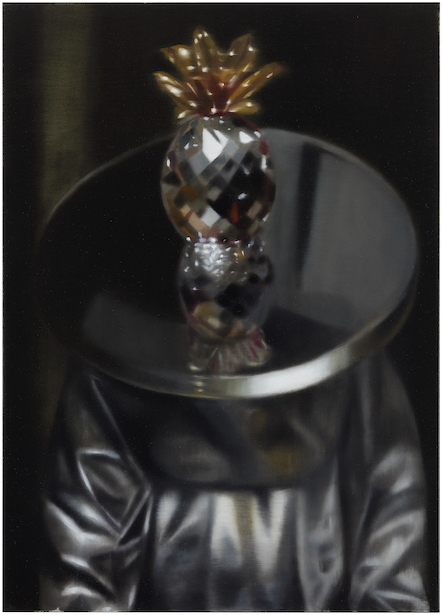 Leonor Ruiz Dubrovin's artistic exploration centers around the intricate concept of identity. Her work reflects a profound concern with the construction of the self and the multifaceted ways in which personal identities are formed, restricted or enhanced, as well as how external perceptions and labels shape us.
"In our current era, the quest for genuine individuals has grown progressively challenging. Authentic qualities of character appear to be dwindling, endangered. In our societal landscape, the realm of social media has a way of distorting self-assurance, overshadowing our genuine nature. Consequently, many present themselves through a myriad of filters."
In her work, Dubrovin embarks on a journey that unveils the concealed abode where the formation of the self resides. Often, this formation is an assembly of lies that ultimately reveal several half-truths.


Leonor Ruiz Dubrovin (b. 1978, Madrid) graduated from the Academy of Fine Arts in Helsinki in 2008 and currently lives and works in Helsinki. Dubrovin's artistic work is a fusion of diverse dualities, such as the representational and the suggestive, reality and fiction. Her paintings depict through different portraits and embodiments the exaltation of the individual and the search for an authentic self. Dubrovin's contributions have been widely exhibited in Finland and abroad, including venues such as Gallery Forum Box, Elverket Gallery, Rovaniemi Art Museum, Galeria Modus Operandi, and the Finnish Cultural Institute in Madrid. Her works are featured in prominent collections, including the Päivi and Paavo Lipponen Trust's Art Collection deposited at the Museum of Contemporary Art Kiasma, the State Art Deposit Collection, and the collections of Wihuri Foundation and Pro Artibus Foundation. Thank you to The Arts Promotion Centre Finland and The Swedish Cultural Foundation in Finland for supporting the artist's work.
Leonor Ruiz Dubrovin keskittyy taiteessaan monisyiseen identiteetin käsitteeseen. Hänen teoksensa ilmentävät syvää kiinnostusta itsen rakentumiseen ja tuovat esiin tapoja, joilla identiteetit muotoutuvat ja joilla niitä rajoitetaan tai vahvistetaan – ja kuinka ulkoa tulevat mielipiteet ja leimat muovaavat meitä.
"Nykyisin aitojen ihmisten löytäminen on vaikeampaa kuin ennen. Autenttiset luonteenpiirteet vaikuttavat olevan ehtymässä, uhanalaisia. Nyky-yhteiskunnassa sosiaalisella medialla on kyky horjuttaa ihmisen luottamusta itseensä ja peittää hänen todellinen luontonsa. Sen seurauksena monet ilmentävät itseään erilaisten filttereiden läpi."
Teoksissaan Dubrovin lähtee tutkimusmatkalle salattuun paikkaan, jossa itse rakentuu. Tämä rakennelma on usein kokoelma valheita, joiden alta lopulta paljastuu puolitotuuksia.


Leonor Ruiz Dubrovin (s. 1978, Madrid) (s. 1978, Madrid) on valmistunut Kuvataideakatemiasta vuonna 2008. Hän asuu ja työskentelee Helsingissä. Dubrovinin taiteellisessa työskentelyssä yhdistyvät erilaiset kaksijakoisuudet, kuten representatiivinen ja viitteellinen sekä todellisuus ja fiktio. Hänen maalauksensa kuvaavat erilaisten muotokuvien ja ruumiillistumien kautta yksilöllisyyden riemua ja autenttisen itsen etsimistä. Dubrovinin teoksia on ollut esillä useissa näyttelyissä Suomessa ja ulkomailla muun muassa Galleria Forum Boxissa (2023), Galleria Elverketissä (2022), Rovaniemen taidemuseossa (2022) sekä Galería Modus Operandissa (2023) ja Suomen Madridin-instituutissa, Espanjassa (2020). Hänen teoksiaan kuuluu muun muassa Valtion taideteostoimikunnan, Jenny ja Antti Wihurin rahaston sekä Pro Artibus -säätiön kokoelmiin sekä Nykytaiteen museo Kiasmaan talletettuun Päivi ja Paavo Lipposen rahaston taidekokoelmaan. Kiitos Taiteen edistämiskeskus ja Svenska Kulturfonden taiteilijan työskentelyn tukemisesta.
Leonor Ruiz Dubrovins konstnärliga utforskande koncentreras kring det invecklade identitetsbegreppet. Hennes arbete speglar ett djupt intresse för uppbyggnaden av jaget och de mångfacetterade sätt på vilka personliga identiteter skapas, begränsas eller förstärks, samt hur yttre uppfattningar och etiketter formar oss.
"I den tid vi lever i har det blivit allt svårare att hitta autentiska människor. Autentiska karaktärsegenskaper tycks vara på nedåtgående, hotade. I vårt samhällslandskap har den sociala mediesfären en förmåga att snedvrida självsäkerheten och överskugga vår genuina natur. Därför framställer många sig själva genom en rad av filter."
I sitt arbete ger sig Dubrovin ut på en resa som avslöjar den dolda boning där formandet av jaget äger rum. Ofta består formandet av en samling lögner som i sista hand avslöjar ett antal halvsanningar.


Leonor Ruiz Dubrovin (f. 1978, Madrid) utexaminerades från Konsthögskolan i Helsingfors 2008 och bor och arbetar för närvarande i Helsingfors. Dubrovins konstnärliga arbete är en fusion av olikartade tvådelade begrepp, t.ex. det representativa och det tvetydiga, verkligheten och fiktionen. Hennes målningar skildrar i olika porträtt och gestaltningar individens exaltation och sökandet efter ett autentiskt jag. Dubrovins bidrag har visats allmänt i Finland och utomlands, däribland på Galleri Forum Box (2023), Galleri Elverket (2022), Rovaniemi konstmuseum samt (2022) på Galeria Modus Operandi (2023) och Finlandsinstitutet i Madrid (2020). Hennes verk finns representerade i ledande samlingar, däribland samlingarna på Museet för nutidskonst Kiasma, (deposition) konstsamling skapad av Päivi och Paavo Lipponens fond, Statens konstverkskommission, Jenny och Antti Wihuris stiftelse och Stiftelsen Pro Artibus. Tack till Centret för konstfrämjande och Svenska kulturfonden för stödet till konstnärens arbete.