Shore to Shore
4.9.-27.9.2020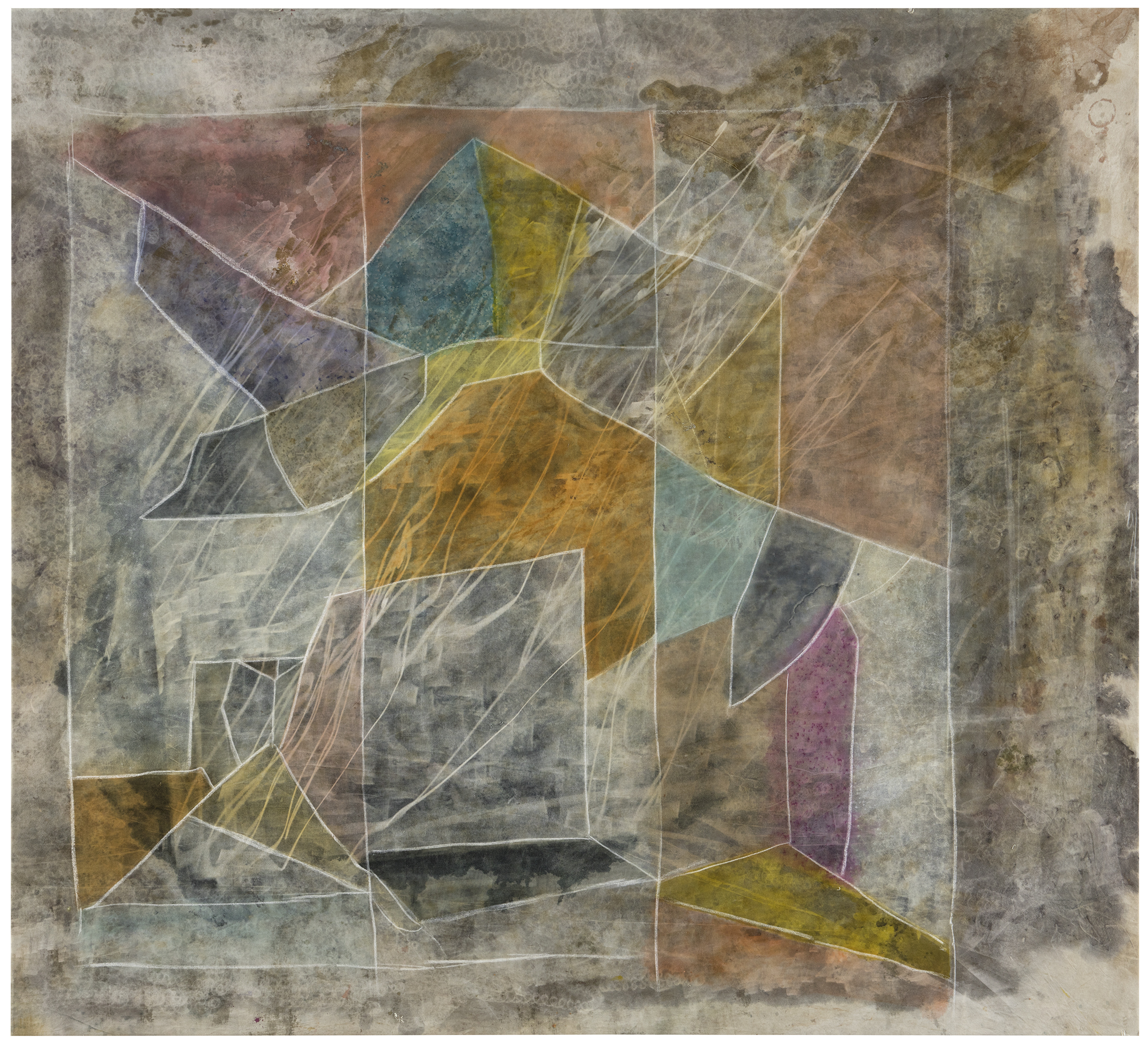 This September, Miikka Vaskola's Shore to Shore exhibition brings new paintings and sculptures to Helsinki Contemporary. The paintings, made in earthy tones on canvas, occupy the middle ground between abstract and figurative, exploring the limits of our perception. The artist's gaze sweeps from a universal to a microcosm scale, outside of time and space.
The title of the exhibition, Shore to Shore, refers very concretely to the two islands between which Vaskola divided his time while working on the exhibition paintings, but also to "the way the light travels from a star to the eye". For Vaskola, painting is a platform and a possibility for investigating something new, a way of seeking answers and of trying to understand.
The body of works now on display consists of several series. One new series in this exhibition is a set of collages that Vaskola has assembled out of fragments of his old works. In the plant still lifes and shiny metal vases in the collage works we can detect echoes of early art history and imagery from the Byzantine era, something that also recurs in Vaskola's sculptures made out of combinations of wood, epoxy and plaster.
In both their materials and form language, the works oscillate between the organic that draws its strength from nature and the cultural. The works in Shore to Shore are simultaneously present here and now, in the past, and the future, while the silent dialogue between the different series of works in the exhibition space prompts thoughts of the structure of the universe and of our own place in it.
One distinct series here is constituted by the Screen Paintings, which contemplate the limits of perception and of our capacity for observation. Underlying them is a presence that we can sense, but not quite see, and which our gaze fractionally fails to reach.
Miikka Vaskola (b. 1975) is known for paintings combining abstract landscapes with figurative elements. His works have been in group and solo exhibitions in Finland and abroad, most recently including Berg Contemporary in Iceland, the Hydra School Projects on the island of Hydra in Greece, and EMMA – Espoo Museum of Modern Art. He had an extensive retrospective exhibition at Turku Art Museum in 2016. In 2021, Vaskola's works will be in the Embrace group exhibition curated by Mika Hannula at the Akureyri Art Museum, Iceland, in January and at Norrtälje Konsthall, Sweden, in February. Vaskola's works are in important private and public collections, including Helsinki Art Museum, HAM, Turku Art Museum, Museum of Contemporary Art Kiasma, EMMA – Espoo Museum of Modern Art, the Heino Art Foundation collection and Wihuri Foundation Art Collection.
Miikka Vaskolan yksityisnäyttely Shore to Shore tuo syyskuussa Helsinki Contemporaryyn uusia maalauksia ja veistoksia. Maanläheisin sävyin kankaille toteutetut maalaukset liikkuvat abstraktin ja esittävän välillä ja tutkivat havainnointikykymme rajoja. Taiteilijan katse liikkuu universumin mittakaavasta mikrokosmokseen, ajan ja avaruuden tuolle puolen.
Näyttelyn nimi Shore to Shore viittaa hyvin konkreettisesti kahteen eri saareen, joiden välillä taiteilija on jakanut aikansa työskennellessään näyttelyn teosten parissa, mutta myös siihen, "miten valo kulkee tähdestä silmään". Maalaus on Vaskolalle alusta ja mahdollisuus uuden tutkimiselle, tapa etsiä vastauksia ja pyrkiä ymmärtämään.
Nyt nähtävä kokonaisuus koostuu useasta sarjasta teoksia. Uutena sarjana näyttelyssä nähdään kollaaseja, jotka taiteilija on koostanut vanhojen teostensa kappaleista. Kollaasiteosten kasviasetelmissa ja metallinhohtoisissa ruukuissa voi tuntea muistumia varhaiseen taiteen historiaan ja Bysantin ajan kuvastoon, joka toistuu myös Vaskolan puun, epoksin ja kipsin yhdistelmin toteutetuissa veistoksissa.
Teokset liikkuvat orgaanisen, luonnosta ammentavan ja kulttuurisen välillä niin materiaaleissaan kuin muotokielessään. Shore to Shore -näyttelyn teokset ovat yhtäaikaisesti läsnä tässä ja nyt, menneessä ja tulevassa, teossarjojen hiljainen vuoropuhelu näyttelytilassa saa pohtimaan kaikkeuden rakennetta ja omaa paikkaamme siinä.
Oman sarjansa näyttelykokonaisuudessa muodostavat havaitsemista ja havainnointikykymme rajallisuutta pohtivat "suojamaalaukset", nimeltään Screen Paintings, joiden takana on jotain, jonka läsnäolon voi aistia, mutta ei aivan nähdä, johon katseemme juuri ei ylety.
Miikka Vaskola (s. 1975) tunnetaan maalauksistaan, joissa yhdistyvät abstraktit maisemat ja figuratiiviset elementit. Vaskolan teoksia on nähty ryhmä- ja yksityisnäyttelyissä Suomessa ja kansainvälisesti, viimeisimpänä mm. Berg Contemporaryssa Islannissa, Kreikassa Hydran saaren Hydra School Projects -kokonaisuudessa ja EMMA – Espoon modernin taiteen museossa. Hänen laaja retrospektiivinen näyttelynsä nähtiin Turun taidemuseossa 2016. Vuonna 2021 Vaskolan teoksia tullaan näkemään Mika Hannulan kuratoimassa Embrace-ryhmänäyttelyssä, tammikuussa Akureyri Art Museumissa Islannissa ja helmikuussa Norrtälje Konsthallissa Ruotsissa. Vaskolan teoksia löytyy merkittävistä yksityisistä ja julkisista kokoelmista, mukaan lukien HAM Helsingin taidemuseo, Turun taidemuseo, Nykytaiteen museo Kiasma, EMMA – Espoon modernin taiteen museo, Heinon taidesäätiön kokoelma ja Jenny ja Antti Wihurin rahaston taidekokoelma.
Utställningen Shore to Shore på Helsinki Contemporary i september visar nya målningar och skulpturer av Miikka Vaskola. Målningarna i jordnära nyanser på duk rör sig mellan det abstrakta och det föreställande och utforskar gränserna för vår iakttagelseförmåga. Vaskolas blick fångar intryck i olika skalor, från universum till mikrokosmos, bortom tid och rum.
Utställningens titel Shore to Shore refererar högst konkret till de två öar där konstnären vistades då han gjorde utställningsverken, men också till "hur ljuset går från stjärnan in i ögat". För Miikka Vaskola är måleriet en plattform, en möjlighet till att utforska någonting nytt, ett sätt att söka svar och försöka förstå.
Utställningen består av flera verkserier. Där ingår en helt ny serie collage som består av stycken av Vaskolas tidigare verk. Collageverkens växtstilleben och metalliskt skimrande krukor väcker associationer till tidig konst och bysantinsk bildtradition, något som går igen även i hans skulpturer av trä, epoxi och gips.
Både vad gäller material och formspråk rör sig verken mellan å ena sidan det organiska och naturinspirerade, å andra sidan det kulturbaserade. De är samtidigt närvarande här och nu, i det förflutna och i framtiden. Den lågmälda dialogen mellan verkserierna väcker tankar om världsalltets konstitution och vår plats i den.
Screen Paintings, en serie "skyddsmålningar" med någonting förnimbart men likväl knappt synbart bakom sig bildar en egen serie som dryftar iakttagandet och gränserna för vår iakttagelseförmåga.
Miikka Vaskola (f. 1975) är känd för sina målningar som förenar abstrakta landskap med figurativa element. Hans verk har visats på grupp- och separatutställningar både i Finland och utomlands, senast bl.a. på Berg Contemporary i Island, inom utställningskonceptet Hydra School Projects på ön Hydra i Grekland samt på EMMA – Esbo moderna konstmuseum. År 2016 visades en bred retrospektiv utställning av hans verk på Åbo konstmuseum. År 2021 ska Vaskola delta i grupputställningen Embrace som i januari visas på Akureyri Art Museum i Island och i februari på Norrtälje Konsthall i Sverige. Kurator för den utställningen är Mika Hannula. Vaskolas verk ingår i betydande privata och offentliga samlingar, däribland Helsingfors konstmuseum HAMs, Åbo konstmuseums, Museet för nutidskonst Kiasmas, EMMA - Esbo moderna konstmuseums, Heinos konststiftelses samt Jenny och Antti Wihuris fonds konstsamling.