Henry Wuorila-Stenberg
Paper Works
1.11.-24.11.2013
"The difference between oils and works on paper is enormous in my case. Before, I used to fight my way forward with macho bluster, the taste of blood in my mouth, throughout the night, unable to stop. Now, I have learned to work in a considerably calmer, and more contemplative, way. It feels amazingly good. It presumably comes partly from my getting older and more fragile."

Henry Wuorila-Stenberg's exhibition at Helsinki Contemporary – as the title implies – focuses on works on paper. It includes both thematic series and individual works, drawings on paper, the technique variously being charcoal, grease crayon, crayon, gouache and watercolour. And its subject, neither more nor less than death, and its perpetual nearness, sexuality, facing it in some way or other, and the presence of our fellow human beings, the impossibilities and possibilities that this involves.

These are works that outright force us to ask: who are you, where, why and with whom – and above all: how? They are works that are new openings, settings in motion. Very personal, and they expect and demand a corresponding personal involvement from viewers, inviting them to join the works in facing the hideousness and extremity of being in the world, as well as, always and forever, its beauty and splendour.

It is alternation, it is conflicting pressures, and it is a motion towards greater depth. It is art, but in meeting it there is no relief, there is no emergency exit. An encounter is created, brought about simply and solely by being with the works, by looking at them and allowing them to look back, and enjoying it. The world, that plural, cross-stitched entity, is never finished. It is both/and: it protects and prods, holds your hand and slaps your face. In turn.

"These new works are for me like a cosmic dance of life and death. They are images of being human. They relate to history, and to themselves as part of it."

"Without tension art is just a surface, a performance. Then, too, it can – of course – be enjoyable and fluent, but it lacks depth, and in the end is totally pointless. The essential thing is to evade and avoid productization. This is possible only if what you are doing constantly involves danger, a destructive energy. This is an understanding of historicity and recognizing your own limits – hence, in fact, a liberating activity."


Quotations from a conversation between Henry Wuorila-Stenberg and Mika Hannula

The exhibition at Helsinki Contemporary's Showroom consists of five of Henry Wuorila-Stenberg's paintings; paintings that come from different times in his career, from as far back as 1975, right up to the 2000s.
"Öljyvärin ja paperitöiden välinen ero on valtava omalla kohdallani. Ennen painoin äijän uholla, veren maku suussa läpi öitä pystymättä lopettamaan. Nyt olen oppinut tekemään töitä huomattavasti rauhallisemmin ja myös hengittävämmin. Se tuntuu ihmeen hyvältä. Varmaan se johtuu osittain siitä, että olen tullut vanhemmaksi ja hauraammaksi."

Henry Wuorila-Stenbergin näyttely Helsinki Contemporaryssä keskittyy – nimensä mukaisesti – paperitöihin. Mukana on sekä temaattisia sarjoja että yksittäisiä teoksia, piirroksia paperille, tekniikkana varioiden hiili, rasvaliitu, värikynät, guassi tai akvarelli. Ja aiheena ei sen enempää, ei vähempää kuin kuolema, sen ainainen läheisyys, seksuaalisuus, sen kanssa miten kuten kohtaaminen ja kanssaihmisten kanssa läsnäolo, sen sisältämät mahdottomuudet ja mahdollisuudet.

Kyse on teoksista, jotka suorastaan pakottavat kysymään: kuka olet, missä, miksi, ja kenen kanssa – ennen kaikkea: miten? Ne ovat teoksia avauksina, liikkeelle lähtöinä. Hyvin henkilökohtaisina, ja vastaavanlaista henkilökohtaisuutta katsojilta odottavina ja vaativina, kutsuina kohdata teosten kanssa maailmassa olon rumuus ja rajuus, kuten myös aina ja alati sen kauneus ja komeus.

Se on vuorovetoa, se on ristipainetta ja se on liikettä syvyyssuunnassa. Se on taidetta, jonka kohtaamisessa ei ole helpotusta, ei varauloskäytävää tarjolla. Kohtaaminen luodaan, se saadaan aikaan vain ja ainoastaan teosten kanssa olemalla, niitä katsoen ja niiden vastakatseen sallimalla, siitä myös nauttimalla. Se maailma, se monikollinen ja ristipistoinen, se ei ole koskaan valmis. Se on sekä-että: tukee ja tönii, ottaa kädestä ja antaa kädestä. Vastavuoroisesti.

"Nämä uudet teokset ovat minulle kuin kosminen tanssi elämän ja kuoleman välillä. Ne ovat kuvia ihmisenä olemisesta. Ne suhteutuvat historiaan ja suhteuttavat itsensä osaksi sitä."

"Vailla jännitettä taide on vain pintaa, suorittamista. Se voi silloinkin - totta kai - olla nautittavaa ja sujuvaa, mutta se jää ohueksi ja on loppujen lopuksi täysin turhaa. Olennaista on väistää ja välttää tuotteistamista. Se on mahdollista ainoastaan, jos tekemisessä on alati mukana vaara, tuhoava voima. Se on historiallisuuden ymmärtämistä ja omien rajojemme hahmottamista – siis itse asiassa vapauttavaa toimintaa."

Lainaukset Henry Wuorila-Stenbergin ja Mika Hannulan välisestä keskustelusta. Näyttelyn aikana Helsinki Contemporaryn Showroomissa on esillä viisi Henry Wuorila-Stenbergin maalausta; maalauksia jotka koskettavat hänen uransa eri ajankohtia, ulottuen aina vuoteen 1975 ja jatkuen 2000-luvulle.
"I mitt fall är skillnaden mellan oljefärgs- och pappersarbeten enorm. Förr jobbade jag på med gubbkraft, med blodsmak i munnen, hela nätterna igenom utan att kunna sluta. Nu har jag lärt mig att arbeta på ett märkbart lugnare sätt, och så att jag också mera kan stanna upp och dra andan. Det känns underbart bra. Det kommer sig säkert till en del av att jag har blivit äldre och skörare."

Henry Wuorila-Stenbergs utställning på Helsinki Contemporary koncentrerar sig – som namnet säger – på pappersarbeten. Utställningen består av såväl tematiska serier som enskilda verk, teckningar på papper, där tekniken varierar mellan kol, oljefärgskrita, färgpennor, gouache och akvarell. Och som motiv, varken mer eller mindre än döden, dess eviga närhet, sexualiteten, hur man på ett eller annat sätt möter den, och närvaron tillsammans med andra människor, dess inbyggda omöjligheter och möjligheter.

Det är frågan om verk som rent ut sagt tvingar en att fråga: vem är du, var, varför och med vem – framför allt: hur? De är verk som öppningar, att man sätter sig i rörelse. Som mycket personliga inbjudningar, som av åskådaren väntar sig och kräver ett motsvarande personligt förhållningssätt, att tillsammans med verken möta det fula och det våldsamma i tillvaron i världen, liksom också ständigt och alltid dess ståtlighet och skönhet.

Det är alternation, det är korstryck och det är rörelse i djupriktningen. Det är konst i mötet med vilken det inte finns någon lättnad, ingen nödutgång erbjuds. Mötet skapas, det fås till stånd endast och allenast genom att man är tillsammans med verken, genom att man ser på dem och genom att man tillåter dem att besvara ens blick, och också genom att man njuter av detta. Den där världen, den där plurala och motstridiga, den är aldrig färdig. Den är både-och: den stöder och skuffar, den tar och ger ur handen. Turvis.

"De här nya verken är för mig som en kosmisk dans mellan livet och döden. De är bilder som handlar om att vara människa. De förhåller sig till historien och inlemmar sig själva som en del av den."

"Utan spänning är konsten bara yta, utförande. Den kan också i det fallet – förstås – vara njutbar och smidig, men den förblir tunn och är när det kommer till kritan alldeles meningslös. Det viktiga är att sky och undvika produktifieringen. Detta är möjligt endast om det finns en ständig fara med i skapandet, en förintande kraft. Det handlar om att förstå historiciteten och att gestalta våra egna gränser – i själva verket är det alltså en frigörande verksamhet."


Citaten är ur ett samtal mellan Henry Wuorila-Stenberg och Mika Hannula. Under utställningens gång visas i Helsinki Contemporarys showroom fem målningar av Henry Wuorila-Stenberg: målningar som hänför sig till olika tidpunkter i hans karriär, och som sträcker sig från 1975 och går in på 2000-talet.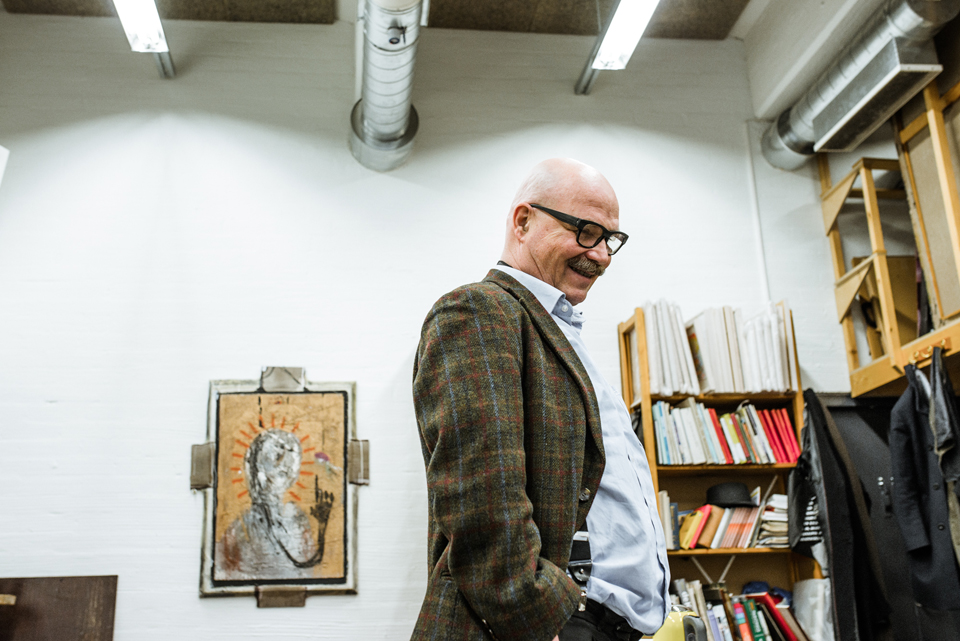 Henry Wuorila-Stenberg