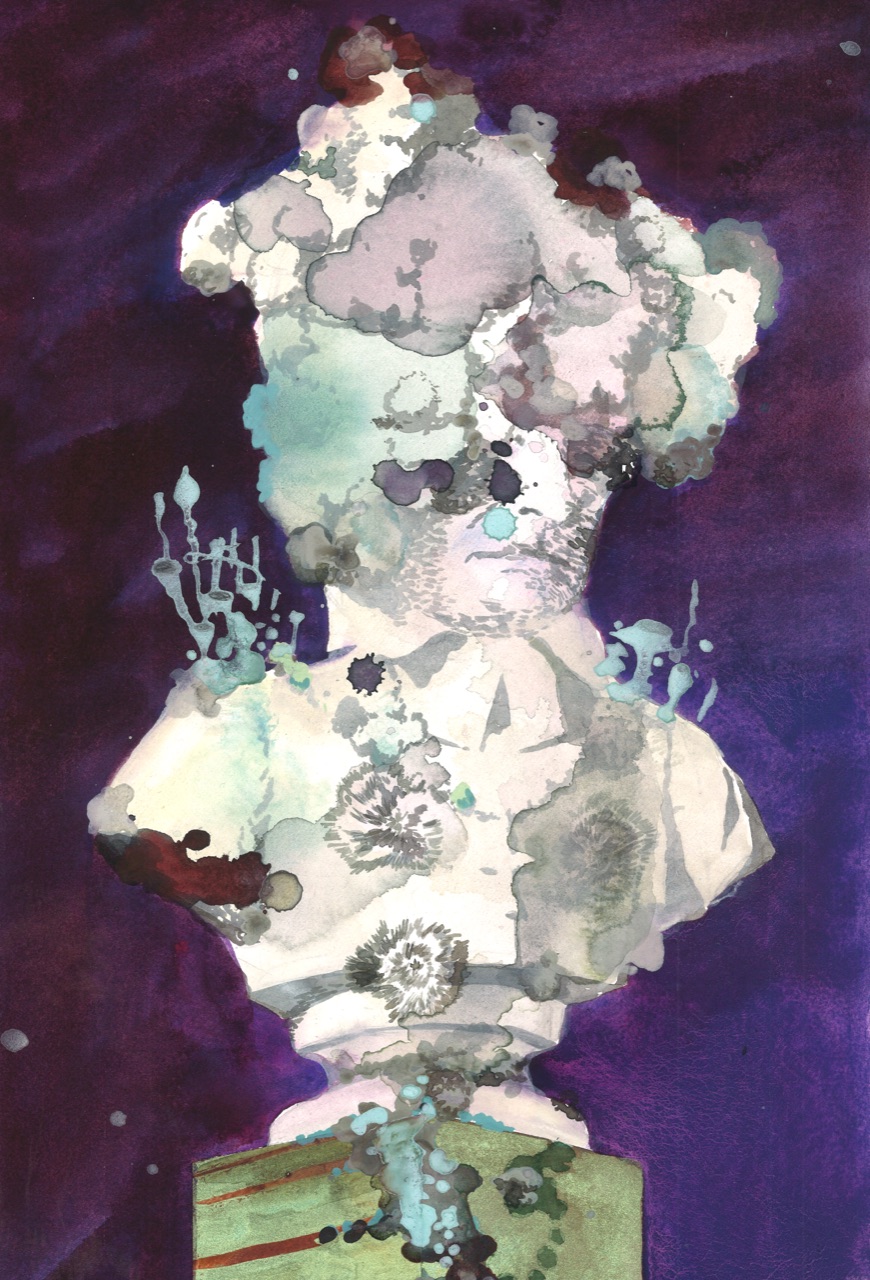 Kati Immonen is reinventing watercolour painting as a technique in her work. Her new exhibition Overgrown delves into the relationship of human and nature, of the built environment and the power of eternal renewal. Man-made symbols, statues of great men and swimming pools – building blocks for a good life – are taken over by vegetation and become monuments for nature. Through her works, Immonen reflects on the fragility of history and the comforting vitality of nature, its inevitable cycle. The exhibition consists of works on paper and an animated drawing.
Kati Immonen (b. 1971, Jyväskylä) graduated from the Department of Painting at Turku School of Fine Arts in 1997. She has exhibited widely in Finland and abroad, most recently in Almost Perfect, Tokyo; Aura Gallery, Turku; Nordic Watercolour Museum, Skärhamn, Sweden; Rovaniemi Art Museum and Wäinö Aaltonen Museum of Art, Turku. Her works are represented in prominent Finnish public collections, and in the Nordic Watercolour Museum in Sweden. She has also worked on several public artworks around Finland, and created illustrations and cover images for numerous publications.
Vesivärimaalausta tekniikkana työskentelyssään uudistavan
Kati Immosen
näyttely
Overgrown
pureutuu luonnon ja ihmisen, rakennetun ympäristön ja ikiaikaisen uudistusvoiman suhteeseen. Näyttelyssä ihmisen rakentamat symbolit, suurmiesten patsaat ja uima-altaat – hyvän elämän rakennuspalikat, tulevat kasvillisuuden valtaamiksi ja muuntautuvat luonnon monumenteiksi. Immonen pohtii teostensa kautta historian katoavaisuutta sekä ihmisistä riippumatonta luonnon lohdullista elinvoimaa ja vääjäämätöntä kiertokulkua. Kokonaisuus koostuu paperille toteutetuista teoksista sekä piirrosanimaatiosta.
Kati Immonen
(s. 1971) valmistui kuvataiteilijaksi Turun Piirustuskoulusta vuonna 1997. Hänen teoksiaan on ollut laajalti esillä Suomessa ja ulkomailla, viimeksi mm. Almost Perfect -galleriassa Tokiossa, Auran Galleriassa, Turussa, Nordiska Akvarellmuseetissa, Skärhamnissa Ruotsissa, Rovaniemen taidemuseossa ja Wäinö Aaltosen museossa. Immosen teoksia sisältyy useisiin suomalaisiin julkisiin kokoelmiin sekä Nordiska Akvarellmuseetin kokoelmaan. Immonen on toteuttanut useita julkisia taideteoksia ympäri Suomen, viimeisimpänä Jyväskylään, sairaala Novaan. Taiteilija on luonut myös lukuisia kirjan kansiteoksia ja kuvituksia ei julkaisuihin.