Oneness of Purpose
6.9.-29.9.2019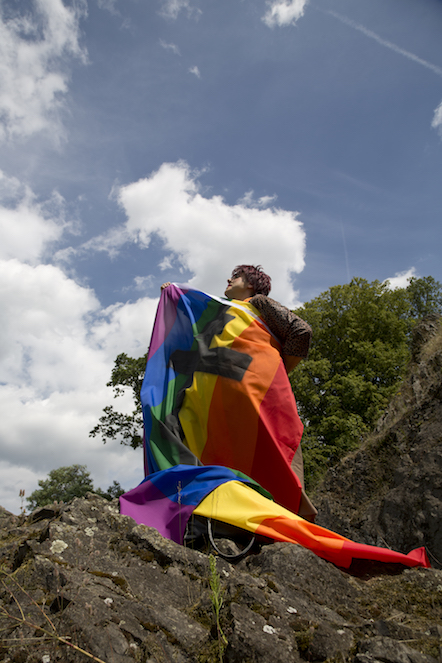 "The world seems different examined through a rainbow. What if we directed our gaze to the prism where light begins to shatter and, instead of the shattering, focused on the gathering of the light?" This and many more things will become clear as
Jukka Korkeila
's
(b. 1968) exhibition
Oneness of Purpose
opens, and the works produced in Berlin and Oberhessen are brought on view at Helsinki Contemporary in September.
Jukka Korkeila is one of Finland's foremost painters, who each year takes part in exhibitions abroad. He lives and works in Helsinki, Berlin and Oberhessen. Korkeila represented Finland at the São Paulo Art Biennial in 2004 and participated in the Prague Biennale in 2003 and 2007. In 2014, he participated in the Bienal del Fin del Mundo at Mar del Plata, Argentina. Korkeila has had solo exhibitions at Moderna Museet, Stockholm, and the Nordic Watercolour Museum in Skärhamn, Sweden. He has participated widely in exhibitions around Europe and his works are in all the main Nordic collections. In 2017, Korkeila took part in a wide-ranging retrospective exhibition at HAM Helsinki Art Museum and at the Serlachius Museums in Mänttä together with Elina Merenmies and Anna Retulainen. Korkeila was one of the artists invited to the exhibition Sanguine/Bloedrood. Luc Tuymans on Baroque, curated by Luc Tuymans for M Hka, The Contemporary Art Museum of Antwerp in 2018.
"Maailma näyttää erilaiselta sateenkaaren lävitse katseltuna. Mitä jos suunnattaisiin katse siihen prismaan, josta valon hajautuminen alkaa, ja ajateltaisiin valon hajaantumisen sijasta sen kokoontumista?" Tämä ja moni muu asia selviää
Jukka Korkeilan
(s. 1968)
Oneness of Purpose
-näyttelyn avautuessa, kun Berliinissä ja Oberhessenissä tehdyt teokset pääsevät esille Helsinki Contemporaryssa syyskuussa.
Jukka Korkeila
lukeutuu Suomen eturivin taiteilijoihin. Hänet tunnetaan niin kuvasisältöjen kuin maalausperinteiden rohkeasta rajojen rikkomisesta. Korkeila työskentelee Saksassa, Berliinissä ja Oberhessenissä, sekä Helsingissä. Hän edusti Suomea São Paulon biennaalissa vuonna 2004 ja osallistui Prahan biennaaliin vuosina 2003 ja 2007. Vuonna 2014 Korkeila osallistui Bienal del Fin del Mundoon Mar del Platassa, Argentiinassa. Korkeila on osallistunut näyttelyihin laajalti Euroopassa, ja hänen teoksiaan on kattavasti keskeisissä pohjoismaisissa kokoelmissa. Korkeila osallistui vuonna 2017 laajaan retrospektiiviseen näyttelyyn Helsingin taidemuseo HAM:issa sekä Serlachius-museossa Mäntässä yhdessä
Elina Merenmiehen
ja
Anna Retulaisen
kanssa. Vuonna 2018 Korkeila oli mukana
Luc Tuymansin
kuratoimassa
Sanguine/Bloedrood. Luc Tuymans on Baroque -
näyttelyssä Antwerpenin nykytaiteen museossa M HKA:ssa.
"Världen ser annorlunda ut betraktad genom en regnbåge. Tänk om vi riktade blicken mot det prisma där ljusets brytning sker och började tänka på ljusets sammanstrålning i stället för dess brytning?" Detta och mången annan fråga får en förklaring då Jukka Korkeilas (f. 1968) utställning Oneness of Purpose öppnas och de verk han gjort i Berlin och Oberhessen visas på Helsinki Contemporary i september.

Jukka Korkeila hör till de främsta konstnärerna i Finland. Han är känd både för sina bilder och för sitt djärva sätt att spränga målartraditionernas gränser. Korkeila arbetar i Berlin och Oberhessen i Tyskland samt i Helsingfors. Han representerade Finland på São Paulobiennalen 2004 och deltog i Pragbiennalen 2003 och 2007. År 2014 deltog han i Bienal del Fin del Mundo i Mar del Plata, Argentina. Korkeila har deltagit i utställningar runtom i Europa och hans verk ingår i många centrala nordiska samlingar. Tillsammans med Elina Merenmies och Anna Retulainen deltog han 2017 i en bred retrospektiv utställning på Helsingfors konstmuseum HAM och på Serlachiusmuseet i Mänttä. År 2018 deltog han i utställningen Sanguine/Bloedrood. Luc Tuymans on Baroque på museet för samtidskonst M KHA i Antwerpen. Kurator för utställningen var Luc Tuymans.