Maps and Mazes
30.11.-6.1.2013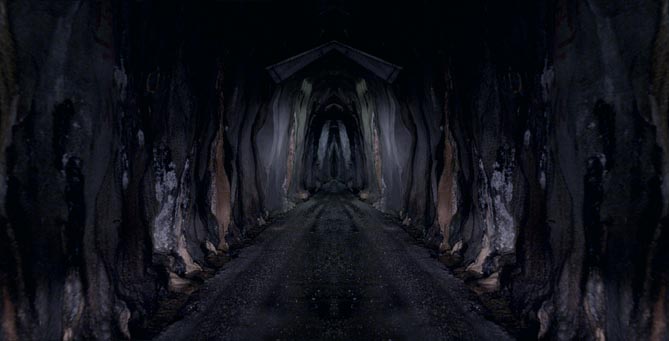 Tuomas A. Laitinen's solo exhibition takes us where ordinarily – both physically and mentally – we cannot, or dare not, look. Laitinen goes underground: to the extensive subterranean networks and spaces spread out beneath the city of Helsinki. The result is a version of reality that mirrors above-ground activities, while at the same time somehow always taking it somewhere else.

Laitinen's discoveries in Helsinki's underground world are both familiar and unknown. This world is not an 'either/or' phenomenon, but very much 'both/and' in nature – and in a unique way that carries us along with into something strange and different, even extraordinary. It is not a series of vulgar horror effects, not some childish, supposedly fright-inducing spectacle, nor is it a documentary charting underground passageways. It is something else entirely, something that very definitely delves deeper, something that is authentically more malignant, but also more interesting.

The main work in the Maps and Mazes exhibition is the video installation This Way. This totally re-constructs the gallery space, creating a situation in which viewers are enticed into a stage designed specifically for the work: into a space and a situation in which the underground world looks directly at us, confusing our sense of time and place.

"I have used the term 'in-between state' to describe the feeling you get when your senses of time and direction become blurred. This state also allows for an acute focus on your own body and its pulses." - Tuomas A Laitinen

Alongside the videowork, at the core of the exhibition are the light-box works, which he uses non-traditionally as a vessel for experiments. The light boxes reflect and display variations on the image world present in the videowork, stopping it very precisely and tellingly on certain visual details. These details bring out and give life to the beauty and magnificence of the underground world, its surprisingness and its mystery.

Maps and Mazes is part of Laitinen's World Design Capital Helsinki 2012 project Helsinki Underground. The project as a whole has been produced by Kira Sjöberg and Johanna Wartio-McEvoy of ArtShortCut.

Helsinki Underground partners in collaboration: Curator Aura Seikkula, Helsinki City Rescue Department, P. Mutasen elokuvakonepaja, The Finnish National Theatre and Espoo City Theatre, Open House Helsinki and Flow Festival.

The project has been supported by: The Finnish Culture Foundation, Avek and the Arts Council of Finland
Tuomas A. Laitisen yksityisnäyttely hakeutuu sinne, minne me emme tavallisesti osaa tai uskalla katsoa – niin fyysisesti kuin mentaalisestikin. Laitinen menee maan alle: Helsingin alla avautuvien kattavien maanalaisten verkostojen ja tilojen luokse. Tuloksena on versio todellisuudesta, joka yhtä aikaa sekä toistaa maan päällistä toimintaa mutta samalla vie sitä aina jotenkin hieman muualle.

Mitä Tuomas A. Laitinen Helsingin maanalaisesta maailmasta löytää on tuttua ja tuntematonta. Se on luonteeltaan korostuneesti sekä-että – ja sitä ainutlaatuisella tavalla, joka ottaa meidät katsojina mukaan johonkin outoon ja erilaiseen, erikoiseenkin. Se ei ole sarja vulgaareja kauhuefektejä, ei lapsellista muka pelottelua, eikä myöskään maanalaisia käytäviä kartoittavaa dokumentarismia. Se on jotakin aivan muuta, jotakin tosiaankin syvemmälle luotaavaa, jotakin todellakin ilkeämpää mutta myös mielenkiintoisempaa.

Maps and Mazes näyttelyn keskeinen teos on videoinstallaatio This Way. Se rakentaa gallerian tilan aivan uudeksi; tilanteeksi, jossa katsoja houkutellaan sisään teosta varten suunniteltuun näyttämöön: tilaan ja tilanteeseen, jossa maanalainen maailma katsoo meitä suoraan kohti, sekoittaen ajan ja paikan tajun.

"Olen käyttänyt termiä "välitila" kuvaamaan sitä tunnetta, joka syntyy silloin, kun ajan taju ja suuntavaisto hämärtyy. Tämä tila mahdollistaa myös syvätarkennuksen omaan kehoon ja sen pulsseihin." - Tuomas A. Laitinen

Videoteoksen ohella näyttelyn keskipisteessä ovat Laitisen lanseeramat valokaappiteokset. Valokaapit seuraavat ja varioivat videoteoksessa läsnä olevaa kuvamaailmaa, pysäyttäen sen hyvin tarkasti ja tarkoituksenmukaisesti tiettyyn visuaalisiin yksityiskohtiin. Ne ovat yksityiskohtia, jotka tuovat näkyviin ja virittelevät eloon maanalaisen maailman kauneutta ja komeutta, sen yllätyksellisyyttä ja salaperäisyyttä.

Mika Hannula

Maps and Mazes on yksi osa Laitisen World Design Capital Helsinki 2012 -hanketta Helsinki Underground. Kokonaishankkeen on tuottanut ArtShortCut:in Kira Sjöberg ja Johanna Wartio-McEvoy.

Helsinki Underground yhteistyökumppanit: Kuraattori Aura Seikkula, Helsingin kaupungin pelastuslaitos, P. Mutasen elokuvakonepaja, Kansallisteatteri ja Espoon kaupunginteatteri, Open House Helsinki ja Flow Festival.

Projektin toteutusta ovat tukeneet: Suomen Kulttuurirahasto, Avek ja Taiteen Keskustoimikunta
Tuomas A. Laitinens separatutställning söker sig åt de håll dit vi i allmänhet inte kan eller vågar titta – såväl fysiskt som mentalt. Laitinen går under jorden: till de underjordiska nätverk och utrymmen som öppnar sig under hela Helsingfors. Resultatet blir en version av verkligheten, som på en gång både upprepar den verksamhet som pågår ovan jord, och samtidigt på något vis alltid för den i en lite annan riktning.

Vad Tuomas A. Laitinen hittar i Helsingfors underjordiska värld är någonting både känt och okänt. Det är till sin natur i uttalad mening både-och, och det på ett unikt sätt, som tar oss i egenskap av betraktare med till något underligt och annorlunda, rentav extraordinärt. Det är inte en serie vulgära skräckeffekter, inget barnsligt skrämmande, inte heller en kartläggande dokumentarism om underjordiska gångar. Det är någonting helt annat, någonting som faktiskt lodar djupare, någonting som faktiskt är mer elakt men också intressantare.

Det centrala verket i utställningen MAPS AND MAZES är videoinstallationen This way. Den bygger om galleriutrymmet till någonting alldeles nytt; till en situation där betraktaren lockas in på en scen som är speciellt planerad för själva verket: till ett utrymme och en situation där den underjordiska världen ser direkt på oss, och blandar bort känslan för tid och rum. "Jag har använt termen "mellantillstånd" för att beskriva den känsla som uppkommer när tidsuppfattningen och lokalsinnet blir diffusa. Det här tillståndet möjliggör också en djupobservation av ens egen kropp och dess pulser."

Bortsett från på videoverket finns tyngdpunkten i utställningen på ljusskåpsverken som Laitinen har lanserat. Ljusskåpen följer med och ger variationer på den bildvärld som finns i videoverket, genom att stanna upp den mycket noggrant och målmedvetet vid särskilda visuella detaljer. De är detaljer som synliggör och väcker till liv den underjordiska världens skönhet och elegans, dess överraskande och hemlighetsfulla natur.

Mika Hannula

Maps and Mazes är en del av Laitinens projekt Helsinki Underground för World Design Capital Helsinki 2012. Helhetsprojektet har producerats av Kira Sjöberg och Johanna Wartio-McEvoy vid ArtShortCut.

Helsinki Undergrounds samarbetspartner: Kurator Aura Seikkula, Helsingfors stads räddningsverk, P. Mutanens filmmaskinverkstad, Finland Nationalteater och Esbo Stadsteater, Open House Helsinki och Flow Festival.

Projektets förverkligande har understötts av: Suomen Kulttuurirahasto, Avek och Centralkommissionen för Konst.