Group exhibition
Lust for Life – Celebrating 15 Years of Helsinki Contemporary
9.9.-9.10.2022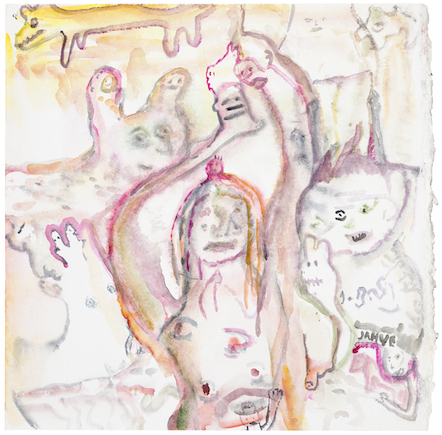 Helsinki Contemporary, which has operated at two different locations in Helsinki, celebrates its 15th anniversary this year. Founded in 2007 by Antti Piippo and Pilvi Kalhama, the exhibition spaces – originally called Kalhama & Piippo – were located in Kaivopiha. In 2011, the gallery began operating at the current address in Bulevardi 10.
From the beginning, Helsinki Contemporary focused on long-term cooperation with its artists. Through its carefully curated programme, the gallery has always provided audiences with international coverage of current exhibitions by multiple artists, each at different stages in their careers.
The 15-year-anniversary exhibition Lust for Life – Celebrating 15 Years of Helsinki Contemporary is delightful, insightful, and profound. Curator Mika Hannula compiled a combination of new works and highlights from the gallery's 15-year journey; he describes the exhibition in the following ways:
'Lust for Life is about joie de vivre, tuning up, and breakaways; in other words, life at its best. It combines elements that are brand new with passing moments from the past 15 years, joyfully showing what has been and what will be.
Lust for Life is movement, desire, and curiosity to go from a starting point to a destination and back. It is joy at bringing close what feels distant and at gaining distance from what is close. It is also about opening up and turning towards something that does not exist yet, something that we do not recognise but anticipate.
One of the Lust for Life artists, Norbert Schwontkowski (1949–2013), perceives this movement as an attraction of contrasts. For Schwontkowski, art takes place between the warmth of one's body and the coldness of space. It is a negotiation between the two in the moment that merges an everyday gesture with – and through – the inexplicability and incomprehensibility of the universe.
The same thing, in his own words, was the topic of a song by Mr Osterberg – or, if we are more accurate with the timeline, a younger Mr Osterberg. The song tells about modern lads and their... well, hobbies, ideas, and dreams. For Osterberg, the episode spanned a little over five minutes. For most of us searching for it, getting close to it, it spans a lifetime. Searching for what everything in the end is about: creating, and even maintaining, the freshness and surprise, fun and beautiful freedom of actions.
This time we have five weeks to face it, the cycle and current of joie de vivre. To search for the joy of life, always finding and creating a new twist. Lust for Life is a space and a situation, as well as an occasion, where the doctor tells you to take off your shirt right away, sharp and careful, still following Mr Osterberg, not necessarily concretely, but symbolically, with the power and echo of a metaphor, with and in the joy of life.'



The artists of the exhibition are Ville Andersson, Birgir Birgisson, Eeva-Riitta Eerola, Hannaleena Heiska, Jukka Korkeila, Heidi Lampenius, Robert Lucander, Rauha Mäkilä, Roland Persson, Anna Retulainen, Janne Räisänen, Norbert Schwontkowski, Astrid Sylwan, Marianna Uutinen, Miikka Vaskola
Juhlavuottaan viettävä Helsinki Contemporary on 15 vuoden aikana ehtinyt toimia kahdessa eri osoitteessa Helsingissä. Antti Piipon ja Pilvi Kalhaman vuonna 2007 perustaman, silloiselta nimeltään Kalhama & Piipon näyttelytilat sijaitsivat Kaivopihalla. Nykyisessä Bulevardi 10 -osoitteessa galleria on toiminut vuodesta 2011 lähtien.
Helsinki Contemporary on toimintansa alusta asti keskittynyt pitkäaikaiseen yhteistyöhön edustamiensa taiteilijoiden kanssa. Gallerian huolellisesti kuratoitu ohjelmisto on tarjonnut yleisölle kansainvälisen kattauksen sekä uraansa aloittavien että meritoituneiden taiteilijoiden ajankohtaisia näyttelyitä.
Juhlavuoden kunniaksi gallerialla syyskuussa nähtävä Lust for Life – Celebrating 15 Years of Helsinki Contemporary on riemukas, oivaltava ja syvällinen ryhmänäyttely. Yhdistelmä uusia teoksia ja nostoja – tähtihetkiä gallerian 15 vuoden kaarelta. Näyttelystä kertoo kuraattori Mika Hannula:
"Lust for Life on elämäniloa, virittelyä ja irtiottoja – siis lystikästä laiffii. Se on näyttely, joka yhdistää uutta, ihan uutta ja viidentoista vuoden varrelta esiin nostettuja hetkiä, hetkellisyyksiä. Iloa siitä, mitä on koettu ja iloa siitä, mitä kohti ollaan kohta menossa.
Lust for Life on liikettä, halua ja uteliaisuutta liikkua jostakin johonkin, ja sieltä jatkuvasti vielä takaisin. Iloa tuoda lähelle se, mikä tuntuu kaukaiselta ja saada etäisyyttä siihen, mikä on likellä. Lisäksi se on avautumista, kääntymistä kohti jotakin mitä ei vielä ole, mitä emme tunnista, mutta jonka aavistamme.
Näyttelyssä mukana oleva Norbert Schwontkowski (1949–2013) hahmottaa tätä liikettä vastakohtien vetovoimana. Schwontkowskille taide tulee tapahtumaksi oman kehomme lämmön ja avaruuden kylmyyden välissä, välityksessä. Siinä hetkessä, jossa yhdistyy arkinen ele maailmankaikkeuden selittämättömyyden, sen käsittämättömyyden kanssa ja kautta.
Samasta asiasta ja ihan omilla sanoillaan lauloi jo aikoinaan herra Osterberg, aikajanaa seuraten tarkkaan ottaen herra Osterberg juniori. Laulu kertoo moderneista jannuista ja heidän, no, harrastuksistaan, ideoista ja unelmistaan. Osterbergillä teon kaari kesti hieman yli viisi minuuttia. Useimmille meistä sen hakemiseen, sen lähelle hakeutumiseen menee, kuluu, koko elämä. Siis sen, mistä kaikessa, ihan kaikessa, loppujen lopuksi on aina kyse: tekojen raikkauden ja yllätyksellisyyden sekä hauskan ja kauniin vapauden aikaansaamisesta, ylläpidostakin.
Nyt aikaa asian kohtaamiseen, elämänilon kierto- ja myötäkulkuun on viisi viikkoa. Siis elämänilon jaagaamiseen ja aina uuden jengan luomiseen ja löytämiseen. Lust for Life on tila ja tilanne, myös tilaisuus, jossa tohtori määrää, että paita pois, heti ja nyt, tarkkana ja tarkasti yhä herra Osterbergiä seuraten, ei toki välttämättä konkreettisesti, vaan symbolisesti, metaforan voimalla, kaiulla. Elämän ilolla, ilossa."
Näyttelyn taiteilijat ovat Ville Andersson, Birgir Birgisson, Eeva-Riitta Eerola, Hannaleena Heiska, Jukka Korkeila, Heidi Lampenius, Robert Lucander, Rauha Mäkilä, Roland Persson, Anna Retulainen, Janne Räisänen, Norbert Schwontkowski, Astrid Sylwan, Marianna Uutinen, Miikka Vaskola
Jubilerande Helsinki Contemporary har under de senaste 15 åren verkat på två olika adresser i Helsingfors. Utställningslokalen Kalhama & Piippo som startades 2007 av Antti Piippo och Pilvi Kalhama låg på Brunnsgården. Sedan 2011 drivs galleriet på sin nuvarande adress, Bulevarden 10.
Ända sedan starten har Helsinki Contemporary fokuserat på ett långsiktigt samarbete med sina konstnärer. Galleriets omsorgsfullt kuraterade utställningar har bjudit publiken på ett internationellt utbud av såväl konstnärer i början av karriären som aktuella utställningar av etablerade konstnärer.
För att fira jubileumsåret visar galleriet i september Lust for Life – Celebrating 15 Years of Helsinki Contemporary vars kurator Mika Hannula satt ihop en festlig, insiktsfull och djuplodande grupputställning. En kombination av nya verk och tillbakablickar mot höjdpunkter från galleriets 15 framgångsrika år. Utställningskuratorn Mika Hannula berättar:
"Lust for Life är livsglädje, optimering och frigörelse – aptit på livet helt enkelt. Det är en utställning som kombinerar det nya, det allra senaste med framlyfta ögonblick, ögonblicksbilder från femton års verksamhet. Glädje över det man har sett och glädje över det som är på gång.
Lust for Life handlar om rörelse, vilja och nyfikenhet att förflytta sig nånstans ifrån till nån annanstans, och sedan ännu kontinuerligt tillbaka. Glädje över att närma det som känns avlägset och få distans till det som är nära. Vidare handlar det om öppnande, att vända sig mot något som ännu inte är, som vi inte känner igen, men som vi anar.
Norbert Schwontkowski (1949–2013) som deltar i utställningen tolkar den här rörelsen som motpolernas dragningskraft. För Schwontkowski blir konsten ett skeende utifrån utväxlingen mellan vår egen kroppsvärme och universums kyla. I det ögonblick då den vardagliga gesten förenas med världsalltets oförklarlighet, genom och tillsammans med dess obegriplighet.
På sin tid sjöng en herr Osterberg en låt på temat med sina egna ord, och för att följa kronologin exakt var det herr Osterberg jr. Låten handlar om moderna killar och deras, ska vi säga, intressen, idéer och drömmar. Osterbergs låt tar drygt fem minuter att lyssna på. För de flesta av oss tar sökandet efter det, närmandet till det längre. Det tar ett helt liv. Alltså det som allt sist och slutligen handlar om: det uppfriskande och det oförutsedda i det som görs, och den roliga och vackra friheten i att få något till stånd, också när det gäller att upprätthålla något.
Nu är det dags att få möta livsglädjens kretslopp och framtidshopp i fem veckor. Alltså jakten på livsglädje och att kontinuerligt skapa och hitta nya gängor. Lust for Life handlar om ett rum och en situation där doktorn ordinerar att man ska ta av sig tröjan. Nu med detsamma, allt exakt och noggrant i herr Osterbergs efterföljd. Kanske inte nödvändigtvis bokstavligen, bara symboliskt, med metaforens kraft, som ett eko. Med livsglädje, i glädje."
De medverkande konstnärerna är Ville Andersson, Birgir Birgisson, Eeva-Riitta Eerola, Hannaleena Heiska, Jukka Korkeila, Heidi Lampenius, Robert Lucander, Rauha Mäkilä, Roland Persson, Anna Retulainen, Janne Räisänen, Norbert Schwontkowski, Astrid Sylwan, Marianna Uutinen, Miikka Vaskola