Group Exhibition
Landscapes of the Future: Guest Curator: Beaconsfield, London
30.11.-21.12.2018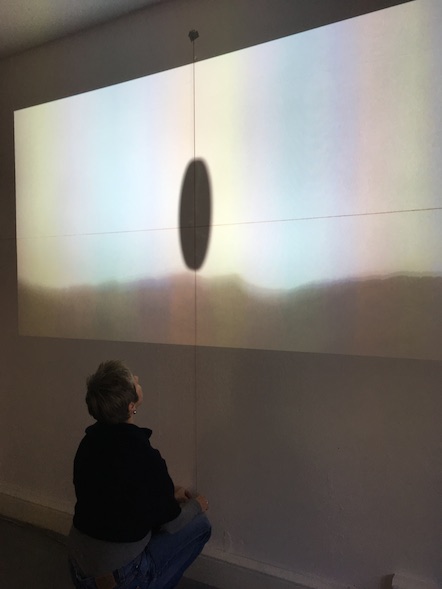 Helsinki Contemporary's Guest Curator programme continues in December, with an exhibition combining Finnish and English artists, who are in dialogue with Beaconsfield Gallery Vauxhall, London. The curators are David Crawforth and Naomi Siderfin. The project is supported by Saastamoinen Foundation and the Finnish Institute in London.
The exhibition Landscapes of the Future refers to the range of physical and metaphorical landscapes that open up in a globalized, knowledge economy and brings together some of the artists currently depicting the new lie of the land.
The concept of 'landscape' is one of culturally appropriated territory – the found environment or 'nature' territorialized. Landscapes combine the geological features of a particular place – country or continent - with the trace of the humans that live in that place, helping to define the identity of peoples as much as they define, and have defined, the land. In the contemporary moment, an addictive dependency on natural resources is key to a post-industrial lifestyle and generates in-balances; of geology, economy and political power. It is also the moment in which accelerated climate change, triggered by human excess, is shifting our relationship with the seasons, with the land and the way we consume it. Vast numbers of people flee the land of their birth to find refuge in unfamiliar landscapes. There are few places where these shifts are more apparent than in London, where most of these artists work.
In art, the landscape tradition is not only one of claiming nature through its depiction, but of imaginary future landscapes. Beaconsfield brings together a group of British artists who touch on the theme in diverse ways, contextualised by one Finnish artist who is passionately engaged with narratives relating to her homeland.
The curatorial frame of this exhibition expands the concept of landscape to shed light upon the changing ways in which we relate to particular spaces, places and the ongoing trace of humanity. The exhibition suggests a role for artists in supporting a sustainable future, through reflection and a disciplined application of the imagination.
The invited artists are:
David Burrows

Anna Bunting-Branch

Keith Piper

BAW (aka David Crawforth and Naomi Siderfin) in collaboration with Bruce Gilbert.

Outi Pieski

Onya McCausland

Ioana Marinescu

Thomas Yeomans

Philip Thompson



BAW, aka Beaconsfield Artworks is a platform for the collaborative personal work of the artist-researchers David Crawforth (b. 1965) and Naomi Siderfin (b. 1962), founding directors of the artist-led organisation Beaconsfield and curators of Landscapes of the Future. BAW has been active for over 20 years with international presentations of provocative artworks. In Helsinki Contemporary, the duo will display Famine Pass, an audio-visual work created in collaboration with the artist-musician Bruce Gilbert (b. 1946), one of the founding members of the influential and experimental art-punk band Wire.

Anna Bunting-Branch (b. 1987) works across the boundaries of sculpture, painting and animation to re-vision normative territories. She uses fan fiction as a model for communication and the reinvigoration of feminist histories. An animation entitled The Linguists will be seen at Helsinki Contemporary. The work takes Suzette Haden Elgin's science fiction trilogy Native Tongue (1984-1994) as its starting point and re-opens the possibilities of envisioning a new language for the future.

David Burrows (b. 1965) is a visual artist and writer working across an array of mediums such as painting, video and installation. His works often describe disorientated landscapes occasionally interweaved with elements of familiarity. For Helsinki Contemporary, Burrows creates #Even t Horizon a new floor sculpture based on diagrams and models of black hole singularities found in popular science books; an imaginary and impossible perspective of a lawless zone that no one has even seen.
Ioana Marinescu (b. 1979) is an artist working with photography. Trained as an architect in Bucharest and London, Marinescu works with large-scale photographs in public spaces, with projections and live readings. Her current research examines the relationship between place and memory, using her hometown of Bucharest, erased by the regime of Ceausescu as a case example. For Helsinki Contemporary, Marinescu presents a new, photographic diptych, entitled Gravid, that includes a limited edition print.
Onya McCausland (b. 1971) will create a site-specific ochre wall painting for the exhibition with iron oxide, a bi-product of iron mining across the world. Saltburn brings the British landscape to Finland in a very concrete way. The unique hue has been mixed from pigments found at the site of a former ironstone mine in East Cleveland, England. The installation is available in an edition of two, for site-specific reproduction in the same proportions. Each edition will include a digital print, depicting an aerial view of the Salturn landscape. McCausland's painting is connected to her ongoing research collaboration with the British Coal Authority: Turning Landscape Into Colour.
Outi Pieski (b. 1973) is known for her installations and paintings, which take a stand for the rights of indigenous peoples and examines their histories. Nature and the politics of sustainable development are prominent themes in the Sami artist's works. Pieski has made new paintings for this exhibition, in a series inspired by the status of a legal person issued in some cultures to certain land areas. Pieski's solo exhibition Čuolmmadit runs at EMMA – Espoo Museum of Modern Art through January 6, 2019.
Artist, curator and researcher Keith Piper (b. 1960), is a black British artist of international significance whose practice responds to specific social and political issues, historical relationships and geographical sites. A founder member of the British BLK Art Group (active 1979-1984), Piper pioneered multi-media installation on a digital platform in the UK from the mid 1980's. Mic Drop, his recent work exhibited in Helsinki, was commissioned by Beaconsfield in 2017. The piece takes as its starting point US President Obama's use of a confrontational performative gesture dating back to 1980s Rap music and globalised in Obama's final address at the White House Correspondents Dinner. Available in an edition of 5.
Philip Thompson (born 1988) is concerned with the way in which digital technologies have changed the way we perceive and produce contemporary art works. Working across disciplines including websites, video, sculpture and painting, Thompson explores the limitations of digital reproductions, as well as questioning the ethics present within these systems. He brings to the exhibition a work experienced through a mobile device, using footage filmed in Abogbloshie, the worlds largest digital waste dump, in Accra, Ghana.
Thomas Yeomans (b. 1986) works as a painter and across a range of digital media. A significant part of his practice focuses on sourcing and repurposing found digital material, characterized by a disruptive and destabilizing editing technique. Eventide is a fast-paced video work made from footage and sound the artist found and downloaded from the Internet. The work is meticulously re-edited into an arrangement that expresses the artist's anger about the dramatic shifts he experienced in his personal landscape over the period of a year, which included the Brexit referendum in the UK.
Helsinki Contemporaryn näyttelyvuoden päättää HC Guest Curator -ohjelman järjestyksessään toinen projekti, lontoolaisen Beaconsfield Galleryn johtajien, taiteilijoiden ja tutkijoiden David Crawforthin ja Naomi Siderfinin kuratoima näyttely Landscapes of the Future. Näyttely kokoaa yhteen yhdeksän Britanniassa ja Suomessa työskentelevää taiteilijaa ja taidekollektiivia, joiden juuret levittäytyvät ympäri maailman.
Beaconsfield Gallery on toiminut perustamisestaan lähtien vuonna 1994 edelläkävijänä kokeellisen mediataiteen, tila-aikataiteen ja äänitaiteen mahdollistajana ja esittäjänä.

Landscapes of the Future käsittelee globaalin tietoyhteiskunnan esiin tuomaa fyysisten ja kuvaannollisten maisemien joukkoa, sen merkitystä ja sisältöä. Maiseman käsite sisältää ajatuksen kulttuurisesti omitusta alueesta; se viittaa löydettyyn ja valloitettuun 'luonnonympäristöön'. Näyttely hahmottaa kriittisesti sitä, miten tapamme käsittää maisemaa on jatkuvassa liikkeessä ja muotoutuu historian mukana, sekä riippuvuuttamme luonnonvaroista.

Ryhmänäyttelyn taiteilijat laajentavat maiseman käsitettä valaistakseen muuttuvia tapojamme suhtautua paikkoihin, tiloihin sekä ihmisyyden jättämään jälkeen. Näyttely ehdottaa ja rakentaa taiteilijoille aktiivista roolia kestävän tulevaisuuden tukemisessa – pohdinnan sekä mielikuvituksen kurinalaisen soveltamisen kautta.

Näyttelyssä nähdään muun muassa poliittisen ja kantaaottavan mediataiteen pioneerin Keith Piperin teos Mic Drop (2017), jonka lähtökohtana on Yhdysvaltain presidentin Barack Obaman viimeisessä Valkoisen talon kirjeenvaihtajien illallisen puheessaan toteuttama vahva ele ja sen sisältämät kulttuuriset viittaukset, sekä Onya McCauslandin paikkasidonnainen, rautaoksidin pigmentein toteutettava seinämaalaus. Suomalaistaiteilijoista mukana on saamelaistaustainen Outi Pieski, joka osallistuu maalauksillaan ja installaatioillaan kotiseutunsa kiistanalaisten narratiivien rakentamiseen.

Näyttelyn taiteilijat ovat BAW & Bruce Gilbert, David Burrows, Anna Bunting-Branch, Ioana Marinescu, Onya McCausland, Outi Pieski, Keith Piper, Phil Thompson sekä Thomas Yeomans.

HC Guest Curator -ohjelman kautta kutsutaan vuosittain kansainvälisesti toimiva kuraattori tai kuraattorit tutustumaan suomalaiseen nykytaidekenttään ja toteuttamaan näyttely Helsinki Contemporaryyn. Tavoitteena on ohjelman puitteissa esittää Helsingissä rohkea kansainvälinen näyttelykokonaisuus, tuoda uutta sisällöllistä näkemystä gallerian näyttelyohjelmaan ja gallerian edustamien taiteilijoiden työskentelyn tueksi, sekä integroida asiantuntijoita tiiviimmin suomalaiseen nykytaidekenttään ja laajentaa asiantuntijaverkostoa.

Kuraattorivierailua ovat tukeneet Saastamoisen säätiö ja Suomen Lontoon instituutti.



BAW, eli Beaconsfield Artworks, on Beaconsfield Galleryn perustajien David Crawforthin (s.1965) ja Naomi Siderfinin (s. 1962) alusta heidän omalle taiteelliselle työskentelylleen. Helsinkiin kantaaottavaa taidetta tekevä BAW tuo uuden teoksen Famine Pass, joka on toteutettu yhteistyössä muusikko Bruce Gilbertin (s.1946) kanssa.

Anna Bunting-Branch (s. 1987) työskentelee veistäen, maalaten, piirtäen ja liikkuvan kuvan parissa. Hän käyttää teoksissaan muun muassa fanifiktion keinoja kommunikoinnin malleina. Helsinki Contemporaryssa Bunting-Branchilta nähdään animaatioteos The Linguists, joka tutkii kielen merkitystä ja historiaa lähtökohtanaan Suzette Haden Elginin science fiction -trilogia Native Tongue (1984-1994).

David Burrows (s. 1965) on kuvataiteilija ja kirjoittaja, joka työskentelee niin piirustuksen kuin eri tekniikoin toteutettujen installaatioiden parissa. Hänen teoksensa kuvaavat usein vääristyneitä maisemia, jotka nivoutuvat yhteen tuttuuden elementtien kanssa. 
Landscapes of the Future –näyttelyyn Burrows osallistuu installaatiollaan #Even t Horizon

Valokuvaaja ja arkkitehti Ioana Marinescu (s. 1979) tutkii paikan ja muistin suhdetta useiden eri materiaalien ja medioiden avulla. Marinescu käyttää esimerkkinään muun muassa Ceausescun hallinnon 1980-luvulla tuhoamaa kotikaupunkiaan Bukarestia. Helsinki Contemporaryssa taiteilijalta nähdään uusi teos Gravid.

Onya McCausland (s. 1971) toteuttaa paikkasidonnaisen seinämaalauksen teollisuusjätteenä luonnosta löytyvän rautaoksidin pigmenteillä ja tuo näin isobritannialaisen maiseman konkreettisesti Helsinkiin. McCauslandin teos on osa hänen tutkimushankettaan Turning Landscape into Colour, joka tarkastelee materiaalien, kuten maalin, sisältämiä historioita, kerrostumia ja paikallistunutta olemusta.

Outi Pieski (s. 1973) on tullut tunnetuksi sekä tilateoksistaan että maalauksistaan, jotka ottavat kantaa alkuperäiskansojen oikeuksiin ja kertovat niiden historiaa. Saamelaisen Pieskin taiteessa näkyy suhde luontoon sekä kestävän kehityksen tematiikkaan. Pieski palkittiin vuonna 2017 Suomen Taideakatemian palkinnolla, ja palkintoon liittyvä yksityisnäyttely Čuolmmadit on esillä EMMA – Espoon modernin taiteen museossa 6.1.2019 saakka. Helsinki Contemporaryssa Pieskiltä nähdään maalauksia sarjasta, joka tutkii tiettyjen luonnonpaikkojen asemaa oikeushenkilöinä.

Digitaalisen median parissa työskentelevä, sosiaalisiin ja poliittisiin aiheisiin kantaa ottava Keith Piper (s. 1960) toimii taiteilijana, kuraattorina ja tutkijana, ja on kolmikymmenvuotisella urallaan vaikuttanut muun muassa rodullistettujen englantilaisten ryhmittymissä, kuten BLK Art Groupissa (1979-1984). Helsinki Contemporaryssa Piperilta nähdään Beaconsfieldin vuonna 2017 komissioima teos Mic Drop, jonka lähtökohtana on Yhdysvaltain presidentin Barack Obaman viimeisessä Valkoisen talon kirjeenvaihtajien illallisen puheessaan toteuttama ele ja sen sisältämät kulttuuriset viittaukset.

Philip Thompson (s.1988) tutkii kriittisellä otteella digitaalisen tiedon olemuksellisuutta sekä taiteen kokemisen ja katsomisen tapoja, galleriatilan ulkopuolella ja digitaalisessa muodossa. Uusia medioita taiteessaan hyödyntävältä Thompsonilta nähdään Helsingissä älypuhelimen kautta koettava teos.


Thomas Yeomans (s. 1986) työskentelee maalaustaiteen ja digitaalisen median parissa. Hän ammentaa teoksiinsa rönsyilevästä pop-kulttuurista sekä maailmaamme ja asenteisiimme vahvasti vaikuttavasta internetin kuvastosta. Landscapes of the future -näyttelyssä Yeomansilta esillä on kantaaottava videoteos Eventide.

Helsinki Contemporary avslutar året med utställningen Landscapes of the Future, det andra projektet i programmet HC Guest Curator. Kuratorer för utställningen är cheferna för Beaconsfield Gallery i London Naomi Siderfin och David Crawforth, som också själva arbetar som konstnärer och forskare. Utställningen för samman nio konstnärer och konstnärskollektiv verksamma i Storbritannien och Finland men med rötter i hela världen.
Beaconsfiel Gallery har från första början varit en föregångare som både visat och skapat möjligheter för mediekonst, tid- och rumskonst och ljudkonst.

Landscapes of the Future behandlar betydelsen och kontentan av alla de fysiska och visuella landskap som växer fram i det globala informationssamhället. I begreppet landskap ingår en idé om ett kulturellt approprierat område; det refererar till den upptäckta och erövrade "naturmiljön". I landskapet förenas de geografiska egenskaperna hos en viss plats, ett visst land eller en viss kontinent i kombination med spåren av de människor som bor där. Utställningen är en kritisk granskning som belyser hur vårt sätt att uppfatta landskap oavbrutet förändras och formas med historien.

Landskapsmåleriets tradition tar inte endast landskapet i besittning genom att avbilda det, den skapar också fiktiva framtidslandskap. Förutom de brittiska konstnärerna deltar också Outi Pieski i utställningen med målningar och installationer som vill utveckla och omformulera kontroversiella narrativ om hennes hembygd. De medverkande konstnärerna utvidgar landskapsbegreppet för att belysa våra föränderliga sätt att förhålla oss till platser, rum och de avtryck mänskligheten lämnar. Utställningen föreslår och bygger en aktiv roll för konstnärerna i arbetet för en hållbar framtid – via reflektion och disciplinerad tillämpning av fantasi.

Medverkande konstnärer: BAW & Bruce Gilbert, David Burrows, Anna Bunting-Branch, Ioana Marinescu, Onya McCausland, Outi Pieski, Keith Piper, Phil Thompson och Thomas Yeomans.

Via programmet HC Guest Curator inbjuds årligen en internationellt verksam kurator eller flera kuratorer för att stifta bekantskap med finsk samtidskonst och genomföra en utställning på Helsinki Contemporary. Syftet är att inom programmet presentera en djärv internationell utställning i Helsingfors, att tillföra galleriets utställningsprogram nya perspektiv som också stöder de konstnärer som galleriet representerar samt att effektivare integrera experter i den finska samtidskonstens fält och bygga ut expertnätverket.

Kuratorbesöket har understötts av Saastamoinenstiftelsen och Finlandsinstitutet i London.

BAW, Beaconsfield Artworks, bildar den plattform på vilken Beaconsfield Gallerys grundare David Crawforths (f. 1965) och Naomi Siderfins (f. 1962) bygger sitt eget konstnärliga arbete. BAW gör ställningstagande konst, och i Helsingfors får vi se dess nyaste verk Famine Pass som är gjort i samarbete med musikern Bruce Gilbert.

Anna Bunting-Branch (f. 1987) arbetar med skulptur, måleri, teckning och rörlig bild. I sina verk använder hon sig av bland annat fanfiktion som modell för kommunikation. På Helsinki Contemporary visar Bunting-Branch animationen The Linguists, som utforskar språkets betydelse och historia med utgångspunkt i Suzette Haden Elgins science fiction-trilogi Native Tongue (1984–1994) och "kvinnans tunga" i den.

David Burrows (f. 1965) är en bildkonstnär och skriftställare som arbetar dels med teckning, dels med installationer med varierande teknik. Hans verk skildrar ofta förvrängda landskap sammanflätade med välbekanta element. I utställningen Landscapes of the Future medverkar Burrows med #Even t Horizon, en ny version av sin videoinstallation från 2014, Have You Ever Seen An Atom?

Fotografen och arkitekten Ioana Marinescu (f. 1979) studerar förhållandet mellan plats och minne. Som exempel använder hon sin hemstad Bukarest som fördärvades under Ceausescus regim på 1980-talet. På Helsinki Contemporary visas Marinescus nya verk Gravitas.

Onya McCausland (f. 1971) målar på galleriets vägg ett verk med pigment från järnoxid som hamnat i naturen via gruvdrift. Därigenom hämtar hon handgripligen en bit brittiskt landskap till Helsingfors. McCauslands verk ingår i hennes forskningsprojekt Turning Landscape into Colour, som studerar olika materials, exempelvis just målarfärgs, historia, skikt och förvandling till lokala element.

Outi Pieski (f. 1973) är känd både för sina installationer och sina målningar med vilka hon tar ställning till ursprungsfolkens rättigheter och skildrar deras historia. Pieski är själv same och hennes konst speglar förhållandet till naturen och hållbar utveckling. Pieski tilldelades 2017 Finlands Konstakademis pris, i vilket ingår separatutställningen Čuolmmadit som visas på EMMA – Esbo moderna konstmuseum fram till den 6 januari 2019. På Helsinki Contemporary visas Pieski målningar ur en serie som studerar naturplatsers ställning som en juridisk person.

Keith Piper (f. 1960) arbetar med digitala medier och tar ställning till sociala och politiska ämnen. Som både konstnär, kurator och forskare har han under sin trettioåriga karriär varit verksam inom rasifierade engelska grupper, exempelvis BLK Art Group (1979-1984). Helsinki Contemporary visar Pipers verk Mic Drop som han gjorde 2017 på beställning av Beaconsfield. Utgångspunkt är den gest USA:s förre president Barack Obama gjorde på Vita husets sista korrespondentmiddag och de kulturella referenser som utläsas ur den.

Philip Thompson (f. 1988) studerar med kritisk blick den digitala informationens väsen samt olika sätt att uppleva och betrakta konst, både utanför galleriet och i digital form. Thompson utnyttjar nya medier i sin konst; i Helsingfors vår vi se ett verk som upplevs via smarttelefonen.

Thomas Yeomans (f. 1986) är en videokonstnär som hämtar inspiration dels ur den bubblande popkulturen, dels ur det bildflöde på webben som starkt påverkar vår värld och våra attityder. På utställningen Landscapes of the future visar Yeomans sitt ställningstagande videoverk Eventide.