Into The Wilderness
4.4.-4.5.2014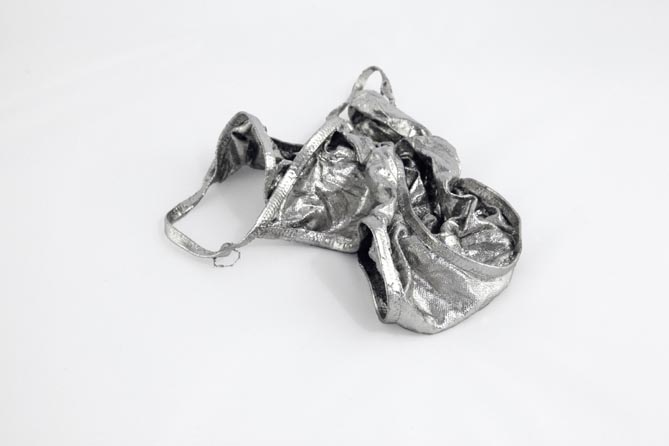 Lightning. It strikes. In a desert and in the dark. It brings light, that moment, that amazing moment. Light, power, tension and the momentariness of time – its simultaneous ephemerality and perfection.

Nature and the experience of nature. A state and a situation, its transitions and repetitions – a representation of this experience in a white cube. The production of closeness, which tears and strips away, brings things close and pulls them far away. Familiar, alien, beautiful and frightening: a video work titled 7BPM.

Liisa Lounila's Into the Wilderness exhibition goes far away and comes back close. It brings with it from the desolate land, into the middle of urban everyday life, the key question about what and how we experience our environment, on this occasion, the purpose being emphatically in relation to the spectacles and extreme phenomena in nature.

This is an experience that is both conveyed and evades us with the aid of and through images. Images of nature, which shape our conception of what nature is, and also of what it should be. We end up in a continuous interaction with what is and how that what is is presented. In Liisa Lounila's case, form and content are combined in video works, a sound work, an installation, and in sculptures. We talk about representation, about the making and breaking of reality.

In the background – as the title of the exhibition implies – that century-old philosophical, life-politics movement from the USA, transcendentalism, which tried to find a way back to wild, original nature, to its power and light. This is about a mythical return to nature, which, in each age, has taken on modes of manifestation and modes of being typical of its own time. Nowadays, it is called experience tourism, finding yourself, and battling to survive on nature's own terms. One element is preserved and remains: the crucial contradiction between assumptions and experience.

"7BPM is a thunderstorm in Arizona photographed from a hotel courtyard. The hotel was on the outskirts of the small town of Chinle, next to the Canyon de Chelly Indian reservation, in the middle of nowhere, surrounded by hundreds of kilometres of badlands, uninhabitable dusty ground, which has been so generously given to the Navajos to live on."

"The thunderstorm is stuck in the canyon, which makes the lightning strike regularly in almost exactly the same place. The storm doesn't move, intensify or abate, but goes on apparently endlessly in an unnaturally stable way, and nothing in the picture or on the soundtrack reacts in any way to the lighting in the background; the frogs and crickets make their music without merging into its monotonous rhythm, and nor does the grass lit up by the lights of the hotel parking lot move at all in the totally still air. There is no catharsis.

"The title of the work comes from this pulse rate, 7 beats per minute. The situation in no way corresponded to thunderstorms I had seen before, which, sometimes more impressively, sometimes less, but nevertheless in some way always induced a feeling of danger, and ultimately a sort of satisfaction. This one simply felt fake. And it looked so perfectly staged, in the same way as Niagara did when backlit, only becoming real when the lights were turned off at night. So, I had to photograph it. This unnatural natural phenomenon."

Staged, fake nature, which is simultaneously fact and fiction. Too true and imperfectly false. Real and distanciated by nature photography, and brought back into a viewing situation in the gallery space. Motion beyond time and travel – bringing close, being close, affecting, compelling.

And that lighting flash, it strikes. Seven times a minute. And when it strikes, you think you understand what is happening, but you stay within the confines of uncertainty. You are in an in-between state. You assume that you understand, and you want to understand, but you still don't know what has hit you, what is affecting you.


Quotations from conversation between Liisa Lounila and Mika Hannula.

Lounila made her debut at the Venice Biennale in 2003. Already at this time the young artist representing Finland made an impression with her distinct nostalgic aesthetic. Lounila is a Helsinki based artist, who has spent and worked several periods of time in New York. Lounila has participated in group exhibitions all over the world and her videos have been screened at numerous film festivals since the late 90's. She has held solo shows at for example Wilkinson Gallery in London and Gallery of Photography in Dublin. Into the Wilderness is Lounila's third solo exhibition at the gallery (Just Can´t Get Enough of Last Night 2011, Been Trying to Meet You 2009).

The exhibition has been supported by: the Alfred Kordelin Foundation, Finnish Cultural Foundation, Taike and Avek.

Special thanks to AV-Arkki, Tuomo Kuusi, Sebastian Tesch, Michael Burke, Mikko Ojanen, Tanja Lahti, Tuomas Klaavo, Merja Pesola and Timo Tervoja.
Salama. Se iskee. Autiomaassa ja pimeydessä. Se tuo valoa, sen hetken, sen hämmästyttävän hetken. Valo, voima, jännite ja ajan hetkellisyys – sen yhtäaikainen katoavaisuus ja täydellisyys.

Luonto ja kokemus luonnosta. Tila ja tilanne, sen siirtymä ja toisto – kokemuksen representaatio valkoisessa kuutiossa. Läheisyyden tuottaminen, joka repii ja riistää, se tuo lähelle ja vedättää kauas pois. Tuttu, vieras, kaunis ja pelottava: videoteos nimeltä 7BPM.

Liisa Lounilan näyttely Into the Wilderness käy kaukana ja palaa lähelle. Se tuo mukanaan autiosta maasta keskelle urbaania arkea keskeisen kysymyksen siitä, mitä ja miten me koemme ympäristöämme, tällä kertaa tarkoituksen korostetusti suhteessa luonnon spektaakkeleihin ja ääri-ilmiöihin.

Se on kokemus, joka välittyy ja väistyy kuvien avulla ja niiden kautta. Kuvat luonnosta, jotka muokkaavat käsitystämme siitä, mitä luonto on ja myös, mitä sen tulisi olla. Päädymme jatkuvaan vuorovaikutukseen sen kanssa, mikä on ja sen, miten se mikä on esitetään. Liisa Lounilan kohdalla muoto ja sisältö yhdistyvät videoteoksissa, ääniteoksessa, installaatiossa ja veistoksissa. Puhumme representaatiosta, todellisuuden muodostamisesta ja murtamisesta.

Taustalla on – näyttelyn nimen mukaisesti – vuosisadan vanha yhdysvaltalainen filosofis-elämänpoliittinen liike transsendentalismi, joka pyrki löytämään tien takaisin villiin ja alkuperäiseen luontoon, sen voimaan ja valoon. Kyse on myytistä luontoon palaamisesta, joka aikojen kuluessa on ottanut aina omalle ajalleen tyypilliset ilmenemis- ja olomuotonsa. Nyt sitä kutsutaan elämysmatkailuksi, itsensä löytämiseksi ja selviämiskamppailuksi luonnon ehdoilla. Yksi elementti säilyy ja pysyy: ratkaiseva ristiriita oletusten ja kokemusten välillä.

"Videoinstallaatio 7BPM on ukkosmyrsky Arizonassa kuvattuna hotellin pihalta. Hotelli oli Chinlen pikkukaupungin reunalla Canyon de Chellyn intiaanireservaatin vieressä keskellä ei-mitään, ympärillä satoja kilometrejä badlandsiä, elinkelvotonta pölymaata, joka Navajoille on armeliaasti annettu asutettavaksi."

"Ukkonen on jumissa kanjonissa, mikä saa salamat iskemään säännöllisesti lähes samaan paikkaan. Myrsky ei liiku, ylly eikä laannu, vaan jatkuu loputtoman tuntuisesti luonnottoman tasaisena, eikä mikään kuvassa tai ääniraidalla reagoi millään tavalla taustan salamointiin, sammakot ja heinäsirkat konsertoivat sekaantumatta monotonisella rytmillä, eikä hotellin parkkipaikan valojen valaisema heinikkokaan liiku ollenkaan täysin tyynessä ilmassa. Mitään katharsista ei tule."

"Teoksen nimi tulee tästä lyöntitiheydestä, 7 iskua minuutissa. Tilanne ei vastannut millään tavalla aiemmin näkemiäni ukkosia, jotka joskus vaikuttavampina, joskus vähemmän kuitenkin jollain tavalla saavat aikaan vaaran tunteen, ja lopulta jonkinlaisen täyttymyksen. Tämä tuntui yksinkertaisesti feikiltä. Ja näytti niin täydellisesti lavastetulta. Se oli siis pakko kuvata. Luonnoton luonnonilmiö."

Lavastettu, feikki luonto, joka on samanaikaisesti faktaa ja fiktiota. Liian totta ja täyttymättömän valheellista. Todellista ja luonnon kuvaamisella etäännytettyä ja galleriatilassa takaisin katsomistilaan tuotua. Liikettä ajan ja matkojen tuolla puolen – lähelle tuoden, lähellä ollen, vaikuttavana, vakuuttavana.

Ja se salama, se iskee. Seitsemän kertaa minuutissa. Ja kun se iskee, luulet ymmärtäväsi, mitä tapahtuu, mutta pysyt epävarmuuden raameissa. Olet välitilassa. Oletat ymmärtäväsi, ja haluatkin ymmärtää, mutta et kuitenkaan tiedä, mikä sinuun iskee, vaikuttaa.


Lainaukset Liisa Lounilan ja Mika Hannulan keskustelusta.

Lounila debytoi Venetsian biennaalissa vuonna 2003. Jo tuolloin Suomea edustanut nuori taiteilija herätti huomiota omaperäisen nostalgisoituneella estetiikallaan. Lounila on helsinkiläinen kuvataiteilija, joka on asunut ja työskennellyt useita periodeja New Yorkissa. Hän on osallistunut ryhmänäyttelyihin ympäri maailmaa ja hänen videoteoksiaan on esitetty lukuisilla festivaaleilla 90-luvun lopulta lähtien. Yksityisnäyttelyitä hän on pitänyt muun muassa Wilkinson Galleryssa Lontoossa ja Gallery of Photographyssa Dublinissa. Into the Wilderness on Lounilan kolmas yksityisnäyttely galleriassa (Just Can't Get Enough of Last Night 2011, Been Trying to Meet You 2009).

Näyttelyä ovat tukeneet Alfred Kordelinin säätiö, Suomen Kulttuurirahasto, Taike ja Avek.

Erityiset kiitokset AV-Arkki, Tuomo Kuusi, Sebastian Tesch, Michael Burke, Mikko Ojanen, Tanja Lahti, Tuomas Klaavo, Timo Tervoja, Merja Pesola


En blixt. Den slår ned. I ödemark, i mörker. Den bringar ljus, ett ögonblick, ett förunderligt ögonblick. Ljus, kraft, spänning och tidens flyktighet – dess samtidiga förgänglighet och fullkomlighet.

Naturen och upplevelsen av naturen. Rum och tillstånd, dess förskjutning och upprepning – erfarenhetens representation i en vit kub. Att framställa närhet som river och sliter, kommer inpå, skjuter ifrån, långt. Bekant, främmande, vackert, skrämmande: ett videoverk vid namn 7BPM.

Liisa Lounilas utställning Into the Wilderness gör en lång resa för att återvända. Från ett öde land återkommer det mitt i den urbana vardagen med den essentiella frågan om vad vi upplever och hur vi uppfattar vår omgivning, denna gång med emfas på naturens spektakel och extrema fenomen.

Det är en upplevelse som förmedlas och viker undan med bilders hjälp, via bilder. Bilder av naturen som formar vår uppfattning om vad naturen är och vad den borde vara. Till slut befinner vi oss i en oavbruten växelverkan med det som är och med hur det som är ska visas, framställas. För Liisa Lounila möts form och innehåll i videoverk, ljudverk, installationer och skulpturer. Vi talar om representation, om hur verklighet skapas och bryts.

Bakom detta ligger – såsom utställningens namn antyder – transcendentalismen, en sekelgammal amerikansk filosofisk-livspolitisk rörelse som vill finna en väg tillbaka till den vilda och ursprungliga naturen, dess kraft och dess ljus. Myten om en återgång till naturen, en myt som under årtiondenas lopp alltid antagit uttrycksformer och skepnader typiska för sin tid. Idag går den under namnet upplevelseturism, "finn dig själv" och överlevnadskamp på naturens villkor. Ett element består: den avgörande konflikten mellan antaganden och erfarenheter.

"Videoinstallationen 7BPM skildrar ett våldsamt åskväder i Arizona, filmat från en hotellgård. Hotellet låg i utkanten av småstaden Chinle bredvid indianreservatet Canyon de Chelly, i mitten av ingenstans, omgivet av hundratals kilometer badland, oduglig torr jord som barmhärtigt getts som boställe åt navajoindianerna."

"Åskan har kört fast i kanjonen så att blixtarna regelbundet slår ned på nästan samma ställe. Stormen rör sig ingenstans. Den varken tilltar eller bedarrar utan bara fortsätter och fortsätter onaturligt jämn, och ingenting i vare sig bild- eller ljudvärlden reagerar på något sätt på blixtarna i bakgrunden, grodorna och gräshopporna konserterar oberörda med sin monotona rytm och inte ens gräset som lyses upp av parkeringsplatsens belysning tycks röra sig i det fullständigt vindstilla vädret. Någon katharsis inställer sig inte."

"Sitt namn har verket fått av blixtfrekvensen, sju nedslag i minuten. Situationen liknade inget av de åskväder jag sett tidigare som ibland mer och ibland mindre imponerande ändå på något vis framkallade en känsla av fara och till sist något slags fullbordan. Det här kändes helt enkelt fejkat. Och såg så totalt iscensatt ut. Så jag bara måste filma det. Ett onaturligt naturfenomen."

En iscensatt, fejkad natur som är fakta och fiktion på en och samma gång. Alltför sann och ofullbordat falsk. Verklig och distanserad genom filmning och sedan återförd till galleriets visningsrum. Rörelse bortom tid och resor – intill, inpå, verkningsfull, övertygande.

Och blixten, den slår ned. Sju gånger i minuten. Och när den slår ned tror du att du begriper vad som sker men du förblir inom osäkerhetens domän. I ett mellantillstånd. Du förmodar att du begriper, du vill begripa, men ändå vet du inte vad det är som drabbar dig, påverkar.

Mika Hannula

Citaten är hämtade från ett samtal mellan Liisa Lounila och Mika Hannula.

Lounila debuterade på Venedigbiennalen 2003. Trots sina unga år representerade hon Finland redan då och väckte uppmärksamhet med sin originellt nostalgiserade estetik. Lounila är en bildkonstnär från Helsingfors som under flera perioder har bott och arbetat i New York. Hon har deltagit i grupputställningar världen runt och hennes videoverk har sedan slutet av nittiotalet visats på talrika festivaler. Separatutställningar har hon haft bl.a. på Wilkinson Gallery i London och Gallery of Photography i Dublin. Into the Wilderness är Lounilas tredje separatutställning i galleriet (Just Can't Get Enough of Last Night 2011, Been Trying to Meet You 2009).

Utställningen understöds av Alfred Kordelins stiftelse, Suomen Kulttuurirahasto, Centret för konstfrämjande och Centret för främjande av audiovisuell kultur Avek.

Ett särskilt tack till AV-Arkki, Tuomo Kuusi, Sebastian Tesch, Michael Burke, Mikko Ojanen, Tanja Lahti, Tuomas Klaavo, Timo Tervoja och Merja Pesola.

Välkommen på konstnärsträff med Liisa Lounila till galleriet söndagen den 27.4.2014 kl. 14.00.