Group exhibition
Inside Out
1.12.-22.12.2023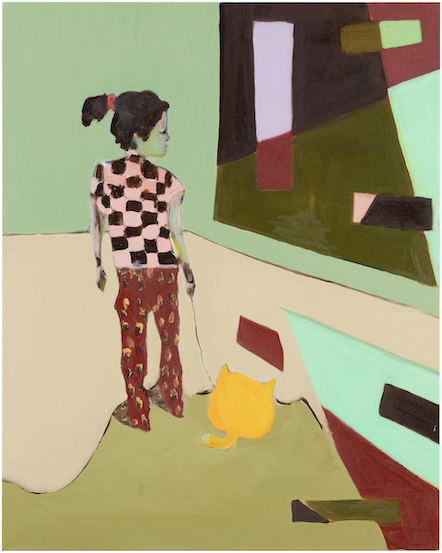 Helsinki Contemporary concludes its 2023 programme with Inside Out, a group exhibition featuring four artists, Kati Immonen, Michael Johansson, Teemu Mäenpää and Rauha Mäkilä, who reflect on interfaces between home and the outside world, the private and the public, and the way our surrounding reality is shaped through a lens of personal interpretation. The exhibition reminds us that while the world changes, home is a place that always retains its meaning, offering a refuge, a source of inspiration, and a safe harbour to which to return. The show's curator Mika Hannula comments:

"Inside Out moves from the level of the familiar and recognizable towards something new and out-of-the-ordinary. The content is themed around interiors and domestic details – settings that are familiar and ordinary to everyone. Intimate interiors and domestic nooks and crannies provide a trampoline for a varied array of connotations. Presented together, the featured paintings and sculptures take us in unexpected directions – the artists' approach to the subject and the functions they invent for everyday objects are surprising, not to mention the visual guises. The close becomes distant, the familiar is made strange, and the mundane acquires a storybook quality – or vice versa.
Filling the floors and walls of the gallery, the exhibits delve into the oft-forgotten, unnoticed details at the core of our everyday experiential existence. The exhibition captures life's recurring events on an imaginary level, linking together the tangible and the utopian, realism and poetry. It moves from inside out, transitioning from the private to the public sphere, with imagination serving as the vehicle for navigating this transition. Inside Out is a visual journey that conflates form with content, engagingly and playfully revealing new perspectives and associations.
The core tropes of the exhibition are 'recycled' commonplace household items that perform surprising new functions (Johansson). Or, applying a converse logic, 'big', inescapable themes are condensed in miniature, internalized form (Immonen). Inside Out also revels in the idiosyncratic qualities of everyday objects, celebrating their specificity through the medium and expressive tools of painting (Mäkilä). A painting can also serve as a window through which we observe an unknown but appealing turn of events that reveals kindness to be not an encumbrance but an exceptionally beautiful resource (Mäenpää)."

Kati Immonen is reinventing watercolour painting as a medium for contemporary art, leveraging the impressions of lightness and ease often associated with the technique. Immonen's watercolour works are marked by direct and powerful expression, with themes ranging from war to ecological concerns and the richness of nature. Her creations, resembling fairy tales, often include a hint of dark humor and irony, weaving in warm humour in these rich, evolving depictions.

Michael Johansson deals with ordinary objects we all recognize, but in a way far from the ordinary. Driven by the agenda to densify the world, objects are morphed into precisely stacked rectangular shapes, connected to a certain place, where their original purpose are transformed into catalysts of new meanings. Found objects within the same colour range are reconstructed into a homogeneous image of a fictional life reinforced by our collective imaginary: the compressed scenery from a time gone by.
Teemu Mäenpää's roots are in street art, but he is also known for creating large-scale murals. In his paintings, he combines masterful technique with expressive and strong emotional expression, as well as intensive use of colours. His mixed-media paintings are endlessly detailed. The appeal of Mäenpää's works lies above all in the impact of individual gestures. Over time, the painted surface reveals ever more subtle marks, concealed traces, and intentions.
Rauha Mäkilä draws inspiration for her art from everyday occurrences, her own family and life, and imagery from popular culture. The essence of materiality and color is central in Mäkilä's paintings. She plans her paintings carefully in advance, but leaves room for surprise and coincidence – space for the painting to be and to become an event in its own way, via the means of painting. In recent years, Mäkilä has reflected on her own position and work as an artist. Cats, our life companions, have been given their deserved significance by featuring them in her paintings.



Kati Immonen (b. 1971, Jyväskylä) graduated from the Department of Painting at Turku School of Fine Arts in 1997. Her works have been widely exhibited in group and solo exhibitions in Finland and abroad, including at the Nordic Watercolour Museum and Turku Art Museum. Immonen's works are included in several Finnish public collections as well as the collection of the Nordic Watercolour Museum. She has also realized several public art works, most recently including two EMMA-curated works 'Monument' (2022) as part of the Matinkylä Art Tunnels project, and 'Sheltered by Rhododendrons' (2022) in Laajalahti, Espoo. Thank you to the Arts Promotion Centre Finland (Taike) for supporting the artist's work.

After studying at the Art Academy in Trondheim, Norway, and Kunsthochschule Berlin Weissensee in Germany, Michael Johansson (b. 1975, Trollhättan, Sweden) earned his master's degree from Malmö Art Academy, Sweden, in 2005. Since then, he has participated in several residencies and has exhibited frequently both within Sweden and internationally. Some of his most notable solo exhibitions have been held at the Museum Voorlinden, Netherlands and Göteborg Art Museum, Sweden. He has also realized several public art works, including 'Some Assembly Required – Déjà Vu' (2020) at The Regiment Park in Tuusula, Finland. Johansson currently resides and works in Berlin, Germany.

Teemu Mäenpää (b. 1977) is a visual artist from Tampere who graduated from the Academy of Fine Arts, Helsinki, in 2008. Mäenpää's works have been shown in several exhibitions in Finland and abroad, including Turku Art Museum, Gallery Halmetoja and ARTag Gallery. His works are in the collections of Tampere and Turku Art Museums, the Nelimarkka Foundation, Saastamoinen Foundation, and the Espoo Museum of Modern Art – EMMA, as well as in Seppo Fränti's Collection at Museum of Contemporary Art Kiasma. Mäenpää has also created several public commissioned artworks and was awarded the William Thuring Prize by the Finnish Art Society in 2018. Thank you to the Arts Promotion Centre Finland (Taike) for supporting the artist's work.

Rauha Mäkilä (b. 1980) is a Helsinki-based visual artist who graduated from the Finnish Academy of Fine Arts in 2007. Her works have been featured in numerous solo and group exhibitions, including at the Ars Nova Museum in Turku; Munch Gallery in New York; Kemper Museum of Contemporary Art in Kansas City; EMMA – Espoo Museum of Modern Art, and Landskrona Museum in Sweden. Mäkilä's works are included in several significant collections, such as the City of Gothenburg, HAM Helsinki Art Museum, Museum of Contemporary Art Kiasma, and the Saastamoinen Foundation collections. Thank you to The Arts Promotion Centre Finland (Taike) and The Finnish Cultural Foundation for supporting the artist's work.
Helsinki Contemporaryn vuoden 2023 ohjelmiston päättävässä Inside Out -ryhmänäyttelyssä neljä taiteilijaa, Kati Immonen, Michael Johansson, Teemu Mäenpää ja Rauha Mäkilä, pohtivat kodin ja ulkomaailman, yksityisen ja yhteisen rajapintaa, miten ympäröivä todellisuus muovautuu henkilökohtaisten tulkintojen kautta. Näyttely muistuttaa, että maailman muuttuessa koti säilyttää merkityksensä, tarjoten turvaa, inspiraatiota ja paikan, johon palata. Näyttelystä kertoo kuraattori Mika Hannula:
"Inside Out liikkuu jostakin tutusta ja tunnistettavasta kohti jotakin uutta ja erityistä. Näyttelyn lähtökohtana ovat sisätilat, kodin yksityiskohdat, se mikä on kaikille tuttua ja arkipäiväistä. Konnotaatioiden trampoliinina toimii kotoisa ympäristö, oma asunto, sen eri kulmat ja kommervenkit. Maalausten ja veistosten muodostama kokonaisuus avautuu kohti jotakin ennalta arvaamatonta – näyttelyssä aiheen lähestyminen sekä arkisten esineiden käyttötavat yllättävät, unohtamatta ulkonäköä. Aiemmin läheinen on etäännytetty, tullut oudoksi, ja arkinen puolestaan sadunomaiseksi – tai toisin päin.
Galleriatilan lattia- ja seinäpinnoille levittäytyvien teosten taustalla vaikuttavat usein unohtuvat ja huomaamatta ohitettavat yksityiskohdat, joista arki muodostuu ja joissa arjen kokemuksellisuus kohdentuu. Tämä toistuva tapahtuma todentuu näyttelyssä kuvitteellisella tasolla, yhdistäen konkretian ja utopian, realismin ja runollisuuden. Kyse on siirtymästä sisältä ulos, yksityisestä julkiseen – mielikuvituksen vaikutuksen alaisena olemisesta ja sen kautta navigoimisesta. Inside Out on visuaalista liikettä, jossa muoto ja sisältö kohtaavat, paljastaen uusia näkökulmia ja yhtymäkohtia nautinnollisesti, leikkisästi.
Näyttelyn ytimen muodostavat helposti tunnistettavien kotiesineiden uudelleen käyttäminen ja niille yllättävän funktion hahmottaminen (Johansson). Vastaavasti idea aukeaa käänteisellä logiikalla, näyttäen ison ja tutun tematiikan pienessä ja sisäistetyssä ympäristössä (Immonen). Inside Out on yhtä lailla arkisten esineiden erityisyyksistä nauttimista ja niiden kunnioittamista maalauksen keinoin ja välinein (Mäkilä). Maalaus on läsnä myös ikkunana, jonka kautta katsotaan tuntematonta, mutta houkuttelevaa käännettä, missä kiltteys ei ole rasite vaan erinomaisen kaunis voimavara (Mäenpää)."
Kati Immonen uudistaa vesivärimaalausta yhtenä nykymaalaustaiteen mediana hyödyntäen tekniikkaan usein yhdistettävää kepeyden ja helppouden vaikutelmaa. Immosen taidokkaissa vesiväriteoksissa ilmaisu on suoraviivaista ja voimakasta, kuva-aiheet ja tarinat vaihtelevat sota-aiheista ekologisiin kysymyksiin ja luonnon rikkauksista nauttimiseen. Sadunomaisten teosten kuvalliset viittaukset sisältävät myös hyppysellisen mustaa huumoria ja ironiaa.
Michael Johansson rakentaa neliskulmaiset veistoksensa ja palapelinomaiset installaationsa löytämistään arkisista objekteista. Hän on kiinnostunut materian tiivistämisestä muodoiksi, tilan mahdollisuuksista ja rajoituksista. Rekonstruoituina yhdenmuotoiseksi, esteettiseksi pinnaksi esineiden alkuperäinen tarkoitus katoaa, ne saavat uuden elämän ja merkityksen. Muotojen, värien ja kuvioiden yhteispeli muodostaa oman leikkisän ja mielikuvituksellisen logiikkansa.
Teemu Mäenpään juuret ovat katutaiteessa, mutta hänet tunnetaan myös suurten seinämaalausten tekijänä. Mäenpään maalauksissa taiturimainen tekniikka yhdistyy ekspressiiviseen ja vahvaan emotionaaliseen ilmaisuun sekä intensiiviseen värienkäyttöön. Hänen sekatekniikalla toteutetut maalaukset ovat ehtymättömän yksityiskohtaisia. Mäenpään teosten vetovoima piilee ennen kaikkea yksittäisten eleiden vaikuttavuudessa. Ajan kanssa tarkasteltuna maalauspinta paljastaa alati lisää hienovaraisia merkintöjä ja aikomuksia.

Rauha Mäkilä ammentaa taiteeseensa omasta kokemusmaailmastaan, arkipäivän tilanteista ja populaarikulttuurin kuvastosta. Mäkilän maalauksissa keskeistä on materiaalisuus, värin olemus. Hän suunnittelee maalauksensa huolella etukäteen, mutta jättää yllätyksille ja sattumalle sijaa – maalaukselle tilaa olla sekä tulla tapahtumaksi omalla tavalla, maalauksen keinoin. Mäkilä on pohtinut teoksissaan viime vuosina omaa positiotaan ja työtään taiteilijana. Myös kissoille, elinkumppaneillemme, on annettu niiden ansaitsema merkitys asettamalla ne maalauksen kohteeksi.
Kati Immonen (s. 1971) valmistui kuvataiteilijaksi Turun Piirustuskoulusta vuonna 1997. Hänen teoksiaan on ollut laajalti esillä ryhmä- ja yksityisnäyttelyissä Suomessa ja ulkomailla mm. Nordiska Akvarellmuseetissa ja Turun taidemuseossa. Immosen teoksia sisältyy useisiin suomalaisiin julkisiin kokoelmiin sekä Nordiska Akvarellmuseetin kokoelmaan. Hän on lisäksi toteuttanut lukuisia julkisia taideteoksia, viimeisimpänä EMMAn kuratoimat Muistomerkki (2022) osana Matinkylän taidetunnelit -hanketta sekä Rhodojen suojassa (2022) Laajalahteen, Espooseen. Kiitos Taiteen edistämiskeskus (Taike) taiteilijan työskentelyn tukemisesta.

Opiskeltuaan Trondheimin taideakatemiassa Norjassa ja Kunsthochschule Berlin-Weißenseessä Saksassa, Michael Johansson (s. 1975) suoritti maisterin tutkintonsa Malmön taideakatemiassa, Ruotsissa, vuonna 2005. Hän on osallistunut useisiin residenssiohjelmiin ja näyttelyihin sekä Ruotsissa että kansainvälisesti mm. Museum Voorlinden, Alankomaat, Galleri Andersson/Sandström ja Göteborgin taidemuseo, Ruotsi. Hän on lisäksi toteuttanut lukuisia julkisia taideteoksia, ml. Some Assembly Required – Déjà Vu (2020) Tuusulan Rykmentinpuistoon. Johansson asuu ja työskentelee Berliinissä.
Teemu Mäenpää (s. 1977) on Kuvataideakatemiasta 2008 valmistunut tamperelainen kuvataiteilija. Hänen teoksiaan on ollut esillä useissa näyttelyissä Suomessa ja ulkomailla, mm. Turun taidemuseossa, Galleria Halmetojassa ja ARTag-galleriassa. Hänen tuotantoaan lukeutuu mm. Turun taidemuseon, Saastamoisen säätiön ja Espoon modernin taiteen museon EMMAn kokoelmiin sekä Seppo Fräntin kokoelmaan Nykytaiteen museo Kiasmassa. Mäenpää on toteuttanut useita julkisia tilausteoksia ja hänet on palkittu Suomen taideyhdistyksen William Thuring -palkinnolla vuonna 2018. Kiitos Taiteen edistämiskeskus (Taike) taiteilijan työskentelyn tukemisesta.

Rauha Mäkilä (s. 1980) on Kuvataideakatemiasta vuonna 2007 valmistunut helsinkiläinen kuvataiteilija. Hänen teoksiaan on ollut esillä lukuisissa yksityis- ja ryhmänäyttelyissä mm. Ars Nova -museossa Turussa; Munch Galleryssa New Yorkissa; Kemper Museum of Contemporary Artissa, Kansas Cityssa; EMMA – Espoon modernin taiteen museossa ja Landskrona Museumissa, Ruotsissa. Mäkilän tuotantoa sisältyy useisiin merkittäviin kokoelmiin, ml. Göteborgin kaupungin, HAM Helsingin taidemuseon, Nykytaiteen museo Kiasman ja Saastamoisen säätiön kokoelmat. Kiitokset Taiteen edistämiskeskukselle ja Suomen Kulttuurirahastolle taiteilijan työskentelyn tukemisesta.
I grupputställningen Inside Out, som avslutar Helsinki Contemporarys program år 2023, begrundar fyra konstnärer, Kati Immonen, Michael Johansson, Teemu Mäenpää, Rauha Mäkilä, kontaktytan mellan hemmet och den yttre världen, det privata och det gemensamma samt hur den omgivande verkligheten formas genom personliga tolkningar. Utställningen påminner oss om att hemmet bevarar sin betydelse som en trygg, inspirerande plats man kan återvända till – trots den föränderliga världen. Kurator Mika Hannula berättar om utställningen:
"Inside Out rör sig från det bekanta och identifierbara mot något nytt och speciellt. Utgångspunkten för utställningen är inomhusmiljöer, hemmets detaljer, det som är bekant och vardagligt för alla. Den hemtrevliga miljön, den egna bostaden, dess olika vinklar och vrår fungerar som en trampolin för konnotationerna. Helheten som består av målningar och skulpturer öppnar sig mot något oförutsägbart – i utställningen överraskas man av hur konstnärerna närmar sig ämnet och hur vardagliga föremål används, för att inte tala om hur de ser ut. Vi har fjärmat oss från det som tidigare stod oss nära, det har blivit konstigt och vardagen har blivit sagolik – eller tvärtom.
Konstverken som fyller galleriets väggar och golv fördjupar sig i detaljer som ofta förbises och glöms bort, men som utgör vardagens byggstenar och står i fokus för våra vardagsupplevelser. Den här återkommande händelsen förverkligas i utställningen på en fiktiv nivå, i en kombination av konkretion och utopi, realism och poesi. Det handlar om en övergång inifrån och ut, från privat till offentligt – från att vara påverkad av fantasin och navigera enligt det. Inside Out är en visuell rörelse där form och innehåll möts, där nya synvinklar och beröringspunkter njutningsfullt och lekfullt avslöjas.
Utställningens kärna utgörs av lättigenkännliga föremål från hemmet som används på nya sätt och hur deras nya överraskande funktioner gestaltas (Johansson). På motsvarande sätt kan en idé förklaras med omvänd logik, den stora och bekanta tematiken kan visas i en liten och internaliserad miljö (Immonen). Inside Out är lika mycket att njuta av särdragen hos vardagliga föremål som att respektera dem med målningens metoder och redskap (Mäkilä). Måleriet är också närvarande som ett fönster, genom vilket man betraktar en okänd, men lockande vändpunkt där vänlighet inte är en börda utan en mycket vacker resurs (Mäenpää)."
Kati Immonen förnyar akvarellen som ett medium för samtida målerikonst och drar nytta av den kombination av lättsamhet och enkelhet som tekniken oftast utstrålar. I Immonens skickliga akvarellverk är uttrycket rätlinjigt och starkt, bildmotiven och berättelserna varierar från krigsteman till ekologiska frågor och förmågan att njuta av naturens rikedom. Bildreferenserna i de sagolika verken innehåller också en smula svart humor och ironi.
Michael Johansson bygger sina fyrkantiga skulpturer och pusselaktiga installationer av vardagliga objekt som han hittar. Han är intresserad av att komprimera materia till former, av utrymmets möjligheter och begränsningar. När föremålen rekonstruerats till likformiga, estetiska ytor försvinner deras ursprungliga mening och de får ett nytt liv och en ny innebörd. Samspelet mellan former, färger och mönster bildar sin egen lekfulla och fantasifulla logik.
Teemu Mäenpää har sina rötter i gatukonsten, men är också känd för sina stora väggmålningar. I hans målningar kombineras den mästerliga tekniken med expressiva och starkt emotionella uttryck samt en intensiv användning av färger. Målningarna med hans blandteknik är oändligt detaljerade. Attraktionskraften hos Mäenpääs verk ligger främst i de enskilda åtbördernas effektfullhet. När man granskar målningarnas yta mer ingående avslöjas ständigt fler subtila markeringar, övertäckta märken och avsikter.
Rauha Mäkilä låter sig i sin konst inspireras av sina egna erfarenheter, vardagliga situationer och populärkulturens bildvärld. Det centrala i Mäkiläs målningar är materialiteteten, färgens väsen. Hon planerar sina målningar omsorgsfullt på förhand, men lämnar utrymme för överraskningar och slumpen. Det ger målningarna utrymme att vara en händelse och bli en händelse på sitt eget sätt, på de sätt en målning erbjuder. I sina verk har hon under de senaste åren begrundat sin egen position och sitt arbete som konstnär. Också våra livskamrater katterna har getts den betydelse de förtjänar när hon förevigat dem i sina målningar.

Kati Immonen f. 1971) utexaminerades som bildkonstnär från Åbo Ritskola år 1997. Hennes verk har i omfattande grad visats på grupp- och separatutställningar i Finland och utomlands, bland annat vid Nordiska Akvarellmuseet och Åbo konstmuseum. Immonens verk ingår i flera finländska offentliga samlingar och i Nordiska Akvarellmuseets samling. Hon har dessutom förverkligat flera offentliga konstverk. Bland de senaste kan nämnas kuraterade av EMMA, Monument (2022), som är en del av projektet Mattby konsttunnlar, och Skyddad av Rhododendron (2022) i Bredvik, Esbo. Tack Centret för konstfrämjande (Taike) för stödet till konstnärens arbete.

Efter studier vid Trondheims konstakademi i Norge och Kunsthochschule i Berlin-Weißensee i Tyskland avlade Michael Johansson (f. 1975) magisterexamen vid Malmö konstakademi i Sverige år 2005. Han har deltagit i flera residensprogram och utställningar i såväl Sverige som internationellt, bland annat vid Museum Voorlinden, Nederländerna, Galleri Andersson/Sandström och Göteborgs konstmuseum, Sverige. Han har dessutom förverkligat flera offentliga konstverk, inkl. Some Assembly Required – Déjà Vu (2020) i Tusby. Johansson bor och arbetar i Berlin.

Teemu Mäenpää (f. 1977) är en bildkonstnär från Tammerfors, utexaminerad från Bildkonstakademin 2008. Hans verk har visats på flera utställningar i Finland och utomlands, bland annat på Åbo konstmuseum, Galleria Halmetoja och ARTag-galleriet. Hans verk ingår bland annat i Tammerfors konstmuseums, Åbo konstmuseums och Esbo moderna konstmuseum EMMAS samlingar samt i Seppo Fräntis samling i Museet för nutidskonst Kiasma. Mäenpää har skapat flera offentliga konstverk och belönats med Finska konstföreningens William Thuring-pris år 2018. Tack Centret för konstfrämjande (Taike) för stödet till konstnärens arbete.
Rauha Mäkilä (f. 1980) utexaminerades från Bildkonstakademin år 2007 och är en bildkonstnär bosatt i Helsingfors. Mäkiläs verk har visats på flera separat- och grupputställningar, bland annat på Museet Art Nova i Åbo; Munch Gallery i New York; Kemper Museum of Contemporary Art i Kansas City; EMMA – Esbo moderna konstmuseum och Landskrona Museum i Sverige. Mäkiläs produktion ingår i många betydelsefulla samlingar såsom Göteborgs stads, Helsingfors konstmuseum HAM:s, Museet för nutidskonst Kiasmas och stiftelsen Saastamoisen säätiös samlingar. Tack till Centret för konstfrämjande (Taike) och Finska Kulturfonden för deras stöd.