Five Space Helmets After Les Demoiselles d'Avignon
1.4.-30.4.2022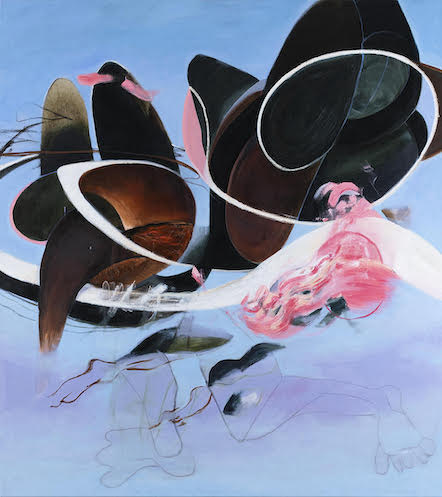 Ville Löppönen's solo exhibition Five Space Helmets After Les Demoiselles d'Avignon will be on show at Helsinki Contemporary in April. It takes its starting point in two of Pablo Picasso's cubist masterpieces, Les Demoiselles d'Avignon (1907) and Guernica (1937). Through these two works Löppönen has dealt with metamorphosis – transformation – both in his own art and in the surrounding world.
Löppönen's production has long been characterized by working from a photograph, precisely imitating reality. His works were last shown in the gallery in spring 2019. It was then that his expression took its first steps in a more abstract, more expressive direction, and his working process drew inspiration from art history. Picasso's cubist works have inspired Löppönen to change the way he paints for Five Space Helmets After Les Demoiselles d'Avignon. This new way of working has led to an accentuation of painterliness, to forms that are freer than before, and to more vigorous brushstrokes:
"From the viewpoint of painterliness the topical aspect is linked to the transformation going on in my painting. This is a metamorphosis, or a reshaping of form. Cubism's approach has interested me and given me room to look ahead at things through a multiplicity of viewpoints."
Metamorphosis is also manifested in Löppönen's new works in the fragmentariness and multiplicity of points of view characteristic of our time. He has observed the world from several different directions, as Picasso once did in the cubist Les Demoiselles d'Avignon. Löppönen's paintings contain human figures and organic forms floating in a vacuum-like space, figures that seem to be in the grip of metamorphosis. The form may be more fragmented than before, but we can still find harmony and beauty in it.
Löppönen is fascinated by the idea of light as a creative force and as a driver of metamorphosis. Light is part of a painting's colours and forms, but Löppönen has also contemplated the deeper nature of light – how it can change something that already exists and our interpretation of it.
Ville Löppönen (b. 1980, Savonlinna) graduated with a Master's in Fine Arts in 2007 and a Master's in Orthodox Theology in 2018. His works have been shown widely both in Finland and abroad, including in the North America and Australia. His works are in collections including those of Kiasma, Oulu Art Museum, and Turku Art Museum, in The Niemistö Collection, and in numerous private collections in Finland and abroad. Thank you to the Arts Promotion Centre Finland (Taike), VISEK Centre for the Promotion of Visual Art and People´s Cultural Fund for supporting the artist's work.
Ville Löppösen yksityisnäyttely Five Space Helmets After Les Demoiselles d'Avignon nähdään Helsinki Contemporaryssa huhtikuussa. Näyttelyn lähtökohtana on kaksi Pablo Picasson kubistista merkkiteosta Avignonin naiset (1907) sekä Guernica (1937). Teosten kautta Löppönen on käsitellyt metamorfoosia, muodonmuutosta, omassa taiteessaan sekä ympäröivässä maailmassa.
Löppösen tuotannolle on ollut pitkään ominaista työskentely valokuvan pohjalta, todellisuutta tarkasti jäljentäen. Viimeksi hänen teoksiaan oli esillä galleriassa keväällä 2019. Tuolloin taiteilijan ilmaisu otti ensiaskeleensa abstraktimpaan ja ekspressiivisempään suuntaan ja työskentely haki innoitusta taidehistoriasta. Picasson kubistiset teokset innoittivat Löppöstä muuttamaan maalaustapaansa Five Space Helmets After Les Demoiselles d'Avignon -näyttelyä varten. Uusi työskentelytapa on johtanut maalauksellisuuden korostumiseen, aiempaa vapaampiin muotoihin ja voimakkaampiin siveltimenvetoihin:
"Ajankohtaisuus maalauksellisuuden näkökulmasta liittyy murrokseen, joka on meneillään maalaamisessani. Kyse on muodonmuutoksesta, tai muodon uudelleen muotoutumisesta. Kubismin näkökulma on kiinnostanut minua ja antanut tilaa katsoa asioita eteenpäin näkökulmien moninaisuuden läpi."
Metamorfoosi ilmenee Löppösen uusissa teoksissa myös ajalle ominaisena sirpaleisuutena ja näkökulmien moninaisuutena. Hän on tarkastellut maailmaa useasta eri suunnasta, kuten Picassokin aikoinaan kubistisessa Avignonin naiset -teoksessaan. Löppösen maalauksissa on tyhjiön kaltaisessa tilassa leijuvia ihmishahmoja ja orgaanisia muotoja, jotka tuntuvat olevan muodonmuutoksen kourissa. Aiempaa pirstotummassa muodossa on kuitenkin löydettävissä harmoniaa ja kauneutta.
Löppöstä kiehtoo ajatus valosta luomisvoimana ja metamorfoosin liikuttajana. Valo on osa maalauksen värejä ja muotoja, mutta taiteilija on pohtinut myös valon syvempää olemusta – kuinka valo voi muuttaa jo olemassa olevaa ja tulkintaamme siitä.
Ville Löppönen (s. 1980, Savonlinna) on valmistunut kuvataiteen maisteriksi vuonna 2007 sekä ortodoksisen teologian maisteriksi vuonna 2018. Löppösen teoksia on ollut laajalti esillä sekä Suomessa että kansainvälisesti, muun muassa Pohjois-Amerikassa ja Australiassa. Hänen teoksiaan on muun muassa Kiasman, Oulun taidemuseon, Turun taidemuseon ja Niemistö-kokoelmassa, sekä lukuisissa yksityiskokoelmissa Suomessa ja ulkomailla. Kiitokset Taike, Visuaalisen taiteen edistämiskeskus VISEK ja Kansan Sivistysrahasto taiteilijan työn tukemisesta.
Ville Löppönens soloutställning Five Space Helmets After Les Demoiselles d'Avignon visas på Helsinki Contemporary i april. Utgångspunkten för utställningen är två viktiga kubistiska verk av Pablo Picasso, Flickorna från Avignon (1907) och Guernica (1937). Utifrån verken har Löppönen behandlat metamorfosen, omvandlingen, av såväl hans egen konst som den omgivande världens.
Länge har det utmärkande för Löppönens konst varit att arbeta utifrån fotografier, med noggrann avbildning av verkligheten. Senaste gången han ställde ut sin verk på galleriet var våren 2019. Då tog konstnären sitt första steg i riktning mot ett mer abstrakt och expressivt uttryck och arbetet hämtade han inspiration ur konsthistorien. Picassos kubistiska verk gav Löppönen impulsen att förändra sitt sätt att måla inför utställningen Five Space Helmets After Les Demoiselles d'Avignon. Det nya arbetssättet har lett till en betoning av det måleriska, friare former än förut och kraftfullare penseldrag.
"Det som är aktuellt ur målerisk synvinkel hänger samman med den omvälvning som är på gång i mitt måleri. Vad det handlar om är en metamorfos, eller en omvandling av formen. Kubismens perspektiv har väckt ett intresse hos mig och skapat utrymme för att blicka framåt utifrån många olika synvinklar.
I Löppönens nya verk ger metamorfosen också uttryck åt den splittring och det mångfald av synvinklar som utmärker vår tid.Han har undersökt världen från många olika håll, som Picasso på sin tid gjorde i sitt kubistiska verk Flickorna i Avignon. I Löppönens målningar svävar mänskogestalter och organiska former i ett vakuumliknande rum, och känns som om de håller på att genomgå en metamorfos. I den tidigare mörka formen som håller på att splittras finns det likväl harmoni och skönhet.
Löppönen fascineras av tanken på ljuset som skapande kraft och metamorfosen som drivande kraft. Ljuset utgör en del av målningens färg och form, men konstnären har även funderat över ljusets djupare väsen – hur ljuset kan förändra det som redan existerar och vår tolkning av det.
Ville Löppönen (f. 1980, Nyslott) utexaminerades som bildkonstmagister 2007 och magister i ortodox teologi 2018. Löppönens verk har visats i stor omfattning både i Finland och internationellt, bland annat i Nordamerika och Australien. Hans verk ingår bl.a. i samlingarna på Kiasma, Uleåborgs konstmuseum, Åbo konstmuseum och Samling Niemistö, samt i ett flertal privatsamlingar i Finland och utomlands. Vi tackar Centret för konstfrämjande TAIKE, Centralen för främjande av visuell konst VISEK och Folkets kulturfond för deras stöd till konstnären.