Desert Music
5.2.-28.2.2021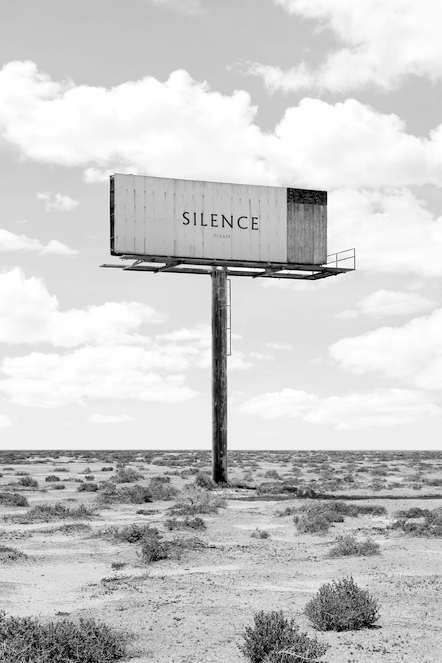 Ville Andersson's solo exhibition Desert Music consists of photographs, drawings, digitally produced images and works created with vinyl sticker, born in the vastness of a desert. The artist's working process has been intuitive, the sizes, densities and textures varying from one work to the other bring a controlled rhythm and intensity to the exhibition. The starting points for Andersson's works, often abstract, are in majestic nature – in rays of sun, dunes and rock formations. The absence of a human figure in the new series of works creates a pronounced feeling of presence; human traces can be sensed in the timeless and placeless desert, and resonate as silent echoes in our ears.

Ville Andersson (b. 1986) graduated from the Finnish Academy of Fine Arts in the spring of 2012. The following autumn, he held his debut solo exhibition at Helsinki Contemporary. Since then, he has shown in Finland, with touring solo exhibitions in Tammisaari, Loviisa and Vaasa and the Young Artist of the Year award exhibitions in Tampere Art Museum and in Turku at Aboa Vetus & Ars Nova. Andersson has also exhibited actively outside of Finland, e.g. in Tokyo at LOKO Gallery and Diesel Art Gallery and Germany at Salon Dahlmann, Samuelis Baumgarte Galerie and Museum Weserburg. He has shown at art fairs such as ARCOMadrid, Marker Art Fair and CHART Art Fair. In 2018 he was artist in residence at the Watermill Centre in New York. His works are represented in the central public collections in Finland such as the Saastamoinen Foundation, Museum of Contemporary Art Kiasma, Wihuri Foundation and Amos Rex. His upcoming and recent projects include designs for the new tram stations in Tampere, works created for family rooms at Kerava health station and a new graphic look for the Academic Bookstore. In 2020, Andersson was awarded the Watermill Center's Inga Maren Otto Fellowship.
Ville Andessonin
yksityisnäyttely
Desert Music
koostuu aavikon avaruudessa syntyneistä valokuvista, piirustuksista, digitaalisesti tuotetuista kuvista ja viinyylitarralla toteutetuista teoksista. Taiteilijan työskentelyprosessi on ollut intuitiivinen, tekniikasta toiseen vaihtelevat koot, tiheydet ja tekstuurit luovat kokonaisuudelle hallitun rytmin ja intensiteetin. Monesti abstrahoitujen teosten lähtökohdat ovat jylhässä luonnossa – auringonsäteissä, dyyneissä ja kalliomuodostelmissa. Ihmishahmon puuttuminen teossarjasta synnyttää korostuneen läsnäolon tunteen; ajattomalla ja paikattomalla aavikolla aistittavat ihmisen jäljet soivat hiljaisina kaikuina korvissamme.
Ville Andersson
(s. 1986) valmistui Kuvataideakatemiasta vuonna 2012, hänen ensimmäinen yksityisnäyttelynsä Helsinki Contemporaryssa nähtiin samana vuonna. Andersson nimettiin vuoden nuoreksi taiteilijaksi 2015. Taiteilijan teoksia on esitetty laajalti Suomessa ja ulkomailla, muun muassa EMMA – Espoon modernin taiteen museossa; The National Art Centerissä Tokiossa; Vitraria Glass +A Museumissa Venetsiassa; Weserburg Museum für Moderne Kunstissa Bremenissä, Saksassa; Centrum för Fotografissa Tukholmassa ja FOMU – Fotomuseum Provincie Antwerpenissa, Belgiassa. Anderssonin teoksia on mm. Saastamoisen säätiön, Nykytaiteen museo Kiasman, Amos Anderssonin taidemuseon, Pro Artibuksen ja Jenny ja Antti Wihurin rahaston kokoelmissa. Taiteilijan tuleviin ja viimeaikaisiin projekteihin lukeutuvat muun muassa painatukset Tampereen uusien raitiovaunupysäkkien katoksiin, Keravan terveyskeskuksen perhehuoneisiin toteutettavat taideteokset, Akateemisen kirjakaupan graafinen ilme 125-vuotisjuhlavuoden kunniaksi ja osana Helsingin Juhlaviikkojen Open Art Gallery -hanketta toteutettu teos. Anderssonille myönnettiin vuonna 2020 The Wattermill Centerin Inga Maren Otto Fellowship -stipendi.