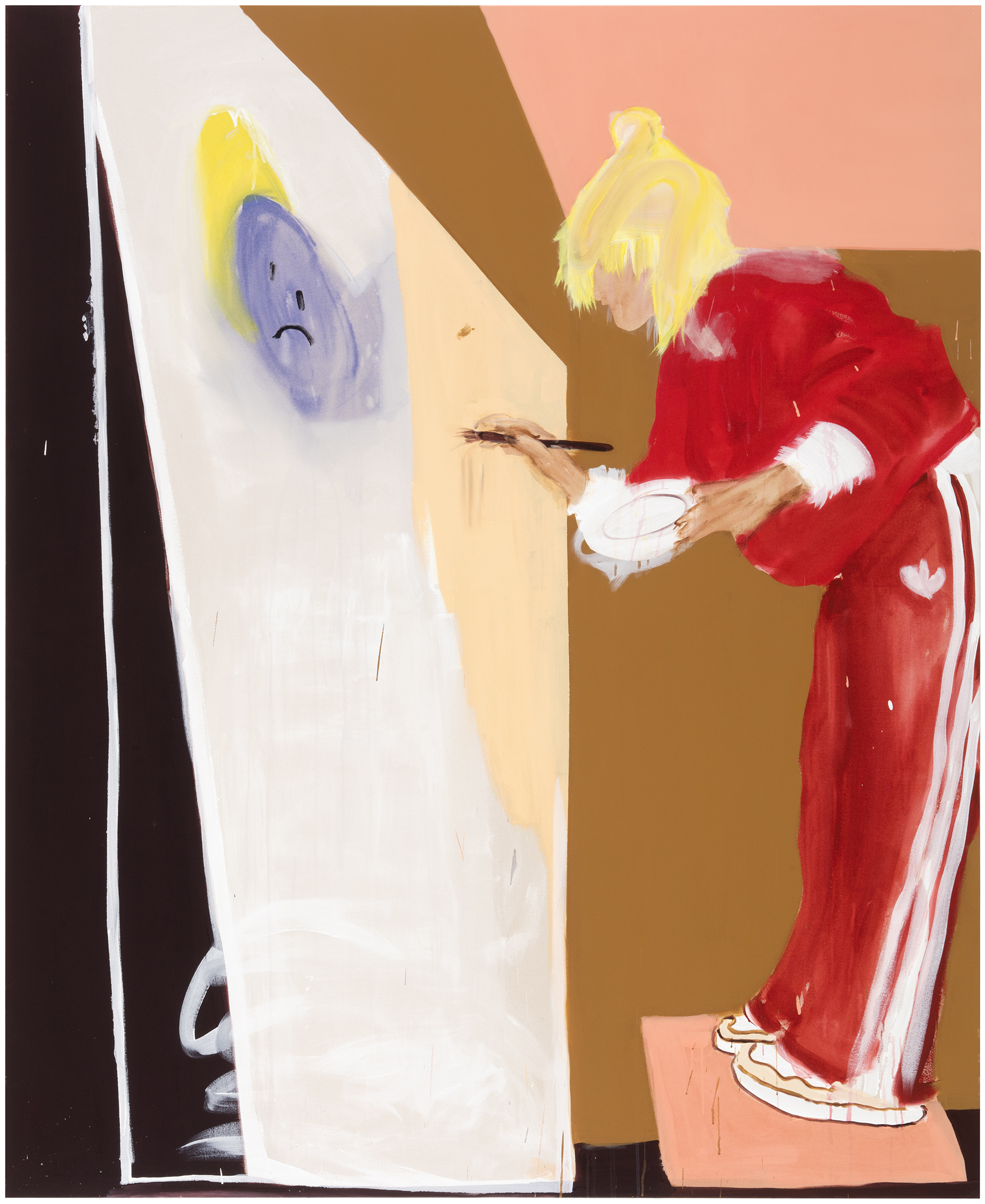 Rauha Mäkilä's DEAR with its radiant paintings and lived moments launches our autumn season. This exhibition of new works on canvas is Mäkilä's fifth solo show at Helsinki Contemporary.
In these works Mäkilä carries on her depiction of her family and of everyday moments. As the title says, those seen on their everyday adventures here are the artist's dear ones, friends and family members. The works come close and depict closeness, giving rise to images and encounters that we can strongly identify with. Renditions of ordinary moments expand to become shared experiences: "What fascinates me about everyday life is its self-evidentness, since every one of us lives an everyday life, whether it be grim or awesome, but we live it anyway. Our own everyday lives and realities usually help us in our mirroring of emotions and in the way we envisage the world," Mäkilä says. These large-format works elevate ordinary moments and the warmth that they generate into something significant and necessary.
The play and interplay of colours gives rise to powerful tensions: taking turns on the picture surface are mint greens, bright reds and yellows, along with deep blues and shades of brown. An investigation of the relationships between colours has led to the emergence of powerful spaces inside the paintings. The alternation between the dense colour fields and the light brushstrokes that accentuate the fleeting nature of the subject matter brings the surfaces of the works alive and gives them greater depth.
Recently, Mäkilä has also been thinking about the idea of painting as an event and about her own choice of profession as a woman who makes art. A distinct thread running through the exhibition consists of artists who blazed a trail for contemporary painters: Tamara de Lempicka, Françoise Gilot and Helen Frankenthaler, who can be seen in some of the works. The breezy twinkle in the artist's eye remains there throughout it all, with a great deal being encapsulated in It is what it is, in which we see Mäkilä herself painting a portrait of de Lempicka – or is it something else entirely.


Rauha Mäkilä is known for her brightly coloured paintings depicting everyday occurrences, drawing from both popular culture and the artist's own life and family. Since graduating from the Finnish Academy of Fine Arts in 2007, Rauha Mäkilä's (b. 1980, Helsinki) works have appeared in numerous solo and collective exhibitions in Finland and abroad, including: the Munch Gallery, New York, 2011; Kemper Museum of Contemporary Art, Kansas City, USA, 2015; EMMA – Espoo Museum of Modern Art, Espoo, Finland, 2015; Landskrona Museum, Sweden, 2017 and Galleri Thomassen, Gothenburg, Sweden, 2017. Her works are included in major collections in Finland, e.g. the Saastamoinen Foundation, Wihuri Foundation, and Museum of Contemporary Art Kiasma, as well as the City of Gothenburg Art Collection, Sweden. Mäkilä's latest solo exhibition at Helsinki Contemporary, Ring a Ring o'Roses, was in 2018. In 2015, Mäkilä was head of the jury for the Young Artists exhibition at Kunsthalle Helsinki. Her recent projects include curating the installation How Home Feels in Jätkäsaari, Helsinki, together with designer Tero Kuitunen.

A catalogue will be published in conjuction with the exhibition with the support of Saastamoinen Foundation.

Thank you to the Arts Promotion Centre Finland for supporting the exhibition, and to Saastamoinen Foundation for supporting the catalogue.
Rauha Mäkilän näyttely DEAR käynnistää Helsinki Contemporaryn syyskauden valovoimaisilla maalauksilla ja eletyillä hetkillä. Uusista kankaalle toteutetuista teoksista koostuva kokonaisuus on taiteilijan viides yksityisnäyttely galleriassa.
Mäkilä jatkaa teoksissaan perheen ja arjen hetkien kuvausta. Näyttelyn nimen mukaisesti teoksissa seikkailevat taiteilijan rakkaat ihmiset, ystävät ja perheenjäsenet. Lähelle hakeutuvat ja läheisyyttä kuvaavat teokset luovat voimakkaan samastuttavia kuvia ja kohtaamisia, jokapäiväisten hetkien kuvaukset laajenevat jaetuiksi kokemuksiksi: "Arjessa minua kiehtoo sen itsestäänselvyys, koska jokainen meistä elää arkea, ankeaa tai mahtavaa, mutta elää kuitenkin. Oma arki ja todellisuus yleensä auttavat meitä tunteiden peilaamisessa ja siinä, miten me maailmaa hahmotamme", Mäkilä kuvailee. Suurikokoiset teokset nostavat jokapäiväiset hetket ja niistä huokuvan lämmön merkittäväksi ja tarpeelliseksi.
Värien leikissä ja vuorovaikutuksessa syntyy voimakkaita jännitteitä: kuvapinnoilla vuorottelevat mintunvihreät, kirkkaanpunaiset ja -keltaiset sekä syvänsiniset ja ruskean sävyt. Värien välisten suhteiden tutkiminen on johtanut vahvojen maalausten sisäisten tilojen syntyyn. Aiheiden hetkellisyyttä korostavien, kevyiden pensselinvetojen ja täysien värikenttien vuorottelu saa teosten pinnat elämään ja liikkumaan syvyyssuunnassa.
Mäkilä on viime aikoina pohtinut myös maalausta tapahtumana ja omaa ammatinvalintaansa taidetta tekevänä naisena. Oman juonteensa näyttelykokonaisuudessa saavat nykymaalareille tilaa raivanneet tekijät, teoksista löytyvät Tamara de Lempicka, Françoise Gilot ja Helen Frankenthaler. Taiteilijan silmäkulmassa säilyy kautta kokonaisuuden raikas pilke, paljon kiteytyy teokseen It is what it is, jossa nähdään Mäkilä itse maalaamassa de Lempickan muotokuvaa – tai jotain aivan muuta.

Näyttelyn yhteydessä ilmestyy julkaisu Rauha Mäkilän taiteellisesta tuotannosta.

Kiitokset Taiteen edistämiskeskukselle näyttelyn tukemisesta ja Saastamoisen säätiölle näyttelyn yhteydessä ilmestyvän julkaisun tukemisesta.


Rauha Mäkilä (s. 1980) tunnetaan populaarikulttuurista ammentavista, valoisista ja elämänvärisistä teoksistaan, sekä arjen ja oman perheen samastuttavista kuvauksista. Mutta ilon ja leikkisyyden kuvaukset sisältävät paljon enemmän kuin viileää kritiikkiä ja ironiaa: teokset paljastavat kohteidensa syvän vilpittömyyden ja varauksetonta nuoruuden riemun ylistystä. Mäkilä valmistui Kuvataideakatemiasta 2007. Hänen teoksiaan on esitetty Suomessa ja kansainvälisesti mm. Munch Galleryssa New Yorkissa; Kemper Museum of Contemporary Artissa, Kansas Cityssa; EMMA – Espoon modernin taiteen museossa; Galleri Thomassenissa, Göteborgissa ja Landskrona Museumissa, Ruotsissa. Taiteilijan tuotantoa on useissa merkittävissä julkisissa kokoelmissa ml. Nykytaiteen museo Kiasman, Saastamoisen säätiön ja Jenny ja Antti Wihurin rahaston kokoelmat.
Rauha Mäkiläs utställning DEAR inleder Helsinki Contemporarys höstsäsong med lyskraftiga målningar och upplevda ögonblick. Utställningen med målningar på duk är Mäkiläs femte separatutställning på Helsinki Contemporary.
Mäkilä fortsätter att skildra familjeliv och vardagliga situationer. Som utställningens titel antyder får vi se konstnärens nära och kära, vänner och familjemedlemmar. De intimt stämda verken skapar starkt identifierbara bilder och möten, skildringarna av vardagliga situationer växer till gemensamma upplevelser: "I vardagen fascineras jag av dess självklarhet, eftersom vi alla upplever vardagen. Den må kännas trist eller fantastisk, vi upplever den i alla fall. Vår egen vardag och överlag den verklighet vi lever i hjälper oss att spegla våra känslor och varsebli världen", berättar Mäkilä. Med sitt stora format gör verken de vardagliga ögonblicken och den värme de utstrålar till någonting betydelsefullt och nödvändigt.
Färgernas lek och samspel skapar starka spänningar: på bildytorna ser vi mintgröna, knallröda, klargula, djupblåa och bruna nyanser om varandra. Genom sitt experimenterande med färgernas relationer har Mäkilä skapat starka inre rum i målningarna. Växelspelet mellan å ena sidan lätta penseldrag som framhäver motivens flyktighet, å andra sidan mättade färgfält skapar liv och rörelse i djupled.
Under den senaste tiden har Mäkilä också dryftat målandet som en handling och sitt eget yrkesval som kvinnlig konstnär. Ett separat tema på utställningen är de konstnärer som röjt väg för samtidsmålarna: i verken ses Tamara de Lempicka, Françoise Gilot och Helen Frankenthaler. Den fräscha glimten i Mäkiläs öga består genom hela utställningen. Mycket finns komprimerat i verket It is what i is, där vi ser Mäkilä själv måla ett porträtt av de Lempicka – eller någonting helt annat.

I samband med utställningen publiceras en bok om Rauha Mäkiläs konstnärliga produktion.

Vi tackar Centret för konstfrämjande för stöd till utställningen och Saastamoinen stiftelse för stöd till boken.


Rauha Mäkilä (f. 1980) utexaminerades från Bildkonstakademin 2007. Hennes verk har visats i Finland och internationellt bland annat på Munch Gallery i New York, Kemper Museum of Contemporary Art i Kansas City, EMMA – Esbo moderna konstmuseum, Galleri Thomassen i Göteborg samt Landskrona Museum i Sverige. Hennes verk ingår i ett flertal betydande samlingar, bland annat Museet för nutidskonst Kiasmas, Saastamoinen stiftelsens samt Jenny och Antti Wihuris stiftelses samlingar. Bland Mäkiläs övriga projekt de senaste åren kan nämnas den offentliga väggmålningen i Jyväskylä inom ramen för Tikkurila Abp:s Finland 100-muralprojekt, kurateringen av utställningen De unga 2015 på Helsingfors Konsthall samt kurateringen av Sato-koncernens projekt "Hur känns ett hem" i samarbete med designern Tero Kuitunen.