Dagen fick en annan ton
1.11.-24.11.2019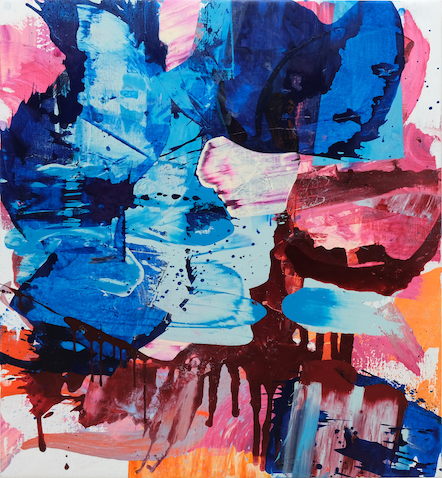 One of Sweden's most prominent contemporary painters,
Astrid Sylwan
, will show at Helsinki Contemporary in November 2019. Sylwan has exhibited widely in the Nordic region, and has been awarded numerous prestigious grants in her home country. Sylwan is known for her expressive paintings, where bold colours lead abstract forms. The artist uses the physical characteristics of the colours and layers, scratches, pours and dribbles the pigments on the canvas. The exhibition, consisting of Sylwan's recent works, is titled
Dagen fick en annan ton
.
Astrid Sylwan
graduated from Konstfack in 2005. Astrid Sylwan has quickly taken a position as one of Sweden's most prominent painters; she has been awarded several prestigious grants, exhibited throughout the Nordic region, and her work can today be found in the collections of eg. Moderna museet, Statens konstråds and Malmö konstmuseum. The Stockholm-based artist has also realized public artworks, for example at the Citybana train station in Stockholm.
Yhden keskeisimmistä ruotsalaisista nykymaalareista,
Astrid Sylwanin
(s. 1970), yksityisnäyttely nähdään Helsinki Contemporaryssa marraskuussa. Sylwan on esiintynyt laajalti pohjoismaissa, hänelle on myönnetty kotimaassaan useita arvostettuja palkintoja ja apurahoja. Sylwan tunnetaan vahvan ekspressiivisistä maalauksistaan, joissa rohkeat värit johtavat abstrakteja muotoja. Taiteilija käyttää maalauksessaan värin fyysistä olemusta ja kerrostaa, raaputtaa ja kaataa maalia kankaalle. Sylwanin uusista teoksista koostuvan näyttelyn nimi on D
agen fick en annan ton.
Astrid Sylwan
valmistui Ruotsin taideteollisesta korkeakoulusta Konstfackista vuonna 2005. Hänen teoksiaan sisältyy lukuisiin julkisiin kokoelmiin, muun muassa Moderna museetin, Statens konstrådin ja Malmön taidemuseon kokoelmiin. Tukholmassa työskentelevä taiteilija on toteuttanut myös julkisia taideteoksia, muun muassa Tukholman vuonna 2017 valmistuneen Citybanan keskusrautatieasemalle.
I november håller en av Sveriges främsta samtidskonstnärer, Astrid Sylwan (f. 1970), en separatutställning på Helsinki Contemporary. Sylwans verk har visats runtom i Norden och hon har tilldelats många viktiga pris och stipendier i sitt hemland. Sylwan är känd för sina starkt expressiva målningar där djärva färger styr abstrakta former. Hon använder sig av färgens fysiska egenskaper och målar i skikt, skrapar och häller färg på duken. Utställningen med Sylwans nya verk har titeln Dagen fick en annan ton.
Astrid Sylwan utexaminerades från Konstfack i Stockholm 2005. Hennes verk ingår i talrika offentliga samlingar, bl.a. Moderna Museets, Statens konstråds och Malmö konstmuseums samlingar. Sylwan som är verksam i Stockholm har också gjort många offentliga konstverk, bl.a. till Citybanans station Stockholm City 2017.