Close Watch at the Venice Biennale
23.4.-27.11.2022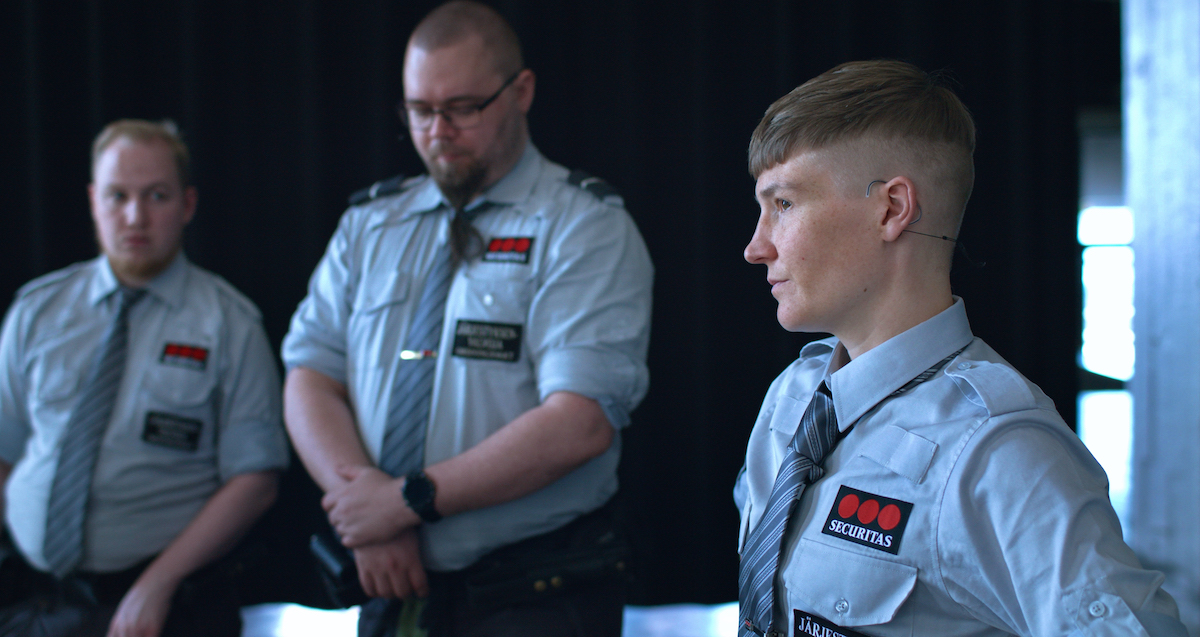 Close Watch, a newly commissioned video installation by Helsinki Contemporary's representative artist Pilvi Takala, premieres at the Pavilion of Finland at the 59th International Art Exhibition – La Biennale di Venezia. Commissioned and produced by Frame Contemporary Art Finland, the exhibition is curated by Christina Li.
The multi-channel installation is based on Takala's experience in the private security industry, where she worked covertly as a fully qualified security guard for Securitas. The piece is centred on workshops she developed in response to issues encountered on the job during her six-month employment at one of Finland's largest shopping malls.
Working undercover, staging social situations and infiltrating communities, Takala's artistic practice exposes often-unspoken rules and norms in society. Exploring security as both a concept and an industry, Close Watch considers how it defines our public space and the behaviour tolerated within it.
"Workplace culture defines the boundaries of acceptable behaviour'', Pilvi Takala explains in Frame's press release. ''As a security guard, the role is learned almost entirely on the job, with norms and standards passed down from senior colleagues. In a high-stress environment, collegial support is essential, but what if your colleague is the aggressor? When is it necessary to break rank and how? I'm interested in how control is enforced by and within the private security industry, and how we ultimately govern each other's behaviour."


Pilvi Takala's exhibition Close Watch at the Pavilion of Finland is accompanied by a website closewatch.site that presents further research and digital material around the exhibition.

Close Watch exhibition will also include an exhibition publication presenting Pilvi Takala's research, other editorial content, image material as well as general information about the exhibition. The publication, launched during the opening week, is published and distributed by Mousse Publishing. National participants will be featured in the Biennale official catalogue, including organiser and partner listing


Pilvi Takala divides her time between Berlin and Helsinki. Her video works are based on performative interventions in which she researches specific communities in order to process social structures and question the normative rules and truths of our behaviour in different contexts. Her works show that it is often possible to learn about the implicit rules of a social situation simply through its disruption.

Saastamoinen Foundation is the main partner for Close Watch.
The main supporter of Close Watch is the Ministry of Education and Culture in Finland.
Other supporters include EMMA - Espoo Museum of Modern Art,
AVEK The Promotion Centre for Audiovisual Culture,
The Finnish Cultural Foundation and Embassy of Finland in Rome.
Further support was given by Helsinki Contemporary and Carlos/Ishikawa and Stigter van Doesburg, representing Pilvi Takala.
Pilvi Takala's work has been supported by the Arts Promotion Centre Finland.
Pavilion of Finland at the 59th International Art Exhibition – La Biennale di Venezia,
23 April – 27 November 2022.


Photo credit: Pilvi Takala, Close Watch, Video installation, 2022.



Artist Page at Helsinki Contemporary
Full press release

Do not hesitate to contact the gallery staff with any questions

Pilvi Takalan uusi videoteos Close Watch saa ensiesityksensä Suomen paviljongissa 59. Venetsian kansainvälisessä taidebiennaalissa. 23. huhtikuuta yleisölle avautuvan näyttelyn kuraattorina toimii Christina Li ja tilaajana ja tuottajana Frame Contemporary Art Finland.
Monikanavainen videoteos pohjautuu Takalan kokemuksiin turvallisuusalalta, jossa hän työskenteli peiteroolissa järjestyksenvalvojana Securitaksella.
Teosta varten Takala hankki vartijan ja järjestyksenvalvojan pätevyyden, ja työskenteli puoli vuotta yhdessä Suomen suurimmista ostoskeskuksista. Teos keskittyy työpajoihin, jotka hän kehitti työssä kohtaamiensa haastavien tilanteiden pohjalta.
Pilvi Takalan taiteellisessa työskentelyssä erilaisiin yhteisöihin soluttautuminen ja sosiaalisten tilanteiden lavastaminen toimivat keinoina paljastaa kirjoittamattomia sääntöjä ja vakiintuneita käyttäytymismalleja yhteiskunnassa. Tarkastellen sekä turvallisuuden käsitettä että toimialaa, Close Watch tutkii, miten ne määrittävät julkista tilaa, ja sitä, millaista käytöstä sen piirissä suvaitaan.
"Työyhteisö määrittelee hyväksyttävän käytöksen rajat", Pilvi Takala sanoo Framen tieodotteessa. "Järjestyksenvalvojan tehtävä opitaan lähes kokonaan kentällä, ja toimintatavat siirtyvät usein kokeneemmilta kollegoilta nuoremmille. Vaativassa työympäristössä kollegaa tuetaan kaikissa tilanteissa, mutta entä jos työkaverisi onkin se, jonka toimintaan pitää puuttua? Olen kiinnostunut tutkimaan, miten kontrollia ylläpidetään turvallisuusalan sisällä ja sen toimesta, ja miten ylipäätään ohjailemme toistemme käytöstä."
Teos esitetään Alvar Aallon vuonna 1956 suunnittelemassa Suomen paviljongissa Giardinin biennaalipuistossa. Paikkasidonnaisesta näyttelyarkkitehtuurista vastaa Studio L A. Näyttelyn ohessa on julkaistu teoksen taustatutkimusta ja digitaalista materiaalia esittelevä verkkosivu sekä näyttelyjulkaisu, jonka julkaisee Mousse Publishing.
Pilvi Takala on Berliinissä ja Helsingissä työskentelevä taiteilija. Takalan videoteosten performatiiviset interventiot ovat taiteilijan keino käsitellä yhteiskunnallisia rakenteita sekä vakiintuneita käyttäytymismalleja eri konteksteissa.

Näyttelyn pääyhteistyökumppani on Saastamoisen säätiö.
Näyttelyn päätukija on opetus- ja kulttuuriministeriö. Muita tukijoita ovat EMMA – Espoon modernin taiteen museo, Audiovisuaalisen kulttuurin edistämiskeskus AVEK, Suomen kulttuurirahasto ja Suomen suurlähetystö Roomassa.
Näyttelyä ovat tukeneet lisäksi Pilvi Takalaa edustavat galleriat Helsinki Contemporary ja Carlos/Ishikawa sekä Stigter van Doesburg.
Pilvi Takalan työskentelyä on tukenut Taiteen edistämiskeskus.
Venetsian 59. kansainvälinen taidebiennaali
Suomen paviljonki, Giardini di Castello 30122, Venetsia
Avoinna: 23.4.–27.11.2022