Chart Art Fair
Chart Art Fair
28.8.-30.8.2020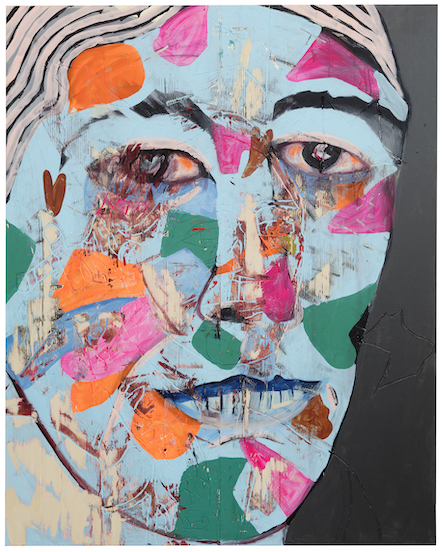 Helsinki Contemporary is glad to present at CHART Art Fair 2020 De-centred edition a curated duo of works by Rauha Mäkilä and Camilla Vuorenmaa. This year's edition of CHART Art Fair takes place in 28 leading art galleries across five Nordic capitals from 28-30 August. Special events take place in each gallery. Adapting to a changed reality in light of the global pandemic, Rauha Mäkilä and Camilla Vuorenmaa will be shown in our gallerys' showroom.
CHART dedicates this year's edition to push for a better-balanced art market. All participating galleries are showing 100% women artists to highlight the structural challenge of gender imbalance in the art industry.

Opening hours:

Fri, Aug 28: 17.00 - 19.00
Sat, Aug 29: 12.00 – 16.00
Sun, Aug 30: 12.00 – 16.00


Rauha Mäkilä and Camilla Vuorenmaa are of the same generation and have studied together at the Finnish Academy of Fine Arts. Both artists work with themes surrounding the questions of humanity, and what it means to be human, both in relation to the everyday and the otherworldly. Mäkilä and Vuorenmaa work in figurative painting, but with different starting points.
Mäkilä departs from everyday situations and popular culture imagery. Mostly her bright paintings feature a human figure, may it be a portrait of her daughter or Frank Ocean. Lived everyday moments are interpreted in Mäkilä's works as candidly as children process life's essential questions in their play. In the new and recent body of work Mäkilä's palette has introduced hues of softer pink, mint greens and blues, and momentariness appears in the light and airy brush strokes in her acrylic paintings.
The basis of Vuorenmaa works are stories, in which she depicts people and humanity. In her most recent body of work she explores the Spiritualist movement and clairvoyance. The stories come to life through portraits of humans and animals. The characters – fierce, creepy, strange and mischievous – occupy the centre of the paintings. The figures are open to interpretation; we project our own imaginings into the picture and construct a story around it. In her practice Vuorenmaa challenges the physical and traditional boundaries of painting. Her carved wood paintings are hybrids of sculpture and painting that require time and physical strength to create. The style is rough and unvarnished, endowed with a playful decorativeness, the palette rich and striking.
All the works by Mäkilä and Vourenmaa have been newly created for Chart 2020.

Rauha Mäkilä. Born 1980 Helsinki, Finland. Lives and works in Helsinki.
Mäkilä's works are represented in major collections such as Museum of Contemporary Art Kiasma, Saastamoinen Foundation and the City of Gothenburg Art Collection. She has participated in curated exhibitions at Kemper Museum of Contemporary Art, EMMA Espoo Museum of Modern Art, Kunsthalle Helsinki and Landskrona Museum.


Camilla Vuorenmaa. Born 1979 Tampere, Finland. Lives and works in Helsinki.
Vuorenmaa has been nominated for Ars Fennica, she has won the Finnish Academy of Fine Arts Prize and the Solo Award of the Spring Exhibition in Copenhagen. She is represented in collections such as the Gothenburg Art Museum, Saastamoinen Foundation. Museum of Contemporary Art Kiasma and Helsinki Art Museum.

Helsinki Contemporary's team is happy to answer any questions. You can find our contact information here: https://helsinkicontemporary.com/about/contact-us
Helsinki Contemporarylla on ilo esittää CHART Art Fair 2020 De-centred -messuilla Rauha Mäkilän ja Camilla Vuorenmaan teoksista koostuva kokonaisuus. Tänä vuonna CHART Art Fair järjestetään paikalliisesti 28 johtavassa pohjoismaisessa galleriassa 28.–30.8. Kussakin galleriassa on tiedossa erityisohjelmaa. Rauha Mäkilän ja Camilla Vuorenmaan teoksia nähdään Helsinki Contemporaryn showroomissa.

CHART omistaa vuoden 2020 messut pyrkimykselle tasapainoisempiin taidemarkkinoihin. Kaikissa osallistuvissa gallerioissa esitetään tänä vuonna ainoastaan naistaiteilijoiden teoksia.

Aukioloajat:

Pe 28.8. klo 17.00 - 19.00
La 29.8. klo 12.00 – 16.00
Su 30.8. klo 12.00 – 16.00


Rauha Mäkilä ja Camilla Vuorenmaa edustavat samaa sukupolvea ja ovat opiskelleet yhdessä Kuvataideakatemiassa. Molemmat taiteilijat työskentelevät ihmisyyttä ja ihmisenä olemista koskevien kysymysten äärellä, suhteessa arkeen sekä ylimaalliseen. Mäkilä ja Vuorenmaa tekevät esittävää maalausta, mutta hyvin eri lähtökohdista.
Rauha Mäkilä, s. 1980 Helsingissä. Asuu ja työskentelee Helsingissä
Rauha Mäkilä ammentaa taiteeseensa arkipäivän tilanteista ja populaarikulttuurin kuvastosta. Hänen viimeaikaiset teoksensa, jotka usein kuvaavat lapsia, paljastavat kohteidensa syvän vilpittömyyden ja huokuvat varauksetonta nuoruuden riemun ylistystä. Mäkilä on lähiaikoina pohtinut myös omaa positiotaan ja työtään taiteilijana. Mäkilän teoksissa eletyt jokapäiväiset hetket välittyvät yhtä mutkattomasti kuin lapset käsittelevät elämän keskeisiä kysymyksiä leikeissään. Uusiin ja viimeaikaisiin teoksiinsa taiteilija on tuonut kirkkaan väripalettinsa rinnalle pehmeämmän vaaleanpunaisen ja mintunvihreän sävyjä, hetkellisyys korostuu kevyissä ja ilmavissa pensselinvedoissa. Mäkilän tuotantoa sisältyy useisiin merkittäviin julkisiin kokoelmiin, ml. Göteborgin kaupungin, Nykytaiteen museo Kiasman, Saastamoisen säätiön ja Jenny ja Antti Wihurin rahaston kokoelmat. Hän on osallistunut näyttelyihin mm. Munch Galleryssa New Yorkissa; Kemper Museum of Contemporary Artissa, Kansas Cityssa; EMMA – Espoon modernin taiteen museossa; Galleri Thomassenissa, Göteborgissa ja Landskrona Museumissa, Ruotsissa.

Camilla Vuorenmaa, s. 1979 Tampereella. Asuu ja työskentelee Helsingissä.
Camilla Vuorenmaan ihmisiä ja ihmisyyttä kuvaavien teosten lähtökohtina ovat tarinat. Hän on tutkinut viimeaikaisessa työssään spiritualistista liikettä ja selvänäkijyyttä. Tarinat heräävät eloon muotokuvien kautta, jotka kuvaavat ihmisiä, mutta myös eläimiä. Hahmot – hurjat, karmivat, oudot ja veikeät – ovat maalausten keskiössä. Vuorenmaa haastaa työskentelyssään maalauksen fyysiset rajat ja perinteet. Hänen kaiverretut puumaalauksensa liikkuvat veistoksen ja maalauksen välillä, niiden luominen vaatii aikaa sekä fyysistä voimaa. Tyyli on karkea ja viimeistelemätön ja varustettu leikkisällä koristeellisuudella, paletti on rikas ja vaikuttava. Camilla Vuorenmaa on ollut Ars Fennica -ehdokas ja voittanut Suomen taideakatemian palkinnon, Charlottenborgin kevätnäyttelyn soolopalkinnon sekä William Thuring -nimikkopalkinnon. Hänen teoksiaan on edustettuina merkittävissä julkisissa kokoelmissa, kuten Göteborgin taidemuseon, Kiasman, Saastamoisen säätiön, EMMAn ja HAMin kokoelmissa.

Helsinki Contemporaryn henkilökunta vastaa mielellään lisäkysymyksiin. Löydät yhteystietomme täältä: https://helsinkicontemporary.com/about/contact-us