Blazing World
1.10.-24.10.2021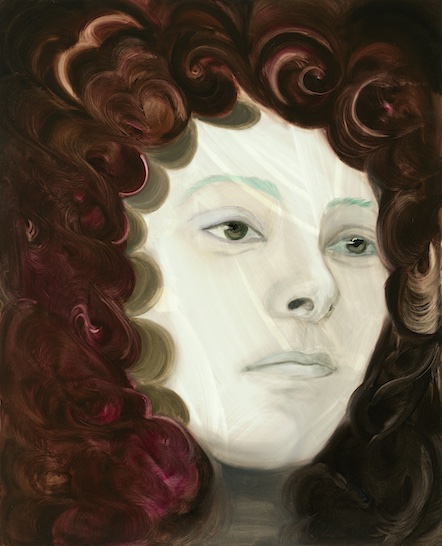 Helsinki Contemporary is delighted to be hosting Hannaleena Heiska's solo exhibition Blazing World this October. Heiska, who has recently worked mainly with charcoal, is bringing painting into her new exhibition after a long absence, and for the first time both these materials that are important to her are being shown in the same context. The dialogue between charcoal drawing and oil painting enriches the properties of the materials; the softness of charcoal is juxtaposed with the curved brushstrokes, the deep radiance of the paints exudes from the matt surface of the dark, earthy substance.
The timelessness of painting and the eternal nature of charcoal are reflected in literary references, which bring their own temporal perspective on the exhibition, on the history of women and on the modern world. Two novels – Margaret Cavendish's The Description of a New World, Called The Blazing-World from 1666, which has been called the first sci-fi work, and Virginia Woolf's Orlando from 1928 – and the materials that Heiska uses tie this body of works to her earlier production. Questions about humanity and its limits, especially in relation to other animals, are echoed in the states of flux and half-formed shapes in the depictions of unstable hybrids. With its themes Blazing World lives powerfully in our time, but past and future are also simultaneously present. The exhibition is like an imaginary collection of different found objects, imagined and existent – a relic of a utopia that is perhaps only just coming into being, or perhaps is already in the past.
The playfulness and humour of the tale of Orlando, who travels effortlessly through different ages and identities, come as a welcome counterweight to our own era, and have inspired Heiska to construct her own utopia. The Blazing World exhibition can be thought of as a refuge, where our own imaginations give us freedom and space to breathe even in the midst of this distressing time.
In the context of this exhibition the figure of Orlando also represents artisthood, authorship and the challenges of the creative process. Heiska's own relationship with painting has grown stronger as the process has advanced, and the deep historical significances of the medium and the profession have been accentuated in the present moment. She paints alla prima; with each work coming about in an instant. The technique involves a lot of uncertainty and, conversely, trust in the medium – in painting. "The magic of painting is endlessly fascinating. It is a medium that can never be exhausted," Heiska says.


Hannaleena Heiska (b. 1973) has actively participated in exhibitions around the world since graduating from the Academy of Fine Arts, Helsinki, in 2006, including: the 4th Ural Industrial Biennial of Contemporary Art in Ekaterinburg; EMMA – Espoo Museum of Modern Art, Espoo; Espace Louis Vuitton Tokyo; CAC – Contemporary Art Centre, Vilnius; Bomuldsfabriken Kunsthall, Arendal; and Momentum – Nordic Biennial of Contemporary Art, Moss. Heiska's first solo showing in Sweden was at Gothenburg Museum of Art in 2015, and in 2019 she had a solo show at Turku Art Museum. In 2011, she was a candidate for the Ars Fennica award. Her works are in numerous public collections, including: Museum of Contemporary Art Kiasma; Gothenburg Museum of Art, Saastamoinen Foundation; and the Jenny and Antti Wihuri Foundation. The collaboration between Hannaleena Heiska and the dancer Minna Tervamäki will continue in March 2022, when the Ateneum hosts two performances of The Trace, which combines painting and movement. Thanks to the Arts Promotion Centre Finland (Taike), Greta and William Lehtinen Foundation and VISEK Centre for the Promotion of Visual Art for supporting Heiska's work.
Helsinki Contemporarylla on ilo esittää lokakuussa Hannaleena Heiskan yksityisnäyttely Blazing World. Pääasiassa hiilen kanssa viime aikoina työskennellyt Heiska tuo uuteen näyttelyynsä pitkästä aikaa maalausta, ja ensimmäistä kertaa taiteilijalle tärkeät materiaalit nähdään samassa kokonaisuudessa. Hiilipiirustuksen ja öljymaalauksen vuoropuhelu rikastuttaa materiaalien ominaisuuksia; hiilen pehmeys rinnastuu pyöreisiin siveltimenvetoihin, värien syvä hehku kumpuaa tumman maa-aineksen mattapinnasta.
Maalauksen ajattomuus ja hiilen ikiaikaisuus heijastuvat kirjallisissa viittauksissa, jotka tuovat omaa ajallista perspektiiviään näyttelykokonaisuuteen, naisen ja modernin maailman historiaa. Kahden romaanin (Margaret Cavendishin ensimmäiseksi sci-fi-teokseksi kuvailtu The Description of a New World, Called The Blazing-World, vuodelta 1666, sekä Virginia Woolfin vuoden 1928 Orlando) sekä taiteilijan käyttämien materiaalien kautta kokonaisuus sitoutuu myös Heiskan aikaisempaan tuotantoon. Kysymykset ihmisyydestä ja sen rajoista, etenkin suhteessa muihin eläimiin, kaikuvat muutostiloissa, välimuodoissa häilyvien hybridien kuvauksissa. Teemojensa kautta Blazing World elää voimakkaasti ajassamme, mutta läsnä ovat yhtä aikaa myös mennyt ja tuleva. Näyttely on kuin imaginäärinen kokoelma erilaisia löydettyjä esineitä, kuviteltuja ja olemassa olevia – jäänne utopiasta, joka on ehkä vasta tulossa, ehkä jo menneessä.
Eri aikakausien ja identiteettien lävitse sujuvasti matkaavan Orlandon tarinan leikittelevyys ja huumori näyttäytyy tervetulleena vastapainona ajallemme, ja on innostanut Heiskaa rakentamaan omaa utopiaansa. Blazing World -näyttelyä voi ajatella pakopaikkana, jossa oma mielikuvitus antaa vapautta ja tilaa hengittää ahdistavankin ajan keskellä.
Orlandon hahmo edustaa näyttelykokonaisuudessa myös taiteilijuutta, tekijyyttä ja luomisprosessin haasteita. Heiskan oma suhde maalaamiseen on prosessin myötä entisestään lujittunut, ja välineen ja ammatin syvät historialliset merkitykset ovat korostuneet tässä ajassa. Heiska työskentelee kertamaalaustekniikalla, jokainen teos on syntynyt yhdessä hetkessä. Tekniikkaan liittyy paljon epävarmuutta ja toisaalta välineeseen – maalaukseen ­­– luottamista. "Maalauksen magiikka kiehtoo aina vaan. Se on väline, jota ei koskaan voi ammentaa tyhjiin", kuvailee Heiska.


Hannaleena Heiska (s. 1973) on esiintynyt aktiivisesti näyttelyissä eri puolilla maailmaa valmistuttuaan Kuvataideakatemiasta 2006, mm. 4th Ural Industrial Biennial, Jekaterinburg, EMMA – Espoon modernin taiteen museo, Espoo; Espace Louis Vuitton Gallery, Tokio; CAC – Contemporary Art Centre, Vilna; Bomuldsfabriken kunsthall, Arendal' ja Momentum – Nordic Biennial of Contemporary Art, Moss. Heiskan ensimmäinen yksityisnäyttely Ruotsissa oli Göteborgin taidemuseossa 2015, vuonna 2019 nähtiin yksityisnäyttely Turun taidemuseossa. Heiska oli Ars Fennica -ehdokkaana 2011. Hänen teoksiaan on edustettuina lukuisissa julkisissa kokoelmissa, mm. Nykytaiteen museo Kiasman, Göteborgin taidemuseon, Saastamoisen säätiön ja Jenny ja Antti Wihurin rahaston kokoelmissa. Hannaleena Heiskan ja tanssija Minna Tervamäen yhteistyö saa jatkoa maaliskuussa 2022, kun Ateneumissa nähdään kaksi esitystä maalausta ja liikettä yhdistävästä Jälki-teoksesta. Kiitos Taiteen edistämiskeskukselle, Greta ja William Lehtisen säätiölle sekä Visekille taiteilijan työn tukemisesta.
Helsinki Contemporary har glädjen att visa Hannaleena Heiskas separatutställning Blazing World i oktober. Heiska, som på senaste tid huvudsakligen har jobbat med kol, ställer nu för första gången på länge ut målningar, och det är också första gången på länge vi på en och samma utställning får de material som är viktigast för henne. Dialogen mellan kolteckningarna och oljemålningarna berikar materialens egenskaper: kolets mjukhet är en pendang till de runda penseldragen, färgernas djupa glöd tycks framsprungna ur den mörka jordens matta yta.
Måleriets tidlöshet och kolets eviga kretslopp avspeglas i litteraturreferenserna, som tillför utställningen ett eget tidsperspektiv, kvinnans och den moderna världens historia. Via två romaner (Margaret Cavendishs The Description of a New World, Called The Blazing-World, som skrevs 1666 och beskrivits som det första science fictionverket, samt Virginia Woolfs Orlando från 1928) och valet av material binds utställningen också till Heiskas tidigare produktion. Verkens hybrider, stadda i förvandling, väcker frågor kring det mänskliga och dess gränser, särskilt i relation till andra djur. Utställningens teman klappar i takt med vår tid samtidigt som också förflutenheten och framtiden är närvarande. Utställningen är som ett slags imaginär samling upphittade föremål, fantiserade och reella – en relikt av en utopi som kanske väntar i framtiden eller redan har passerat.
Lekfullheten och humorn i berättelsen om Orlando som smidigt färdas genom epoker och identiteter framstår som en välkommen motvikt till vår tid och har inspirerat Heiska att bygga sin egen utopi. Blazing World kan ses som en tillflyktsort där den egna fantasin ger frihet och andrum även mitt i en ångestfylld tid.
Utställningens Orlando representerar också konstnärskapet, aktörskapet och den kreativa processens utmaningar. Heiskas förhållande till målandet har med den processen blivit allt starkare samtidigt som både redskapets och yrkets djupa historiska betydelser accentueras i vår tid. Heiska använder en engångsteknik: varje verk har uppstått i stunden. Det innebär stor osäkerhet och å andra sidan också förlitan på medlet, målningen: "Målandets magi upphör aldrig att fascinera. Det är ett medel som aldrig blir helt uttömt", beskriver Heiska.
Hannaleena Heiska (s. 1973) utexaminerades från Bildkonstakademin 2006 och har sedan dess aktivt ställt ut bland annat på 4th Ural Industrial Biennial, Jekaterinburg, EMMA – Esbo moderna konstmuseum; Espace Louis Vuitton Gallery, Tokyo; CAC – Contemporary Art Centre, Vilnius; Bomuldsfabriken kunsthall, Arendal samt Momentum – Nordic Biennial of Contemporary Art, Moss. Sin första separatutställning i Sverige höll Heiska 2015 på Göteborgs konstmuseum, och 2019 hade hon en separatutställning på Åbo konstmuseum. Heiska kandiderade för Ars Fennicapriset 2011. Hennes verk ingår i talrika samlingar, bland annat Museet för nutidskonst Kiasmas, Göteborgs konstmuseums, Saastamoinenstiftelsens samt Jenny och Antti Wihuris fonds samlingar. Hannaleena Heiskas och dansaren Minna Tervamäkis samarbete fortsätter i mars 2022 på Ateneum med verket Spår som kombinerar måleri och rörelse. Vi tackar Centret för konstfrämjande, Greta och William Lehtinens stiftelse samt Visek för deras stöd.