Beside the Point
7.2.-2.3.2014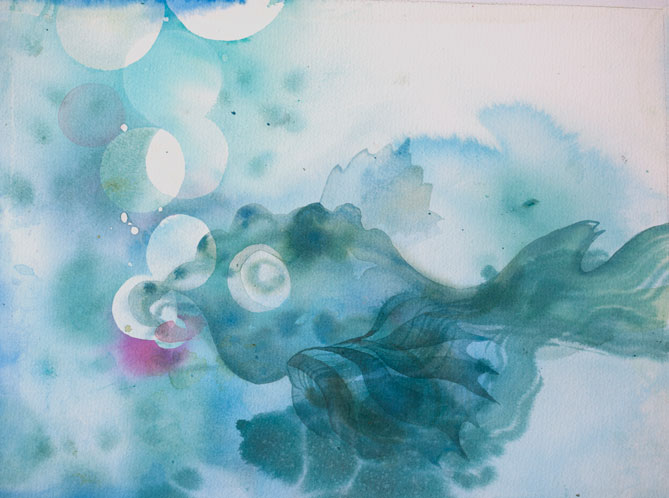 Beside the Point is about dealing with things, formulating them and re-shaping them in a way that is deliberately something other than the thing itself. It is simultaneously more and less, too little and, at the same time, much more than enough – of the point. The nitty-gritty, and well-meaning, but persistent questioning of it.

Beside the Point is an exhibition, its title. In Kati Immonen's case Beside the Point is a gallery exhibition in which, using the means of painting and assimilating its possibilities, and creating within them, there is a focus on everyday phenomena, everyday moments, which go by, but sting us, bite us, as they pass.

Kati Immonen's medium for painting is the aquarelle, i.e. the transparent watercolour. A choice, and the consequences of going deeper into and developing that choice are now present, on offer. The benefits and the quality of the paintings in Kati Immonen's second exhibition at the gallery are outstandingly evident. It is superb, the way that Immonen is able to use and handle her chosen medium – colours, forms, in levels of narrative that are mutually articulated, in a movement from the figurative to the abstract, and back.

"Watercolour forces you to make some sort of plan or decision about the painting in advance – you don't get the white paper back once you have gone and put your paws on it. This has been a relief to me, a kind of decisiveness and limitation of the possibilities, the fact that you can't go on endlessly changing and wavering and putting off decisions about the direction of the painting.

"A sort of common denominator for my paintings could be using the properties of watercolour, its lightness, translucency, and the cultural baggage related to innocuousness, as part of the working process. In that sense, my working process has not really changed a great deal over the years, even if my subjects and focus of interest have varied. I suppose my working process has taken a roundabout route: sometimes, I feel like just painting and enjoying the colours with no more significant content than that, sometimes, I get inspired by working via some theme or other."

Beside the Point is commonplace. It raises and lowers, makes special, those commonplace events, those countless moments whose value we rarely have time to acknowledge. Immonen grabs hold of and takes pleasure in the successes and excesses of the everyday. What emerge are comments and utterances that demonstrate that the everyday is not just sublime, but also trivial, very trivial. Immonen deals with something we all have, our quite incomprehensible ability to quibble and grumble, moan and complain – over nothing.

The lightness of the works, the nearness and simultaneous depth of their colour world take us into everyday scenes, in which they are exposed to the light somewhere between both a shared sense of shame and insightful detachment. There, between and by way of experiences that combine images of nature; for example, fish that are both human and alien, and works that come close, get under the skin, without our noticing it.

There follows an awakening, a moment of clarity. We are not laughing at anyone, we are laughing at ourselves, and we are laughing together.

Quotations from a conversation between Mika Hannula and Kati Immonen

The exhibition coincides with the publication of Kati Immonen's book Talvisatu (Winter Tale).
Asian vierestä on asioiden käsittelemistä, niiden hahmottamista ja uudelleen muokkaamista tavalla, joka on tarkoituksella jotakin muuta kuin sitä itseään. Se on yhtäaikaisesti enemmän ja vähemmän, liian vähän ja samalla selvästi paljon enemmän kuin tarpeeksi – asiaa. Ydinluuta ja sen hyväntahtoista mutta hellittämätöntä kyseenalaistamista.

Asian vierestä on näyttely, sen nimi. Kati Immosen kohdalla Asian vierestä tarkoittaa gallerianäyttelyä, jossa maalauksen keinoin ja sen mahdollisuuksia sisäistäen ja niissä luovien keskitytään arjen ilmiöihin, arjen hetkiin, jotka menevät ohitse mutta meidät ohittaessaan ne pistävät, purevat.

Kati Immosen väline maalaukseen on akvarelli. Siis vesivärit. Valinta, jonka syventämisen ja kehittämisen seuraukset ovat nyt läsnä, tarjolla. Kati Immosen galleriassa pitämän toisen yksityisnäyttelyn maalausten anti ja taso on erinomaisen ilmeinen. Se on suvereeni; tapa miten Immonen kykenee käyttämään ja käsittelemään valittua välinettä – värejä, muotoja ja kertomuksen keskenään nivoutuvia tasoina, liikkeenä esittävästä abstraktiin ja takaisin.

"Vesiväri pakottaa tekemään jonkinlaisen suunnitelman tai päätöksen maalauksesta jo etukäteen – valkoista paperia ei saa enää takaisin kun kerran on mennyt sitä sorkkimaan. Tämä on ollut minulle helpotus, jonkinlainen päättäväisyys ja mahdollisuuksien rajoittaminen, se että ei voi loputtomasti muuttaa ja vetkuttaa ja venyttää päätöksiä maalauksen suunnasta."

"Jonkinlainen yhteinen nimittäjä maalauksilleni voisi olla vesivärin ominaisuuksien, keveyden, läpikuultavuuden ja harmittomuuteen liittyvän kulttuurisen painolastin käyttäminen osana työskentelyä. Siinä mielessä työskentelyni ei oikeastaan kovin paljoa muuttunut vuosien varrella vaikka aiheet ja kiinnostuksen kohteen ovatkin vaihdelleet. Työskentelyni on tainnut kulkea kehämäistä reittiä pitkin: välillä tekee mieli vain maalata ja nauttia väreistä ilman sen suurempaa sisältöä, välillä innostaa jonkin teeman kautta työskentely."

Asian vierestä on arkea. Se nostaa ja laskee, tekee erityiseksi arjen tapahtumia, niitä lukemattomia hetkellisyyksiä, joiden arvoa harvoin jaksamme todentaa. Immonen nappaa kiinni ja nautiskelee arjen kohtauksilla ja kohtuuttomuuksilla. Esille nousee kommentteja ja lausahduksia, jotka osoittavat miten arki ei ole vain ylevää vaan myös pikkumaista, hyvin pikkumaista. Immonen käsittelee kunkin meistä varsin käsittämätöntä kykyä narista ja napista, kitistä ja valittaa – turhasta.

Teosten keveys, niiden värimaailman läheisyys ja samanaikainen syvyys vievät meidät arjen kohtauksiin, joissa ne valottuvat sekä myötähäpeän että oivaltavan osattomuuden välillä. Siinä kokemusten välillä ja välityksillä, joissa yhdistyy kuvat luonnosta, esimerkiksi kalat, jotka ovat inhimillisiä ja vieraita, ja teokset, jotka tulevat huomaamatta lähelle, ihon alle.

Seuraa havahtuminen, hetken kirkkaus. Me emme naura kenellekään, me nauramme itsellemme, ja me nauramme yhdessä.

Lainaukset Mika Hannulan ja Kati Immosen välisestä keskustelusta

Näyttelyn yhteydessä julkaistaan Kati Immosen kirja Talvisatu.
Vid sidan om ämnet är att behandla saker, att gestalta dem och åter omforma dem på ett sätt som med avsikt handlar om något annat än sig självt. Det är samtidigt mer och mindre, för lite och samtidigt på ett tydligt sätt mycket mer än tillräckligt – innehåll. Benstomme och ett välvilligt men outtröttligt ifrågasättande av det.

Vid sidan om ämnet är en utställning, dess namn. I Kati Immonens fall betyder Vid sidan om ämnet en galleriutställning, där man med hjälp av måleriets metoder och genom att förstå dess möjligheter och kryssa bland dem, koncentrerar sig på vardagens fenomen, de vardagliga ögonblick som går förbi, men som sticker och biter oss i förbifarten.

Kati Immonens redskap är akvarell. Alltså vattenfärg. Ett val som man nu kan se följderna av, hur fördjupning och utveckling är närvarande, hur de förmedlas. Utbudet och nivån på målningarna i Kati Immonens andra separatutställning på galleriet är förträffligt klar. Det är suveränt; det sätt Immonen hanterar och behandlar det medel hon valt – färgerna, formerna och de olika nivåerna i berättelsen möts som en rörelse från det föreställande till det abstrakta, och tillbaka.

"Vattenfärgen tvingar till att redan på förhand göra upp någon sorts plan eller fatta något beslut beträffande målningen – man får inte tillbaka det vita pappret, när man en gång har börjat klotta på det. Det här har för mig varit en lättnad, någon sorts beslutsamhet och begränsning av möjligheterna, det att man inte i all oändlighet kan förändra och dra ut på och skjuta upp besluten om målningens riktning."

"Någon sorts gemensam nämnare för mina målningar skulle kunna vara användandet av den kulturella barlast, som utgörs av vattenfärgens egenskaper, lätthet, transparens och harmlöshet, som en del av arbetsprocessen. I den meningen har mitt sätt att arbeta inte egentligen förändrats särskilt mycket under årens lopp, även om motiven och målen för mitt intresse har växlat. Mitt arbetssätt verkar följa en cirkelformad kurs: emellanåt har jag lust att bara måla och njuta av färgerna utan desto större innehåll, emellanåt inspireras jag av att arbeta genom ett visst tema."

Vid sidan om ämnet är vardag. Den lyfter och sänker, gör vardagliga händelser till något speciellt, dessa oräkneliga ögonblickligheter, vars värde vi sällan orkar fastställa. Immonen tar tag i, och njuter av vardagens episoder och orimligheter. Fram dyker kommentarer och uttalanden, som visar att vardagen inte endast är sublim utan också småsint, mycket småsint. Immonen behandlar vår allas ganska ofattbara förmåga att gnälla och gnata, marra och klaga – över ingenting.

Verkens lätthet, närheten i deras färgvärld och samtidigt deras djup tar oss till vardagens episoder, där de belyses i gränslandet mellan medskammen och insikten av odelaktighet. Där mellan upplevelserna och via dem, där bilderna av naturen förenas, till exempel fiskarna, som är mänskliga och främmande, och verken som omärkligt kommer nära, in under huden.

Det följer ett uppvaknande, ett ögonblicks klarhet. Vi skrattar inte åt någon, vi skrattar åt oss själva, och vi skrattar tillsammans.

Citaten är ur ett samtal mellan Mika Hannula och Kati Immonen.

I samband med utställningen publiceras Kati Immonens bok Talvisatu (Vintersaga).