An Evening in Paris
31.8.-31.8.2014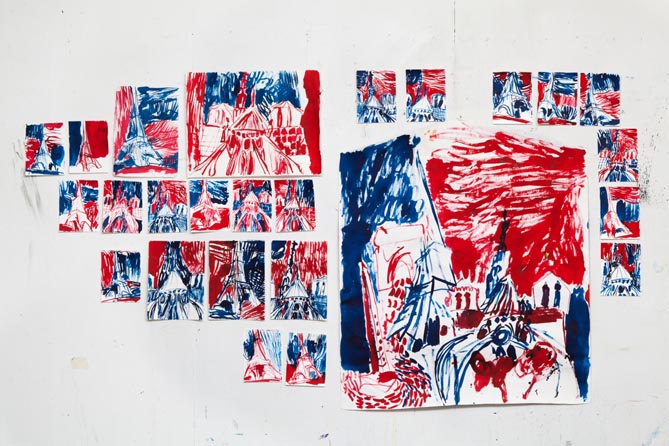 An Evening in Paris unpacks and reflects the time Anna Retulainen spent in an artist residence in Paris in the spring 2014 through the works she created there. The discussion focuses on Paris and its meaning and relevance for art and artists throughout history. It will also examine Paris in contrast to Berlin, another important centre for art and hub for artists. The discussion is held between the curator Mika Hannula and Anna Retulainen.

The works in the exhibition are observations of everyday life. Drawn on large as well as small papers, they are depictions of a city called Paris, its past and present, and its memories, both common and collective, and private.

An evening in Paris stays open only for the evening of Sunday, August 31st. It is to serve as a prelude to Retulainen's exhibition Memory, which opens the following week. Memory brings together a series of paintings and drawings that examines memory's diverse dimensions and the act of remembering. A result of Retulainen's two journeys to West Africa in 2013, the exhibition will also host the publishing of Retulainen's book, A Motorcycle Journey: Benin, Togo 2013, that combines her works with a narrative of her experiences there.
Ilta Pariisissa on näyttely ja keskustelutilaisuus, joka käsittelee Anna Retulaisen keväällä 2014 Pariisissa taiteilijaresidenssissä viettämää aikaa ja siellä tehtyjä uusia teoksia. Keskustelun kohde on Pariisi, sen merkitys taiteilijalle. Kaupunkia myös peilaillaan vasten toista tärkeää keskusta, Berliiniä. Keskusteluun osallistuvat kuraattori Mika Hannula ja taiteilija Anna Retulainen.

Näyttelyn teokset ovat havaintoja arjesta, paperille - niin suurille kuin pienillekin - tehtyjä kuvia kaupungista nimeltä Pariisi, sen menneestä ja nykyisyydestä, erityisesti muistoista, niin yleisistä kuin yksityisistäkin.

Ilta Pariisissa -näyttely kestää yhden illan. Se on alkusoitto seuraavalla viikolla alkavalle Anna Retulaisen näyttelylle Muisti. Muisti tuo yhteen sarjan maalauksia ja piirustuksia, joiden yhteinen nimittäjä, muistin ja sen ulottuvuuksien ohella, on taiteilijan matkat Länsi-Afrikassa. Illan aikana julkaistaan Anna Retulaisen Länsi-Afrikan matkoihin perustuva kirja Matka moottoripyörällä: Benin Togo 2013.
Helsinki Contemporary har glädjen att bjuda in dig till utställning och diskussionstillfälle med Anna Retulainen söndag 31.8.2014 fr.o.m. kl. 19. Diskussionen börjar kl. 20.

En kväll i Paris är en utställning och ett diskussionstillfälle, som behandlar tiden Anna Retulainen spenderade på konstnärsresidens i Paris våren 2014 och nya verk som kommit till där. Diskussionen begrundar Paris och dess betydelse för konstnären. Staden speglas gentemot ett annat viktigt centrum, Berlin. Kurator Mika Hannula och konstnär Anna Retulainen deltar i diskussionen.

Utställningens verk är observationer ur vardagen, bilder gjorda på papper - såväl stora som små - om en stad kallad Paris, om dess förflutna och nutid, speciellt från minnen, såväl allmänna som privata.

En kväll i Paris -utställningen varar en kväll. Den är ett förspel till Anna Retulainens utställning Minnet, som öppnas den påföljande veckan. Minnet för samman en serie målningar och teckningar, vars gemensamma nämnare, vid sidan om minnet och dess olika dimensioner, är konstnärens resor till Västra Afrika. Under kvällen publiceras Anna Retulainens bok Matka moottoripyörällä, Benin Togo 2013, som baserar sig på resorna till Västra Afrika.