a u g u s t
11.8.-3.9.2017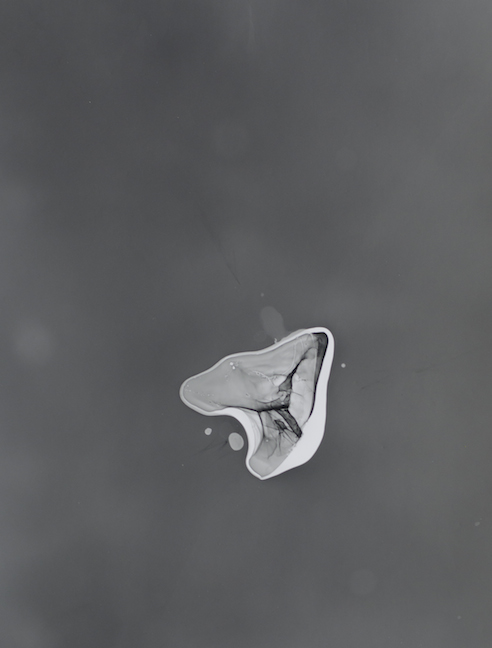 From August 11–September 3, Helsinki Contemporary will be showing a solo exhibition by
Hans Rosentröm
, who is known for his sound and spatial installations. The exhibition explores our relationship with nature and each other:
"The different works in the exhibition are like stages on a shared timeline – with apparently mutually independent moments becoming interlinked and constituting a common narrative," Rosenström says.
The Gallery space will be taken over by a narrative, multi-channel sound installation
The Sea - Chapter I
. The work is a continuation of Rosenström's Shoreline sound installation shown in June-July 2017 in the international
ARoS Triennial
in Aarhus, Denmark. In the work the overlaid voices deal with questions about the interaction between nature and the human community. Rosenström has written the words together with the Palestinian poet
Farah Chamma
.
The sound work will be accompanied by two large series of photograms – exposed directly onto photographic paper – that depict time and the mutability of nature.
Jökulsárlón I
and
II
follow the melting process of two pieces of iceberg ice taken from Iceland. Documenting the rapid disappearance of ice created under pressure over the course of centuries emphasizes the condensation of time, and reminds us of its consequences in a world that is being powerfully re-shaped by humankind.
The exhibition ends with a photograph diptych that had its beginnings in the feeling of disorientation that arose during the UK's Brexit process.
BBC 29.03
shows the debate in the UK Parliament on triggering Article 50 in March 2017, which was the official start of the UK's leaving the European Union. The exhibition photographs have not been post-processed, but are documentations of live BBC TV transmissions, in which outside interference has broken up the image on screen.
---
Hans Rosenström (b. 1978), who has lived and worked in London for four years, is known for installations that accentuate the experiencers' presence, and deal with their relationship with the surrounding moment and space. In his works he uses sound, text, light and constructed elements. Rosenström's works have been seen in numerous solo and group exhibitions in Finland and abroad, including: Bonniers Konsthall, Stockholm; Palais de Tokyo, Paris; and most recently in the ARoS Triennial, Aarhus.
Rosenström graduated with an MFA from the Academy of Fine Arts Helsinki in 2007 and has also studied at Malmö Art Academy. In 2011, the Finnish Art Society awarded him the Ducat Prize. In 2016, he was awarded the William Thuring Prize and, in 2015, was a candidate for the Ars Fennica award. His works are in collections including the Amos Anderson Art Museum and Pro Artibus Foundation.
The Museum of Contemporary Art Kiasma's collection's
Her Presence Still
(
Hiljaa läsnä
, 2010) is permanently installed and experienceable in the Kiasma library. Rosenström's latest public work
2066
, which deals with visions of the future, has been built on the roof of the Silja Line terminal in the Värtahamnen port area of Stockholm. EMMA – Espoo Museum of Modern Art is showing Rosenström's
Off Seasons
soundwork out of doors on 17.8.–3.9. as part of the programme for the Helsinki Festival.
Off Seasons
is a collaboration with the Danish artist duo
Stormglas
and uses the creations of four Nordic contemporary composers.
The exhibition has been supported by The Swedish Cultural Foundation in Finland and Oskar Öflunds Stiftelse.
Helsinki Contemporaryssa nähdään 11. elokuuta–3. syyskuuta ääni- ja tilallisista installaatioistaan tunnetun Hans Rosentrömin yksityisnäyttely, joka tutkii suhdettamme luontoon ja toisiimme: "Näyttelyn eri teokset ovat kuin etappeja yhteisessä aikajanassa – näennäisesti toisistaan riippumattomia hetkiä, jotka nivoutuvat ja rakentavat yhteistä kertomusta", Rosenström kuvailee.

Galleriatilaa hallitsee narratiivinen, monikanavainen ääni-installaatio The Sea - Chapter I. Teos on jatkumoa Rosenströmin Shoreline-ääniteokselle, joka esitetään kesä-heinäkuussa 2017 kansainvälisessä Garden-triennaalissa ARoS Kunstmuseumissa Aarhusissa, Tanskassa. Teoksessa lomittaiset äänet käsittelevät kysymyksiä luonnon ja ihmisyhteisöjen vuorovaikutuksesta. Rosenström on kirjoittanut tekstin yhdessä palestiinalaisen runoilijan Farah Chamman kanssa.

Ääniteos saa seurakseen kaksi suoraan valokuvapaperille valotettua, laajaa fotogrammisarjaa, joissa Rosenström kuvaa aikaa ja luonnon muuttuvaisuutta jäätikköjään kautta. Jökulsárlón I ja II seuraavat kahden Islannista poimitun jääpalan sulamisprosessia. Vuosisatojen saatossa paineen alla syntyneen jään muutoksen dokumentointi muistuttaa seurauksista ihmisen voimakkaasti muovaamassa maailmassa.

Näyttely päättyy valokuvadiptyykkiin, BBC 29.03, joka on saanut alkunsa Ison-Britannian EU-eroprosessin synnyttämästä neuvottomuuden tunteesta. Kuvat esittävät 50 artiklan käynnistämisen hyväksymistä Britannian parlamentissa maaliskuussa 2017, joka merkitsi virallista alkua maan irtautumiselle Euroopan unionista. Näyttelyn valokuvia ei ole jälkikäsitelty, vaan ne ovat dokumentaatioita suorasta BBC:n lähetyksestä, jossa ulkopuolinen häiriö on rikkonut television digitaalisen kuvan.

Näyttelyä ovat tukeneet Svenska kulturfonden ja Oskar Öflunds Stiftelse.
---
Lontoossa 4 vuotta asunut ja työskennellyt Hans Rosenström (s. 1978) tunnetaan installaatioistaan, jotka painottavat kokijan läsnäoloa ja käsittelevät tämän suhdetta ympäröivään hetkeen ja tilaan. Rosenström käyttää ääntä, tekstiä, valoa sekä rakennettuja elementtejä. Hänen teoksiaan on nähty lukuisissa yksityis- ja ryhmänäyttelyissä Suomessa ja ulkomailla, mm. Bonniers Konsthallissa Tukholmassa, Palais de Tokyossa Pariisissa ja viimeisimmäksi ARoS-triennaalissa Aarhusissa.
Rosenström valmistui Kuvataideakatemiasta vuonna 2007 ja on opiskellut myös Malmön taidekoulussa. Vuonna 2011 Suomen Taideyhdistys palkitsi Rosenströmin Dukaatti-palkinnolla. Vuonna 2016 hänet palkittiin William Thuring -palkinnolla ja 2015 hän oli Ars Fennica -palkintoehdokkaana. Rosenströmin teoksia on mm. Amos Andersonin taidemuseon ja Pro Artibus -säätiön kokoelmissa.
Nykytaiteen museo Kiasman kokoelman Hiljaa läsnä (2010) on pysyvästi installoituna ja koettavissa Kiasma-kirjastossa. Rosenströmin uusin julkinen teos on Tukholman Värtahamniin, Siljan laivaterminaalin katolle rakennettu, tulevaisuuden näkymiä käsittelevä 2066. EMMA – Espoon modernin taiteen museo esittää Rosenströmin Off Seasons -ääniteoksen ulkotilassa 17.8.–3.9. osana Helsingin Juhlaviikkojen ohjelmaa. Off Seasons on yhteistyö tanskalaisen taiteilijaduo Stormglasin kanssa ja siinä on hyödynnetty neljän pohjoismaisen nykysäveltäjän tuotantoa.
Från den 11 augusti till den 3 september visar Helsinki Contemporary en separatutställning av
Hans Rosenström
, känd för sina ljudinstallationer och rumsliga verk. Utställningen utforskar vårt förhållande till naturen och våra medmänniskor:
"Verken på utställningen är som etapper på en gemensam tidslinje – ögonblick som skenbart är oberoende av varandra flätas samman och skapar en gemensam berättelse", beskriver Rosenström.
Galleriet domineras av en narrativ, flerkanalig ljudinstallation
The Sea - Chapter I
. Verket är en fortsättning på ljudinstallationen
Shoreline
som i juni-juli visas på den internationella
ARoS-triennalen
i Aarhus i Danmark. Röster som varvas om varandra behandlar frågor kring växelverkan mellan naturen och de mänskliga samhällena. Texten är skriven av Rosenström i samarbete med den palestinska poeten Farah Chamma.
Verket får sällskap dels av två stora fotogramserier där Rosenström med hjälp av glaciäris skildrar tiden och naturens föränderlighet.
Jökulsárlón I
och
II
som exponerats direkt på fotopapper följer hur två isbitar hämtade från Island smälter. Denna dokumentering av hur en isbit som uppstått under århundradens lopp under starkt tryck smälter bort inför vår blick framhäver tidens förtätning och fungerar som en påminnelse om konsekvenserna av människans dramatiska ingrepp i naturen.
Utställningen slutar med en fototriptyk,
BBC 29.03
, som inspirerats av den känsla av rådlöshet som Storbritanniens beslut att gå ut ur EU framkallat. Bilderna visar debatten i det brittiska parlamentet i mars 2017 om aktivering av artikel 50, som innebar det officiella startskottet för Storbritanniens utträde ur Europeiska unionen. Fotografierna på utställningen har inte behandlats i efterskott; de är en dokumentering av BBC:s direktsändning där en yttre störning har brutit tv-bilden.
---
Hans Rosenström (f. 1978), sedan fyra bosatt och verksam i London, gör installationer som behandlar betraktarens relation till ögonblicket och det omgivande rummet. I sina verk som betonar upplevarens närvaro använder han ljud, text, ljus och byggda element. Rosenströms verk har visats på talrika separat- och grupputställningar i Finland och andra länder, däribland Bonniers Konsthall i Stockholm, Palais de Tokyo i Paris och senast ARoS Triennalen i Aarhus.
Rosenström utexaminerades från Bildkonstakademin i Helsingfors 2007 och har också studerat vid Malmö konstskola. År 2011 tilldelades han Finska Konstföreningens Dukatpris. William Thuring-priset fick han 2016 och året innan kandiderade han för Ars Fennica. Hans Rosenströms verk ingår i bl.a. Amos Andersons konstmuseums och Pro Artibus-stiftelsens samlingar.
Verket
Stillsamt här
(
Hiljaa läsnä
, 2010) i Museet för nutidskonst Kiasmas samling är permanent installerad i museets bibliotek. Rosenströms nyaste offentliga verk
2066
på Siljaterminalens tak i Värtahamnen i Stockholm handlar om framtidsutsikter. EMMA - Esbo moderna konstmuseum visar Rosenströms ljudverk
Off Seasons
utomhus 17.8.–3.9. som en del av Helsingfors festspels program.
Off Seasons
har Rosenström gjort i samarbete med den danska konstnärsduon
Stormglas
. I verket används musik av fyra nordiska samtidskompositörer.
Utställningen har fått stöd av Svenska kulturfonden och Oskar Öflunds Stiftelse.