A Kind of You
4.10.-27.10.2013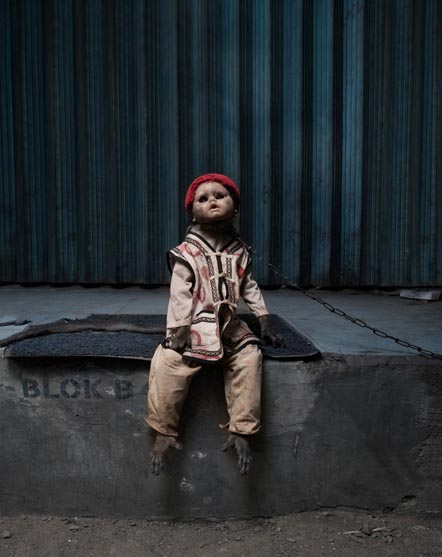 Perttu Saksa's exhibition is a vision of humanity; of our ways of mastering and subordinating nature to make it like ourselves. A Kind of You is a series of documentary portraits that look ceaselessly back at us and will not leave us in peace.

Saksa's latest photographic works are based on an old Indonesian custom, in which street performers teach their pet monkeys tricks and dress them in traditional masks. These 'dancing monkeys' have since turned into a cruel and macabre urban street theatre. Saksa has travelled in Indonesia seeking out and documenting in his portraits city monkey figures, who say more about humanity than about the nature of the animal, and are like the dangerous, nasty, reverse side of what we are accustomed to expect from animal photography.

The encounters photographed in streets and parks are juxtaposed with sombre-toned portraits of monkeys shot in an empty studio space. Through this juxtaposition there emerges a classical beauty, but with truly vile underpinnings. Saksa alludes to the different roles of the portrait and, via both the object and the shooting situation, takes the viewer into an intermediate space formed by documentary and action. He asks, how and why we look at an animal – and do we meet the same gaze when we look at each other? The answer is revealed via this series of photographs, in the ingenious and diabolical means used to harness the animal to the service of humankind.

Via the relationship between nature and culture Saksa explores the human capacity for empathy and the ways we confront otherness:

"Underlying all this is an uncertainty about and awareness of our place in the world, which allows us to call into question and reflect on our relationship with the surrounding space. In the pictures this is linked with contradictions, which could probably be called the shadows of humanity. The shadows take us to places that are incomplete, and filled with contradictions. With places that are simultaneously grotesque and beautiful, that seem familiar and yet are anonymous. This is the situation that I have aimed at. It makes the images and the interpretation of them fragile, but at the same time gives the pictures a depth that makes them human."
- Perttu Saksa

The photographer and visual artist Perttu Saksa (b. 1977) graduated with a Master's degree in Fine Arts from the Finnish Academy of Fine Arts, and is currently pursuing his doctoral studies at Aalto University. Saksa's works have been shown in numerous solo and invited exhibitions, including: the Stadtgalerie Kiel; Museum of Contemporary Art Kiasma, Helsinki; the Felleshus, Berlin; and the Finnish Museum of Photography. His works have been acquired for public collections in Finland and abroad.
Perttu Saksan näyttely on kuvitelma ihmisyydestä sekä ihmisen tavoista hallita luontoa ja alistaa sitä kaltaisekseen. A Kind of You on dokumentaarisuuteen pohjautuva valokuvasarja muotokuvia, jotka katsovat meitä alati takaisin jättämättä rauhaan.

Saksan uusien valokuvateosten lähtökohtana on vanha indonesialainen tapa, jossa katu-esiintyjät opettivat lemmikkiapinoilleen temppuja ja pukivat niitä perinteisillä naamareilla. Sittemmin niin sanottu "tanssivien apinoiden perinne" on muuttunut kaupungin kaduilla tapahtuvaksi makaaberiksi ja julmaksi katuteatteriksi. Saksa on matkustanut Indonesiassa etsien ja dokumentoiden muotokuviinsa urbaaneja apinahahmoja, jotka todistavat enemmänkin ihmisyyden kuin eläimen olemusta ja ovat kuin vaarallinen ja ilkeä kääntöpuoli sille, mitä olemme tavanomaisesti tottuneet odottamaan eläinkuvaukselta.

Kaduilla ja puistoissa kuvatut kohtaamiset rinnastuvat tyhjässä studiotilassa kuvattuihin tummasävyisiin muotokuviin apinoista. Rinnastuksen kautta esiin nousee klassinen kauneus, jolla on varsin katalat puitteet. Saksa viittaa muotokuvan eri rooleihin ja vie katsojan dokumentin ja fiktion muodostamaan välitilaan niin kohteen kuin kuvaustilanteenkin kautta. Hän kysyy, miten ja miksi me katsomme eläintä – ja kohtaammeko saman katseen katsoessamme toisiamme? Vastaus paljastuu kuvasarjan kautta niinä pirullisina ja kekseliäinä keinoina, joilla valjastamme eläimen ihmisen palvelukseen.

Luonnon ja kulttuurin välisen suhteen kautta Saksa tarkastelee ihmisen kykyä empatiaan ja tapojamme kohdata toiseutta:

"Edellytyksenä on epävarmuus, tietoisuus paikastaan maailmassa, jonka kautta kykenee kyseenalaistamaan ja reflektoimaan suhdettaan ympäröivään tilaan. Kuvissa tämä liittyy ristiriitoihin, joita voisi kai kutsua inhimillisyyden varjoiksi. Varjot vievät paikkoihin, jotka eivät ole valmiita, vaan täyttyvät ristiriidoista, ovat samanaikaisesti rumia ja kauniita, tulevat lähelle ja ovat tuntemattomia. Pyrin tätä tilannetta kohti. Se tekee kuvista ja kuvien tulkinnasta haurasta, mutta antaa kuville samalla syvyyden, joka tekee niistä inhimillisiä."
- Perttu Saksa

Valokuvaaja ja kuvataiteilija Perttu Saksa (s. 1977) on valmistunut Taiteen Maisteriksi kuvataideakatemiasta ja suorittaa taiteellisen tutkimuksen jatko-opintoja Aalto-yliopistossa. Saksan teoksia on esitetty lukuisissa yksityis- ja yhteisnäyttelyissä, mm. Stadt Galeri Kielissä, Kiasmassa, Felleshus Berliinissä sekä Suomen valokuvataiteen museossa. Hänen teoksiaan on hankittu julkisiin kokoelmiin Suomessa ja ulkomailla.
Perttu Saksas utställning är en skildring av mänskligheten samt av människans sätt att behärska naturen, att kuva den och att göra den till något som liknar henne själv. A Kind of You (2013) är en fotoserie med porträtt som baserar sig på dokumentärskildring, och som ständigt tittar tillbaka på oss utan att lämna oss ifred.

Utgångspunkten för Saksas nya fotografiska verk är den gamla indonesiska seden enligt vilken människor som uppträdde på gatan lärde sina sällskapsapor konster och iklädde dem traditionella masker. Senare har vad man kallar "de dansande apornas tradition" förvandlats till en makaber och grym gatuteater som utspelar sig på stadens gator. Saksa har rest i Indonesien och sökt efter och för sina porträtt dokumenterat urbana apfigurer, som avslöjar mera om människans väsen än om djurens, och är som en farlig och elak avigsida av det vi vanligen förväntar oss av djurfotograferingen.

De möten som har fotograferats på gator och i parker ställs parallellt med de porträtt i mörka nyanser som tagits av apor i det tomma studioutrymmet. Genom den parallella placeringen stiger en klassisk skönhet fram som har särdeles bedrägliga ramar. Saksa hänvisar till porträttets olika roller och för besökaren till det mellanrum som finns mellan dokumentet och fiktionen, såväl genom objektet som fotograferingssituationen. Han frågar hur och varför vi tittar på ett djur – och om vi möter samma blick när vi ser på varandra. Svaret visar sig genom bildserien i form av de där djävulska och uppfinningsrika sätten med vilka vi dresserar ett djur i människans tjänst.

Genom förhållandet mellan natur och kultur undersöker Saksa människans förmåga till empati och våra sätt att möta det annorlunda:

"Förutsättningen är en osäkerhet, en medvetenhet om sin plats i världen, genom vilken man är kapabel att ifrågasätta och reflektera över sitt förhållande till det omgivande rummet. I bilderna hänför det här sig till konflikter som kanske skulle kunna kallas mänsklighetens skuggor. Skuggorna för en till platser som inte ännu är färdiga, utan är fyllda av konflikter, som är samtidigt fula och vackra, som kommer nära och är okända. Jag strävar mot den här situationen. Den gör bilderna och tolkningen av bilderna sköra, men ger samtidigt bilderna ett djup som gör dem mänskliga."
- Perttu Saksa

Fotografen och bildkonstnären Perttu Saksa (f. 1977) har utexaminerats som magister i bildkonst från Bildkonstakademin, och genomför studier i konstnärlig forskning vid Aalto-universitetet. Saksas verk har visats på ett flertal separat- och samutställningar, bla i Stadt Galeri i Kiel, på Kiasma, på Felleshus i Berlin samt på Finlands fotografiska museum. Verk av honom har införskaffats till offentliga samlingar i Finland och utomlands.