Hannaleena Heiska & Minna Tervamäki: Jälki / The Trace
24.08.2018 18:00 - 25.08.2018 19:00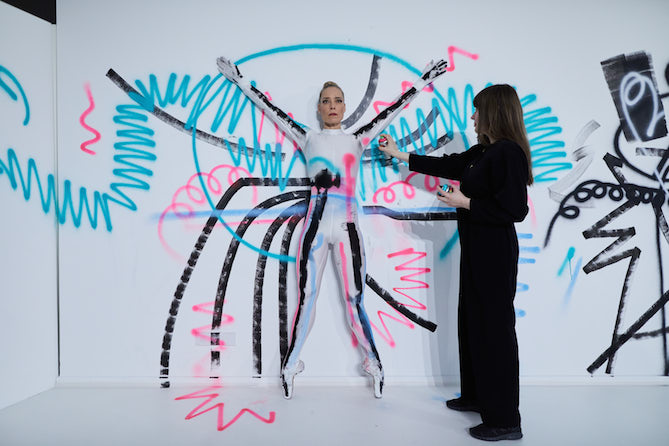 Photo: Bernhard Ludewig
The Trace
is a multi-disciplinary performance developed in the cooperation of visual artist
Hannaleena Heiska
and dancer, choreographer
Minna Tervamäki,
who have been working together since 2016. The work received its premiere at EMMA – Espoo Museum of Modern Art in November 2016.
The Trace
comes into being in the encounter of two modes of presentation and expression, in their transient nature. It is a work that actualises and articulates in time and space. In its performative presence are combined painting and dance, colours and bodily movements, the gazes of two artists and a profound interaction. This is about repetition that opens up, that does not confine, about the nuances and actualisations of repetition.
The work highlights the temporality and spaciality of a performance and a work of art, and the compositional reflection of a transient interaction. The project doesn't concentrate on meta levels, it is not concerned, as the mainstream discourse of contemporary dance is, about what happens after the performance, but instead is interested about what happens during the act, within it, along with it.
The process poses questions, and questions itself and what it does: What happens during the performance? What makes it what it is, what it wants to be? In relation to itself, and in relation to the inheritance of experimental performative acts, as a part of the minimalistic and geometric performance that is linked all the way to Bauhaus.
More than anything, the project is a series of concrete acts, artistic interventions that intertwine and build into one another. In them is articulated the changing sameness of actions.
PERFORMANCES:

Fri 24.8. & Sat 25.8. :18.00


Turbine Hall, Cable Factory
Tallberginkatu 1, 00180 Helsinki
The duration of one performance is approx. 30 min
After each performance, a discussion will be held between Heiska,
Tervamäki and curator
Mika Hannula
.
Nb. Discussion in English on Sat 25.8.
Previous performances:
Emma – Espoo Museum of Modern Art
Fri 11.11.2016 klo 17.30
Fri 18.11.2016 klo 17.30
Sat 26.11.2016 klo 14.00
Sun 27.11.2016 klo 14.00
Art Fair Suomi, Merikaapelihalli, Cable Factory
Thu 25.5.2017 klo 13
Sat 27.5. klo 15
Joroinen Music Festival
21.7.2017
The Finnish Institute in Germany, Berlin
11.1.2018
Beaconsfield Gallery Vauxhall, London
15.6.2018