Book launch and discussion: Curating
07.04.2017 17:00 - 07.04.2017 18:30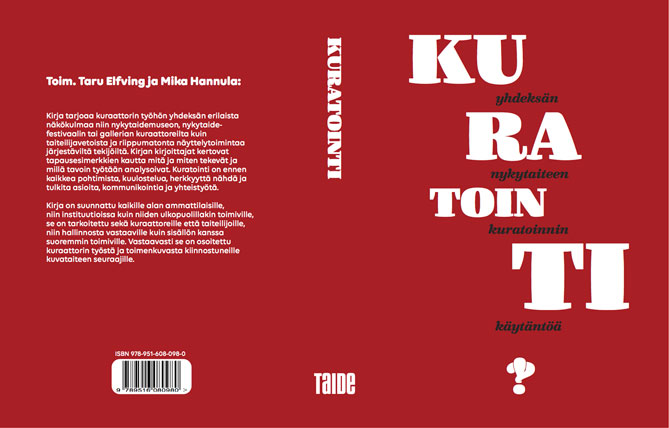 The book
Kuratointi – yhdeksän nykytaiteen kuratoinnin käytäntöä
(Curating – Nine Practices to Curating Contemporary Art), edited by Taru Elfving and Mika Hannula, is published in Helsinki Contemporary on Friday 7 April at 5 pm.
The launch event includes a discussion with the writers on the topics of the book. The discussion is held in Finnish.
The book explores nine different views on curating with the help of case studies. The writers are representatives of contemporary art museums, contemporary art festivals and galleries as well as arrangers of artist-driven and independent art exhibitions: besides the editors, Minna Henriksson; Anna-Kaisa Rastenberger; Pessi Rautio; Maija Luutonen; Leevi Haapala, Kati Kivinen, Patrik Nyberg, Perttu Rastas, Marja Sakari, Jari-Pekka Vanhala (in cooperation); Paula Toppila and Miina Hujala.
The book dives into the world of curating through different case studies and is written for professionals – curators and artists – as well as anyone who is interested in the work of curators.
The book is published by Kustannus Oy Taide.