The Walls Have Ears And the Ears Have Beautiful Earrings
12.4.-4.5.2013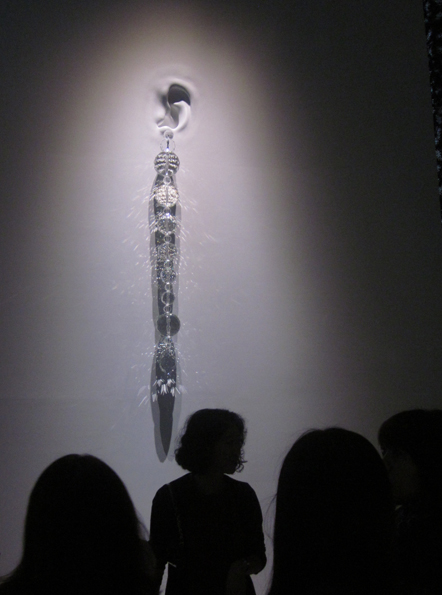 In its exhibition program for the spring of 2013, Helsinki Contemporary has the honour to present the solo exhibition of the Pro Finlandia awarded sculptor and Artist Professor Pekka Jylhä (born in 1955, Toholampi). From Jylhä's large production of sculptures, in Bulevardi 10 we show a set that continues the theme that Jylhä was working with last year in his exhibition at the Espace Louis Vuitton Tokyo gallery.

The name of the exhibition at Helsinki Contemporary, The Walls have Ears, and the Ears have beautiful Earrings, is a quotation from the Estonian poet Paul-Erik Rummo. In the phrase that gives the exhibition its name, and in Jylhä's work with the same name, the down side of beauty is also concretized, and culminates: the ears that listen, for better or for worse. Walls carry with them the history of a place, stories they have heard. In this phrase, the idea that when you pronounce words out loud, they are also heard by ears that weren't meant to hear them, is also crystallized.

Jylhä's poetic way of observing, and producing art from, the big and small details of life, has been charming and surrounding the Finnish and the international public, and the passers-by, for more than three decades already. In his art, Jylhä leaves room for the viewer's own discoveries and interpretations, the sculptures don't proclaim, but they give you a hint of the possibility of contemplating something once more – through an installation that comments on nature, material, form or space.

In April 2013, works by Pekka Jylhä were shown in Paris, at the arts fair Art Paris, presented by the Vanessa Quang gallery, Paris.

"I believe in the butterflies that fly away from fear of the storm, in a herbal garden surrounded with glass stones, and

in a vault of heaven draped in marble.

In a mirror image reflected on the surface of the lake and in dark lips,

which are pressed against a crystal that winter has made cold.

In pink, soulful rainbows, at the end of which there are no treasures for those who seek, but only small tears to be dried.

The storm comes and the butterflies fly away."

- Martta Jylhä, 15 years old, about her father's new crystal works.
Helsinki Contemporarylla on kunnia esitellä Pro Finlandia -palkitun kuvanveistäjän, taiteilijaprofessori Pekka Jylhän (s.1955, Toholampi) yksityisnäyttely kevään 2013 näyttelyohjelmassa. Jylhän laajasta veistostuotannosta Bulevardi 10:ssä esitellään kokonaisuus, joka jatkaa Jylhän viime vuonna Espace Louis Vuitton Tokyo –gallerian näyttelyssä käsittelemää teemaa.

Helsinki Contemporaryn näyttelyn nimi Seinillä on korvat ja korvilla kauniit korvarenkaat on lainaus virolaisen runoilijan Paul-Erik Rummon runosta. Tässä näyttelylle nimen antaneessa lauseessa ja Jylhän samannimisessä teoksessa konkretisoituu ja kulminoituu myös kauneuden kääntöpuoli: korvat, jotka kuuntelevat sekä hyvässä että pahassa. Seinät kantavat mukanaan paikan historiaa, niitä tarinoita, joita ne ovat kuulleet. Lauseessa kiteytyy myös ajatus siitä, että kun lausuu sanoja ääneen, ne kuulevat myös korvat, joille puhetta ei ole tarkoitettu.

Jylhän runollinen tapa havainnoida ja tuottaa taiteeksi elämän pienet ja suuret yksityiskohdat on ihastuttanut ja ympäröinyt suomalaista ja kansainvälistä taideyleisöä ja kadunkulkijaa jo reilun kolmen vuosikymmenen ajan. Taiteessaan Jylhä jättää tilaa katsojan omalle oivallukselle ja tulkinnalle, veistokset eivät julista, vaan vihjailevat pohtimaan asiaa uudelleen – luonnon, materiaalin, muodon tai tilaa kommentoivan installaation kautta.

Huhtikuussa 2013 Pekka Jylhän teoksia oli esillä Pariisissa Grand Palaisissa Art Paris -taidemessuilla galleria Vanessa Quang, Paris, esittelemänä.



"Uskon myrskyn pelossa pois lentäviin perhosiin, lasikivin reunustettuun yrttitarhaan ja

marmorilla verhoiltuun taivaankanteen.

Järvenpinnasta heijastuvaan peilikuvaan ja tummiin huuliin,

jotka painetaan talven kylmettämään kristalliin.

Vaaleanpunaisiin, sielukkaisiin sateenkaariin, joiden päistä ei löydy rikkauksia etsijälle, vaan
pieniä kyyneliä kuivattavaksi.

Myrsky saapuu ja perhoset lentävät pois."

- Martta Jylhä, 15 vuotta, isänsä uusista kristalliteoksista.



Helsinki Contemporary har äran att i sitt utställningsprogram för våren 2013 presentera den Pro Finlandia –belönade skulptören konstnärsprofessor Pekka Jylhäs (f. 1955, Toholampi) separatutställning. Ur Jylhäs vidsträckta skulpturproduktion visas på Bulevarden 10 en helhet som fortsätter på det tema som Jylhä behandlade på sin utställning på galleri Espace Louis Vuitton Tokyo förra året.

Namnet på utställningen på Helsinki Contemporary, Väggarna har öron och öronen vackra örhängen, är ett citat ur en dikt av den estniske poeten Paul-Erik Rummo. I meningen som har gett namn åt utställningen och i verket av Jylhä med samma namn konkretiseras och kulminerar också skönhetens avigsida: öronen, som lyssnar på gott och ont. Väggarna bär med sig platsens historia, historier de har hört. I meningen utkristalliseras också tanken att när man uttalar ord högt, så hör också öron de inte är ämnade för dem.

Jylhäs poetiska sätt att observera och att skapa konst av livets små och större detaljer har redan hänfört och omgivit den finländska och den internationella konstpubliken och de förbipasserande under drygt tre decennier. I sin konst lämnar Jylhä utrymme åt betraktarens egna upptäckter och tolkningar, skulpturerna kungör inte utan de ger en antydan om att man kan begrunda något på nytt – genom en installation som kommenterar naturen, materialet, formen eller rummet.

I april 2013 visades verk av Pekka Jylhä i Paris på konstmässan Art Paris i Grand Palais, representerade av galleri Vanessa Quang, Paris.

"Jag tror på fjärilarna som flyger bort av rädsla för stormen, på en örtagård som är omgärdad av glasstenar och på ett marmordraperat himlavalv.

På en spegelbild som reflekteras i sjöns yta och på mörka läppar,

som man trycker mot en kristall som vintern har gjort kall.

På ljusröda, själfulla regnbågar, vid vars fot det inte finns rikedomar för den som söker, utan små tårar för att torkas.

Stormen kommer och fjärilarna flyger bort."

- Martta Jylhä, 15 år, om sin fars nya kristallverk